The Best Accessories for Toyota 4Runner [2023]
The Toyota 4Runner has been around since the late 1980s. While it's changed a lot since then, what remains the same is its ability to overcome obstacles. It can take adventurers off the beaten path and make family weekend getaways a breeze.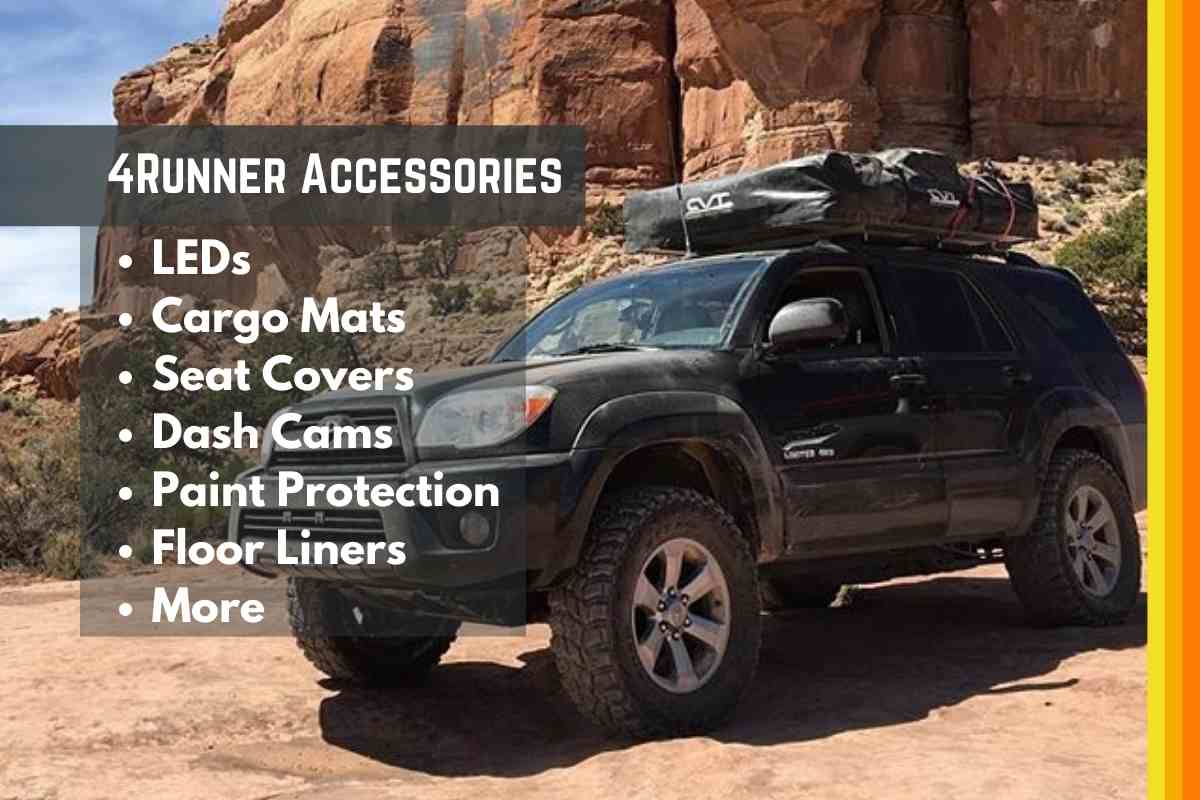 The basic model already has high standards, known for the luxurious cabin, solid 4×4 system, and off-road performance. But why stop with good when you could have great? We're not suggesting reinventing the wheel, but some add-ons can make a significant impact.
The best accessories for Toyota 4Runner can make your ride more convenient or change the way you drive. Read on as we discuss must-haves for your Toyota 4Runner.
Floor liners should be at the top of any best accessories for the Toyota 4Runner list. They might not be flashy or exciting, but they can save you a lot of headaches.
Floor liners protect the interior of your vehicle from the mud, wetness, and wear and tear of trodding feet. Think of the coffee spills and food stains you can avoid. There's a reason detailing is an extra cost for car cleaning and not everybody's favorite task.
If you've looked at Standard Package for the Toyota 4Runner, you might have seen the Tub Style All-Season Floor Mats top the list. The set of three will likely be enough to save your floor from average wear and tear. But why stop at average?
We recommend upgrading to Husky WeatherBeater Liners. The custom FormFit and anti-skid StayPut cleats secure the liners and offer complete coverage. Moisture, dirt, salt, and debris are trapped, protecting your interior from damage, stains, and wearing out the carpet.
The Husky WeatherBeater comes in a standard set of three, two for the front and one rear liner. But we're talking about custom here. Husky takes the details of model, year, and configuration in mind because your liner needs might change depending on the layout of your Toyota 4Runner.
Last update on 2023-12-05 / If you click this affiliate link and make a purchase, we earn a commission at no additional cost to you.
Cargo Mat
When most people think floor liners and mats, it's all about where you and your passengers set their foot down. While that's a must-have, what about where you set your cargo down?
Not all of your cargo will be messy or dirty but think back to everything you've tried to stow in the back of your vehicle. You might change out of muddy hiking boots or wet gear to drive. Groceries bags can break, and boxes split, leaking and leaving a mess in the back.
A cargo mat won't clean up for you, but it can make cleaning easier. It's much easier to haul out the floor mat to wash it rather than scrub the interior of your Toyota 4Runner.
We mentioned Husky for front floor liners, but they don't limit themselves. With a custom fit, you can ensure better coverage for all your interior spaces.
Last update on 2023-12-05 / If you click this affiliate link and make a purchase, we earn a commission at no additional cost to you.
Dash Cam
Dash cameras have seen a surge of popularity and for a good reason. You can use the dashcam to catch unexpected moments, serve as evidence for accidents, or record backroad adventures.
The standard Toyota Genuine Dash Camera is a solid pick that can capture your commute and record your surroundings while parked. It's subtle and won't clutter your windshield, but we're recommending something better.
The Garmin Dash Camera 66w has a two-inch display, 180-degree field of view, 1440p resolution. The lithium-ion battery lasts 30 minutes. It can automatically sync up to four cameras if you want additional angles. Garmin has both Bluetooth and WiFi connectivity.
You can access a lot of features. The voice control capability, internal accident sensors, GPS, traffic camera alerts, parking mode, and lane monitoring are practical and improve your driving experience. One feature is Travelapse, a time-lapse recording mode.
Voice control can be a hand-free safety tool or a toy, depending on how you use it. Much like Siri, you can say "Okay, Garmin" and make commands. If you want to take a photo or start a time-lapse or activate another feature, Garmin will do it for you.
The GPS makes it easy to identify and organize your footage by adding a timestamp, location, and even driving speed. Information like that can add to the charm or be essential when reporting an incident to law enforcement or your insurance agency.
Garmin performs under all weather conditions, including rain and dust, with quality imaging night and day.
Last update on 2023-12-05 / If you click this affiliate link and make a purchase, we earn a commission at no additional cost to you.
LED Fog Lights
Lighting can make a significant difference in bad weather. LED lighting is taking overtaking HID as the superior lighting choice. While the average HID produces more light, LED is brighter without blinding cross traffic.
The Standard Package for Toyota 4Runner accessories includes the LED Fog Light Kit. While any upgrade is an improvement, the one to win us over is the Baja Designs Squadron LED lights. The kits are compatible with Toyota 4Runner models 2010 to present.
The lighting kits are easy to install and are an easy add-on for tinkerers.
The Squadron SAE Fog Light kit is available in amber and white. The MoistureBlock can power through rain and is even water submersible. Light is distributed evenly with no bright spots but superior quality.
Another great option that I have been testing on one of my vehicles is fog lights from the American company Diode Dynamics. I've been using them on my rig for over a year now and their led lights will truly light up the night!
They offer several different options for the 4Runner:
Last update on 2023-12-05 / If you click this affiliate link and make a purchase, we earn a commission at no additional cost to you.
Raptor Lights
More lighting can be a safety feature, but it can also add some finesse. Don't be too disappointed that dinosaurs have nothing to do with this entry. These brilliant LED lights add some brightness to the grille of your Toyota 4Runner.
The Raptor lights are a string of waterproof lamps, available in white, amber, and smoked variations of white and amber.
Connecting is easy, making this an add-on you can do in your home garage. The Raptor Lights kit is complete with everything you need for installation. The set of four snaps directly onto the grille. Another option is three lights that fasten onto the grille with a backplate.
Raptor Lights are compatible with all models since 2014, but installation requires the TRD Pro Grille for the 2020 model.
Running Boards and Step Up Bars
The best accessories for Toyota 4Runner enhance your experience. But, before you enjoy the ride, you need to get it. Whatever your leg length, sometimes it's better to have a bit of a boost. It can be beneficial at the end of a day or after vigorous activity.
More than lending a leg up, running boards and step up bars can add personality and color. If you prefer neutral, you can choose a color that matches your vehicle or blend in, like black or grey. But, if you want a pop, you can install a pop of color for fun.
The Toyota standard package features the Predator Tube Step. The Predator blends into the rugged design of the Toyota 4Runner. Like rungs of a ladder, you get one small step up for a total of four. There are two on each side of the vehicle to improve access to the cab.
If you plan to spend any length of time in your Toyota 4Runner, you want comfortable seats. Maybe you've upgraded to leather seats or another cushioning add-on. Now that your seating is ready for the long haul, you need them to last.
But, uh oh, you have a messy passenger. This four-legged shedding machine drools and scratches, even if they're trying for their best behavior. You want to invite your canine along for the ride, but you don't want to ruin your seats.
A seat cover is your solution. The basic seat cover is not a new invention, but you want to find one that can withstand the shenanigans of your dog. Enter the Convertible Pet Seat Cover.
The Convertible Pet Seat Cover from Active Pets is a three-in-one: hammock, bench, and trunk. The hammock and bench fit rear seating. With truck mode, you can convert the seat cover for your cargo or truck area.
In hammock mode, your pet has more room to move around without accidentally slipping forward between the front seats. Bench mode is for when you need to share the backseat with other passengers.
The seat cover has a non-slip backing, seat anchors, and snap buckles. The seatbelt slots are accessible through velcro openings. Your pet will remain comfortably confined with a safe space to make a mess.
The Convertible Pet Seat Cover has a waterproof coating to keep your seats dry and clean. It keeps drool and hair off your seats and protects seats from scratch damage. The interior of your Toyota 4Runner can be pet-safe without risking a stubborn mess.
For cleaning, you can vacuum, wipe with a wet towel, or shower it with a hose.
Last update on 2023-12-05 / If you click this affiliate link and make a purchase, we earn a commission at no additional cost to you.
Paint Protection
Chips in your paint can be annoying, but they can also impact the durability of your exterior. Paint protection is an added layer that defends against scratches and chips. It protects the integrity of the Toyota 4Runner body, keeping your paint job shining like new.
You might have been on the fence about the Toyota 4Runner's standard package Pro Series Paint Protection Film. Many protection films offer varying degrees of protection. It can be challenging to figure out if the manufacturer's recommendation is the best.
We think you can do better than the Toyota 4Runner standard. The XPEL Clear Paint Protection Film has a magic trick: self-healing.
Any protection film acts as a layer against scratches. Still, once there's a mark, there's a spot that's vulnerable to chipping unless you add more protection film. With XPEL Ultimate, add heat, warm water, or leave it under direct sunlight for the XPEL film to fill in the gap.
Other protection films offer self-healing, but the XPEL Ultimate Paint Protection Film does it better. You can also find XPEL clear film guards for door sills and rocker panels.
XPEL can be nearly invisible when applied. The film layer provides durable protection against everything the great outdoors will throw at your Toyota 4Runner.
Last update on 2023-12-05 / If you click this affiliate link and make a purchase, we earn a commission at no additional cost to you.
Final Thoughts
There are plenty of practical reasons to upgrade your Toyota 4Runner with add-ons and a few that add a little fun. Some of the best can add a little of both. There's a lot to think about, from exterior to interior. We discussed our recommendations for the best accessories for Toyota 4Runner. But which entry on our list is now on your must-have list?