5 Best Toyota Tacoma Seat Covers (Solved!)
This post may contain affiliate links. As an Amazon affiliate, I earn from qualifying purchases.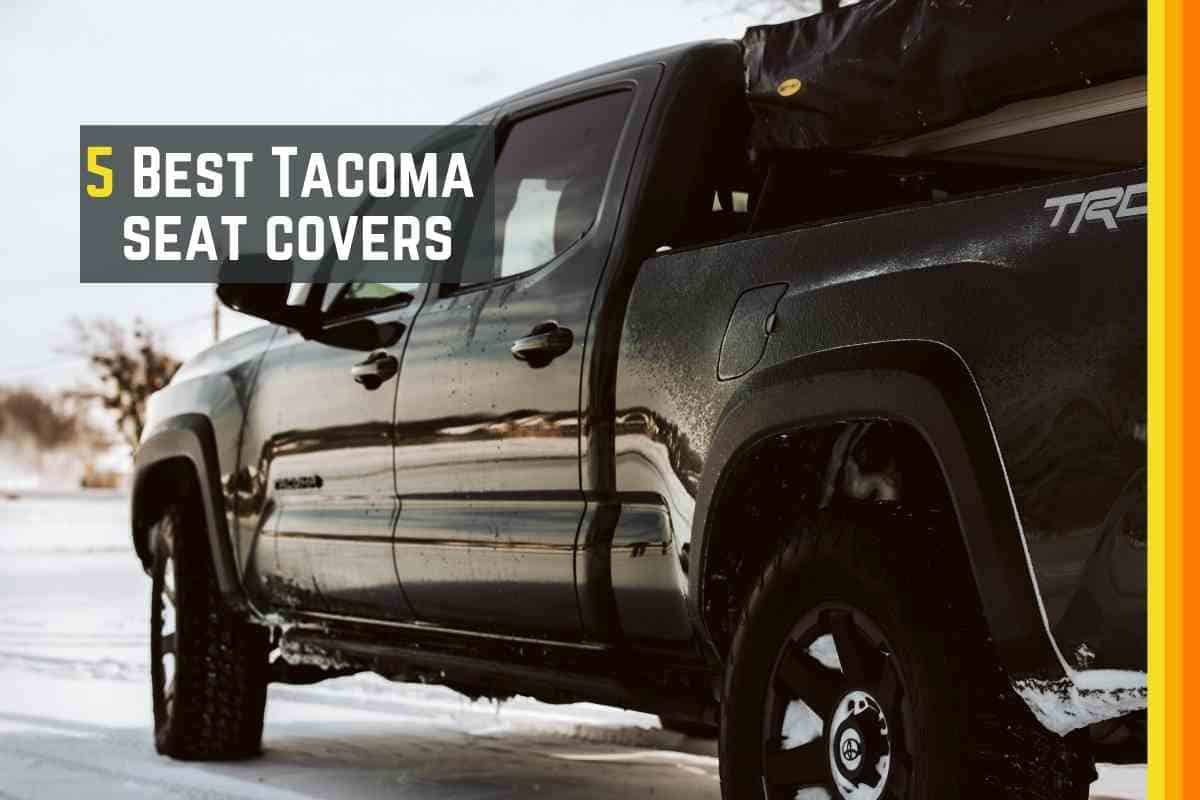 It's difficult to call seat covers an accessory because they are just about essential for safeguarding the interior of your truck. This is especially true if you're one of the many Toyota Tacoma owners that use their vehicle for work, which can get messy at times.
You don't want to damage the original seats in your truck. If you do, you'll have to face the difficult choice between living with defaced seats and the staggering expense of replacing them. Prudent truck owners know that using seat covers is a great choice to prevent such a situation. 
Seat covers prevent damage to your seats from spills, dirty jeans, and rips, keeping your car looking fresh and ensuring that the resale price won't deteriorate due to unsightly car seats.
Best of all, when they get dirty, you have to remove and wash them—that's not something you can do the car seats themselves!
In this review of the best Toyota Tacoma seat covers, we'll cover some of the most effective and most popular choices for covering the seats of Toyota Tacoma.
The Five Best Tacoma Seat Covers
We came up with this list after an exhaustive search through the car seats that will fit onto the seats of Toyota Tacomas. We paid close attention to the seat's material, features, and appearance, eventually choosing the best six according to these criteria.
Whichever of these seats you choose, you won't go wrong!
These faux leather Luckyman Club car seat covers come in black with a stylish red detail that will make the inside of your cab look luxurious. These universal car seat covers will fit into a Toyota Tacoma as well as other SUV truck seats.
They are waterproof and made from a high-density sponge material that will keep you comfortable while you're sitting on them. The faux leather is also quite strong and won't scratch easily or rip soon after you buy the product. The seat covers are easy to install as they don't require the removal of the back seat.
Pros:
Waterproof and scratch-resistant
Attractive design
Very easy to install
Cons:
Quite expensive by the standards of universal seat covers
Last update on 2023-09-23 / If you click this affiliate link and make a purchase, we earn a commission at no additional cost to you.
The Oasis Auto Tacoma Custom-Fit seat covers are made from PU leather, a fake leather product known as vegan leather. It has a similar look and feel to leather, but is cruelty-free. These covers come in over 100 different color and seat styles, which you can choose between on their website.
These seat covers are fitted specifically for the Toyota Tacoma, so you'll get a perfect fit as soon as you install them.
Pros:
Lots of color options
Tailored for the Toyota Tacoma
30-day back money guarantee
Cons:
False leather, which some might not be a fan of
Last update on 2023-09-23 / If you click this affiliate link and make a purchase, we earn a commission at no additional cost to you.
The Covercraft Carhartt Seatsaver comes in just one color that has a cool military look. They don't have any detailing, but some people might like that style.
These are fitted car seat colors and are compatible with Toyota Tacomas from the years 2012 to 2020. They are straightforward to put in and take out and are machine washable, so taking care of a mess is no big deal.
Pros:
Machine Washable
They have a defined style
Cons:
They only come in one color
Last update on 2023-09-23 / If you click this affiliate link and make a purchase, we earn a commission at no additional cost to you.
These seats from FH Group are basic universal car seat covers that aren't flashy and come in enough colors to match any car's exterior. All of them have black outlines filled in by your choice of 20 colors, including black and grey as well as more exotic colors like green, blue, and pink.
Although they aren't specifically designed for the Toyota Tacoma, they'll fit in well due to the adjustable straps they feature.
Pros:
Adjustable straps
Velcro openings that allow for easy installation and removal
Many color options
Cons:
The basic design may not be stylish enough for all.
Last update on 2023-09-29 / If you click this affiliate link and make a purchase, we earn a commission at no additional cost to you.
The Protech Auto Grey-Fabric is a universal seat car cover with a slick design and a lot of features that help keep your seats protected. The fabric is waterproof and will protect your seat from stains and other damage.
They are sometimes a little bit difficult to get a perfect fit in the Toyota Tacoma, but once you follow the manufacturer's instructions to adjust it you shouldn't have any problems.
Pros:
Good value in terms of the features and the price
Attractive design
Cons:
It takes some time and effort to get a perfect fit
Last update on 2023-09-29 / If you click this affiliate link and make a purchase, we earn a commission at no additional cost to you.
Buyer's Guide: What To Think About When Buying Toyota Tacoma Seat Covers
When you think about how much time you spend in and around your truck, it becomes clear that seat covers are an important purchase that you'll use every day. From that perspective, it's clear that you should put a lot of thought into the seat covers you choose.
This buyer's guide will take you through some of the most important questions you should ask yourself to help choose the ideal seat cover for you.
What Do You Use Your Truck For?
The way you use your truck goes a long way towards determining what seat covers are best for you.
People who use their truck for work will want to invest in more heavy-duty seat covers than those who use it mostly as everyday transportation. If you're in the former category, it's a good idea to think about seat covers that are made from heavy-duty materials. It's even better if the seat covers are also waterproof, as this will protect your seats from spills.
Those who mostly use their truck to get around but aren't often doing dirty work can think more about appearance. By all means, you should make sure that your seat covers can protect your seats in everyday situations. Once you've cleared that hurdle, there's nothing to stop you from getting the seat covers that you like the look of.
One final note is that people with small children should go for waterproof seats as well. Kids can be very messy, especially if they get some food or a juice box in their hands.
What Styles Do You Like?
The seat covers you choose can change the entire look of your car. You want to be sure you like the statement your seat covers are making before you go ahead and buy them.
Some seat covers will make your car look futuristic and racy, while plainer canvas or camouflage designs will give you a different look.
Make sure you think about the exterior appearance of your car as well. You don't want to choose seat covers that clash with your paint job. Bright red seat covers don't mix very well with an orange or yellow truck!
Should You Go With Universal Seat Covers or Fitted Seat Covers?
In an ideal world, everyone would buy seat covers that were specifically designed for their exact make and model of automobile. Fitted seat covers will have some features that universal seat covers lack, like spaces for the knobs that adjust your seat. They will also fit more snugly on the seat than universal seat covers, which sometimes bunch or stretch.
So, fitted seat covers are the best choice if you have the budget for them and can find a design you like.
However, that's not to say that buying universal seat covers is a horrible decision. They are much cheaper than fitted seat covers and come in a greater variety of designs and colors. As long as you're able to return the universal seat covers in case they fit very oddly, there's nothing wrong with trying them out.
Frequently Asked Questions
Here are a few of the most pressing questions for people buying seat covers for a Toyota Tacoma.
Are Seat Covers Universal for Any Car?
This is an important question that has a surprisingly complicated answer. First of all, there are seat covers that are specifically designed for one make and model of car. People usually refer to these as 'fitted seat covers.' They are incompatible with all vehicles except for the one they've been designed to fit.
Many car seat covers are sold as universal, but this doesn't mean that they will fit into absolutely any vehicle. There will often be limitations to the cars a universal seat cover will fit. Check the packaging for a note like 'will fit most trucks' or 'will fit most sedans.' This will tell you if a seat cover will work in your Toyota Tacoma.
Can I Wash Car Seat Covers In the Washing Machine?
Whether or not your seat covers are machine washable depends on the fabric that they're made out of. Check the manufacturer's instructions to see whether a set of seat covers you're considering buying can be washed in a machine.