Towing A Lifted Jeep Behind A Motorhome – 7 Pros And Cons
This post may contain affiliate links. As an Amazon affiliate, I earn from qualifying purchases.
If you're traveling in an RV and want to take your jeep along, then you should know about the pros and cons of towing a lifted jeep behind a motorhome.
Towing a Jeep behind an rv is not the same as towing another vehicle, which is why you need to know exactly how it is done the right way to avoid any unnecessary issues while on the road.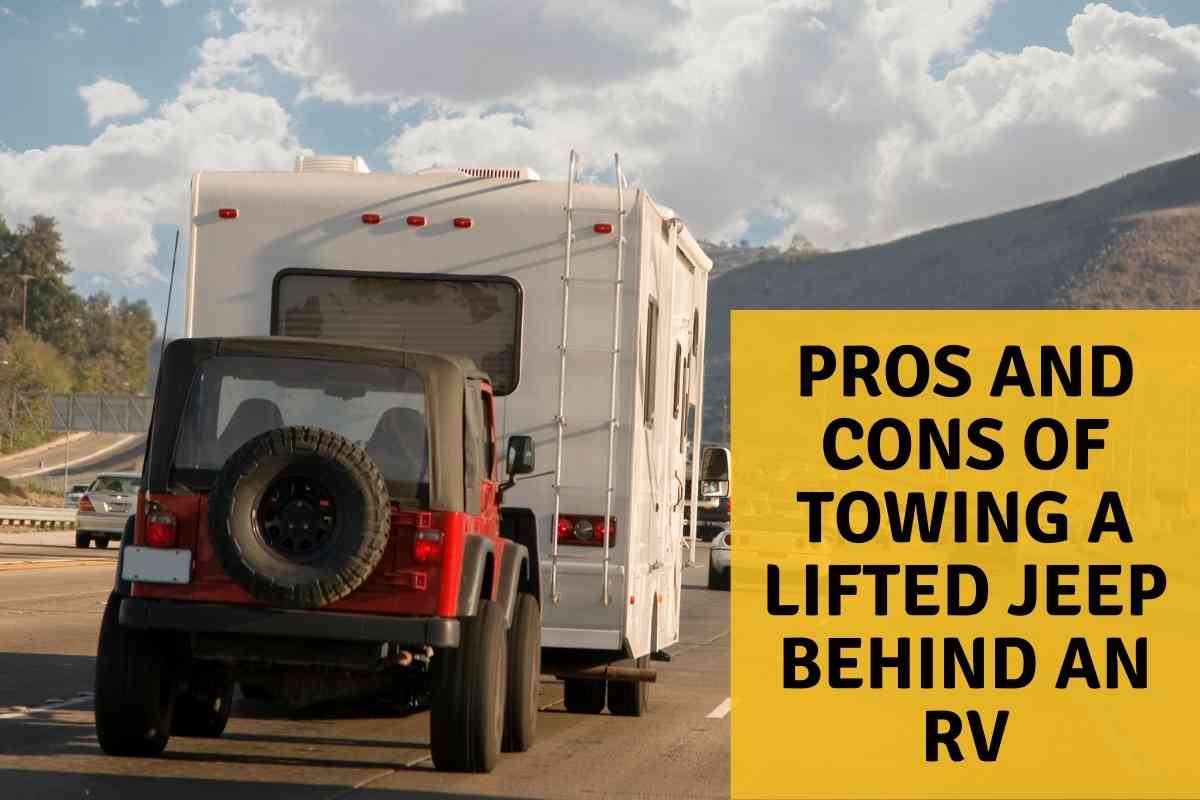 Table of Contents
Pros And Cons Of Towing A Lifted Jeep Behind A Motorhome
There are some pros and cons of towing a lifted jeep behind a motorhome, such as needing more fuel to tow a heavier vehicle. But, you will get to take your jeep along, which is great during emergencies, where you may need a vehicle to cross over rough terrain.
Towing a lifted jeep behind a motorhome during trips is not that difficult, provided you follow the necessary safety procedures and know what you're doing. Here, you will find crucial information on how you can tow your lifted jeep behind your motorhome the right way.
As avid outdoors enthusiasts, we often tow our vehicles, including jeeps, behind our motorhome, which puts us in an ideal position to help guide you through the process.
Towing a Lifted Jeep with a Motorhome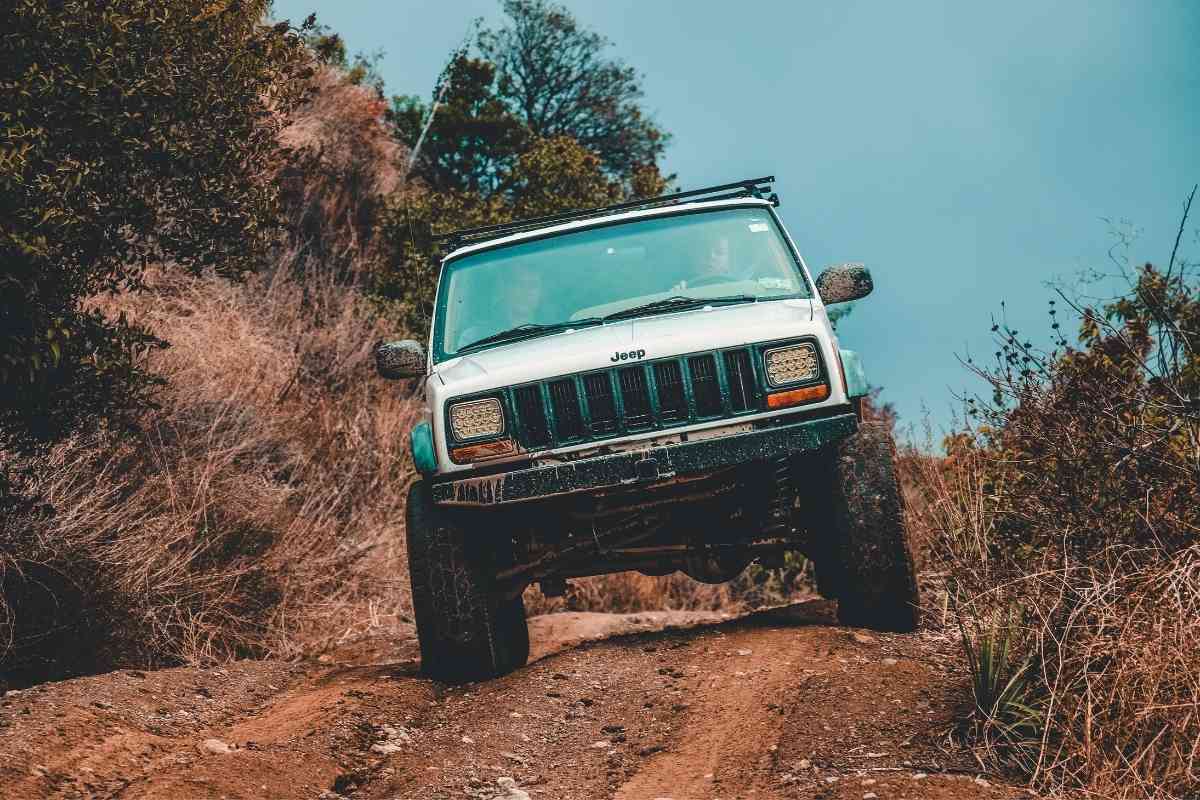 In order to bring the towbar's connection point more parallel with the trailer hitch receiver, you'll need to utilize a high-low adaptor. +/- 3 is the suggested distance. However, the closer you go to the car, the better it will tow.
For this, you can use a High-Low Adapter, which has a 10-1/4 inch opening rise/fall. Please note that the receiver tube center is used to determine the trailer hitch side.
The most crucial thing to bear in mind is that your tow bar should be parallel to the ground as much as possible.
They produce receiver hitch drawbars with various offsets; find one that parallelizes the tow bar. The braking mechanism is determined by the type of trailer you're pulling.
Many modern motorhomes are equipped with air brakes, or you can just go for hydraulic brakes on your tow truck; other braking systems function better.
It's critical that the jeep's tow point be as level as possible with the motor home's tow receiver – within a few inches at most. Drop hitches are designed specifically for this purpose.
A car tow dolly is designed for front-wheel-drive vehicles weighing less than 5000 pounds. Because most automobiles have front- or rear-wheel drive, it's always a good idea to double-check with the manufacturer.
Because of the varying ground clearances, towing with a tow dolly has the potential to cause damage to the motorhome and/or the car itself.
The body, undercarriage, and/or bumper of a toad vehicle can all be damaged.
To avoid transmission damage when towing with a tow dolly, the toad vehicle's drive shaft must be detached. Due to safety and damage issues, a car should never be towed backward, as is the case with flat-towing.
However, the most commonly used option is the tow bar for flat towing. Flat-towing is limited to automobiles with manual gearboxes (but there are exceptions).
That being said, just because a vehicle has a conventional gearbox does not guarantee it can be flat-towed.
In addition, the vehicle's weight must be taken into account. The towing capability of a motorhome is critical; otherwise, you risk causing harm to your RV.
Before you do anything, conduct thorough research. If you want to flat-tow a vehicle, don't accept a car salesman's word for it.
Con: Tires Wear Off Fast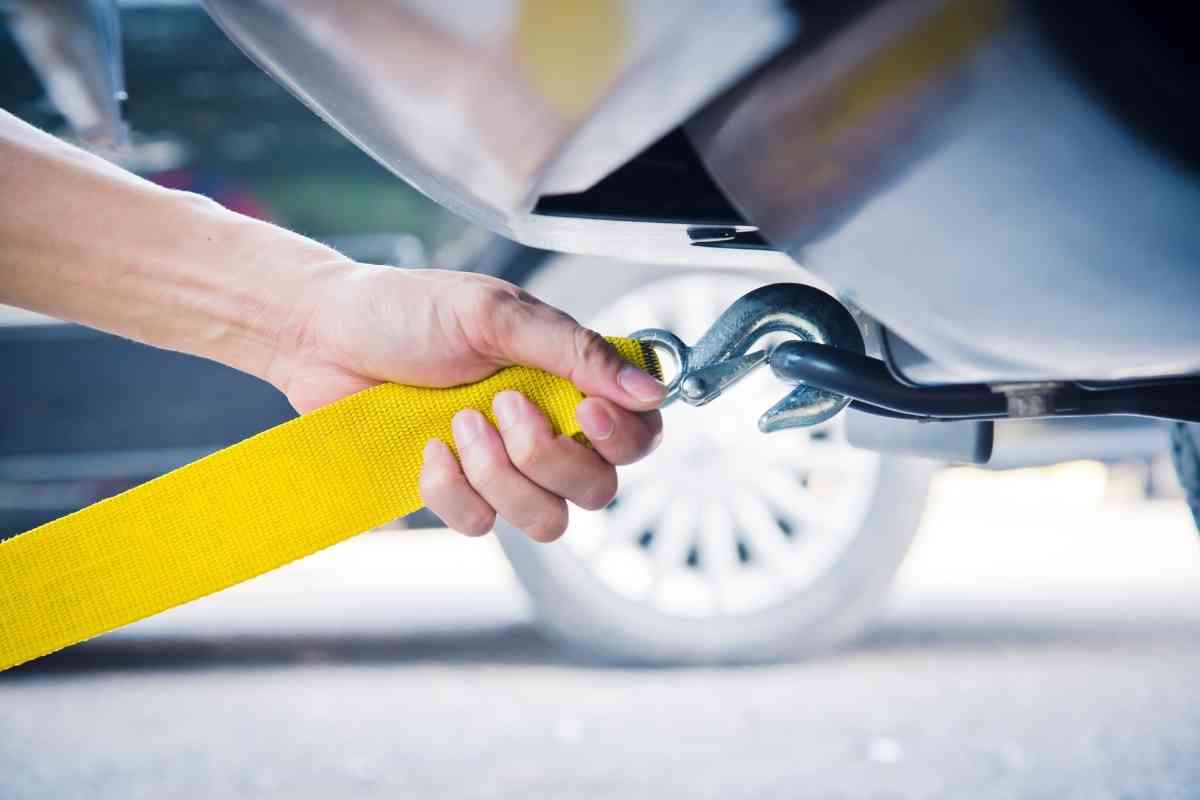 When flat towing a jeep, it shouldn't make a difference as long as the RV receiver's height is adjusted such that the tow bar is about level. When towing a jeep, utilize a trailer so that the highway tow miles are covered by low-cost trailer tires rather than high-cost jeep tires.
Only one suggestion: for towing, you might want to get some inexpensive wheels with thin tires. You don't want to wear out a set of costly mudders with aggressive tread simply to get to your play area.
The large tires may affect your mileage as well – if you don't know how big your coach is, you may not notice the difference unless your coach is light.
There's a hitch-haul adaptor that allows you to attach a hitch-haul on the rear of the RV to transport the tires while still hooking up the tow bar.
Con: Jeeps are Heavy
It goes without saying that jeeps are heavier than other vehicles such as sedans or coupes, which means that towing a jeep even behind a large motorhome is going to take some effort, and because of its heavy weight, you are always going to know it's there.
Con: Uses More Fuel
Even though it will not be the same as driving both the motorhome and the jeep to your destination, you will still need extra fuel to power the motorhome so that it can pull the jeep along.
Needless to say, your motorhome is going to use more fuel for towing a jeep as compared to towing smaller and lighter vehicles.
Con: Going Over Hills is Tough
Depending on both the motorhome and the jeep you are using, going up hills may be a tough task for your motorhome. This is especially the case with smaller motorhomes and heavier jeeps, which will take more effort to climb up a steep hill.
So, if you plan to cross over hills or mountainous areas, it is best to read the user's manual of your motorhome as well as the jeep that you will be taking to make sure that the motorhome is able to pull the weight of the jeep over hilly terrain.
Pro: All Jeeps Can be Towed
The good news is that just about every jeep can be towed behind a motorhome, provided the RV has been designed to take the weight of the vehicle. Since jeeps come in varied weights, it's smart to check the user's manual of the motorhome you own to make sure it can handle the extra weight.
Pro: Try a True Neutral
Unless it's a factory transfer case, the 231 in your Jeep has what's called a "true" neutral and can be flat-towed from here to Mars without issue. You won't get any miles in the jeep while being towed, either.
Take pains to maintain your tow bar as level as possible, as noted in previous responses. If you look at it from the side, and the tow bar is either too low or too high, you can see how much force is imparted to the M/H hitch while braking violently or even gently.
Pro: Use the Right Equipment
A great combination is using a tow bar and braking system from reputable companies. Also, many modern jeeps have a great function for lighting that you might wish to use.
An empty area of the bottom section of the tail light assembly is designed for the insertion of a brake tail light.
The part features a reflective rear side and a flat back for fixing the light socket. A highly useful and simple lighting system. A kit comprising a wire, two sockets, lights, and a connection is available from Blue Ox.
You won't have to disconnect any fuses or lose the function of the defective light bulb detector with this solution. Jeep has something in mind for those of us who tow our Jeeps.
Pro: Drop Hitch Inserts make Towing Easy
A drop hitch insert can be used upside down to maintain the tow bar level. You want the bar to be as level as possible. Tow brakes are an excellent concept.
Ready Brake is one of my favorite games. It is both effective and cost-effective.
Towing will increase the wear on those massive tires, especially the front ones, so keep that in mind. Those goods are really expensive. That is why, if traveling a long distance, some people utilize a trailer.
Isn't it true that all "genuine" Jeeps are lifted? With that stated, if you're not planning on performing any "genuine" off-roading, a standard Jeep will provide a far superior ride.
It is also important to keep in mind that varying manufacturers have different Hitch vs. Tow vehicle height guidelines; if they don't match those standards, they won't tow or stop properly.
For example, with Road Master tow bars and brackets, you can easily flat tow a Jeep Gladiator behind your RV.
You can also easily flat-tow a Jeep Cherokee if it's 2″ elevated.
To get this right, all you have to do is measure the distance between the center of the motorhome's hitch and the ground.
If you don't have a perfectly level area to park when measuring, take numerous measurements in different locations and average them. Then take a measurement at the spot where your baseplate connects to the baseplate.
Your baseplate connection point probably only moved up 3.75-4″ with the 3.5″ lift and 35″ tires. If that's the case, an upside-down 4″ drop hitch should suffice.