What Are The Best Years For The Ford Edge?
Thinking about investing your hard-earned money in a Ford Edge? A well-maintained Escape can last over 200,000 miles, but certain model years do it with fewer problems than others. So, which is the best model year for the Ford Edge?
What Are The Best Years For The Ford Edge?
Buyers and critics favor the 2014 Ford Edge over the rest. It combines a cozy and chic style with a huge list of high-tech (but still user-friendly) features. Buyers rave about how quiet the ride quality is and how it's notably more durable than other vehicles, and owners report that the 2014 Edge is able to hold up well with wear-and-tear.
The 2014 Ford Edge is one of the top model years out there. Critics and buyers alike agree that it is a well-rounded SUV with relatively few problems plaguing it compared to other model years.
JD Power gave it 83/100 points on their intensive evaluation. While the transmission might offer some slow responses, it – along with other crucial mechanical bits – is operationally sound.
What exactly is there to like about the 2014 Edge? And which Edge model years should you try to avoid? Read on to find out.
Ford Edge Model Years to Avoid
Okay, let's not beat around the bush here. You need to know which Edge model years to avoid.
Some of the earlier Edge models are just plain lemons. The first generation (2007-2014) hosts some of the most problematic model years.
While the 2014 marks a high note for that generation, electrical problems plague most of the earlier model years.
Car Complaints lists electrical issues as the Edge's overall worst complaint from consumers. These problems typically occur around 66,000 miles and cost around $300 to repair.
The 2011-2013 models have the most electrical problems. The 2011 model has issues with door ajar lights staying on, and the 2013 has this problem in droves. Owners do experience other types of electrical problems, including the computer software not working properly, the battery dying for no obvious reason, and the battery struggling to hold a charge.
While these problems are less expensive than others to remedy, they do point to something being really wrong elsewhere in the vehicle.
Transmission problems do tend to plague the Edge as well. The 2008 Edge's transmission seems to be the most problematic for all of the model years. 
Transmission failure has been reported at 80,000 miles (whereas other transmissions can get to well over 100,000 miles without much of an issue).
The average repair cost is $3,000, making it one of the priciest repairs you can make on the Edge. Some buyers have noted transmission slipping, which can indicate some serious problems too.
The Best Edge Model Years
2014
If you are going to buy a first-generation Ford Edge, the final installment – the 2014 Edge – is your safest bet.
The base 3.5-L V6 engine delivers plenty of power, but there are two other engine options: a turbocharged 2.0-L four-cylinder (which improves fuel economy) or a sportier and stronger V6 for the Sport trim level.
The standard 6-speed automatic transmission equipped on the 2014 Edge does not have as many consumer complaints lodged against it as the 2014's predecessors, but it does occasionally feel like it is a little hesitant to shift gears.
Safety features are fairly abundant on the 2014, giving you forward collision mitigation and rear cross-traffic alert.
The SYNC voice control system lets drivers quickly access the features they need to control, which is a nice tech-savvy bonus for a vehicle in this model year.
Some of the higher trim levels come with leather upholstery, built-in navigation, and chrome-finished alloy wheels. The various packages that were available for equipping that year add even more value to the Edge.
2018
If you think you want something slightly newer, check out any of the Edge's second-generation vehicles. The 2018 Ford Edge prices around $15,995 – $36,998 and boasts a ton of tech features.
This model year does not have as many serious complaints lodged against it as the first generation Edge models do, which should be encouraging.
Buyers enjoy the 2018 Edge's sporty nature, sleek design, and the fact that they have not had to do too many repairs on it yet.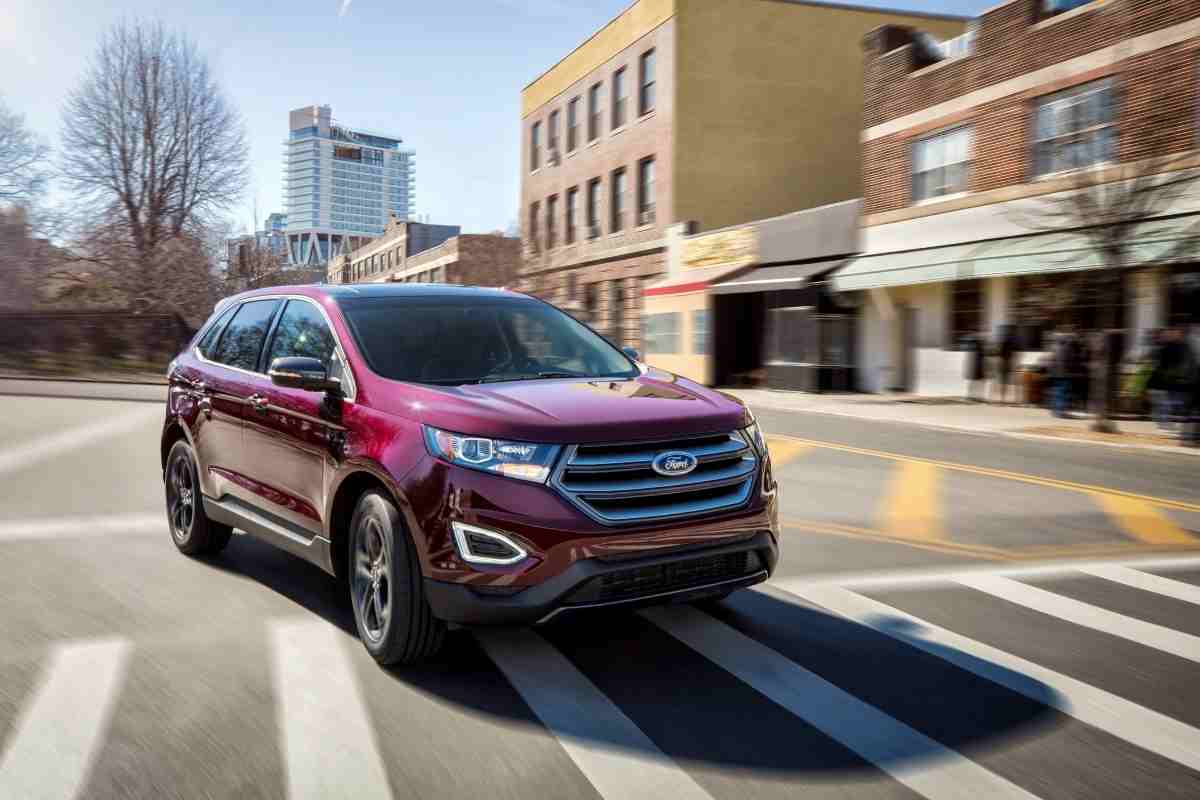 A Brief History of the Edge
The Ford Edge launched onto the market in the 2007 model year. The line-topping SE Plus trim level (which later took on the Limited name) was adorned with leather seats and an optional flat-folding six-way-adjustable front passenger seat.
Other optional features included dual-zone climate control, the user-friendly EasyFold second-row seatback release, and the SYNC infotainment system. In 2008, this trim was rebranded as the Limited.
The 2009 line-up included a new trim level: the Sport. The Sport would grow to become one of the most popular trim levels on the Ford Edge.
It was given faux-suede inserts, the EasyFold release, reclining 60/40 fold-flat seats that came with a center fold-down armrest, SYNC in-car connectivity, a six-disc in-dash CD/MP3 player, huge chrome exhaust tips, and 20-inch premium aluminum wheels done in chrome.
These original models were often named an IIHS "Top Safety Pick", and Ward labeled the 3.5-L Duratec 35 V6 as one of the world's "10 Best Engines". The initial model year even won the J.D. Power and Associates' 2007 "APEAL Award".
A hybrid (HySeries) was toted as an idea, and it was revamped after the 2007 Washington Auto Show. Ford released it as the Ford Airstream concept later at the 2007 Detroit Auto Show.
However, fuel cell technology (which is what powers this concept car) still has not taken off in most of North America.
The 2011 model year got a facelift with a revised bumped, re-sculpted front fascia, and upgraded cabin materials. The Sport includes a 3.7-L twin-independent variable cam timing engine, which was taken from the Mustang.
It can be distinguished by its 22-inch polished aluminum wheel that sport Tuxedo Black accents on the spokes and 4-inch chrome oval-shaped dual exhaust tips.
The Edge's More Recent Years
A need for change was met with the second generation of the Ford Edge, which emerged in 2015. Its new grille resembled that of the Explorer and Taurus models.
An updated 2.0-L EcoBoost brought with it all-wheel-drive (AWD) and a 3,500-pound towing capacity. This generation also saw the start of the Edge being sold on the European market.
In 2019, a mid-cycle refresh gave the Edge a new front grille, new aluminum alloy wheels for each trim, new interior and exterior color combinations, and a brand-new Ford 8F35 eight-speed automatic transmission.
The former Sony sound system was replaced by a 12-speaker B&O Play surround-sound audio system that produced clearer, crisper sound quality.
New safety features included post-collision braking, evasive steering assist, and stop-and-go lane-centering with the adaptive cruise control feature.
To top it all off, the new ST trim level came out, offering a 335-hp 2.7-L EcoBoost twin-turbo V6 engine.
This provided a 20 hp increase over the Sport, which the ST replaced at the top of the trim level tier. It featured its own unique interior design, chic aluminum alloy wheels, and a dark-finished mesh front grille.
NHTSA has been consistently assigning these Edge models five-star ratings. The Rollover AWD test is usually the only one where the Edge gets four stars instead of five.
IIHS has been assigning mostly "Good" marks across the board for its tests of each second-generation Ford Escape.
Best And Worst Years Ford Escape
If there is any lesson to be learned here, it is: Try to avoid buying a first-generation Ford Escape. 2014 is truly the one good year from that generation and set the bar for the advancements Ford made on the second generation.
Since the earlier second-gen models tend to sell for inexpensive prices, you will likely be able to find one that won't empty your wallet.
They also seem to be generous on repair bill costs. Just do general maintenance as needed, and the second generation of Ford Edges should treat you well.