What Chevy Truck has the Most Horsepower?
This post may contain affiliate links. As an Amazon affiliate, I earn from qualifying purchases.
Chevrolet has three different truck models in their lineup each with multiple engine options. If you are selecting a truck with the intention of putting it to some serious work, you may wonder what truck will be able to tackle the job best.
The 2022 Chevy Silverado HD with the 6.6L Duramax Turbo-Deisel V8 engine is the most powerful Chevy truck, boasting 445 horsepower. Horsepower changes with the truck model and with the engine selection, but this combination is clearly more powerful than anything else Chevy offers.
Understanding why horsepower matters, and taking a closer look at all of the best high-power Chevy truck options, will help you make an educated choice on what truck is right for you and your needs.
Understanding Horsepower
We know that the Silverado HD with a diesel engine provides the most horsepower, but why does this specification matter so much? Horsepower is a unit of measurement used for engines to quantify power, or how quickly work can be done.
It is calculated with a ratio of force, distance, and time, meaning that higher horsepower will correspond with a vehicle that is able to move quicker and more efficiently.
For trucks, horsepower is important because it determines how fast your truck can go and how quickly it can accelerate. A higher horsepower also opens up the potential for higher torque. As a result, towing capabilities and payload maximums go up. If you are in the market for a truck that can accomplish some tough jobs, you need high horsepower.
1. Silverado HD with Diesel Engine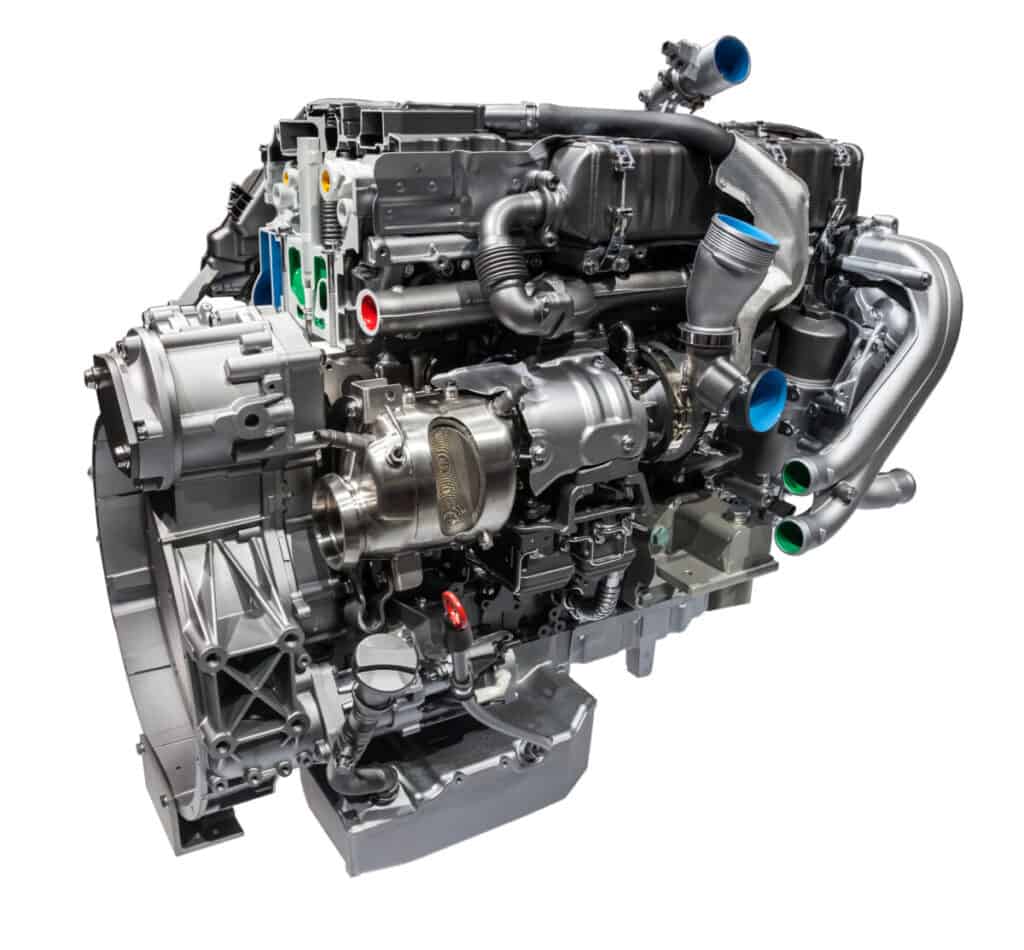 It is no surprise that the Heavy-Duty line of Chevy trucks comes at the top of the list. The Silverado HD is designed for hard work, as evidenced by the specifications.
There are two engine options for this 2022 truck, a 6.6L V8 gas engine or a 6.6L Duramax turbo-diesel V8 engine. Diesel engines are known for high torque, not high horsepower, but in this situation, the diesel wins.
With a 10-speed transmission, the turbo-diesel engine has 445 horsepower and 910 lb.-ft. of torque. These stats allow the truck to tow up to 36,000 pounds.
The trailering weight does depend on a few other factors. To be guaranteed that maximum, you need to get specifically the Silverado HD 3500 with a regular cab, long bed, gooseneck hitch, and Chevy's "Max Trailering Package". The 3500 also boasts a maximum payload of 7,442 pounds.
However, any variation of the Silverado HD with diesel will have the same horsepower, and will still have an impressive trailering weight maximum. (source)
2. Silverado with 6.2L Gas Engine
The Chevy Silverado is not the heavy-duty line, but it still has the next best horsepower. The 2021 Silverado has six engine options, five of them gas engines and one a diesel engine.
Naturally, the largest gas engine is the one with the most horsepower. You can get 420 horsepower from the 6.2L V8 (L87) EcoTec3 engine. The engine is top of the line with an automatic start/stop feature and dynamic fuel management.
Along with the 420 horsepower, this truck boasts 460lb.-ft. of torque and has a 10-speed transmission just like the previous option. The Silverado with a 6.2L gas engine claims a max trailering load of 13,300 pounds if you have the Silverado 1500 with a double cab and standard bed. The estimated fuel efficiency for the 4×4 trucks is 16 MPG for city driving and 21 MPG for highway driving.
It is important to note that the 2021 Chevy Silverado has a lot of different model options, and this engine will not be available for all of them. Some of the popular configurations include the High Country, LTZ 4×4, LT Trail Boss, RST 4×4, LT 4×4, and Custom Trail Boss. To get the 6.2L V8 gas engine, you will need to have the High Country, LTZ, LT Trail Boss, RST, or Custom Trail Boss. (source)
3. Silverado HD with Gas Engine
Chevy's other heavy-duty truck is still high up on the ranking of impressive horsepower. Choosing the gas option will be slightly more affordable than the diesel and it doesn't sacrifice much in the specifications. It has a 6-speed automatic transmission and 401 horsepower.
The torque is advertised as 464 lb.-ft. and the maximum trailering weight is 17,370 pounds. Again, this is based on a unique combination of features, specifically the Silverado HD 2500 with a regular cab, long bed, 2WD, 17″ wheels, and a gooseneck hitch. This is a great option for people who want heavy-duty features but still want to stick with a traditional gas engine. (source)
4. Silverado with 5.3L Gas Engine
This engine option is slightly smaller than the highest horsepower Silverado engine, but it is still pretty impressive. The 5.3L V8 EcoTec3 gas engine produces 355 horsepower and 383 lb.-ft. of torque. This engine actually comes in two different options (L82 or L84) that have the same horsepower and torque but differ in other ways.
The L82 is a 6-speed transmission and is estimated to get 15 MPG when city driving and 20 MPG when highway driving. It is only available on the WT, Custom, and Custom Trail Boss configurations. The L84 is a more fuel-efficient engine because it has an automatic start-and-stop feature.
The estimated mileage is 16 MPG in the city and 22 MPG on the highway. This engine is standard on the LT Trail Boss, LTZ, and High Country but also available for the LT and RST. The L84 typically has an 8-speed transmission but is upgraded to 10-speed on the LT Trail Boss and High Country 4×4 models. (source)
5. Other Chevy Trucks
The Silverado with a 2.7L turbo engine produces 310 horsepower and the Colorado with a 3.6L V6 engine produces 308 horsepower. Since Chevy puts out these numbers as estimations for comparison, you can't really split these two trucks apart on a ranking of horsepower.
The Silverado does have significantly higher torque at 348 lb.-ft. compared to Colorado's 275 lb.-ft. While the horsepower is essentially the same, the 2.7L turbo engine is overall the more powerful choice out of the two. (source)