What Engine Is In The Ford Raptor?
It is no surprise that the Ford Raptor is a sought after truck. So many Ford fans, truck fans, or fans of both categories want to get their hands on the Ford Raptor.
This has other inquiring minds wondering, "What is so great about the Ford Raptor?" This will lead them to research more about the truck and thus either they turn into a skeptic or a believer. If you fall into the believer lineup (and we do not blame you) you probably have other questions about the Ford Raptor as well.
One commonly asked and searched question on the web is, "What engine is in the Ford Raptor?" This is an excellent question because trucks are known and sought after for their powerful engines and their hauling power.
If you have been curious about the Ford Raptor's engine then we have got you covered. Let's get started!
What Engine Is In The Ford Raptor?
The engine in the Ford Raptor is the Ford 3.5 L V6 engine is a 10-speed automatic that yields 450 Hp and 510 lb-ft of torque.
What is so great about the Ford Raptor?
The Ford Raptor is such a popular and sought after truck despite its high price tag. The Ford Raptor, currently, starts at $53,000.00. Yet despite its high price tag, it does not steer away fans and especially not inquiring minds.
A very popular question asked about the Ford Raptor is whether or not it can be leased. This could be because fans want to try out the Ford Raptor to make sure it is worth its asking price or maybe because the asking price is too high, they want to experience the Ford Raptor at a more affordable price.
As of now, whether or not you can lease a Ford Raptor is a bit spotty. Some consumers note that their local dealerships do not offer leasing for the Ford Raptor while others have commented that they were able to get a quote from their car shop.
As of now, it looks as if it depends on the location you are at. We would suggest calling around to your local dealerships and local car shops to see if they have the Ford Raptor in stock (since they are in high demand), and then asking what their leasing options are.
As mentioned above, some customers have had great luck with this while others have been told directly from their dealership that they do not have current plans to lease their Ford Raptor.
It is important to be patient with this process since it might take a while before you will find a location that will allow you to lease.
Aside from its high demand, here are the reasons why people are loving the Ford Raptor:
● Powerful 3.5 L V6 Engine
● Smooth Off-Roading Abilities
Want to take your Ford Raptor off-roading? Well, you better because that is what it was designed for.

The 2020 Ford Raptor has a built-in cruise control system for low traction.
● Impressive Trail Control
The Ford Raptor comes with the class-exclusive FOX live valve monotube shocks which feature internal bypass technology to give you extreme control and maximize your off-road adventure.
These are the top three aspects of the Ford Raptor that people are raving about and we would not be surprised if Ford decided to upgrade these features to make their 2021 Ford Raptor run even smoother.
If you are interested in the Ford Raptor and would like to learn more information about it (including special features and specs), please check out their website here.
What kind of engine does the Ford Raptor Have?
The current Ford Raptor model runs on a 3.5 L V6 engine. While some people think it is an amazing engine and very powerful, there are also those that think the Ford Raptor should have a more powerful engine such as V8.
According to Phil Long's online website:
"The 2020 Ford Raptor features a twin-turbocharged high-output 3.5L EcoBoost V6 engine that dishes out 450 horsepower and 510 lb-ft of torque. This Ford Raptor engine pairs to a paddle-shifted 10-speed automatic transmission to offer a smooth performance both on and off-road."
However do keep in mind that this is the current model, the 2020 Ford Raptor. Those that own the Ford Raptor or those that own a truck with a V6 engine understand that the current Ford Raptor has a very powerful engine. Yet for the price, other fans want something more powerful. Which end of the spectrum do you stand on?
Ford has heard the cries and complaints of their fans and guess what? It seems like they are willing to give the fans what they want. According to The Drive's online article, titled, "2021 Ford F-150 Raptor Will Have 700+ HP Supercharged V8 from Mustang GT500: Report" it looks like fans will get the V8 engine that they want.
"…we've got a new report from a well-sourced informant who claims Ford is "without a doubt" dropping the Mustang GT500's 5.2-liter, 700+ horsepower supercharged V8 into the new 2021 Ford F-150 Raptor.
That would be a big upgrade compared to the current, 3.5-liter twin-turbo six-cylinder EcoBoost in the Raptor. At 450 horsepower, the V6 is plenty powerful, however, our source tells us that in the new Raptor, the supercharged 5.2-liter will take anywhere between 725 and 750 hp."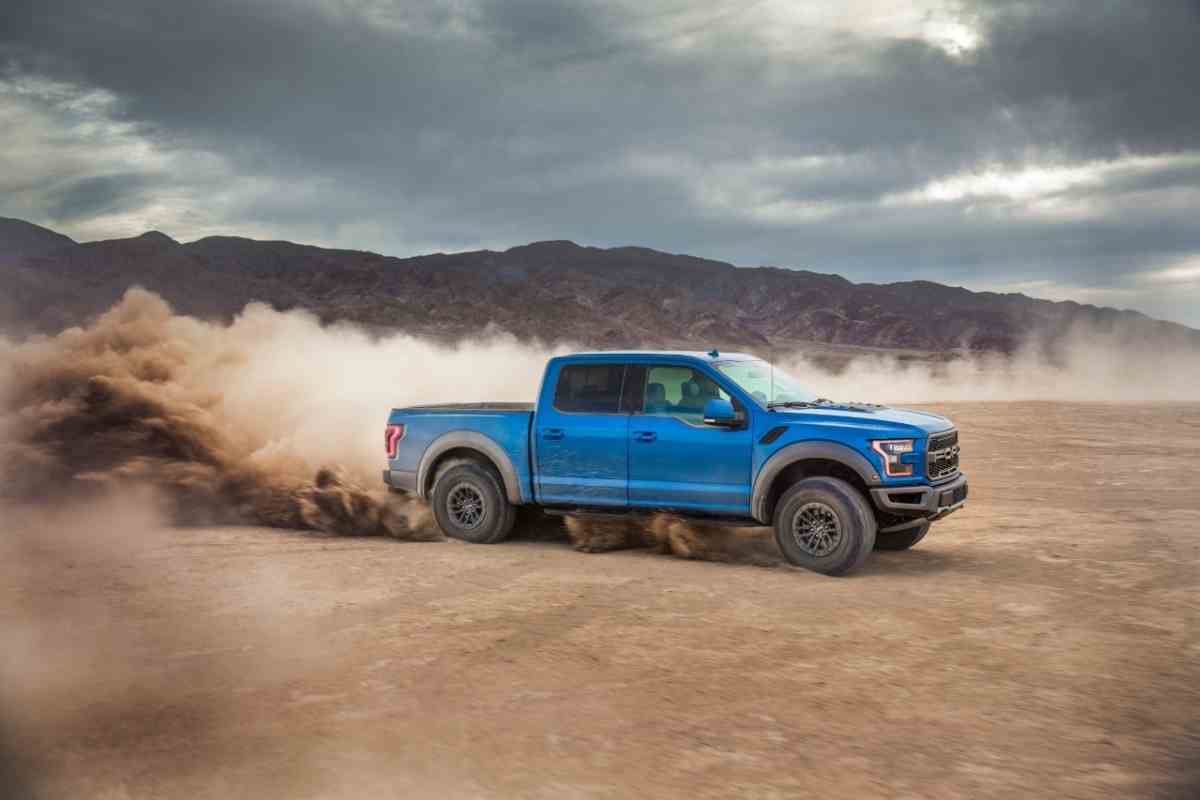 While these are mere speculations until the 2021 Ford Raptor models drop it seems very likely that this will be the case. After all, Ford will want to keep the hype as high as possible for their next drop.
And in order to impress fans, even more, they will need to constantly improve their Ford Raptor. By reading reviews and comments by fans, they might have realized that an upgraded engine is a way to go.
With the way things are going now, it will not be a surprise if the 2021 Ford Raptor will outsell its predecessor.
How do you feel about the possible engine change to the Ford Raptor? Do you think the original engine is more than enough power and an upgraded engine will only mean it will have a higher price tag? Or are you happy to see this because you feel like a V6 engine truck should not cost as much?
In Conclusion | Is Ford the future?
The Ford Raptor is not an inexpensive truck by any means. The starting price for a Ford Raptor is $53,000 starting price. Yes, you read that right…starting price.
Some people might roll their eyes at that and others who understand that trucks cost more than other vehicles might also wonder if the Ford Raptor is worth it. Ford stands behind all of their vehicles and they will continue to make the 2021 Ford Raptor even better than the current model.
With that said, the chances of the price increases are very high. If you have been thinking about getting a Ford Raptor but the high price tag is steering you away, do consider waiting for a sale when the new models arrive.