What Ford Broncos Are Available? [Explained!]
The Ford Motor Company has been in business for quite some time. Founded by Henry Ford himself, the now global name got its start back in 1903 in Detroit.
The company has certainly come a long way since Ford's first 1896 Quadricycle Runabout, with one of its most recognizable and coveted cars being the Ford Bronco.
Speaking of the model, what Ford Broncos are available today? Here's a glance at the 2021-2022 models:
Bronco Big Bend
Bronco Black Diamond
Bronco Outer Banks
Bronco Badlands
Bronco Wildtrak
Bronco First Edition
The First-Generation Bronco came out in 1966. The company followed up with five more generations of Broncos until the mid-90s. Now, the SUV is making a comeback with modern models. Let's take a closer look at the models available today.
Ford Broncos Available Now
Because Ford just started releasing the new Broncos in 2021 (after a 20+ year hiatus), we only have two years to choose from: 2021 and 2022. Each year offers the Bronco and the Bronco Sport, and each of these is divided into different available trims with various features that are worth exploring.
Bronco Base Model
The Bronco Base Model, in both the 2021 and 2022 editions, is going to be the most affordable SUV of the bunch, but that doesn't mean it's the worst option. The base model is equipped for off-roading, comes with four-wheel drive, and is powered by Ford's own 2.3-liter EcoBoost engine.
Let's take a look at some of the standard features of the base model:
2-door/4-door options
Removable door/top
Push-button start
LCD instrument panel
ABS & electronic stability control
7/10-speed automatic transmission
16-inch, all-season tires
And that's not even scratching the surface. The Bronco Base Model has a 3,500-pound towing capacity with several exterior colors to choose from. Plus, it has a load of upgrades to select.
The Bronco Sport base model comes equipped with five "Go Over Any Type of Terrain" modes along with other helpful features.
Bronco Big Bend
The Bronco Big Bend is an upgrade from the base model. If nothing else, the significant price change reflects that as the Big Bend is more expensive.
With the Big Bend, drivers get another terrain option, larger wheels with all-terrain rubber, and some cosmetic upgrades. While the engine is the same, this vehicle comes with additional color options for a personalized look.
Here are a few more features:
Leather steering wheel
Privacy glass
Multi-zone climate systems
MOLLE straps system
The Big Bend gives you the same smooth four-wheel drive and traction control you loved in the base model with a few extra perks and additional upgrades, such as remote start and lane-keeping systems.
Bronco Black Diamond
One of the most obvious changes in the Black Diamond Edition of the Bronco is the size. The four-door model offers 83 cubic feet of cargo, which is about 20 cubic feet more than the base model.
It also offers:
Heavy-duty front bumper
Rubberized flooring
Vinyl seating
Bash plates
Rock rails
Four tow hooks
17-inch wheels, black gloss-painted
Basically, the Black Diamond is your heavy-duty upgrade to the base Bronco. Its extra features protect the vehicle from intense off-roading damage, and it was the first model to receive overhead auxiliary switches to add more features.
Bronco Outer Banks
If the Black Diamond says heavy-duty, then the Out Banks screams luxury. Our most expensive model so far, the Outer Banks, focuses heavily on looks and comfort. Even the outside looks different from other models, sporting body-color door handles, powder-coated tube steps, and fender flares.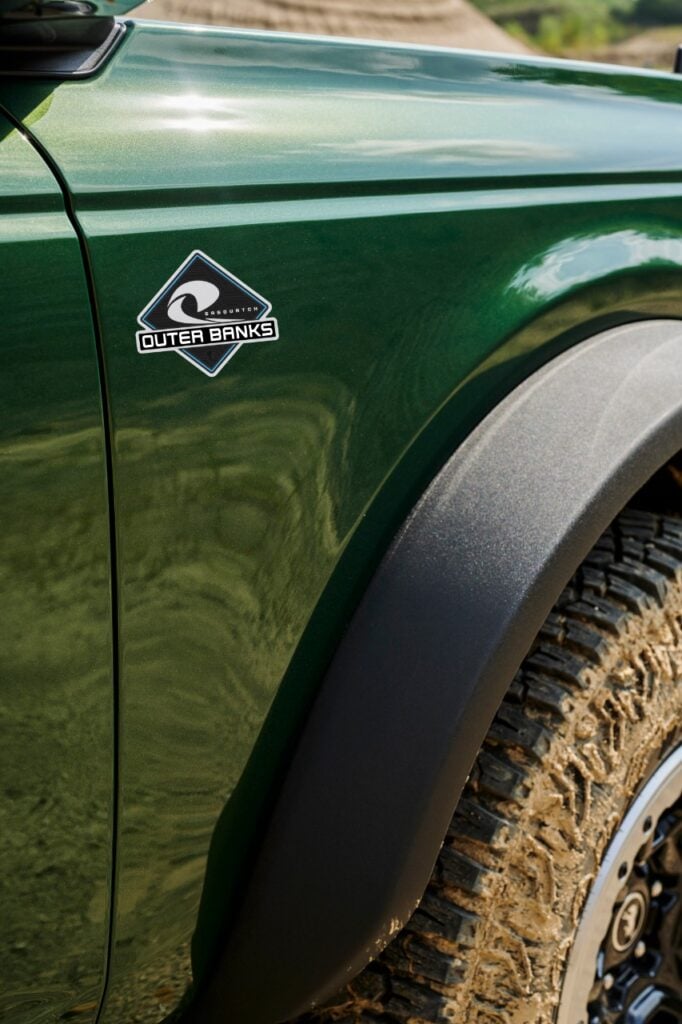 Not to mention, it sits on huge 18-inch, all-terrain tires.
Some of the internal features include:
12-inch touchscreen control
Dual-zone climate control
Heat seats
Remote start
Leather-trimmed seating
Carpeted floors
Auto-dimming
The Outer Banks come equipped with the same handling and power, but it does have fewer terrain options. Still, it'll get you where you need to go.
Bronco Badlands
The Bronco Badlands is one of the better Broncos for off-roading (though, let's be real; they can all handle a trail). The reason behind this line of thinking is the Badland's suspension that comes with a hydraulic front sway-bar disconnect. This model is the only one to have this exclusive suspension.
It also comes stocked with massive 33-inch, all-terrain tires, which is nothing to sneeze at. The vinyl seats and washable floors are perfect for anyone who likes to get down and dirty.
Here are a few other features:
Heavy-duty front bumper
Steel rear bumper
2.0L EcoBoost engine
249 horsepower
Advanced 4×4 with twin-clutch rear-drive
Rear differential lock
This vehicle is agile and easy to handle on practically any type of terrain.
Bronco Wildtrak
Currently, the Wildtrak only has a 2021 edition. But don't be swayed by a newer year; the Wildtrak is no joke. Many would consider it more off-road capable than the Badlands.
Check out some of what it has to offer:
310 horsepower
2.7L EcoBoost engineer & 400lb/ft torque
Sasquatch Package
Dual-zone automatic temperature control
Lane-keeping system
10-speed automatic/advanced four-wheel-drive
Seven terrain modes
We mentioned the Sasquatch Package above, and that's a big enough deal to expand on it a little. This package includes whopping 35-inch tires, front/rear locking differentials, high-quality shocks, and high-clearance fender flares.
All of that comes standard on the Wildtrak.
Bronco First Edition
The Bronco First Edition is the most expensive model available right now, with its base price exceeding 50 big ones. Upon first glance, the biggest difference with this model is the First Edition Hood and its body side graphics, which are sure to make you stand out in a crowd of trucks and sedans.
But before you get your hopes up, you should know that Ford only released 3,500 of them, each with special edition interior, graphics, and all the technology you could ever need. It basically has all of the features that the others have (minus the Badlands suspension), including the Sasquatch Package.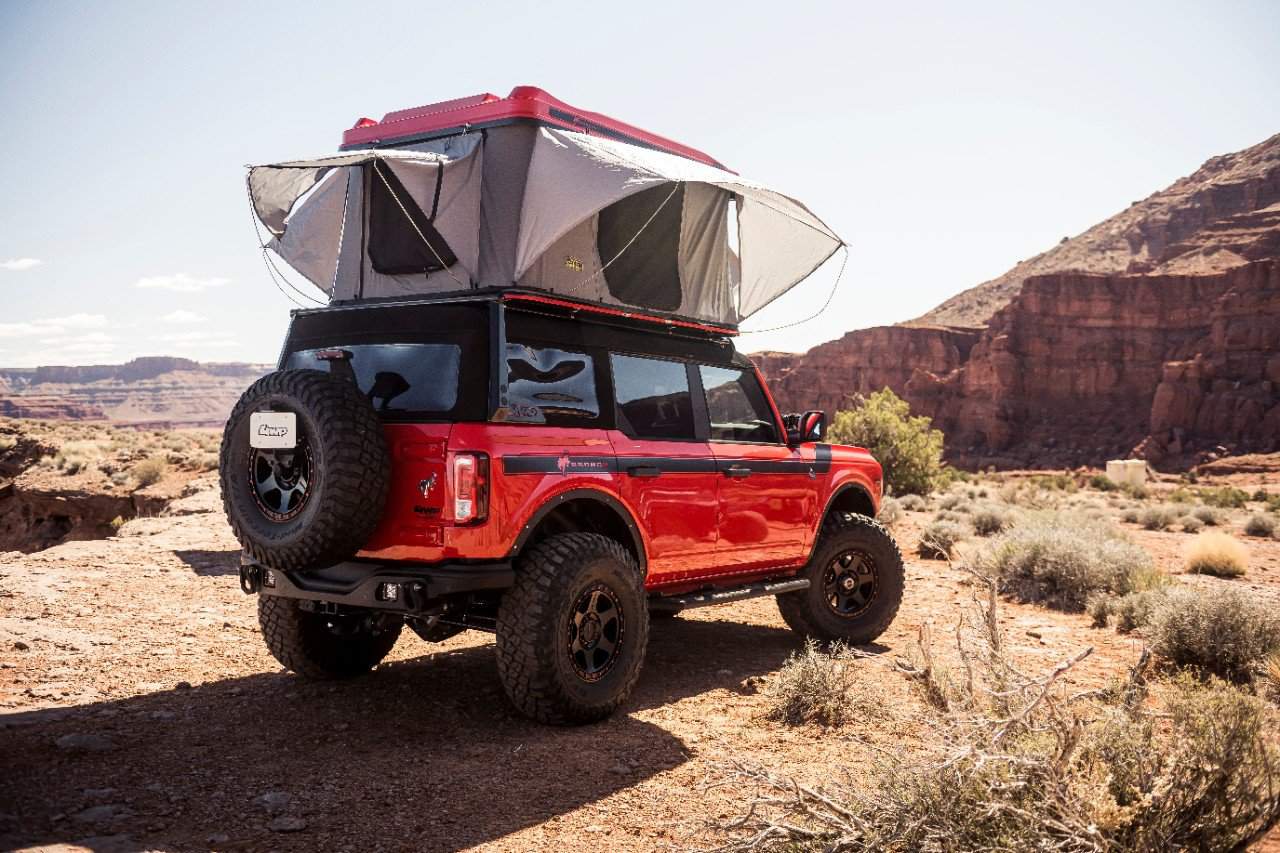 FAQs
If you're looking to find the best Ford vehicle out there, check out these commonly asked questions.
Are Ford Broncos expensive?
As compared to other SUVs on the market, the Ford Bronco is pretty on par price-wise. If you're looking to invest in a high-quality SUV anyway, then it probably wouldn't hurt your budget to check out the base models of this car.
That being said, prices get continuously higher depending on your model, off-road features, and luxury add-ons—but that's expected from any SUV.
Are Ford Broncos reliable cars?
The Ford Bronco comes highly rated by car sites such as CarBuzz and TheCarConnection, both of which give the vehicle high scores in areas of safety and reliability.
Ford lovers typically have confidence in anything the brand puts its name on, considering the company tends to produce reliable vehicles. J.D. Power also gives the new Bronco high praise, marking the driving experience, quality, and reliability as "great" and right in line with the Chevrolet TrailBlazer and the Buick Encore GX.
Are newer Ford Broncos better than the original?
It's hard to answer this question fairly. For some people, nothing will ever beat the nostalgic look and feel of a classic Ford Bronco from the SUV's first go-around throughout the 60s, 70s, 80s, and 90s.
However, with a significant improvement in technology over the years, the newer Ford Broncos can offer much more power—nearly triple the horsepower in some outfits. It can get up to higher speeds much faster, has better fuel economy, and superior suspension, among other upgrades.
Final Thoughts
Are you a Bronco fan yet? If not, your next step is to test-drive one yourself. With several available trims over two years of innovation, this SUV has truly taken the automotive market by storm.