What is a Quick Order Package (Buying a Jeep)
With all the options available when building a jeep, it is easy to get carried away making yourself a jeep thousands of dollars more expensive than you need it to be. Additionally, it can take a long time for you to receive a custom order jeep with all the trimmings.
A Jeep quick order package is a jeep with a specific set of add-on features based on the package name. They vary in price based on the included features, but the main benefit is the immediate availability these packages provide compared to the amount of time it takes to receive a custom order Jeep.
The different types of quick order packages available for jeeps can be a little confusing. The rest of this article will help explain the differences between the ones available for the most popular jeep models.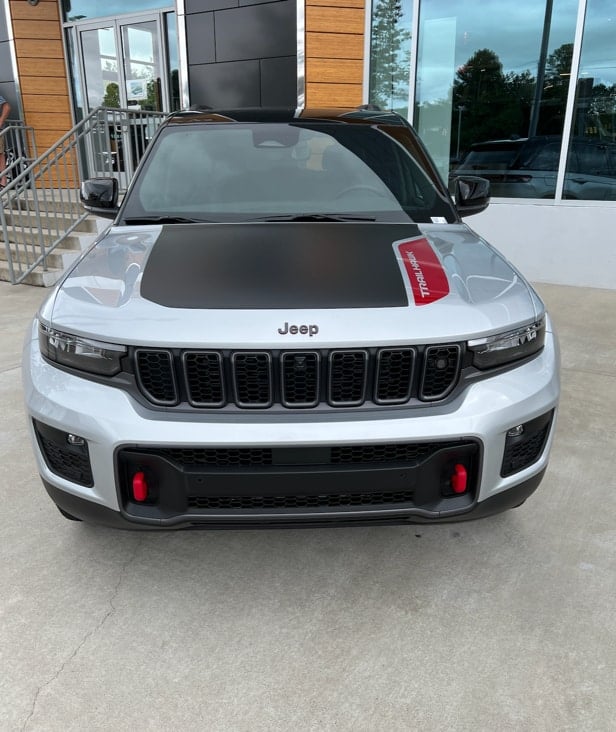 Quick Order Package Notes
Quick order packages typically are named based on the intended use one might be trying to get out of the vehicle. This can be helpful for narrowing your search quickly to one that is best for you, and if you like a quick order package a lot but it is missing something you really need, you can always use that set of features as a base from which to build your own perfect Jeep.
There are several different base Jeep models available right now, and new lines are created and discontinued from time to time. For the purposes of this article, the newest model of each currently available jeep model will be used. This means the prices will be relatively expensive, although these designations will still be helpful if you end up buying a used one.
The included features tend to vary only slightly by model year. Each base or type of Jeep has several different packages that come with unique trim, wheels, exterior decoration, and more, meaning that each package is a unique car in many ways, even if they are all typical. share the same standard frame and engine.

There are also limited edition jeep models that in and of themselves are essentially special quick order packages. These tend to be a little more expensive than the base models they replace, but are worth taking a look at if you want a particularly unique model.
Finally, the quick order packages or base models themselves also come with additional feature packages, as well as the ability to swap out some features depending on which package you are starting with, so there really is no end to the customization you can get with these Jeeps.
The more expensive packages will either include or replace features in cheaper models with better ones, but not always, as some packages are truly intended to be more for offroading or for different environments than others, and some Jeep models are meant more for on-road experiences or as a luxury experience than their counterparts.
Below are two of the most popular types of Jeep models available for purchase now and a chart with the different available quick-order packages.
Jeep
New Grand Cherokee
Price
Specs
Notable Features

2022 GRAND CHEROKEE L LAREDO 4X2
$40,720
19 mpg city, 26 mpg highway
6,200 lb towing capacity
265/60R18 BSW On/Off Road Tires
2022 GRAND CHEROKEE L ALTITUDE 4X2
$45,430
19 mpg city, 26 mpg highway
6,200 lb towing capacity
Rain-Sensitive Windshield Wipers. Power Liftgate
2022 GRAND CHEROKEE L ALTITUDE 4X2
$47,040
19 mpg city, 26 mpg highway
6,200 lb towing capacity
Exterior Mirrors with Memory, Power Liftgate
2022 GRAND CHEROKEE TRAILHAWK 4X4
$54,630
19 mpg city, 26 mpg highway
6,200 lb towing capacity
Memory Heated Mirrors with Turn Signals, Power Liftgate

2022 GRAND CHEROKEE L OVERLAND 4X2
$56,635
19 mpg city, 26 mpg highway
6,200 lb towing capacity
Rain-Sensitive Windshield Wipers,
Hands-Free Power Liftgate
2022 GRAND CHEROKEE L SUMMIT 4X2
$60,695
19 mpg city, 26 mpg highway
6,200 lb towing capacity
Rain-Sensitive Windshield Wipers,
Hands-Free Power Liftgate
2022 GRAND CHEROKEE L SUMMIT RESERVE 4X4
$67,175
18 mpg city, 25 mpg highway
6,200 lb towing capacity
19-speaker McIntosh audio system, 21-inch wheels, Palermo leather seats, Rain-Sensitive Windshield Wipers. Hill Descent Control
Wrangler
Price
Specs
Notable Features
2022 WRANGLER UNLIMITED SPORT 4X4
$34,045
17 mpg city, 23 mpg highway, 3,500 lb towing capacity
17-Inch x 7.5-Inch Black Steel Styled Wheels
2022 WRANGLER UNLIMITED WILLYS SPORT 4X4
$36,500
17 mpg city, 23 mpg highway, 3,500 lb towing capacity
17-Inch x 7.5-Inch Black Steel Styled Wheels
2022 WRANGLER UNLIMITED SPORT S 4X4
$37,640
17 mpg city, 23 mpg highway, 3,500 lb towing capacity
Power-Heated Mirrors,
Automatic Headlamps, LED Tail Lamps
2022 WRANGLER UNLIMITED WILLYS 4X4
$40,495
17 mpg city, 23 mpg highway, 3,500 lb towing capacity
Power-Heated Mirrors,
Automatic Headlamps, LED Tail Lamps
2022 WRANGLER UNLIMITED SPORT ALTITUDE 4X4
$39,635
17 mpg city, 23 mpg highway, 3,500 lb towing capacity
255/70R18 All-Season Tires
2022 WRANGLER UNLIMITED RUBICON 4X4
$46,195
17 mpg city, 23 mpg highway, 3,500 lb towing capacity
Ambient LED Interior Lighting,
Halogen Headlamps, 17-Inch x 8.0-Inch Machined Wheels with Black Pockets
2022 WRANGLER UNLIMITED SAHARA 4X4
$42,545
17 mpg city, 23 mpg highway, 3,500 lb towing capacity
Ambient LED Interior Lighting,
Halogen Headlamps
2022 WRANGLER UNLIMITED SPORT RHD
$45,345
21mpg city, 24 mpg highway, 3,500 lb towing capacity,
8-Speed Automatic 850RE Transmission
Halogen Headlamps
2022 WRANGLER UNLIMITED SAHARA ALTITUDE 4X4
$46,140
17 mpg city, 23 mpg highway, 3,500 lb towing capacity
255/70R18 All-Terrain Tires, Front Fog Lamps, Halogen Head Lamps
2022 WRANGLER UNLIMITED HIGH TIDE 4X4
$50,335
19 mpg city, 24 mpg highway, 3,500 lb towing capacity
LT315/70R17 113/110S Tires, Hinge-Gate Reinforcement by Mopar, Solar Control Glass, Front Fog Lamps, Halogen Head Lamps
2022 WRANGLER UNLIMITED HIGH ALTITUDE 4X4
$52,875
21 mpg city, 24 mpg highway, 3,500 lb towing capacity
275/55$20 BSW All-Season Tires, Anti-Lock 4 Wheel FNC Disc Brakes, LED Tail Lamps, Ambient LED Interior Lighting, Front Fog Lamps, Halogen Headlamps
2022 WRANGLER UNLIMITED RUBICON 392
$79,990
13 mpg city, 17 mpg highway, 3,500 lb towing capacity
LT285/70R17C OWL Off-Road Tires, Hood with Air Intake Scoop, LED Tail Lamps, Ambient LED Interior Lighting, Automatic High-Beam Headlamp Control