What is the Difference Between a Chevy 2500 and a Chevy 2500HD?
This post may contain affiliate links. As an Amazon affiliate, I earn from qualifying purchases.
Chevrolet is well known as one of the giants in the motor vehicle industry. The Silverado 2500 is a great series that has made pretty much all of its customers happy with few to no complaints. However, one question remains and that is what are the differences between the 2500 and the 2500HD, and is it worth it to invest?
There is no difference between the 2500 and 2500HD. HD stands for heavy-duty, which all of Chevy's 2500 and 3500 trucks are. The Chevy 1500 is the standard duty truck while the others are heavy-duty models. 2500 and 2500HD are simply two different names for that particular model.
Now that you know what the "differences" are, you undoubtedly want to know more about the 2500/2500HD. Read on to learn more about this truck's specs, the pros and cons, and more! Hopefully, by the time you are finished, you will have a better idea about whether this truck is right for you.
The Chevrolet Silverado 2500HD
When they called the Silverado heavy-duty they weren't kidding! This truck can pull and haul weights you wouldn't believe and it is more than capable on any type of road (whether that be asphalt or dirt). Without further ado, let's take a look at the 2500HD specs and get to know this truck a little better!
A few highlights of this vehicle and its features include a 6.6L V8 gas engine (which is the standard) or a Duramax Turbo-Diesel V8 engine, bed view camera, and an Allison 10-speed automatic transmission.
One of the nicest things about the Chevy 2500 is that all of these features are adjustable and customizable. There is no limit to what you can do with a 2500!
If you purchase a Chevy 2500HD, you will also be able to appreciate its 17-inch all-season Blackwall tires (including a spare) that can be used for any kind of weather and any kind of terrain. There is also an option for 18-inch all-terrain Blackwall tires as well. The wheels/rims are painted silver and have Grazen metallic-painted accents to match.
To accent the silver rims, the 2500 has high gloss black-painted wheels underneath. These are accompanied by incandescent taillights and headlights that will serve you remarkably well in any kind of weather. Some models come with premium snow plow packages, but this is not always readily available. It all depends on your location.
The interior is just as impressive as the exterior. The driver's seat is equipped with a ten-way power lumbar that will ensure a comfortable ride wherever you go. It also comes with a twelve-volt auxiliary outlet, a mounted power outlet, a driver information center, a two-speaker audio system, a 4G wifi hotspot cable, and many other fun features that can be used.
You can also find Silverados with six-speaker audio systems and six airbag packs. Again, all of a 2500's features are very customizable and there is usually a huge variety to choose from so you'll never be limited to options that you aren't overly fond of. To learn more about the 2500HD's specs, go to Chevrolet.com where you will find more details!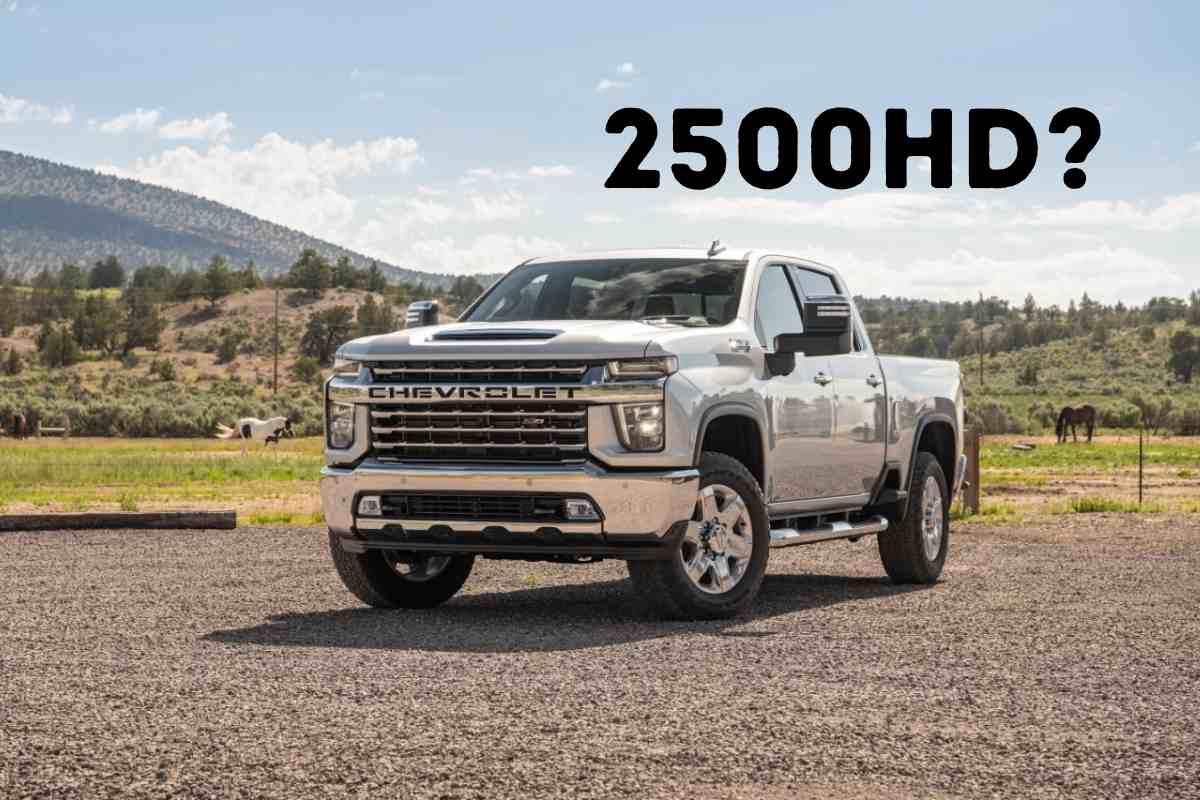 2500: The Pros and Cons
Now that you understand what you can gain from buying a Chevy 2500HD, it might be important to discuss a few pros and cons that you'll encounter after your purchase of a 2500. Here are a few of the most important ones you should know about before investing!
Pros
The first and most obvious perk of having a 2500HD is its strength and power. As mentioned above, it is called a heavy-duty model for a reason. The 2500 is capable of hauling up to 3,000 pounds or more which is considerable! Plus, the new and improved V8 engine gives the truck a definite boost in speed and power.
The 2500 has also come up with a 15-view trailering camera system which makes life much easier when it comes to hauling things. As its name suggests, this feature gives you 15 different views around your trailer, making it easier to see and be aware of your surroundings. This feature is completely optional, but if you happen to haul a lot, this is probably a worthwhile investment to make.
What would a heavy-duty truck be without a good amount of cargo space? The 2500s have not only plenty of hauling space in the bed but a spacious and roomy cabin as well. There are a dozen different compartments including under the armrests, the center console, and a few other places. There is plenty of space for passengers as well!
Additionally, the 2500's off-roading capabilities are reliable and hardcore. The Silverado's all-terrain tires are great for cutting through mud, snow, rocks, and just about anything else you may encounter. If you are looking to find a vehicle that is perfectly safe and reliable wherever you drive, this is a good choice for you.
Cons
Unfortunately, there are plenty of weaknesses that must be addressed as well. First of all, the 2500's diesel engine alone will cost you dearly. You could be paying as much as $10,000 more for diesel than you would for normal gas. If you can justify paying that much then great. But if not, you may want to look at purchasing a different car.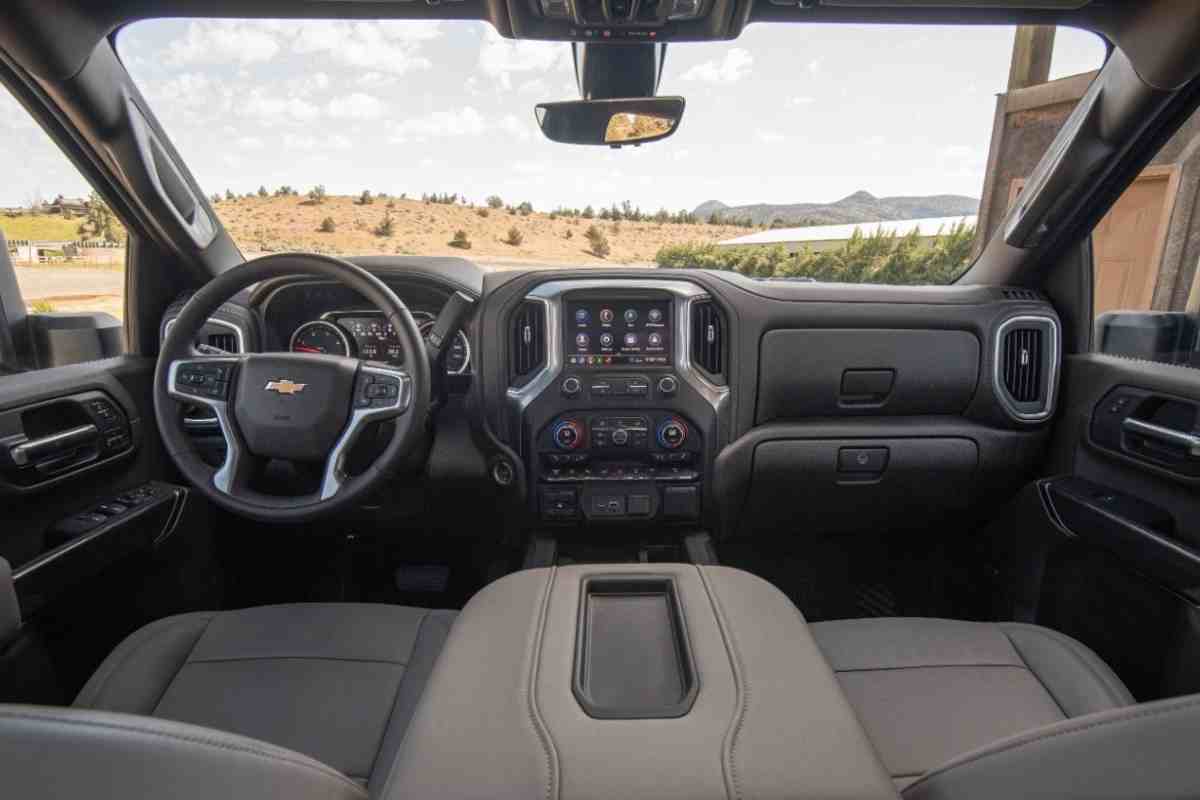 Also, because the truck's hood is so bulky, your forward vision is a bit impaired. Again, this is a small price to pay if you're an avid off-roader, but having limited visibility can also be something of a hazard. You will have to give yourself several extra feet of space between your truck and whatever is in front of you because it's hard to tell exactly where your front bumper is in relation to anything else.
The 2500HD has been around for quite a few years, and while its interior has evolved some, the changes seem to be just a bit mediocre. Many people would argue that the Silverado's interior is severely outdated. Some might even say that the wood paneling is old and tacky. This is a matter of opinion, but most people do seem to prefer a newer, more modernized look and the 2500's design is somewhat debatable.