What is the most luxurious Toyota SUV?
Long gone are the days of hot, uncomfortable road trips. New luxury vehicles make such trips almost as comfortable as relaxing at home. In hopes that your car rides can be as relaxing as possible, here is the most luxurious Toyota SUV.
The Sequoia is the most luxurious Toyota SUV. This car is luxurious because of its high-tech features, fast and strong engine, comfort, and sleek style. As well as being one of the most luxurious, the Sequoia is one of the most expensive Toyota SUVs, ranging from $48,000 to $54,000.
You may not have realized that Toyota made luxurious SUVs, but this is a dream come true! The Toyota Sequoia is luxurious, while still providing lots of room so you and your family can travel in comfort and style.
What Makes a Car Luxurious?
Luxury cars are known for having high-end features that are much beyond average. In a luxury car, we will be sure to be riding in style. Luxury cars also have better performing engines, all the newest safety precautions, and tend to be more expensive. While some brands are known for producing exclusively luxury cars, other car brands only label just a few models as "luxury vehicles.
Typical luxury car brands are BMW, Lexus, Porsche, Ferarri, and Mercedes-Benz. However, a non-luxury brand such as Toyota also has luxury cars, including luxury SUVs. If you are looking for a luxury SUV, one that can take your whole family on vacation, or simply a drive to the store, the Toyota Sequoia is one of the most luxurious options.
Comfort
When it comes to comfort, the Toyota Sequoia will not disappoint. One of the best parts about this vehicle is the second-row captain's chair. For whoever sits in the back seat, this is sure to be extra luxurious. The leather seats are comfortable and large. This captain's seat offers extra room or storage, phone charging, and places for drinks or other snacks.
Within the back row, depending on the model of Sequoia, is also seat heaters. No matter the time of year, you will be comfortable. Your model may come with leather paneled or cloth paneled seats, which are easy to clean and care for.
The front seats are heated and ventilated, and there is also three-zone climate control. This means that each row of seats has its own air temperature control, keeping everyone happy. Power outlets, cupholders, shades, a moon roof, a cargo net, an overhead console, and a Blue-Ray disk player are all included in the Toyota Sequoia. While not integral to a vehicle's function, it is attention to smaller details like these that make the difference between a comfortable experience, and one that no one would like to repeat.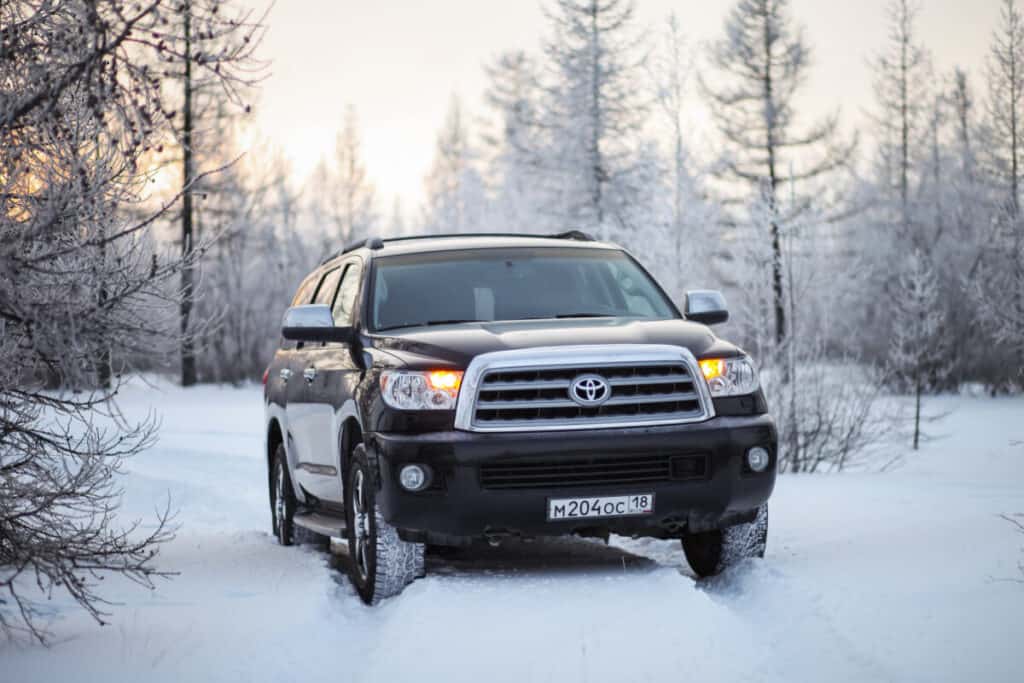 One of the biggest pluses of the Sequoia is the space it provides for not only the passengers but also the gear. These SUVs can fit 7 or 8 comfortably, and have large trunk space for packing gear. It is the best of both worlds. Luxury and space in one great vehicle.
Technology Features
The Sequoia is technology royalty when it comes to luxury SUVs. It has equipment that will keep you entertained, but also safe. Each of the technology features within this car is made to give you a better driving experience. Let's take a look at what is inside.
As far as entertainment goes, the Toyota Sequoia has it all. Beginning with a Smart Key System and push start button, there is also premium audio paired with navigation, a 12-speaker audio system, a 7-inch touchscreen display, HandsFree phone capability including Bluetooth, AndroidAudio, and Apple Carplay, Amazon Alexa, and ToyotaSafety Connect.
Whether you are going to play music or make phone calls on the road, your car has you hooked up, all hands-free.
This luxury SUV is also reliable and up to date when it comes to safety features. Toyota SafetySense is a feature in your car that helps with pre-collision, pedestrian detection, lane departure alert, automatic high beams, and cruise control. This is only one of the safety features offered by the Toyota Sequoia.
Other safety features include an advanced airbag system (side airbags, knee airbags, and all side curtain airbags), blind-spot, monitors, front energy-absorbing crunch zone, rear cross-traffic alert, anti-theft system, and many more. This SUV is sure to take you to the next level of safety technology.
Engine
The Toyota Sequoia is also known for its great capability. It has an all-aluminum 5.7 L V8 that has 381 horsepower. It also has an Ultra-Low Emission Vehicle III rating, making it more environmentally friendly. Now that is some power!
This strong engine allows for 7,400 pounds of towing. Talk about luxury! Whether you are towing your toys or a trailer, this SUV can handle it. It has multi-mode four-wheel drive, adaptive suspension, and Automatic Limited-Slip Differential. Auto LSD helps to reduce individual wheel spin, enhancing traction.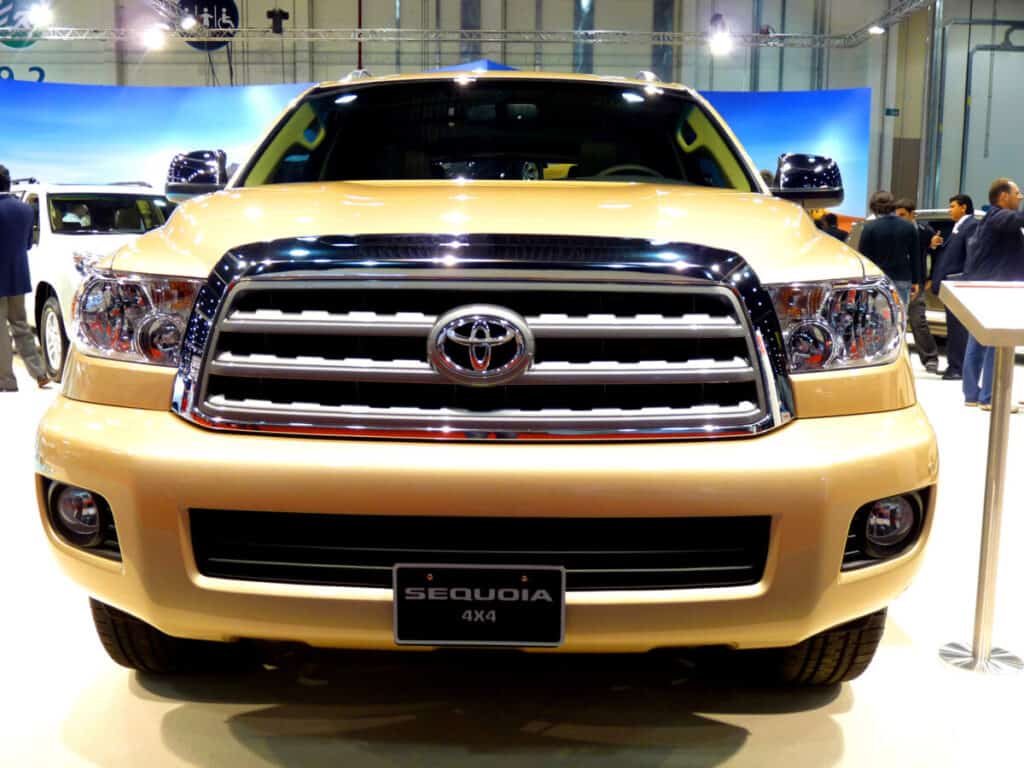 This SUV is luxurious inside and out and offers a class that cannot be found in many other SUVs. The engine is built for power, not just to look nice, but to perform on any occasion.
Style
One of the best parts about driving a luxury car is being able to admire the colors, interior, and exterior. The Sequoia comes in several colors and models. These colors allow you to be able to customize your SUV just the way you want it.
When it comes to the Toyota Sequoia, there are also several models you may want to look at that have slightly varying features. There is the FR5, TRD Sport, the Limited Model, the Nightshade Special Edition, the Platinum, and the TRD Pro. In that order, each model is progressively more luxurious, and with that, more expensive.
Each of these models has a slightly different style, but all are stylish, up to date, and have double accent stitching. Driving the Toyota Sequoia really is a step up in luxury. You are sure to be able to turn heads and be happy with your purchase. Next time someone says luxury SUV, you can point them to the Toyota Sequoia for style, performance, comfort, and technology.