If you are looking for something to buy a Jeep lover you know, then you have come to the right place. There are many options to choose from when picking out a gift. To help you find the perfect gift for your Jeep loving friend, we found the 10 best Jeep gifts!
Keep on reading for the 10 best Jeep gifts to buy someone for any occasion. The list below has been determined by reviewing customer ratings, price, and popularity.
1. Jeep Hoodie
A Jeep hoodie is a wonderful option for any Jeep lover. The Jeep Iconic Distressed Logo Pullover Hoodie can currently be purchased from Amazon for around $40, a respectable price for a high-quality hoodie. It is available in both black and grey, in sizes from small to 2 XL.
Nearly 600 customers have reviewed this hoodie and have rated it a total of over 4.5 stars. Most customers have been satisfied with their purchase, which is unsurprising given it was made with a cotton/polyester blend, making it a comfortable and inexpensive option.
2. Jeep Quilt
You should highly consider purchasing a Jeep Quilt. Each quilt square features a unique Jeep graphic. This gift demonstrates immense thought and care, and it is sure to be adored by the recipient. This quilt only costs $50, and is made of soft and lightweight materials.
This Jeep quilt comes in five different sizes: throw, twin, queen, king, and super king. With all of these options, there is destined to be one that is just the right size.
The quilt can be used as a gift for any occasion. However, it does feature two Christmas patches which makes it a popular option as a Christmas present.
Your Jeep loving friend can throw this in the back of their Wrangler to use for overnight adventures, or they can keep it in their house so they have a bit of Jeep with them at all times.
No products found.
3. Jeep Keychain
The Genuine Leather Jeep Keychain is the perfect option for those looking for a small gift to give. It only costs $12, yet it is made with 100% leather. This keychain is resistant to rust, scratches, and much more. This is a dependable and reliable gift to give and receive.
This keychain has been rated over 100 times and has received a rating of over 4.5 stars. Buyers report this keychain being sturdy and underpriced for what it is worth.
No products found.
4. Jeep Baseball Cap
Everyone loves a good baseball cap, especially Jeep fans. The Jeep Distressed 3D Star Cap is one of the most popular options for Jeep hats, and it is no question why. Both men and women will love this hat, as it is wheat yellow and features the classic Jeep logo.
This baseball cap is under $20 and is made of 100% cotton. It has received over 200 ratings from customers with 88% leaving at least a four-star rating. This cap is comfortable and comes is one size fits all.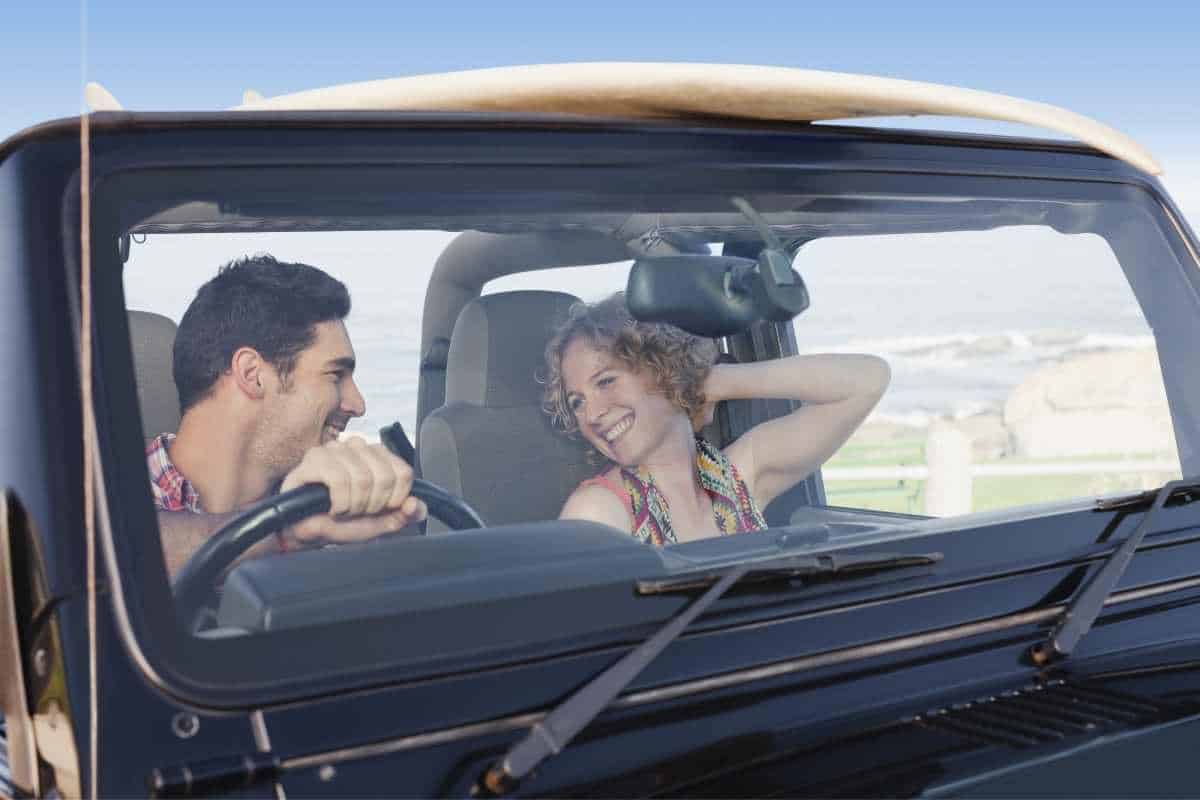 5. Jeep Tumbler
The Jeep Brand Logo Tumbler is perfect for those who want a mess free way to drink their beverage while on the road in their Jeep. This tumbler is insulated, meaning it will keep any drink warm or cold for a long period of time. In addition, it is capable of holding 16 fluid ounces.
This tumbler costs less than $20. It is worth every penny, as it is dishwasher, freezer, and microwave safe. With nearly 100 reviews, this Jeep tumbler has been given a perfect five-star rating. A flawless review is hard to come by; however, this tumbler achieved it with ease.
6. Jeep Vinyl Record Wall Clock
The Vinyl Record Wall Clock is a unique gift, which means the recipient will be even more appreciative of it. This clock can be hung on any wall, making the perfect addition to any room it is placed in. This classic Jeep styled wall clock costs just $30.
This 12-inch, vintage style clock is guaranteed to fit in with a true Jeep lover's home decor. It has a rating of over 4 stars, with the only complaints being about its quality. This clock is made from repurposed vinyl and many customers report that it is durable enough to serve its purpose.
7. Jeep LEGO Kit
Everyone loves LEGOs, as it allows individuals to get in touch with their inner child. Have some fun with a Jeep lover and purchase them the LEGO Technic Jeep Wrangler. Not only will they love it, but they will think of you every time they see the finished toy vehicle.
This gift will cost nearly $70, which is a bit on the pricier side. However, it comes with 665 pieces of pure fun. After the recipient finishes building this LEGO kit, they will finally have their favorite type of car on display for all to see. Predictably, this LEGO set has a 100% customer satisfaction rate, with a five-star rating.
8. Jeep T-Shirt
A t-shirt is a classic gift, which means the Jeep Willys 1941 T-Shirt should be high up on your list of potential gifts. It costs $20 and comes in men, women, and youth sizes. Sizes from small to 3 XL are available, which means everyone can enjoy this gift.
This t-shirt is lightweight and comfortable. The Jeep Willys 1941 T-Shirt is machine washable and received a 4.5 star rating from its 130 customer reviews.
9. Jeep Wall Hook
The Jeep Grille Metal Wall Hook is a convenient gift to receive, and the owner can use it to hang all of their Jeep memorabilia and keys on. All Jeep lovers have an immense amount of Jeep artifacts, which means they will need a place to store them all. This wall hook is perfect for that exact purpose!
This wall hook costs $20 and is silver and black in color. It has over 4.5 stars and is sturdy and durable.
10. Jeep Cup Holder Coasters
Without a doubt, a Jeep fan always wants new items to spruce up their beloved vehicle. This means that the Jeep Cup Holder Insert Coasters will do just the trick. These coasters cost less than $12 and will protect the Jeep from any spills from beverages. In addition, it will keep their Jeep appearing slick and well-kept.