The Absolute WORST Year For The Jeep Grand Cherokee (And Why It's No Good)
The Jeep Cherokee has been around for almost fifty years.
In that time, it has built quite a reputation for being one of the toughest, longest-lasting compact sport utility vehicles (SUVs).
But some years have been far worse for the Jeep Cherokee and its offshoot, the Jeep Grand Cherokee.
What Year Jeep Cherokee Should I Avoid?
The worst year for the Jeep Cherokee is 2014. This vehicle was saddled with a dozen recalls and often experienced severe transmission problems before reaching 40,000 miles. Sudden unexpected gear changes and engine stalling were also significant issues for this particular year.
Unfortunately, many Jeep Cherokee compact SUVs released within the last two decades have been lackluster at best and downright dangerous at worst.
Read on to discover which Jeep Cherokee years and models you should avoid at all costs.
What Year Jeep Cherokee Is the Worst?
According to recall reports and consumer complaints, the worst year for the Jeep Cherokee was 2014; the year it returned from its 11-year production hiatus.
The 2014 Jeep Cherokee had a dozen official recalls and experienced many mechanical problems that led to potentially life-threatening accidents.
Its engine would stall and fail suddenly during driving, causing collisions.
This vehicle was also notorious for unexpected gear shifts, causing it to fall into neutral without a moment's notice.
This issue also led to several accidents and collisions.
The hard-to-shift gears also made it challenging for drivers to climb inclines safely.
But in addition to engine and gear shift problems, the 2014 Jeep Cherokee also experienced significant transmission issues.
These cost the average driver several thousand dollars to repair, potentially upwards of $6,000 if coupled with engine failures.
Unfortunately, later years didn't offer immediate improvements.
For example, the 2015 Jeep Cherokee had ten recalls and became well-known for its engine and transmission failures.
Other problems continued to creep up in later years, including faulty backup sensors and failing in-car electronics.
Several 2019 Jeep Cherokee SUVs also experienced engine failure or stalling at surprisingly early periods, typically at or below the 6,000-mile mark.
All of these factors have made the fourth-generation Jeep Cherokee lineup one of the least-liked among Jeep lovers and drivers.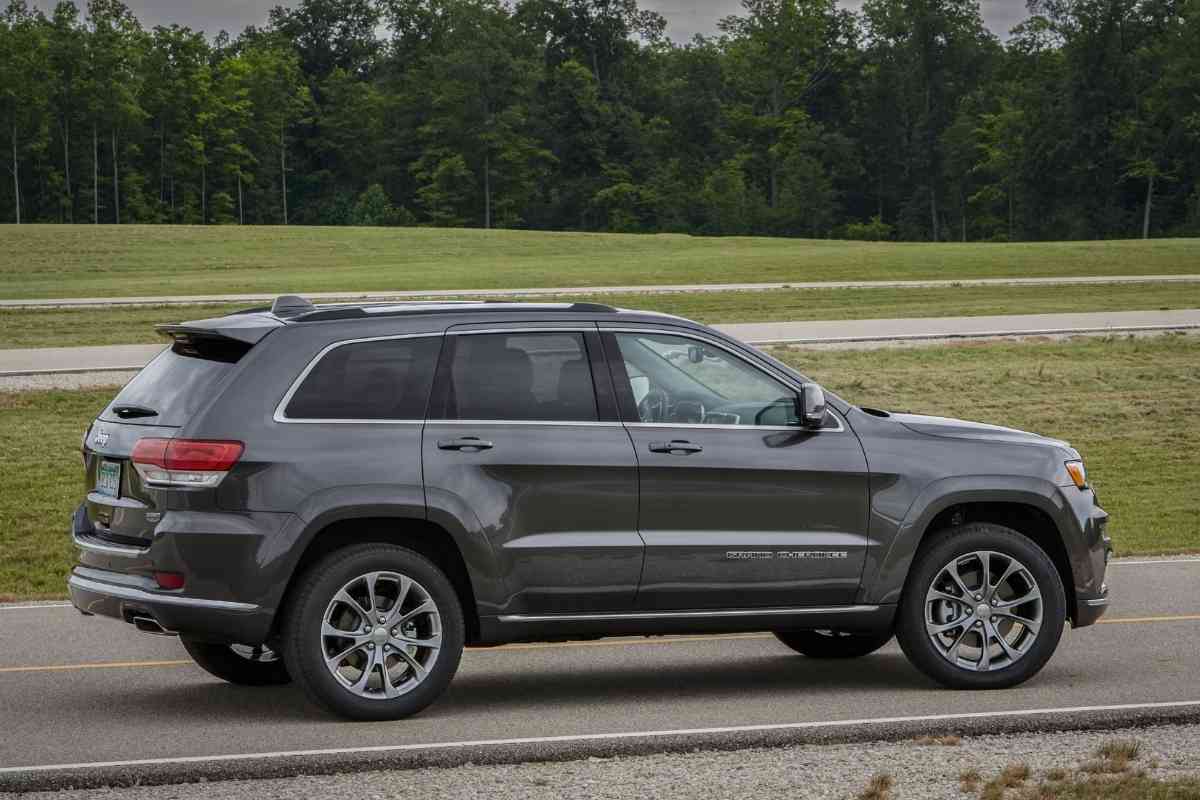 Jeep Grand Cherokee Vs. Jeep Cherokee
In 2001, Jeep stopped manufacturing the Jeep Cherokee.
They instead shifted their focus onto a related model, the Jeep Grand Cherokee.
Zero Jeep Cherokee vehicles were produced or sold in the U.S. between 2002 and 2013. The Jeep Grand Cherokee essentially took their place.
Notably, the Jeep Grand Cherokee has experienced fewer issues than the fourth generation of Jeep Cherokee vehicles.
But fewer mechanical problems aren't the only aspect differentiating these vehicles.
One of the most noticeable differences between Jeep Cherokee and Jeep Grand Cherokee SUVs is their size.
The Jeep Cherokee is well-known for its compact body, while the Grand Cherokee qualifies as a midsize SUV.
In addition to being a little roomier, the Jeep Grand Cherokee is also slightly more powerful than the Jeep Cherokee.
But, of course, a larger tank and a more capable engine also result in decreased fuel efficiency.
Jeep Cherokee Trim Options
The Jeep Cherokee comes in several trim options, each one differing slightly depending on the year.
For example, the first Jeep Cherokee of the fourth-generation lineup consisted of five trim options:
Sport SUV 4D
Latitude Sport Utility 4D
Altitude Sport Utility 4D
Limited Sport Utility 4D
Trailhawk Sport Utility 4D
As you might expect, the most affordable and fundamental of these trims was the Sport SUV 4D.
However, it's worth noting that this model also had the best fuel economy of the 2014 Jeep Cherokee trims, getting 25mpg combined, while the other trims only offered 21mph combined.
The 2022 Jeep Cherokee's trim options are somewhat different.
For example, the 2022 Jeep Cherokee Altitude is now the lowest-priced entry-level trim.
But you could also choose a 2022 Jeep Cherokee:
X
Latitude Lux
Trailhawk
Limited
Unfortunately, fuel economy hasn't improved in the 2022 lineup.
As a result, most of these trims still get between 25mpg and 27mpg combined.
But the expensive and life-threatening problems found with the 2014 Jeep Cherokee may be a thing of the past.
After all, the 2021 Jeep Cherokee no longer suffered from dangerous transmission or engine failures.
The 2021 model did experience issues with its exhaust, fuel systems, and electronics.
Hopefully, the 2022 model won't offer the same frustrating problems or recalls.
Frequently Asked Questions
What Year Jeep Cherokee Is the Most Reliable?
The most reliable years for the Jeep Cherokee vary depending on which generation you're looking at.
The first generation of Jeep Cherokee vehicles debuted between 1974 and 1983, making them antiques. Consequently, finding a vehicle from the first generation in tip-top shape can be challenging and expensive.
But the second generation of Jeep Cherokee vehicles (1984 to 2001) does have a clear winner: the 1996 Jeep Cherokee. This compact SUV features hardy components that have continued to withstand the test of time.
Though many 1996 Jeep Cherokee SUVs have traveled more than 100,000 miles, regular maintenance has allowed these vehicles to last far beyond the 200,000-mile mark.
Still, if we're talking about the third generation (2002 to 2013), we'll need to make a quick distinction.
Between 2002 and 2013, Jeep didn't produce a single Jeep Cherokee.
Instead, they began releasing the Jeep Grand Cherokee and the Jeep Liberty.
That said, the best years for the Jeep Grand Cherokee are 2009 and 2010.
The 2009 model saw a new, more fuel-efficient HEMI engine, and the 2010 Jeep Cherokee featured a slightly more compact body that made it easier to maneuver and park.
The most current Jeep Cherokee SUVs, the fourth generation (2014 to today), consists of Jeep Cherokee and Jeep Grand Cherokee vehicles.
The best year for a fourth-generation Jeep Cherokee may be the 2017 model.
This year saw the fewest number of recalls of any fourth-generation Jeep Cherokee SUV.
While this model didn't boast many upgrades on the previous year's model, it did experience far fewer mechanical issues.
Do Jeep Cherokees Have a Lot of Problems?
The fourth generation of Jeep Cherokee SUVs (both the standard Cherokee and newer Grand Cherokee) has caused controversy among Jeep lovers due to their litany of problems.
Some of the most common problems drivers have experienced with this latest generation of Jeep Cherokee vehicles are:
Engine stalling
Slow gear changes
Display screen failures
Backup sensor malfunctions
Transmission failure
Because engine and transmission issues incur some of the most expensive repairs, many drivers have chosen to avoid Jeep Cherokee SUVs until Jeep creates a recall-free model of this once-beloved vehicle.
What Jeep Models Should I Avoid?
If possible, it's best to avoid purchasing Jeep Cherokee SUVs made after 1996.
Many fourth-generation Jeep Cherokee vehicles have been plagued with severe mechanical issues, including failing transmissions, flawed shifting gears, internal water leaks, and faulty backup sensors.
Still, the 2014 and 2019 Jeep Cherokee may be the worst.
Both years have seen several recalls and consumer complaints regarding engine and transmission problems.
In addition, the 2014 Jeep Cherokee experienced a dozen recalls, putting in the lead in terms of severe manufacturing flaws.
Final Thoughts
The Jeep Cherokee saw its heyday in the 1990s.
Since then, this vehicle has been troubled with a wide range of expensive engine and transmission problems, as well as a handful of body design changes that haven't sat well with drivers.
Drivers may want to choose a used Jeep Cherokee from the third-generation lineup to avoid these issues.
Hopefully, future Jeep Cherokee and Grand Cherokee vehicles will be more reliable.