What's the Difference Between They Chevy Colorado LT and The WT?
This post may contain affiliate links. As an Amazon affiliate, I earn from qualifying purchases.
Chevrolet is famous for its trucks, but at first, many of them seem like they're the same vehicles that have just been given different names.
The Chevrolet Colorado Luxury Touring/LT and Colorado Work Truck/WT do have their similarities but they have their differences as well.
If you're torn between the Colorado LT and the Colorado WT, we have the answers for you.
The difference between the Chevrolet Colorado Work Truck (WT) and the Chevrolet Colorado Luxury Touring (LT) is their customization options and their safety features. The Luxury Tour has more customizable options. These trims are otherwise very similar, and they offer a range of options.
Heavy-duty trucks can be used for all sorts of purposes.
With all the information below, we can help you figure out which of the Chevy Colorado models are best suited for your needs.
Cab and Box Sizes
Unlike most models of cars, many brands of trucks have an extra level of customization: the cab and the box.
Also known as the configuration, Chevrolet lets you customize the size of your truck.
There are two boxes you can select; long and short.
The long box measures in at 74 inches and the short box is 61 inches.
This is a pretty wide difference, so make sure you know what size of truck you want!
In addition to these different boxes, you can pick from two different types of cabs (Extended and Crew).
On the Chevrolet website, there are three options that Chevrolet lets you pick from for your Colorado models.
Extended Cab with a Long Box
This configuration can seat 4 people, has a 128-inch wheelbase, weighs 5400 lbs, and measures in at 70 inches tall, and 212 inches long.
The cargo bed is longer and there is one set of doors on the vehicle.
The MSRP for this vehicle is $26,395.
Crew Cab with a Short Box
This vehicle setup seats 5 people, weighs 5600 lbs.
It's also 70 inches tall and 212 inches long, but it comes with two sets of doors.
Its bed is shorter than the previous model and pricing starts at $28,295 MSRP
Crew Cab and Long Box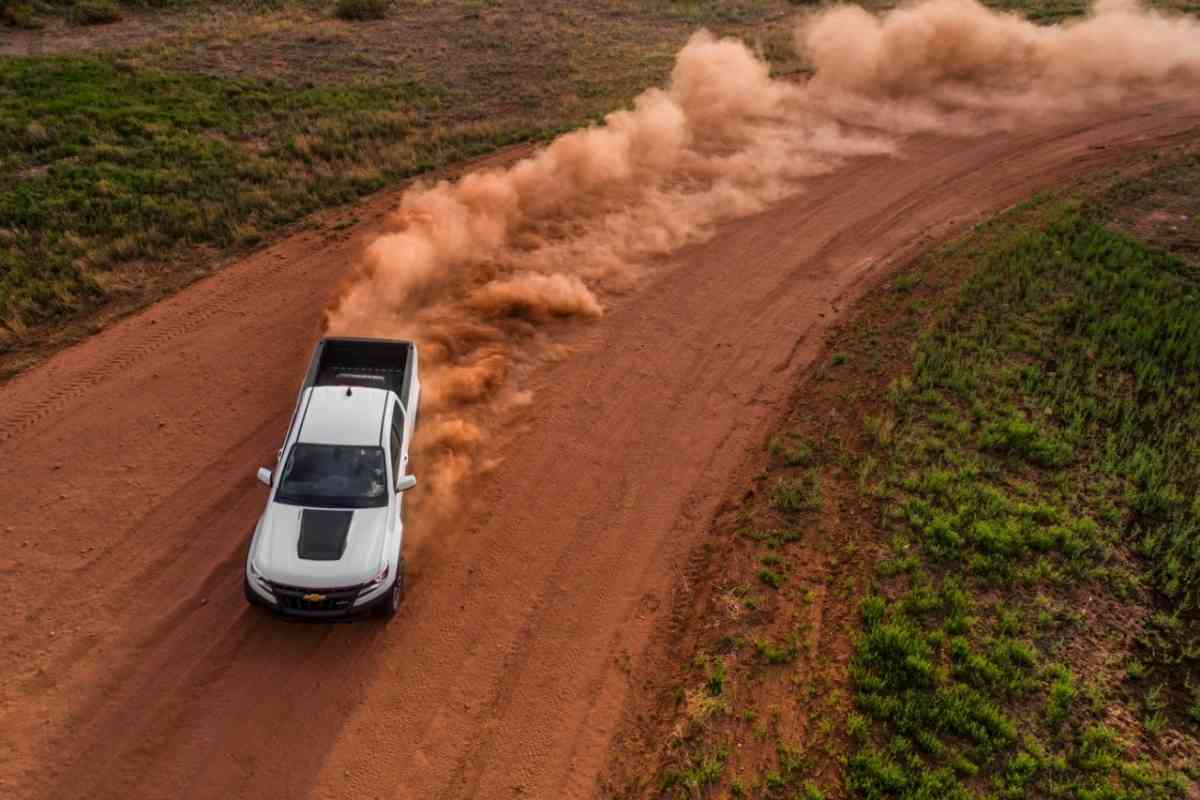 This setup can accommodate 5 people.
It has a long cargo bed and two sets of doors, weighs 5800 lbs, and has the longest cab and box duo.
This truck starts at MSRP $30,595.
Both the Colorado Luxury Touring and the Colorado Work Truck have all three configurations to pick from.
The prices above are the base prices for each truck.
However customizing, packages, and add-ons will affect the end price and can vary from configuration to configuration.
The customization options and end price will also be determined by selecting four-wheel drive or two-wheel drive for any of the configurations.
Basically, your options and choices are almost unlimited, so you can create the car of your dreams.
For the sake of simplicity, this article will be comparing the 2022 Chevy Colorado Luxury Touring: Four Wheel Drive Crew Cab/Long Box and the 2022 Chevy Colorado Work Truck: Two Wheel Drive Crew Cab/Short Box to showcase the difference between LT and WT trucks.
Engine Differences and Gas Mileage
Each tank of a Chevy Colorado truck can hold approx. 21 gallons.
The engine types will vary based on four-wheel/two-wheel drive, configuration, and trim.
| | | |
| --- | --- | --- |
| 2.8 Liter Turbo Diesel | 2.5 Liter I4 | 3.6 Liter V6 |
| CITY-20 mpg (2WD)19 mpg (4WD) | 19 mpg (2WD)19 mpg (4WD) | 18 mpg (2WD)18 mpg (4WD) |
| HIGHWAY-30 mpg (2WD)28 mpg (4WD) | 25 mpg (2WD)24 mpg (4WD) | 25 mpg (2WD)24 mpg (4WD) |
Any configuration and trim can be four-wheel or two-wheel drive.
The Chevy Colorado Luxury Touring: Four Wheel Drive Crew Cab/Long Box comes with the 2.5L and the Chevy Colorado Work Truck: Two Wheel Drive Crew Cab/Short Box comes standard with the 3.6L.
It also has the option of upgrading to a Turbo-Diesel engine.
Interior
The Luxury Touring has the option to pick between a Jet Black cloth and a Jet Black leather option depending on which of the trims you select for your truck.
Both of the truck options come with a 2-way manual front seat, a 6 speaker audio system, and carpeted floors.
The Luxury Touring in question comes with a 6-way power seat, chrome interior door handles, cruise control, illuminated front and passenger visor mirrors, overhead lighting, and an inside rearview mirror with auto-dimming technology.
The Work Truck comes with manual tilt steering and interior manual day/night lighting.
Exterior
Both trucks have different color options.
The normal exterior colors are Satin Steel Metallic, Summit White, and Black.
The premium colors include Crush (a red color with an upcharge of $395), Bright Blue Metallic with the same upcharge, and a Cherry Red Tint coat at $495.
The Work Truck and Luxury Touring come standard with 17-inch steel wheels and 17-inch all-season black wall tires.
The Luxury Touring comes with a 17-inch spare tire and the Work Truck comes with an 18 -inch spare.
Both trucks also come with a black tailgate handle, capless fuel fill, and daytime running lamps.
The customizable options for both the Work Truck and Luxury Touring are off-road assists, guards, LED lighting, splash guards, plate brackets, bed mats, and tonneau covers.
Safety Features
Both trucks come equipped with 6 airbags, a theft-deterrent system, daytime running lamps, teen driver features, buckle-to-drive sensors, and a tire pressure monitor system.
Rear park assist isn't standard but can be customized.
That goes for features like the lane exit warning and rear vision camera as well.
Pricing and Warranties
Both vehicles come with options for the 1 Scheduled Maintenance visit, which covers one visit per year regardless of miles.
The bumper-to-bumper limited warranty covers 3 years or 36,000 miles.
Chevrolet's roadside assistance program, which is headed by Allstate Insurance, covers 5 years or 60,000 miles.
There are Chevrolet dealerships all over the United States as well as an extensive online customizable build-your-own truck feature where you can choose the configuration (box and cab size), trim (Luxury Tour vs Work truck, wheel drive, and engine), colors, and accessories.
Prices will vary by level of customization and the website has accurate MSRPs.
Both vehicles have the option for financing in addition to upfront payment options.
Both the Luxury Touring and the Work Truck have tons of customizable options so you can design a car that fits your needs.
To design your truck and look at overpayment plan options, you can visit the Chevy Website.