What's the Difference Between The Chevy Colorado LT and The Z71?
This post may contain affiliate links. As an Amazon affiliate, I earn from qualifying purchases.
The Chevy Colorado comes in several different trims including the WT (Work Truck), LT (Luxury Touring), Z71, and the ZR2.
They have different features that are respective to their trims.
Here, you'll learn the differences between the Chevy Colorado LT and the Chevy Colorado Z71.
The Chevy Colorado Z71 has the same extra features as the LT and some of its own. The Z71 is more luxurious but is also designed for bigger and tougher adventures, with features like tow-haul mode, hill descent control, automatic climate control, heated front seats and steering wheel, etc.
The LT and the Z71 are built up from a basic Chevrolet Colorado model.
They have additional features that make the model unique.
While the Z71 has more features and is objectively the better choice, you may not need all the bonuses it provides.
Read on to see which model you really need for your circumstances.
Available 2.8L Duramax turbo-diesel I4 engine producing 181 HP and 369 lb.-ft. of torque
Remote keyless entry
Remote locking tailgate
EZ-Lift and lower tailgate
Blind spot mirror
Leather-wrapped steering wheel
Steering wheel-mounted controls
Rear USB ports
Chevrolet Connected Access capabilities
8-in. color touchscreen
4G LTE Wi-Fi hotspot capable
Driver and passenger side microphones
Cloth upholstered seats
Six-way power adjustable driver's seat
Dual rear seats with underseat storage
Available Redline Special Edition
LT stands for Luxury Touring and that is exactly what this model is built for. Its starting price point is $27,700.
While it is a more powerful truck with its available Duramax engine, most of its extras are designed with comfort in mind.
The interior cab is built comfortably with dual rear seats and under-seat storage.
All the seats are cloth upholstered and the steering wheel is wrapped in leather.
The rear seats have USB ports.
You can find that perfect comfort spot with the six-way power controls in the driver's seat.
Its other features make a better traveling experience in the Chevy Colorado LT.
It can connect to Chevy's app, Chevrolet Connected, which offers vehicle diagnostics, driving insights and reports, rewards programs, and easy maintenance scheduling.
Chevy Colorado Z71 Features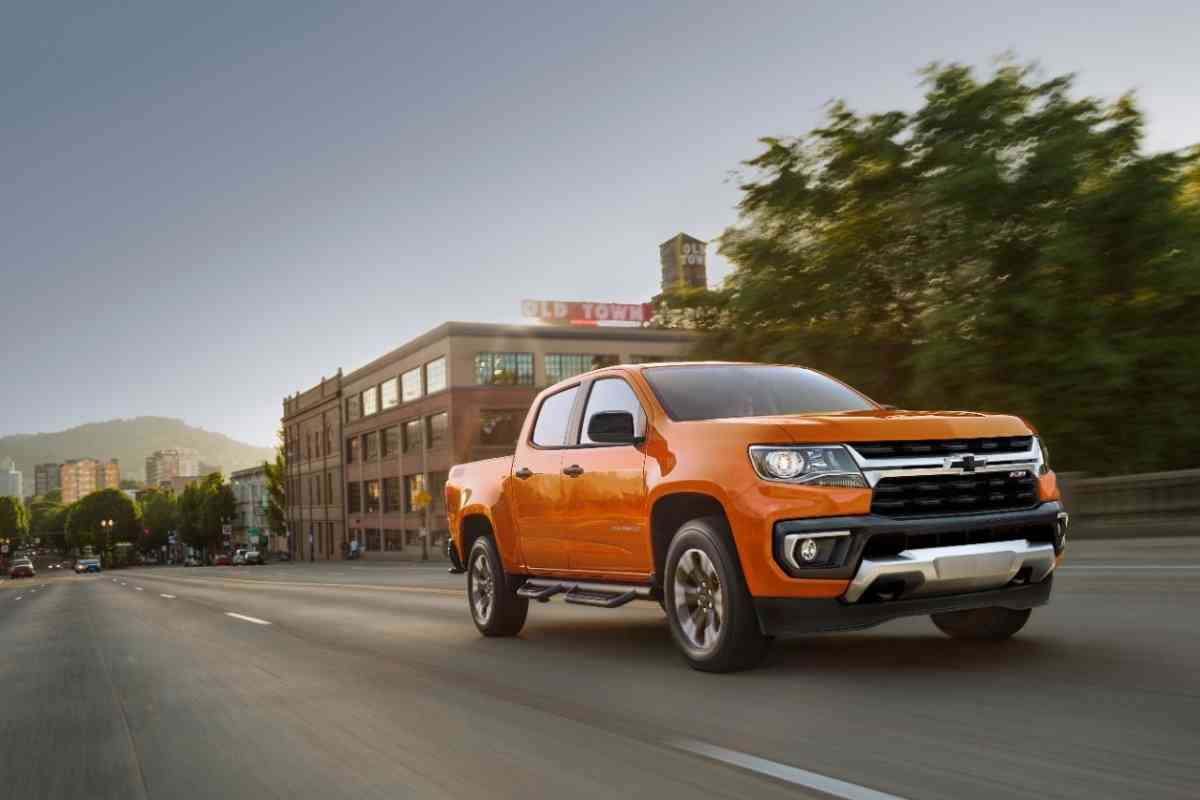 3.6L V6 engine
Eight-speed automatic transmission
Remote start
Tow-haul mode
Transfer case shield (4WD)
Hill descent control
Automatic locking differential
Hitch guidance
Black recovery hooks
17-in. aluminum wheels
17-in. all-terrain tires
Fog lamps
Projector beam headlamps
Heated outside mirrors
HD rear vision camera
Automatic climate control
Heated front seats and steering wheel
Manual sliding rear window
Cloth/leatherette seat trim
Chevrolet Infotainment 3 Plus system
HD Radio
Wireless device charging
Rear park assist
Available Bose premium sound system
Available Z71 Midnight Edition
The Chevrolet Colorado Z71 is built for off-road performance and starts at $34,800.
It has a lot of handling and rough terrain features that make it ideal for rough and tumble adventures.
It possesses all the features of the LT, so it also provides a comfortable ride in addition to its more extreme terrain capabilities.
It does have some extras that are more luxurious as well, with the heated front seats and steering wheel. For starters, it has an improved infotainment setup, HD radio, wireless charging, and the option to install a Bose speaker system. It also comes with leatherette and cloth seats, which increase the durability of the interior.
It's an eight-speed, automatic truck with advanced, more powerful functions for heavy work and rough play.
It comes with tow-haul mode, hill descent control, hitch guidance, projector-beam headlights, and heated outside rearview mirrors.
The automatic locking differential reduces the effects of rough terrain on the vehicle and increases its ability to tackle tougher roads.
This, combined with the 17-inch aluminum wheels and all-terrain tires makes it ideal for off-roading.
The tires and wheels are stronger, giving them greater durability.
Additionally, the automatic locking differential improves its durability and driving capabilities.
Both Models Offer:
The base model of the Chevy Colorado ranked #3 in compact pickup trucks on cars.usnews.com, with a ranking of 7.8/10.
Both the LT and the Z71 offer a V6 engine. (The LT has a Standard I4 option as well.) It has great handling and is well made.
You can be confident that you'll have a comfortable ride in this vehicle.
The infotainment system is user-friendly and nicely designed.
The cab is comfortable but modest and the improvements to the LT and the Z71 are noticeable.
The cabin is fitted with soft-touch materials and is ergonomic.
It also boasts nice cargo space and a comfortable amount of seating room.
The base model won a five-star safety rating from NHTSA.
Why Get the LT?
If you're looking for a simple upgrade from the base model that offers a more comfortable drive and features that simplify your truck experience, the LT might be your trim of choice.
Its features make the everyday trip just a little more comfortable.
While it isn't as capable of off-roading as the Z71, it is still a truck and can handle greater tasks than many other vehicles.
It also makes work easier with some of its features, like the EZ-lift and lower tailgate.
It also offers a lower starting price, $27,700.
However, if you are looking for something more rugged and ready for dirt and rocky roads, you might want to consider the Z71.
Why Get the Z71?
If you are looking for a truck that is more capable and will hold up better against heavy-duty driving conditions, the Chevy Colorado Z71 could be a great option for you.
It offers nice features that assist in heavy work.
If you're looking for an off-roading vehicle to suit your adventure needs, this one is certainly equipped for adventure with its improved wheels and tires, as well as its auto-locking differential.
It will cost you more for the additions on the Z71, with its starting price sitting at $34,800.
However, the cost directly affects what you're getting! If you need a truck that will hold up to your tough lifestyle and you have the means to get this one, it's a great choice.