Which Kia SUV is Biggest?
This post may contain affiliate links. As an Amazon affiliate, I earn from qualifying purchases.
If Kia has one specialty, it is in the market of SUVs. Kia has SUVs ranging in size from small to large, each bearing Kia's signature features. From the Niro to the Telluride, these SUVs come in all shapes and sizes.
The biggest Kia SUV is the Kia Telluride. The Telluride is 197 inches long, 73 inches wide, and 65 inches tall. It has a cargo capacity of 21 cubic feet which expands to 87 cubic feet when the seats are down. It seats 7 passengers, making it one of the larger midsize SUVs on the market.
Along with the Kia Telluride, let's take a look at some of Kia's most popular SUVs and their sizes.
Kia Telluride Size
When it comes to Kia SUVs, they don't generally come in very large sizes. The largest Kia SUV (The Kia Telluride) is still a good bit smaller than the largest SUVs out there, like the Chevy Suburban. The Telluride is classified as a midsize SUV because of its 197-inch length and its passenger capacity of 7.
Though the Telluride isn't the longest SUV and though it doesn't seat the most passengers, it is still recognized as a large and beefy SUV. It's a wider SUV than most, reaching 73 inches in width. Compared to some designs and models, the Telluride is described as "beefy" or "powerful", which might be exactly what you are looking for.
When it comes to capacity, the Telluride has a lot to offer. The cargo space isn't anything special while the seats are down, but there will still be about 21 cubic feet of space for you to take advantage of. Once the seats are down, however, the Telluride really shows its size. 87 cubic feet are available to Telluride owners in a space that is about 60 inches (5 feet) high. If cargo space is your main concern, the Telluride has you covered.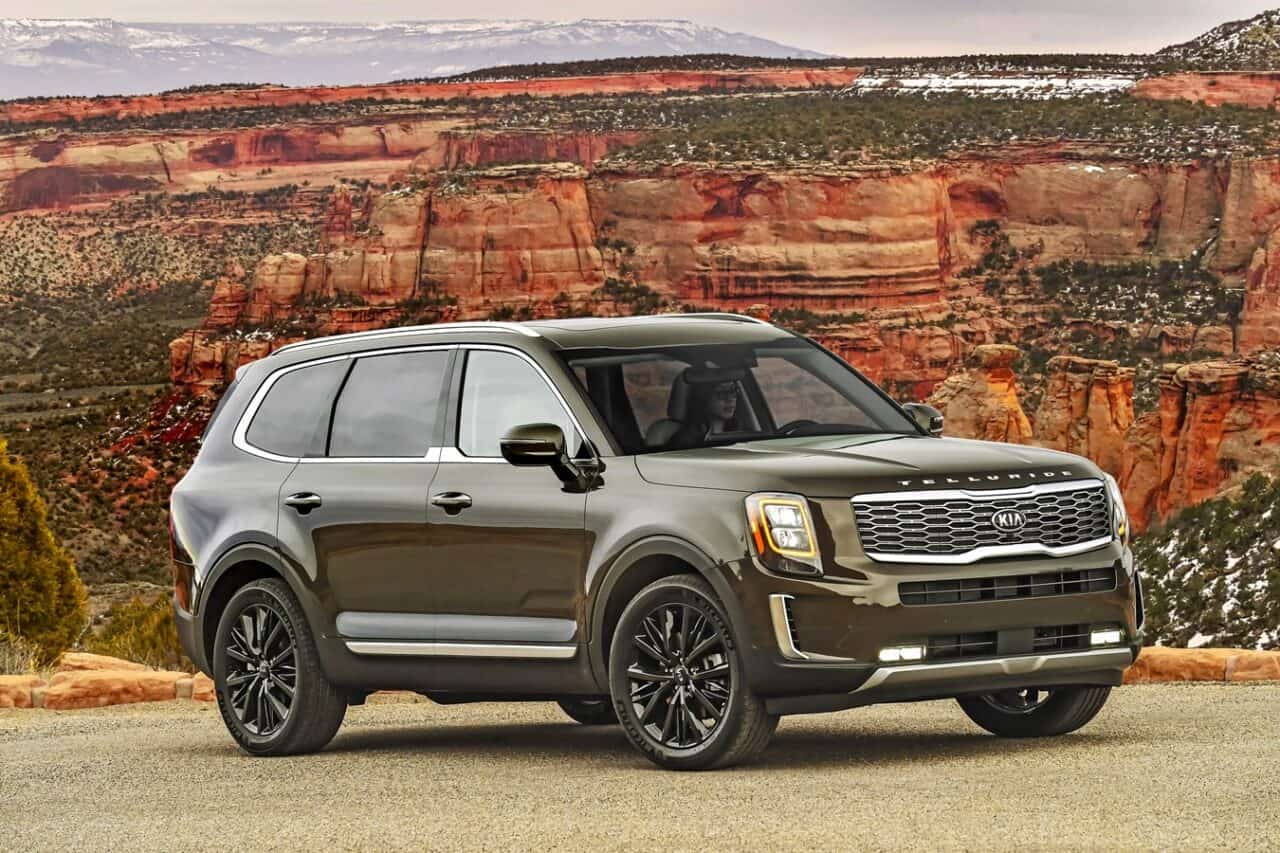 Because of its size, the Telluride has an engine that can tow a respectable weight. Its size gives it the leverage to haul about 5,000 pounds, which is a good amount for a car that isn't a truck. That puts small boats and campers within the towing range, opening a lot of options for Telluride owners.
Other Attributes
Though the Telluride has some impressive capabilities, there are, of course, some tradeoffs. For one thing, Tellurides can be rather expensive because they are such a popular model from Kia. New Tellurides with all of the add-ons can cost as much as $50,000, though the majority of Tellurides will cost more in the $30,000-$40,000 range.
Another tradeoff for the Telluride is the fuel efficiency. SUVs from Kia like the Kia Niro have excellent fuel efficiency, reaching as high as 50 miles per gallon.
Larger Kia SUVs like the Kia Sorento or the Kia Sportage (their most popular model) have a fuel efficiency that is closer to 30 miles per gallon. The Telluride can reach up to 26 miles per gallon on the highway, but it only will get about 20 miles per gallon in the city.
One of the biggest selling points for Kia SUVs is the technology that each one is equipped with. Interior screens on the vehicle are one aspect of this technology, but bonuses can also include a microphone system for the driver to communicate to the passengers with or high-quality speakers for the backseat.
Another aspect of the high-tech Kia SUVs is the safety system. The Telluride offers all kinds of assistance to the driver in order to avoid crashes and other accidents.
These features include a forward-collision warning system and various systems that keep you from drifting between lanes or missing something in your blind spot. Avoiding accidents will improve the lifetime of your vehicle and will increase the resale value of your car.
All in all, the Kia Telluride is a great choice for anyone looking for a large SUV from Kia. The cargo capacity is plenty large enough for your needs and the towing capacity will let you move what you need to. Whether you have a large family or simply have big plans, the Kia Telluride will get you there.
(Source)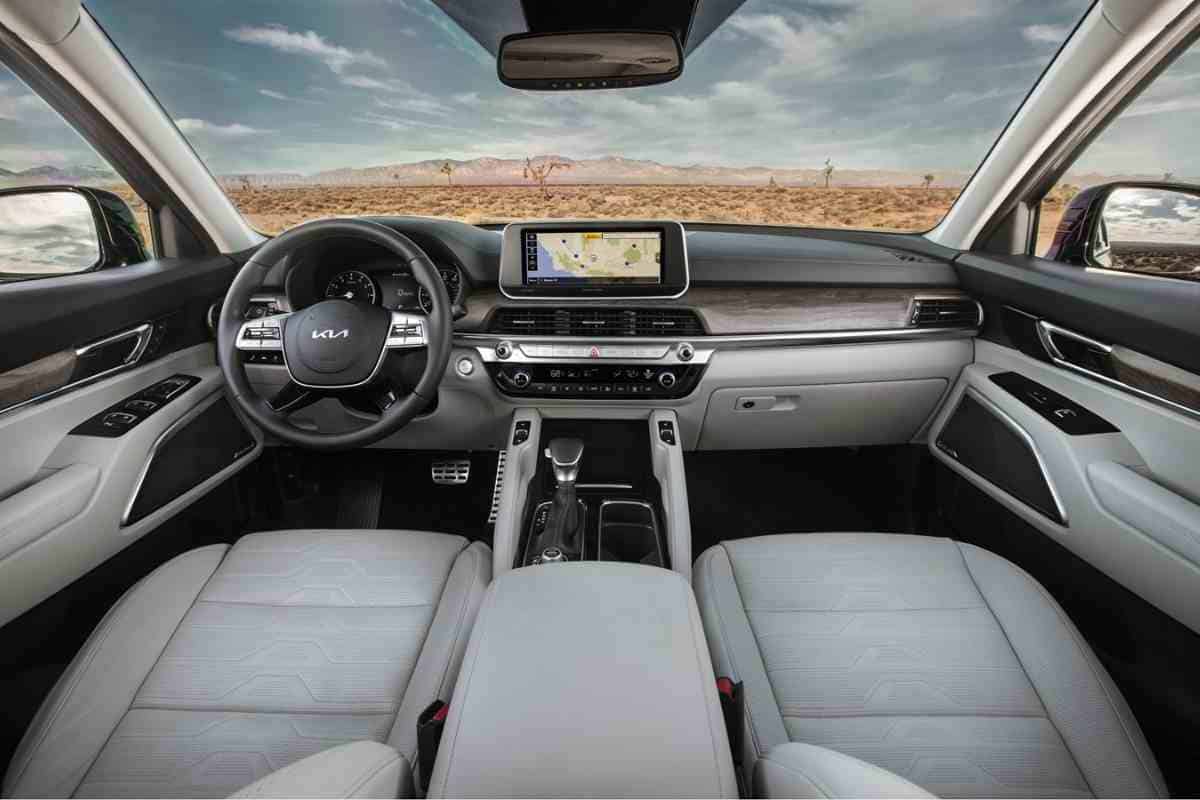 SUV Size
An SUV is a choice for people who need space without needing the power of a truck or the volume of a van. Depending on how many seats you need or how much cargo you intend to carry, you might want anything from a small SUV to a Large or even a Super SUV. Because of how multifaceted the car type is, there is an SUV for every need.
Though there are many classifications for SUVs, the criteria for each classification aren't universal across the board. Some SUVs will be classified as Midsize SUVs when they could be more accurately called Compact SUVs or large SUVs.
This is because automotive companies treat the classification system as a guideline, and they classify their own cars in order to best market them.
For example, if an automotive company already manufactures a midsize SUV and want to make a different car with similar dimensions but different features, they might change its classification so that it doesn't compete with other products in the same field
While the smallest SUVs are only going to extend about 130 inches long, the larger ones can reach lengths of well over 220 inches.
Though some classification systems mandate that SUVs stay below a certain length in order to not be classified as a van, the truth is that just about every car that isn't a truck or a sedan can be considered an SUV.
When you examine the pros and cons of an SUVs size, the main tradeoff that you must take when increasing the passenger and cargo capacity is decreasing fuel efficiency. Larger cars demand more power to propel them and more weight means a greater burden on the engines.
The average fuel efficiency of a small SUV can get up to 40 miles per gallon, while the large SUVs sometimes get no more than 25.