Can You Put a Camper on a Flatbed Truck?
This post may contain affiliate links. As an Amazon affiliate, I earn from qualifying purchases.
You may enjoy adventuring through the wilderness and taking road trips across the country, but a big hassle of traveling is finding a place to stay every night. One option you may want to consider is putting a camper on your flatbed truck.
You can put a camper on a flatbed truck. It's actually a fairly popular choice that compromises the need for hotels or RVs. Truck campers are compact, comfortable, and easy to transport. Almost any flatbed truck can be fitted with a truck camper or you can even build your own.
There are factory-designed truck campers that are built specifically for flatbed trucks. You can also make your own camper for your flatbed truck and we'll give you information on both strategies below.
Types of Campers for Flatbed Trucks
There will be a couple of different designs and types of campers you can choose for your truck. There are also many options when it comes to the designs and features within the camper itself. These include the layout and number of additional features you want to have in your camper. These can be anything from stereo and lighting systems, kitchen features, wall and floor colors, and bathroom features as well.
For example, in the bathroom, you could have a wet bath, a dry bath, a toilet-only bath, or no bathroom at all.
As for the camper itself, there are options for a hard side or pop-up truck camper. Then, there is also the option of having hard side or soft-sided pop-up walls.
In addition to the sides and layout and everything else, there are campers of different lengths and sizes to fit a variety of truck designs. There are campers designed for long, short, and even super short truck beds. There are also options to have Cabover or Cabover-less campers. A Cabover camper goes over the cab of your truck (usually containing a bed in a loft).
Installing a Factory Designed Camper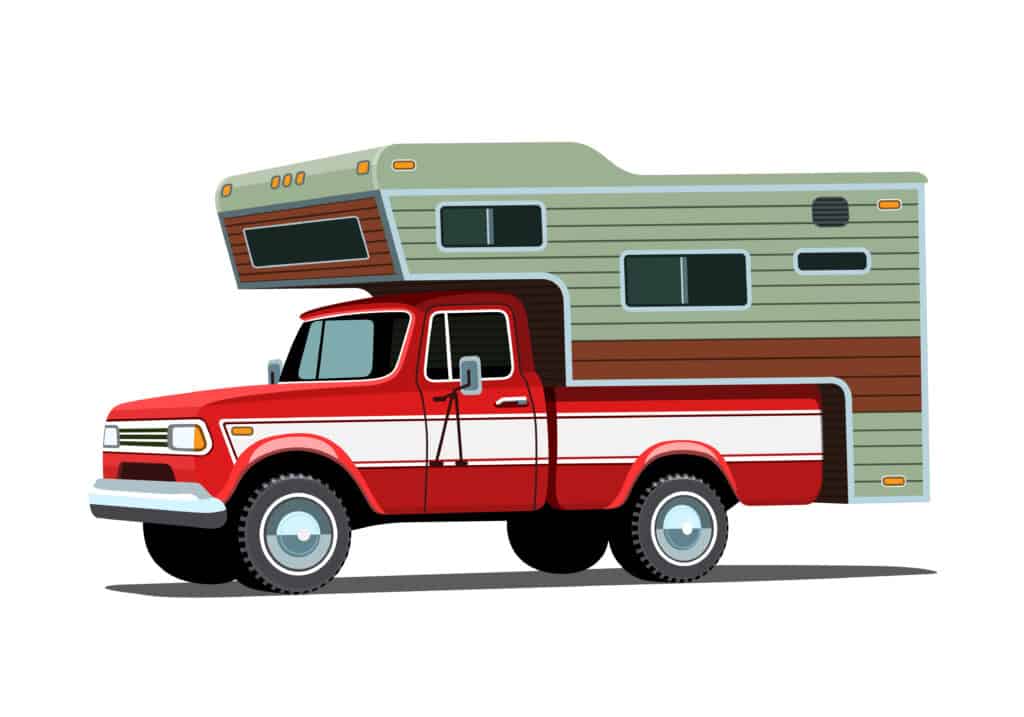 The nice thing about truck campers increasing in popularity is the options you have when you choose a design. In recent years, some truck camper manufacturers have started building multi-slide basement models. They've been doing this above the side rails which means that the floor of the truck camper is actually above the side rails of the truck. This gives these particular camper models a much wider floor plan with a kind of basement below it. Without the wheel wells or other obstacles in the way, it makes everything wide open.
However, it's important to keep in mind that the bigger the camper, the bigger and more heavy-duty the truck needs to be. This is because when the camper is above the side rails, it raises the center of gravity.
To install a camper onto your truck, unless you have experience, you may want to find someone who has done it before or have professionals help you install the camper. If you decide to do it yourself, here are is a basic step-by-step guide on how to install a camper on your truck:
You should raise the camper until it's about 6 inches above the bed of the truck. At this point, you'll need to raise it in small increments; a few inches at a time. Raise the front of the camper and then the back to keep it level. You'll continue this process until you can easily back your truck under the camper. You must never raise the back of the camper higher than the front as this can cause the camper to tip over.
Next, you should back your truck under the camper. It will be important to make sure that your camper is clear of any obstacles. On a flatbed, this should be pretty easy to accomplish. You should also be careful to not hit the camper's jacks.
Now, you should connect any wiring before your truck is completely backed into place. It's easier to connect the wiring at this point before the camper is installed.
You should continue to slowly back your truck up until the camper is at the front of your truck bed. Most campers should be able to contact the front of the truck bed and not cause any damage. Make sure the camper doesn't hit the truck's bumper or the taillights.
At this point, you should be able to lower the camper onto your truck bed. Lower the back end of the camper first and then the front. You should go back and forth (lowering the back and then front) just a few inches at a time until the camper is resting on the bed of the truck.
As a final step, you'll need to secure the camper to the truck's tie-downs using turnbuckles. You'll attach the turnbuckles to both of the anchors on the camper and also to the tie-downs on the truck. You should then tighten them (usually tighten them to about 300 ft-lbs). You should be careful to not use too much tension or overtighten them because that can damage the tie-downs or even rip out the anchors on the camper.
Building Your Own Camper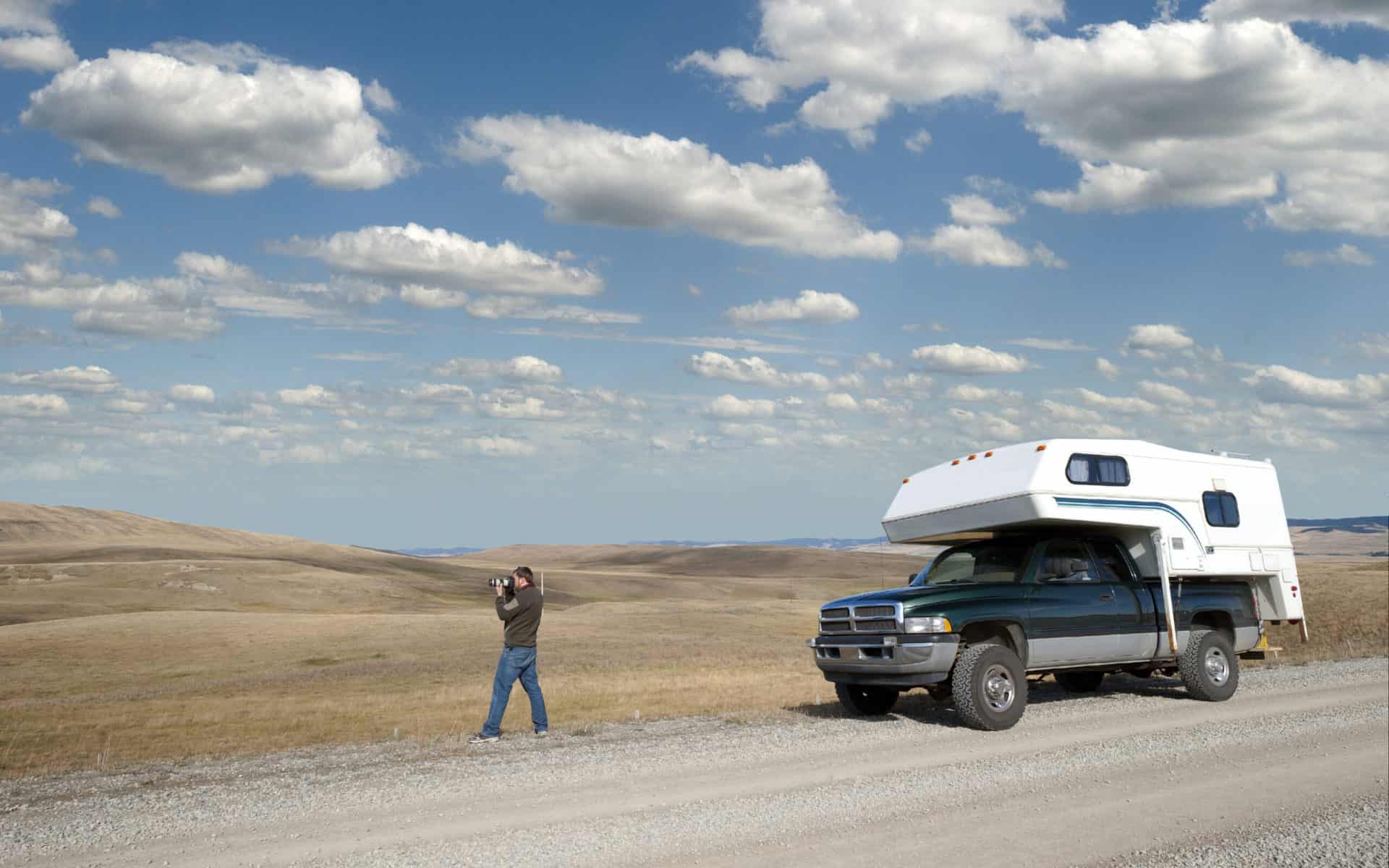 Maybe you have a vision for your camper and maybe you've been shopping around and haven't found exactly what you're looking for. Instead of buying a camper straight from a factory, another option would be to design and build your own camper.
Without going into too much detail about how exactly to complete this process, here is a quick and basic step-by-step list of how the process of building your own camper may look:
Create a Design– You'll want to decide which amenities you want in your camper. This should include whether you want a bathroom or not and even what size of bed you want. You should decide how many windows (for ventilation) to include. It's important to keep in mind that anything you add will increase the weight of the camper. The size should also fit on the flatbed of your truck.
Framing– The first step of the building process is to set up and put together the framing for your camper.
Plywood Siding– You'll add sides to the camper with plywood and create a solid structural base for your camper.
Electrical– Here you should install the electrical components of the camper.
Plumbing– Next, you'll install all the plumbing aspects needed in the camper.
Insulation– Installing the insulation is important to keep out cold and heat.
Exterior– This should include the roof, siding, windows, and doors.
Interior– This step should include installing amenities in the interior space and finishing up that area of the camper.
Lift Jack- You need to install a lift jack. This will come into play when you need to install the camper onto the bed of your truck.
It can be challenging to make your own camper, but it gives you the freedom to create your own design and include the features you want in your camper.