Can You Sleep in a Jeep Cherokee? (Explained!)
This post may contain affiliate links. As an Amazon affiliate, I earn from qualifying purchases.
Car camping is a popular option for people who don't want to pack extra gear. Sleeping in the back of your vehicle is an ideal choice for overnight camping, road trips, and everything in between.
A Jeep Cherokee is suitable for sleeping in, provided that you have the right equipment to make it comfortable. There is limited space inside the vehicle. Sleeping in a Jeep Cherokee is best suited to people under six feet. A single individual will be most comfortable—two people will be cramped.
Let's look at how suitable the Jeep Cherokee is for car camping.
Is a Jeep Cherokee Good for Sleeping In?
When car camping, consider how much space is available. You will need room to sleep and space to store any gear you bring with you.
Remove the back seats and push the front seats forward. Doing so will leave you with about six feet of space. You will have an adequate amount of room for one person to sleep and still have space for gear.
How tall you are will impact the comfort of sleeping in your vehicle. Since there are about six feet of space, you will be able to stretch out if you are shorter than that. People six feet or taller will need to curl up a bit to fit.
If you are taller than six feet, it really depends on your sleeping preferences. Some people need to stretch out to get a good night's sleep. Others tend to curl up into a ball regardless of how much space they have.
Some Jeep Cherokees come with a sunroof. Having the shade open at night can be a relaxing way to enjoy the stars before you fall asleep.
How to Prepare for Car Camping
Successful car camping depends on being prepared. Take the time to determine what you will need for your trip and gather all supplies well in advance.
There are four main categories to consider when car camping: your sleeping area, storage space, clothing, and gear.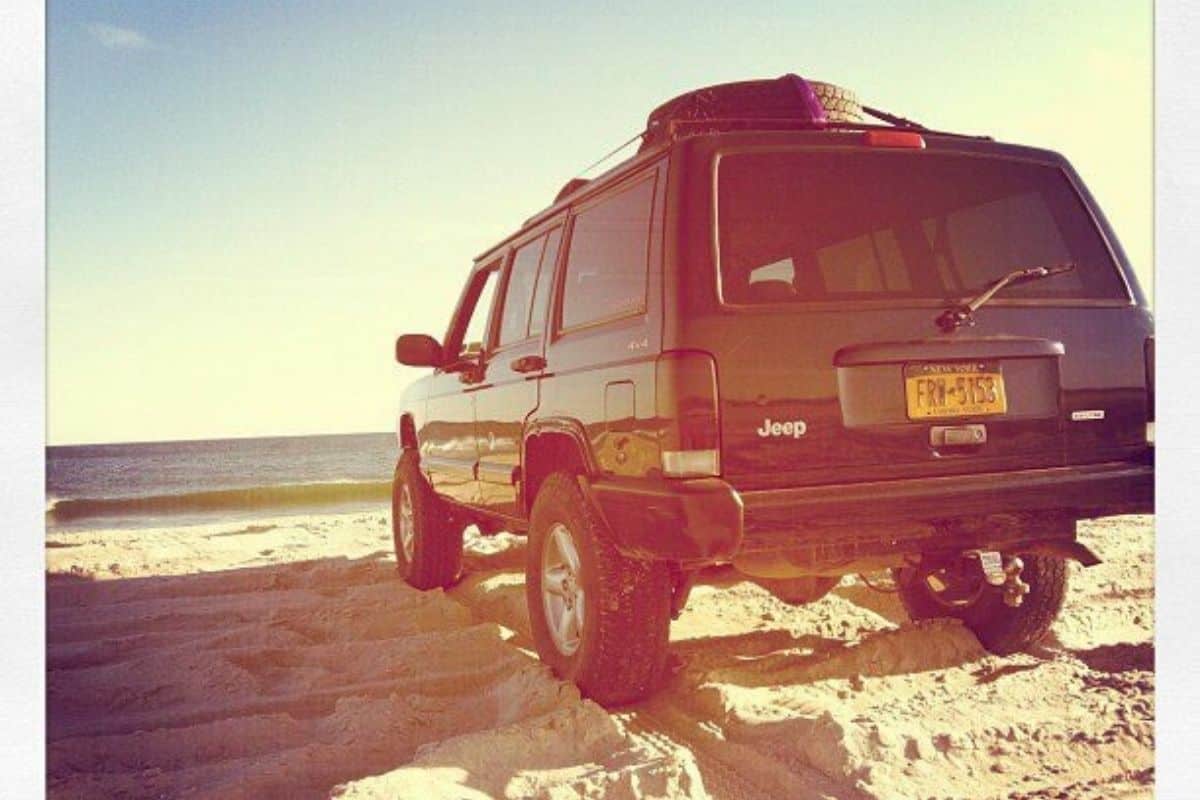 Sleeping Area
You have a few options for making your Jeep Cherokee a suitable place to sleep. The back of the Jeep can be divided to make room for both sleeping and storage. Or you can use it entirely for a sleeping area.
Either way, you will want to start with a comfortable sleeping surface. A thick mattress or foam pad will cover the bumps on the vehicle floor. If you are ambitious, you can even build a wood frame to fit inside the back of the Jeep.
When it comes to choosing a mattress, there are plenty of options. You can opt for a foam pad, a futon mattress, an air mattress, or even a coil mattress. Be sure to measure accurately to ensure that it will fit in your space.
Once you have your base, you can add additional layers depending on how much support you want. Blankets and comforters can be layered on top of the mattress to make it warmer and more comfortable.
Lastly, you will need pillows and a sleeping bag or extra blankets. If you are sleeping in your Jeep Cherokee during the winter, I highly recommend a sleeping bag.
Storage Area
When car camping, you will need space to put your clothing, toiletries, food, hiking gear, and anything else you might need. You can choose to store your belongings beside your sleep area, under your sleep area, or in a cargo carrier on the roof.
If you opt for a smaller mattress, you can easily fit some storage bins alongside it. This provides easy access to your stored items. If you have a larger mattress, you likely won't have the room to do this.
A wooden frame under your mattress can create space underneath to store your belongings. The benefit of this is that everything is inside the vehicle with you. However, it is not necessarily easy to access things.
Lastly, a cargo carrier can be a good choice for storage if you don't have room inside the Jeep. These containers fit atop the roof of your vehicle and provide space to store your belongings, leaving you with more room inside for sleeping.
Clothing
If you are going to be sleeping in your Jeep Cherokee, you will need appropriate clothing. Now, if you're in a place where it's warm, or you're camping during the summer, this isn't as much of an issue, but consider that it does typically get cooler at night than in the day.
The main concern with clothing is when you camp in the winter, particularly if the temperature is below freezing. The best way to ensure you stay warm in your vehicle is to wear layers of clothing—this way, you can add or remove items as needed.
You will also want to make sure you have waterproof gear if you will be outside in the snow or rain. Ensuring that your clothing stays dry will mean you don't need to worry about sleeping in wet clothes—a guaranteed way to have a poor night's sleep.
Gear
Once you have your sleeping and storage areas figured out, consider what sort of gear you will need to take with you for your car camping trip. Generally, this will depend on what types of activities you plan to engage in while camping.
Here is a list of things you may want to bring:
Camping chairs
Lantern or flashlight
Lighter
Knife
First aid kit
Camping stove and fuel
Pots and pans
Dishes and utensils
Water jug
Cooler
Containers, plastic wrap, and aluminum foil
Can opener
Dish soap, dishcloth, bucket
Toiletries including bug spray and sunscreen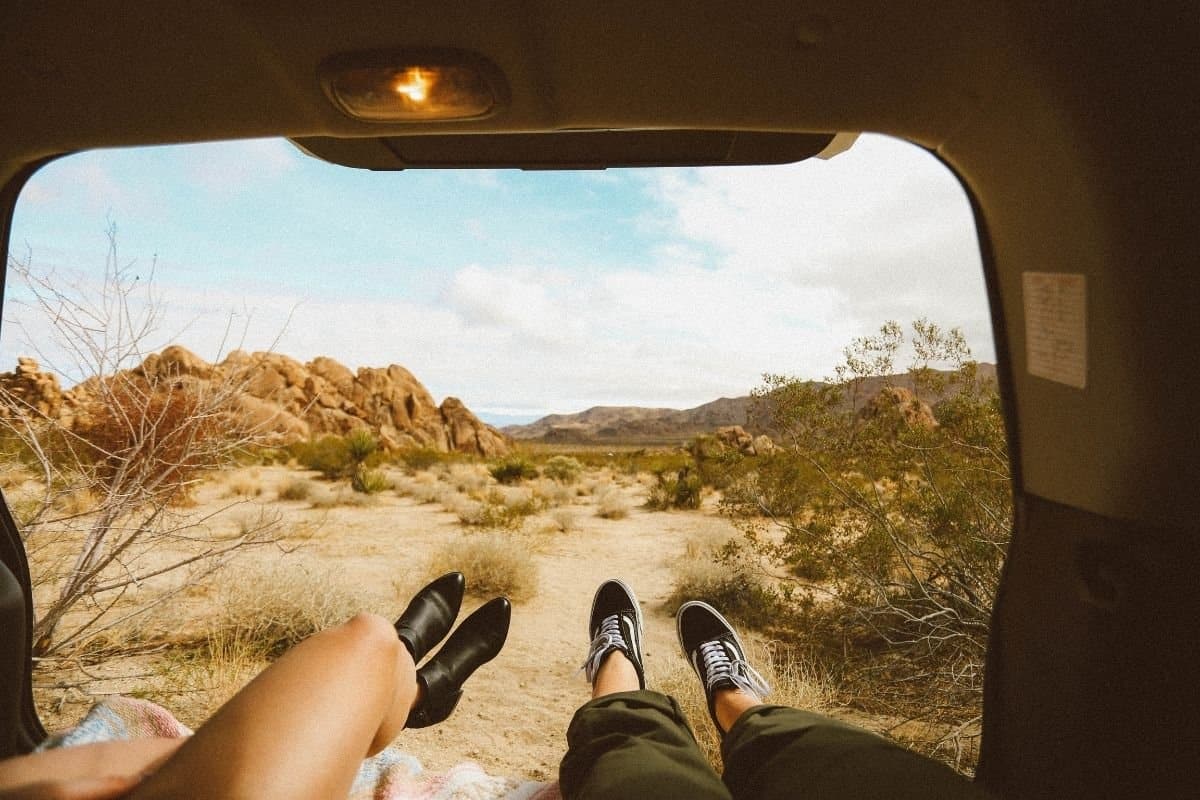 Staying Safe While Car Camping
Whether you are camping solo or with the family, you should take some precautions to make your trip as safe as possible.
Wildlife
Find out what types of wildlife may be present in the areas you will be camping. If you are traveling to locations with bears, cougars, or wolves, take these basic measures.
Keep all your food inside the Jeep Cherokee in well-sealed containers or coolers. This will help to eliminate odors that can attract animals. You can also keep food in a tightly sealed container hung in a bag at least ten feet above the ground.
Be sure that the area around your vehicle is kept clean. Any dishes or pots used for cooking should be thoroughly cleaned to remove food and odors. All garbage should be taken to wildlife-proof containers usually found in campgrounds.
Weather
Be mindful of the weather conditions and take shelter when necessary. Heavy rains, freezing temperatures, and tornados are just some examples of dangerous weather conditions that can be a threat when you are car camping.
Pay attention to the forecast. If inclement weather is approaching, find a safe place to shelter until you can continue.
Let Someone Know Your Plans
It's a good idea to leave your travel itinerary with a friend or family member and check in periodically. Let them know where you plan to go and who to contact if they don't hear from you at a certain point.