Not too long ago, my friend and I were in her Jeep Cherokee when we ended up with an empty tank of gas, unsure of where the closest gas station was.
Luckily, it wasn't too far, but that got me thinking what if there hadn't been? Realizing I must not be the only one who's experienced this situation, I did some research to find out just how far a Jeep Cherokee can go on an empty tank. 
How far can a Jeep Cherokee go on Empty?
So how far can a Jeep Cherokee go on empty? Most users reported they were only able to drive between one and three miles when the gas mileage read zero. A few extreme cases reported closer to 10. However, if your warning light is just turning on, you have reportedly 66-93 miles left.
To see the Tank on Empty's chart of the mileage reported by drivers after reaching an empty tank, click here.
Despite the warning from your Jeep Cherokee fuel indicator that you have some miles left, it's never a good idea to keep driving on an empty tank.
Besides the danger factors that come with being broken down on the side of the road, you may also face future damage to your vehicle. 
Driving on Empty
As mentioned above, the amount of mileage you will achieve with an empty tank will depend on the conditions of your situation.
Just like humans spend different amounts of energy on various tasks, cars do the same, depending on where they are and what they're trying to do.
Here are a few things below to consider that affect how quickly you run out of gas regardless of the number presented to you. 
#1 Terrain: Driving on a highway where you aren't stepping on the gas as much to maintain the car's speed spends less energy than the stop and go of back roads.
That's why drivers report getting farther on the highway due to the fact that the car will cruise until it naturally slows down. Also, consider the situation when one might put it in Low-Range mode for extreme off-roading.
This takes on a different set of requirements for the engine and how much gas it burns through. 
#2 Traffic: Similar to cruising on a highway or stopping in a city, traffic requires a lot of touch-and-go.
There are situations in which traffic is so bad that the car doesn't move for maybe a few minutes.
A driver might think because they aren't traveling distance, they're still OK, but in reality, your car is on and still using gas despite not adding miles. 
#3 Condition of the Car: If your car has previously experienced issues such as a leaking gas tank or engine problems, it's more likely to break down faster than a new car who has never encountered such issues.
If the mileage is dropping rapidly without actually traveling much distance, it's possible that your car is experiencing this issue again. 
Mileage After the Fuel Light Comes on
When the warning light for low fuel comes on most drivers will try and put their poker face on to gamble how far they can get with the number they're given.
Don't be fooled! Just because it says you have 20 miles left until you run out of gas doesn't actually mean you will make it the whole 20 miles. The Jeep Cherokee is said to have three gallons left when the light kicks on. The first 65 miles are guaranteed.
Then you have anywhere from one mile to 27 miles to find a gas station. 
Think about how far you can make it with 27 miles. Why would anyone even stress if they have that much more to go?
Even if your gauge has been decently accurate in the past, your Jeep Cherokee generates a number specific to itself in general, not necessarily the situation you are currently in.  
"The approximation is based on the average mileage that you have attained while driving your vehicle."
Source Your Mechanic
This means if you are someone who drives on the highway a lot rather than the city, then it's going to calculate how many miles you have left as if you were driving on the highway.
Now think about when you go to buy a car. The listing details will tell you two different gas mileages.
One for the highway and one for city. The highway always gets you more miles per gallon because of the factors we mention above.
So, if the system bases your mileage per gallon as if driving on the highway, but you're on empty in the city, it's not going to be accurate.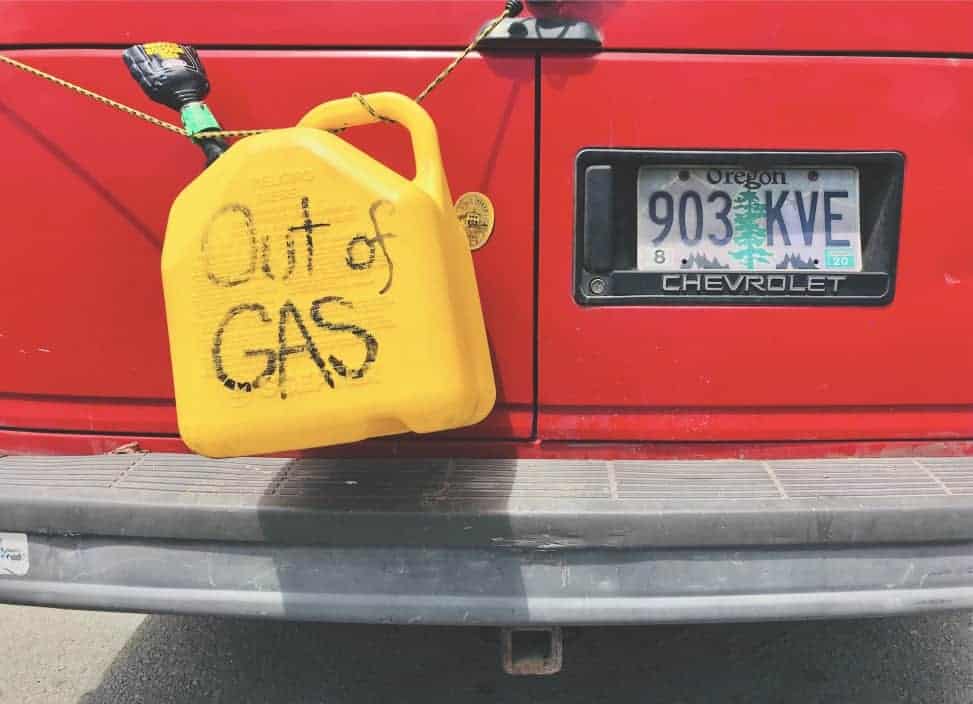 Consequences of Driving on an Empty Tank
When driving with no gas, you run a number of risks to your vehicle and safety. You might think of movies when cars run out of gas, and the car just dies there in the middle of the road.
But that is actually one of the luckier scenarios. The car is much more likely to burn the fuel pump out while risking debris getting inside. 
The fuel which travels from the tank to the engine helps keep the pump itself well lubricated and cool, but when there little to no fuel left, it's likely to overheat and fail completely.
This actually can cause the engine itself to overheat. You might hear sounds like sputtering or backfire as a sign that this is happening. 
Debris also has a way of inserting itself into your fuel pump if the gas tank is too low.
This is because all the particles will sit at the bottom, so when the last drops of gas go to the engine, so will the debris and harmful sediment. 
A replacement for a fuel pump has an average cost range from $750 to $1900. And in worst-case scenarios where the engine has started to overheat, turning off the car completely can save further damage like a cracked head gasket or warped cylinders.
If that happens, it can be cheaper to replace the engine than the parts. Expect at least $4000 for an engine replacement, and sadly it only goes up from there depending on the car. 
These are all costly repairs, but damage like this can keep exposing your car to further issues down the road, all due to the gas tank running a little low.
Experts advise not even allowing your car to drop below the last quarter because of the snowball effect of problems that come after. 
Who to Call if you Run out of Gas
First off, if you are lucky enough to be local, then you can consider just calling family or a friend to bring you a gallon or two of gas.
Or you can always Uber/Lyft your way to the nearest gas station as long as your car is safely off to the side of the road.
However, depending on how your car reacted when you ran out of gas, it's possible the damage is already done, and you need a tow anyways. 
If you have AAA, now is a good time to consider calling. Their offside road assistance is spectacular, and they can tow you to the nearest gas station.
If you don't have AAA, you can give your auto insurance company a call, and they can most likely help you out with a tow as well. 
If you don't have either of the two options listed above, then consider getting Honk.
Honk is a roadside assistance app that not only connects you with the people to get you out of an emergency but also tells you how much things will cost.
Honk is also known for its speedy roadside assistance, so you won't be waiting long. 
Emergency Jeep Gear
Bestseller No. 1
Bestseller No. 2
FiveJoy Military Folding Shovel Multitool (C1) - Portable Foldable Survival Tool - Entrenching Backpack Equipment for Hiking Camping Emergency Car - Bushcraft Gear: Shovels and Accessories Tools Kit
🔔 ALL-IN-ONE SURVIVAL TOOL - Heavy Duty Shovel, Sharp Axe Blade, Serrated Saw Edge, Hammer, Paracord...Check! We've got all the must-haves for surviving in the outdoors covered. Conveniently dig trenches with this versatile multifunctional tool with a hidden rescue knife and saw, emergency whistle, fire starter (magnesium rod), bottle opener, and more!
⛺ COMPACT, PORTABLE MULTI TOOL - Lightweight (only 1.2lbs), and amazingly compact, this is an essential gadget to add to your outdoor first aid survival kit/ gear. Easily fit this foldable entrenching tool in your backpack or the trunk of your vehicle. Dig your car tires out of snow, mud, or ice, or use the shovel head as a glass breaker in an emergency. Attach the included carrying case to your belt for convenient access while on the trail or hunt.
🔥 VIRTUALLY INDESTRUCTIBLE - Forged from heat-treated High-Quality SOLID Carbon Steel (Blade and Knife) and Aerospace Grade Aluminum (Knife), for maximum strength and lifetime durability. Rust, water, and fracture resistant. Go ahead- PUT IT TO THE TEST!
🔒 UNIQUE LOCK ADJUSTMENT- Unlike other shovels, you can adjust the shovel angle with its special screw locking device, making it simple to alternate functions and positions. Spade can be used 30°, 85° or 180° angle as hook, hoe or shovel.
✔️ ERGONOMIC DESIGN - Thoughtfully engineered handle optimizes comfort and control for all glove types to minimize hand fatigue. Slip-proof foam cushion on the aluminum handle is water-resistant, quick to dry, and perfect for recreational gardening or on your backcountry hike or cross country trips. Always be prepared with this tactical folding tool!
Bestseller No. 3
KOSIN Survival Gear, 18 in 1 Emergency Survival Kit, Professional Tactical Defense Equitment Tool with Knife Blanket Bracelets Backpack Temperature Compass Fire Starter for Adventure Outdoors Sport
【Best Gifts for Men】gadgets fishing gifts for men survival gear and equipment hunting gifts for men mens gift hunting knives for men camping gadgets cool stuff for boys hunting gear for men camping gifts camping gear for men top gifts for men best gifts for men hiking gear for men camping tools fishing accessories for men survival gear for men cool gadget men's gifts mens gifts for christmas men stuff survival equipment survival kit tactical gear prepper gear survival gear and equipment
【MUST HAVE SURVIVAL GEAR KIT】18 in 1 Professional emergency survival kits. Containing: Upgrade compass, Upgrade survival knife, Wire saw, Water Bottle Clip, Emergency Blanket, Flintstone, Scraper, Flashlight, Credit Card Knife, Tactical Pen, Whistle, Mini Light, Carabiner, and Black Waterproof Box.
【High-Quality Cold Steel】18 pcs survival kit included to survive in the wilderness. Cold steel tactical knife for cutting; 3 modes Flashlight for bringing enough light; Dual-tube whistle for attracting attention by producing volume up to 120 db; Wire Saw for cutting wood or bone; Multi-function pliers for fixing; Thermal blanket for retain 90% of body heat; There are also bottle buckle, fire starter, carabiner, paracord bracelet, compass, tactical pen for emergency situations.
【NECESSARY SOS EQUIPMENT】The multi-purpose survival gear kits contains everything you need when there is any emergency situation occurs like natural disaster or wilderness adventure. Perfectly fits for people who loves hiking, hunting, wilderness survival, etc. Great gift idea for outdoor adventurer, hiker, camper.
【Lightweight & Convenient】Easy To Carry mini Size, Dimensions is 6.3 X 4.3 X 1.9 Inches and Weight 1.4 Pounds.This Extremely Useful Kit Can be Placed in a Backpack, Car, Drawers, Pocket or Pouch, or Securely Attached With the Included Ranger Band to your belt, Rucksack Strap, Climbing Gear or Mountain Bike.