What is the Best Sleeping Pad for Car Camping
Car camping is becoming increasingly popular. It is more comfortable than sleeping on the ground, and it is less expensive than sleeping in a cabin or RV. Car camping with a sleeping pad allows you to receive the full camping experience all while maximizing comfort.
The Sleepingo Camping Sleeping Pad is one of the best options for car camping because it is lightweight and durable. Other good choices include the Akaso Camping Sleeping Pad and various inflatable air mattresses. These are all compact and comfortable options for car camping.
There are many sleeping pads that are great for car camping. Below is a list of the six best sleeping pads for car camping. The list will give a full description of each pad so you can decide which one is best for you.
Sleepingo Camping Sleeping Pad
The best sleeping pad for car camping is the Sleepingo Camping Sleeping Pad. This sleeping pad has been given over 25,000 ratings and has nearly five stars. It is Amazon's #1 selling sleeping pad and it is for a good reason. This pad is both inexpensive and made with high-quality materials. It is waterproof and made with ripstop nylon fabric.
Despite the inexpensive price, the Sleepingo is strong and durable. The pad has a lifetime warranty, so if you find yourself with an accidental tear, you can get a replacement. However, there is a small likelihood of this happening as the pad is tear-resistant.
Sleeping in your car can become extremely uncomfortable. However, the Sleepingo is 2″ thick, which will make car sleeping a dream. In addition, the sleeping pad is lightweight, weighing only 14.5 ounces. The pad is compact and lightweight, so when you are no longer sleeping in your car, you can easily store it.
Description of the Sleepingo Camping Sleeping Pad:
Lightweight
Noise-free
Packs down to 8×3.5"
14.5 ounces
2 inches thick
Waterproof
$39.95
Other Sleeping Pads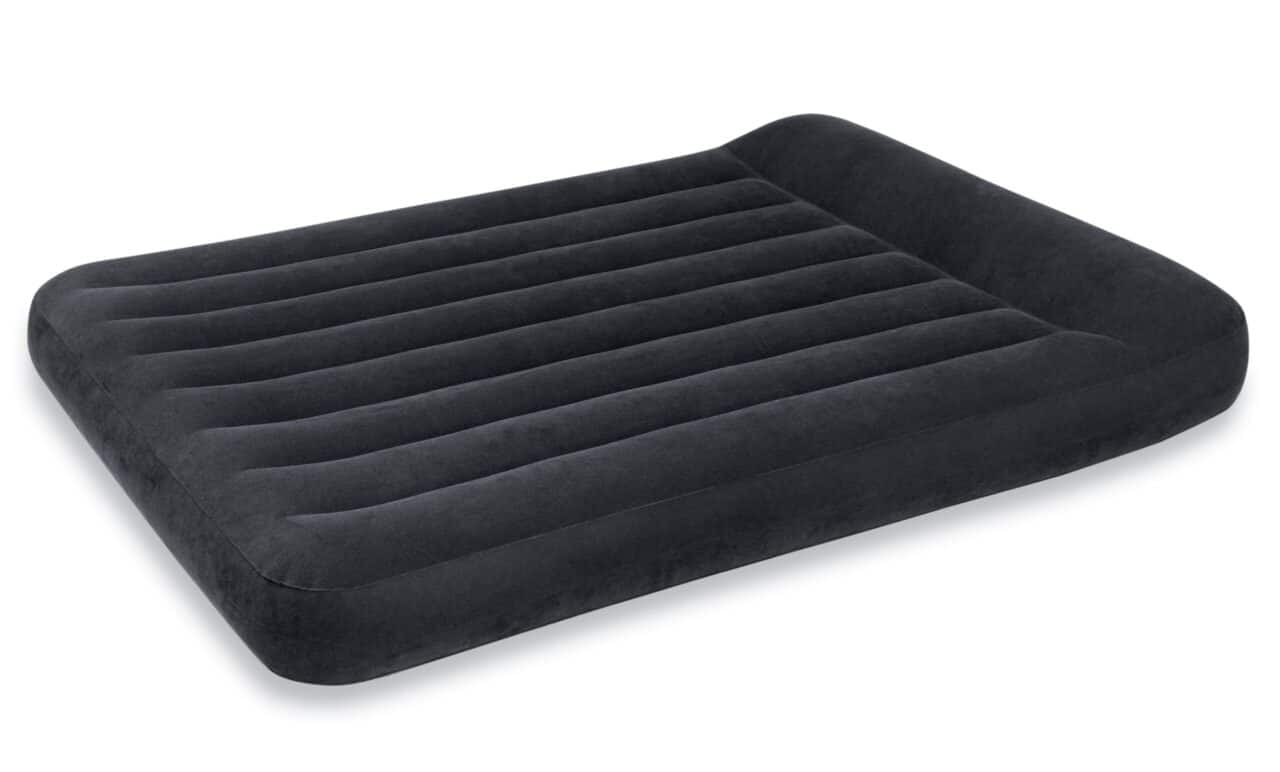 Although the Sleepingo is the best overall sleeping pad, there are many others to choose from. If you want a self-inflatable or large pad, then you will want to consider the options below. One of the five pads below may be the best option for you, so keep reading!
Houseday Car Bed Air Mattress
If you want comfort, then the Houseday Car Bed Air Mattress is for you. The Houseday Car Bed maximizes comfort, and you will never again have to worry about car camping. It was specifically made for a Jeep Sedan Minivan, however, it will certainly fit in other cars as well.
Customers buy this sleeping pad for its quality make. It is made with microfiber, which is thermo-regulating. This means that you will not have to worry about the pad becoming overheated or overly cold while you sleep. It will remain at a consistent temperature.
The Houseday Car Bed comes with a headboard and a safety baffle. These will both protect you and provide extra comfort. The safety design of this mattress is like no other, and many customers enjoy the design.
Description of the Houseday Car Bed Air Mattress:
1,000 pound bearing capacity
Multifunctional
Comes with two pillows, two seat cushions, and a three-port air pump
Three year warranty
$39.99
Inflatable Backseat Sleeping Mattress
The Inflatable Backseat Sleeping Mattress is convenient and versatile. You can use it for camping in your car, swimming, or as a beach chair. There are many uses for this sleeping mattress, so you can use it even when you are not camping. The mattress is thick and durable, which will make any backseat comfortable.
Description of the Inflatable Backseat Sleeping Mattress:
Durable
Lightweight
5.9 pounds
Takes less than three minutes to inflate the mattress
$42.99
Self-Inflating Camping Mattress
The Self-Inflating Camping Mattress is much more expensive than the previous sleeping pads mentioned, however, it is worth it. It is even rated a perfect five stars! The most impressive part of this sleeping pad is that you do not need a pump to inflate it. The pad is self-inflating and can inflate within minutes. After it is fully inflated and you notice you would like it to be harder, you can inflate it further with the carry bag that is included in this purchase.
If you are camping at a cold destination, do not worry! This sleeping pad is insulated and offers a 9.5 R-value. With four inches of comfort, you will no longer have to dread sleeping in your car. Although this sleeping pad is not fully waterproof, it is water-resistant. In addition, it is durable and likely to last for ages.
When purchasing this sleeping pad, you can choose between the single and the double. The single costs $99.99 while the double costs $179.99. While the double is a better price investment, it all depends on your specific needs. If only one person is going car camping, then the singular is sufficient.
Description of the Self-Inflating Camping Mattress:
Water-resistant
No pump necessary
Insulated
13.6 pounds
Four inches thick
$99.99-$179.99
AKASO Camping Sleeping Pad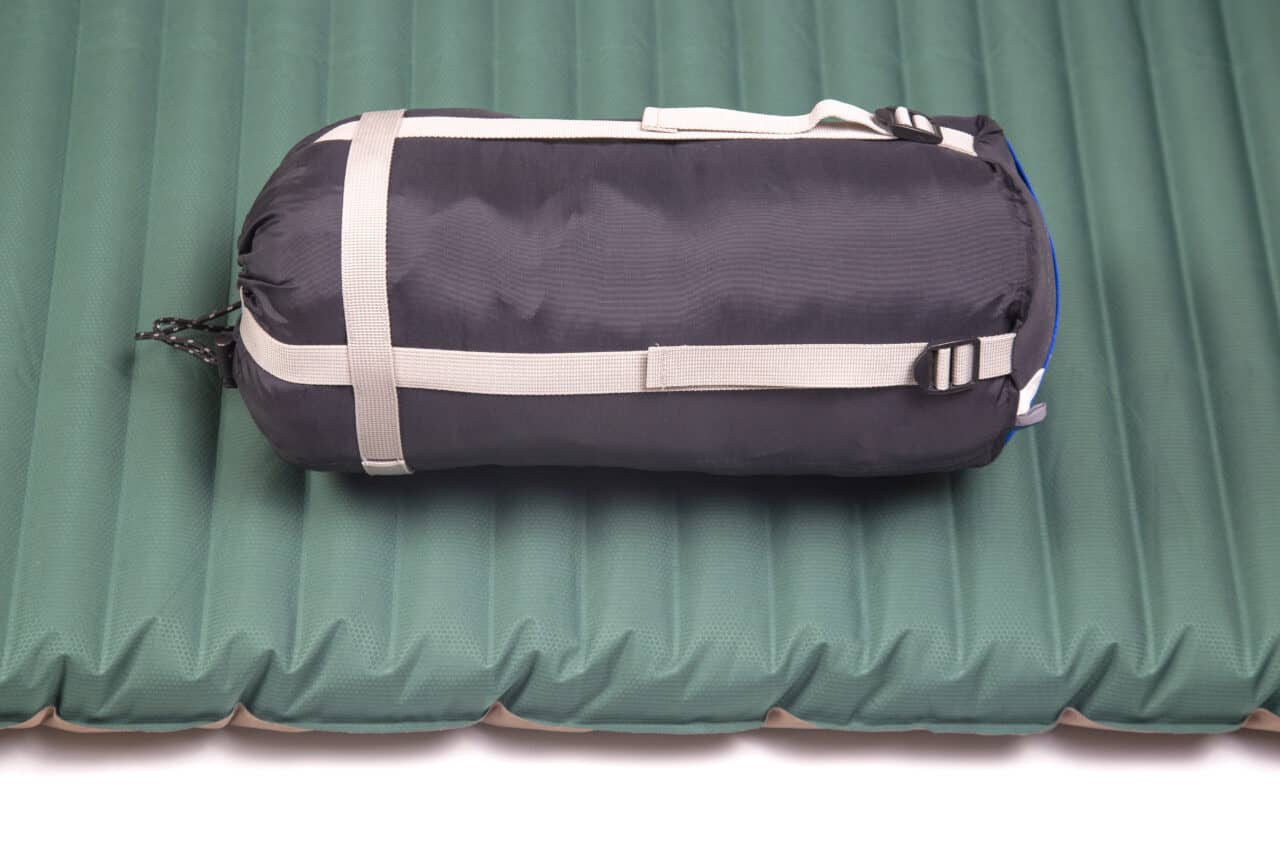 The AKASO Camping Sleeping Pad is a great option if you are looking for a simple, inexpensive sleeping pad. The AKASO has been given five stars, and rightfully so. It is 2.64″ that will provide you with the best car sleeping experience.
This sleeping pad is durable and water-proof, making it ideal for car camping. It insulates you from the cold of the ground or car floor, which will keep you warm while you sleep.
The AKASO can be inflated by mouth or by use of an air pump. It only takes one minute to inflate, and even less than that to deflate. When using this sleeping pad, you will not have to worry about it deflating in the middle of the night. It has double non-leak air valves so you can be sure it will stay inflated all night.
Description of the AKASO Camping Sleeping Pad:
2.64 inches
Quiet
Compact
Waterproof
Tear-proof
$32.99
Therm-a-Rest MondoKing 3D Self-Inflating Foam Camping Mattress
The most expensive of the best sleeping pads is the Therm-a-Rest MondoKing 3D Self-Inflating Foam Camping Mattress. It is rated almost five stars, making it a nearly perfect satisfaction rating. This sleeping pad is large, yet can still fit in most cars. Many customers enjoy this sleeping pad because of its large size, as many sleeping pads are too small for them to fit on. The Therm-a-Rest is sure to be the perfect size for you!
The Therm-a-Rest protects from the cold with a high R-value. The R-value is 8.0 and provides insulation for cold camping nights.
Description of the Therm-a-Rest MondoKing 3D Self-Inflating Foam Camping Mattress:
Weighs 4.38 pounds
8.0 R-value
77x25x4.5 inches
Easy-to-use pump sack
$209.95