14 Best SUV For Sleeping (Car Camping Revealed!)
If you're crossing the country or just camping on the cheap side, you might consider sleeping in your car. Of course, it's logical to expect that some vehicles are better for this than others. But catching a quick snooze or an overnight break at the side of the road isn't so straightforward. There are also a series of precautions that you must take. So, in this article, we'll tell you all about sleeping in your car.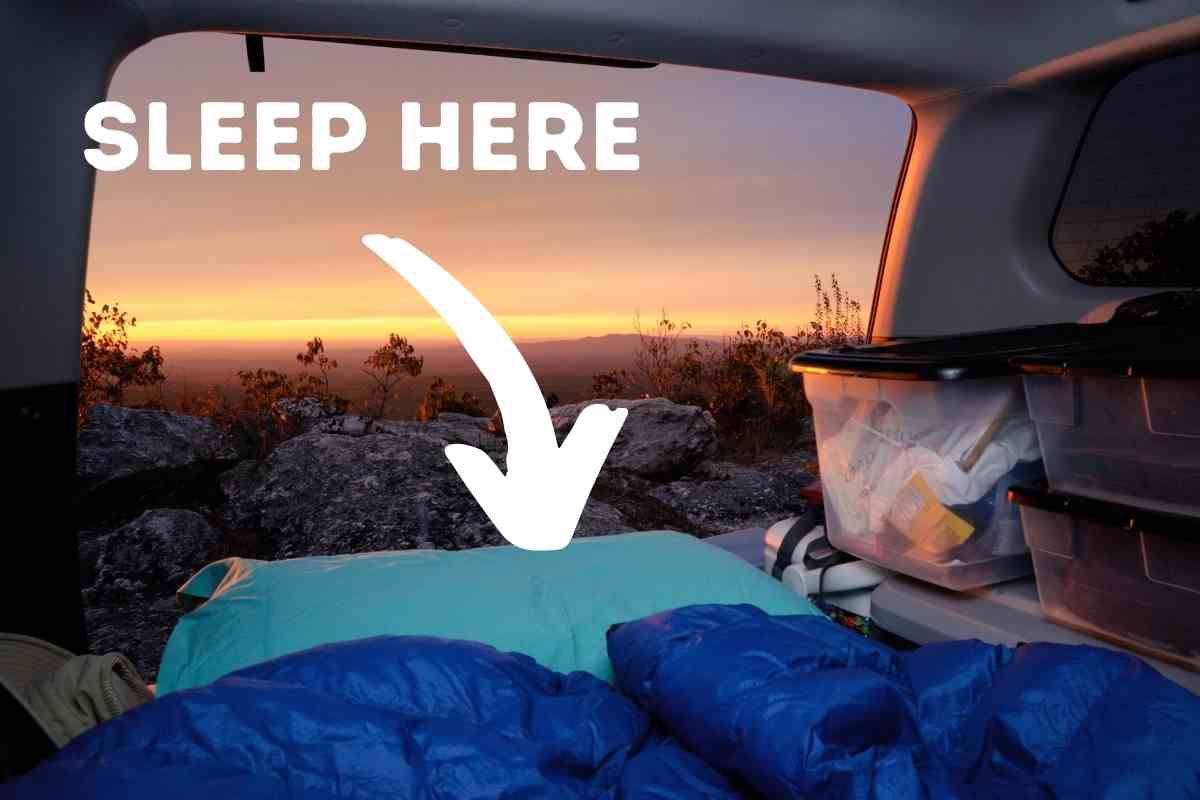 What's the best SUV for sleeping?
The best SUV for sleeping is one that has enough room and suits your daily driving needs. While that seems logical, it's important to consider that the biggest SUV might not be ideal for you.
Aspects like fuel economy, reliability, and others play a crucial part in choosing the best vehicle to sleep in.
Sometimes, you might want to go camping but don't have a trailer. Renting one can be expensive, let alone buying it. Plus, you might not partake in this activity frequently. That's where an SUV comes in.
Another reason why you might consider sleeping in your car is if you're traveling on the cheap side.
Life has its ups and downs and, sometimes, you might need to cross the country wasting as little money as possible.
Whatever the reason, finding the right SUV is vital. So, in this article, we'll go through the best in several categories. We'll show you ideal options in small, mid, and full-size vehicles. But, first, it's important to point out several things.
First of all, manufacturers usually don't design vehicles for sleeping. Sure, some can have the option to fold the seats flat, but even so, it might be an uncomfortable experience, especially if you're a taller person.
Since your health is most important, keep this in mind when frequently sleeping in a vehicle.
Additionally, doing so might not be legal in all states. So if you're traveling across the country, you should inform yourself of the legalities of doing this. We'll cover this in further detail in this article.
We'll also discuss safety aspects. These include location, but there are other vital cautions to take.
Best small SUVs for sleeping
The SUVs on this list are the better options out there. But that's not to say they're the only ones.
This website focuses on SUVs, offroaders, and 4×4, but an excellent option for sleeping is station wagons. Thanks to their extended cargo area, they're ideal for sleeping.
If you're looking for a cheap SUV, then the options we list here are ideal.
Honda CRV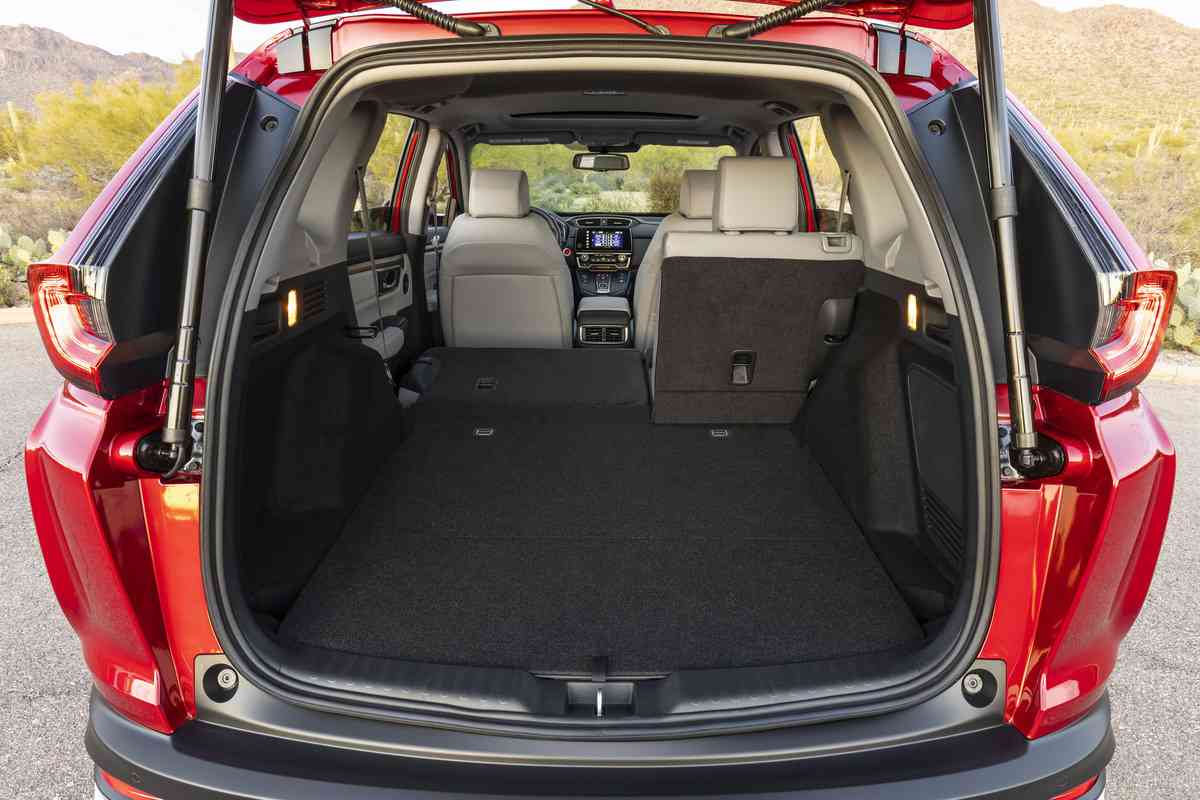 The Honda CRV is an excellent option for sleeping. Though it doesn't come with third-row seating, there's plenty of space in the back. Plus, you can fold the rear seats flat, which gives you more room for sleeping.
Hondas are very reliable, so the CRV won't let you down in that department.
However, they are slightly more expensive than other compact SUVs, so be prepared to dish out a bit more. Fuel mileage isn't great but works adequately on long trips.
Honda Element
The Element used the CRV as a platform. But Honda designed this car with adventure in mind.
So, you'll find tons of cargo area, seats that fold flat, and a roomy interior. It shares many of the mechanical features, so it's a reliable vehicle.
However, it's not the most aerodynamic SUV out there. So, its miles per gallon isn't as high.
Nevertheless, it's still an excellent car for those looking to trek long distances. But, since production stopped ten years ago, finding one in good conditions is more challenging and expensive.
Subaru Forester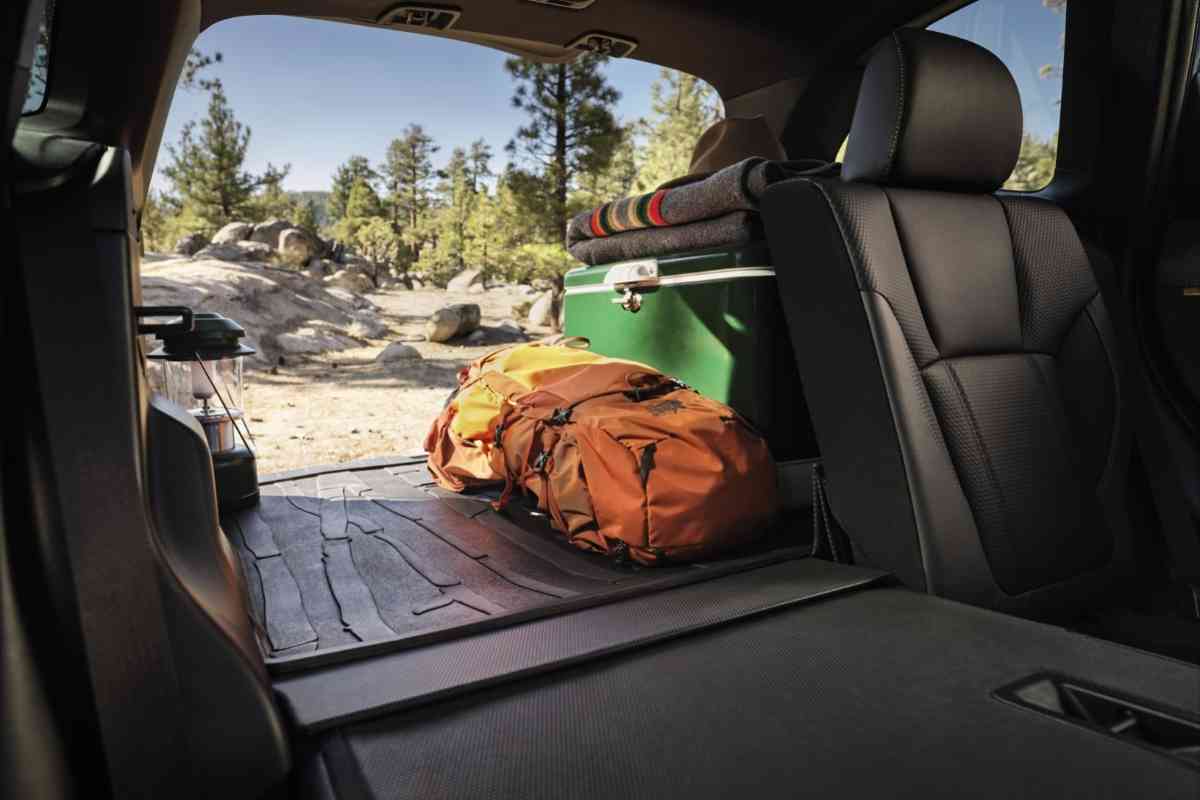 This SUV doesn't have the most room on the list. In fact, it might even feel cramped. But it's a very reliable car, with outstanding performance and decent interior space.
The back seats do fold flat, plus the front seats allow for some more room. So it's not out of the realm of possibility to fit a mattress inside. But, once you wake up, you have to figure out where to put it in.
The Forester makes this list because it's rugged, handles great, and has an excellent AWD system, so you can tackle snow, mud, or gravel.
Mazda CX5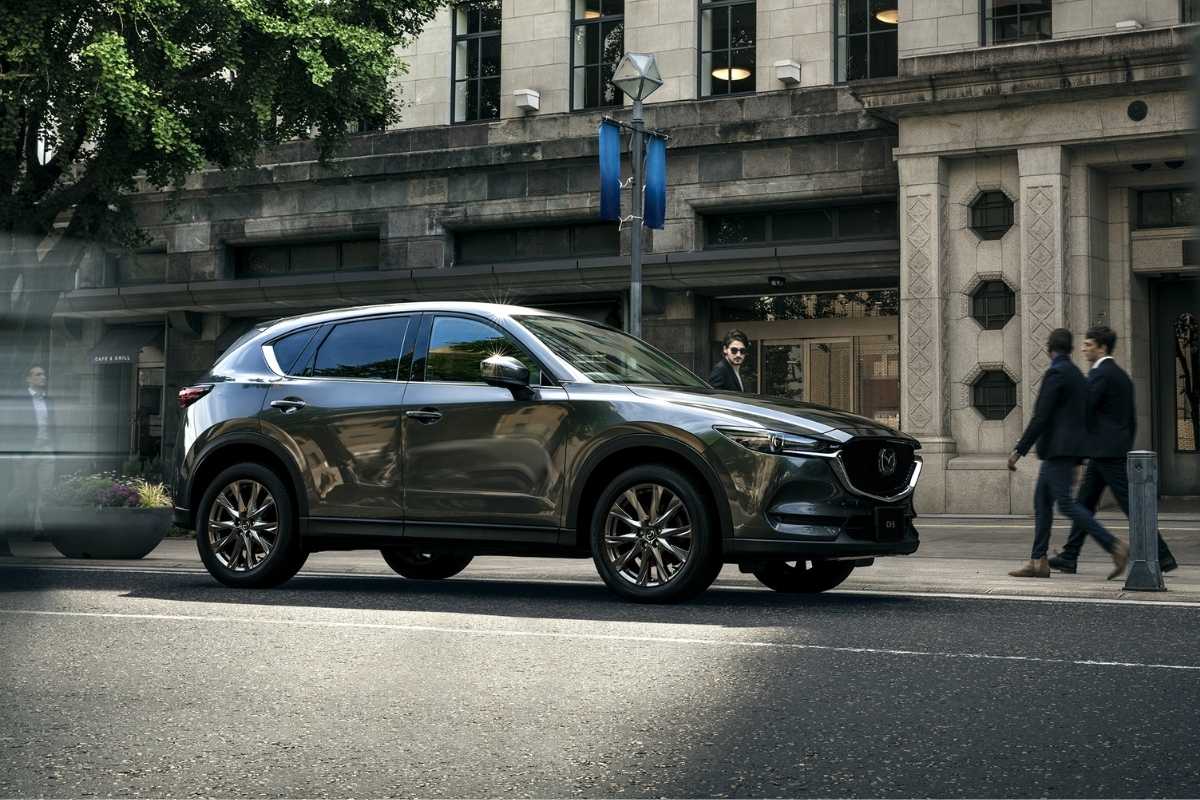 The Mazda CX5 might look small on the outside. But it's a roomy SUV with folding seats and a surprising cargo area. Plus, Mazda is reliable, so you know it won't break down quickly on those long trips.
Adding to these features, the CX5 has excellent fuel economy at highway speeds. This, and great handling, makes this vehicle an ideal choice for long-distance traveling and sleeping on the cheaper end. But it's more expensive than others on this list.
Ford Escape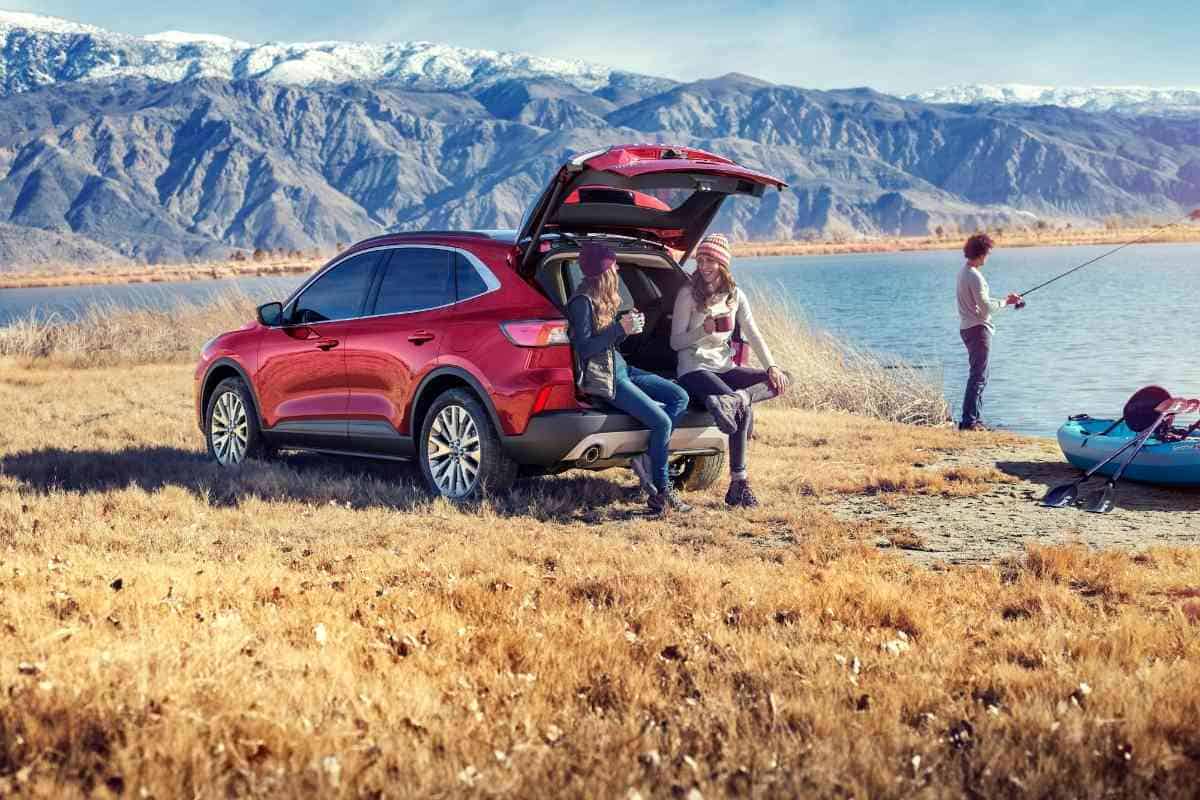 Initially conceived in alliance with Mazda, the Escape is an excellent option for long-distance traveling and, yes, sleeping. It's got a roomy interior, a small but powerful engine, and excellent handling.
It's also reliable and not as expensive as some Japanese options on this list. Now, it comes with powerplants that are more powerful and have excellent fuel mileage.
It has good cargo space, but not the best. So, if you're tall, it might not be ideal for you.
Like we said before, these are some of the examples that we can mention. But, there are others out there.
An ideal SUV for these conditions combines fuel economy, comfort, and reliability. And this applies to any size. So, keep that in mind when looking for one. Now, we're going to discuss the best mid-size SUVs.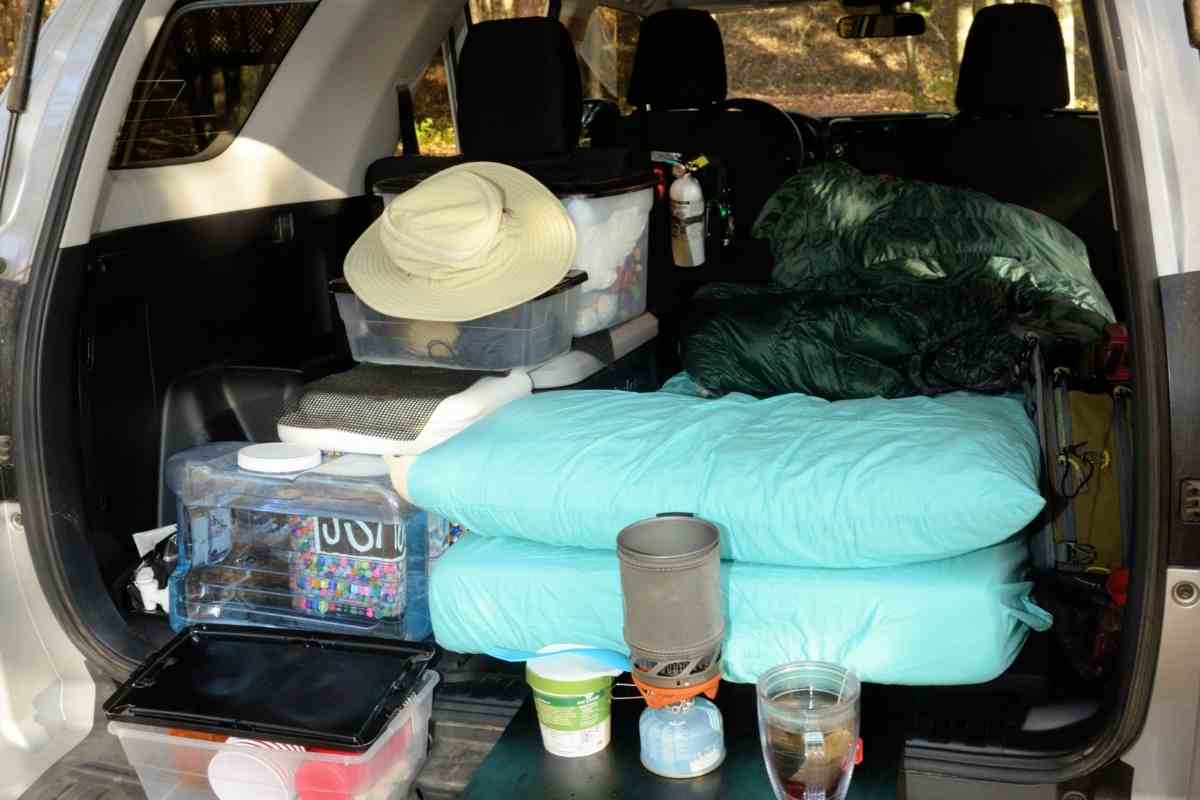 Best mid-size SUVs for sleeping
As SUVs increase in size, it becomes easier to find one that works for sleeping. But, as a counterpoint, the engines are bigger, which might affect fuel economy.
Plus, they're more expensive. So it's essential to consider these aspects when looking at this list.
Volvo XC90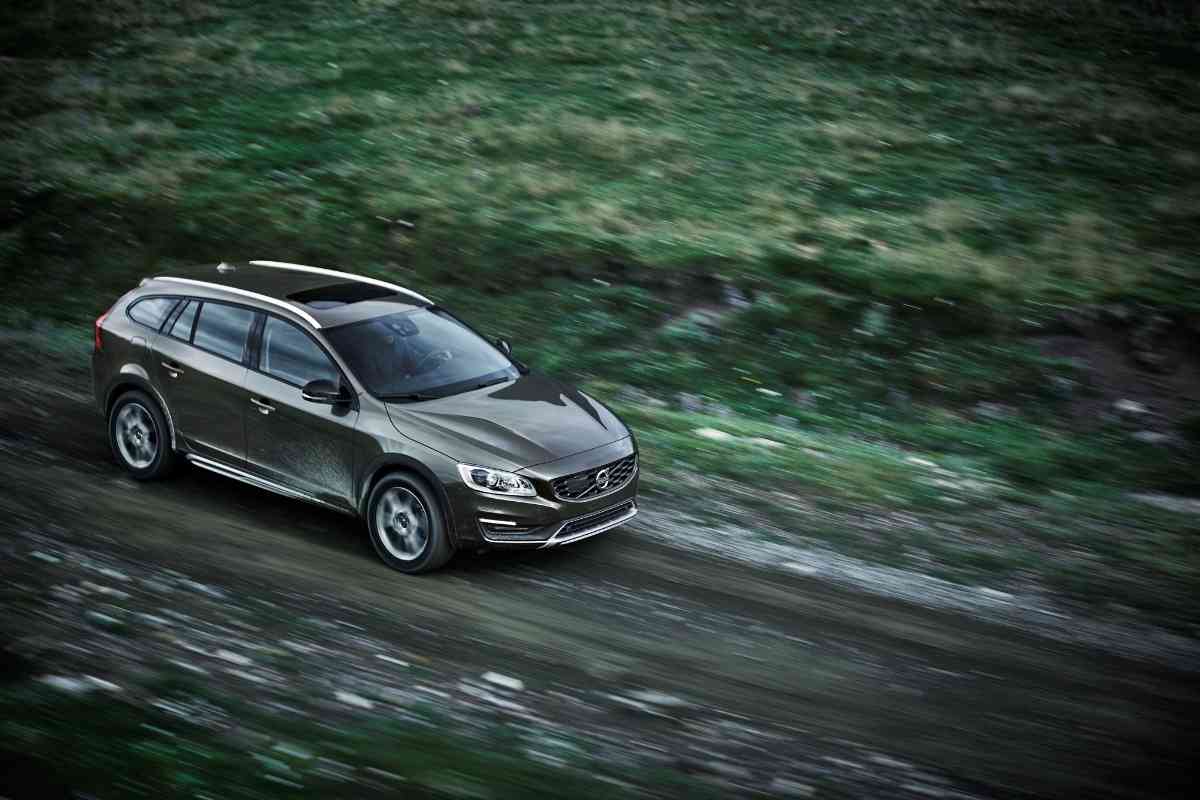 The Volvo XC90 is one of the more expensive SUVs on this list. But, it's with good reason. This Swedish vehicle comes with an excellent interior and plenty of room. Plus, it's reliable and comfortable to drive.
It comes with third-row seating and, in this case, it's an advantage. You have the option to fold all the seats flat to have a lot of room. You can even fit a mattress inside it. So, you have an excellent vehicle with massive interior space.
This alone is worth the extra investment. But, you can also consider that, for its size, the Volvo XC90 is actually quite economical. So, that's another point for the Swedes.
Chevrolet Equinox
Now, if you don't want to dish out a lot of money for a massive cargo room, you can consider the Chevrolet Equinox. It's a solid SUV that can fold the rear seats flat. Plus, it's amicable on your wallet.
We have to highlight as a negative on the Equinox that it's not the best handling SUV out there.
So, it might feel uncomfortable in very long journeys, as the steering isn't very sharp, and the suspension can feel bouncy at times.
But, it's still an accessible SUV with great room and good fuel economy. So, be sure to have it on your list of possible options.
Subaru Outback:
Yes, yes, we know that this isn't precisely an SUV. But the Subaru Outback has an excellent AWD system that challenges even the most capable 4x4s.
As a result, this is ideal for when you're traversing snow and mud. Plus, its station wagon design means you have heaps of room in the back.
Additionally, like all Subarus, it comes with an excellent flat-four engine. As a result, it produces good horsepower and torque, which sets it apart from the competition.
And, thanks to its low center of gravity, the Outback has formidable handling.
Jeep Cherokee
The first Jeep Cherokees were basic and rough. But, as the generations improved, this SUV became more sedate and comfortable. It's one of the bigger on the list and has plenty of cargo room.
The seats can fold flat, but this option is so massive that some users have found that it's unnecessary.
Keep in mind that the Cherokee doesn't come with surprising power, but it's adequate. Plus, it has good fuel mileage, and it's not as expensive as the Japanese or European counterparts.
Pontiac Aztek
It's ugly, it's controversial, but, let's face it, the Pontiac Aztek was ahead of its time. This is one of the few SUVs with many tools for sleeping in it from the factory.
When it was launched, Pontiac decided to create an adventure SUV that could take you to work and to the beach, all in a matter of minutes.
You could buy a factory-standard tent, a cooler, a swing-open tailgate, and even a table. It's the best for traveling. But, they're increasingly harder to find since so few came out of the factory.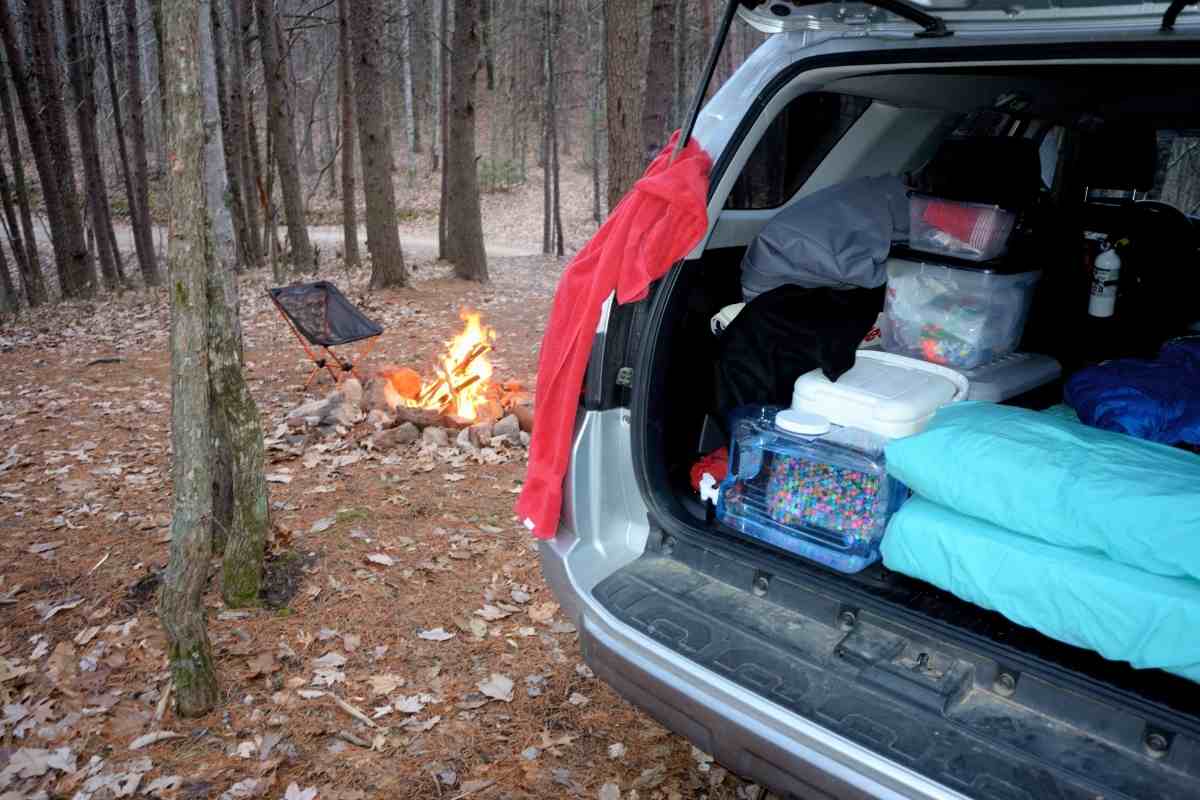 Best full-size SUVs for sleeping
AS we reach the full-size category, finding a roomy SUV becomes easier.
But, prices also increase. Fortunately, the popularity of these vehicles has grown so much that finding a used one in excellent conditions is more accessible.
Ford Expedition
The Ford Expedition is ideal for long trips in many aspects. First of all, it has a class-leading towing capacity and massive interior room. So, fitting a mattress and folding the seats is almost second nature.
While it might seem like a gas-guzzler, the Expedition isn't that thirsty. At least, it can give you more miles per gallon when you compare it to other V8 engines. This is thanks to its 3.5L V6 twin-turbo EcoBoost.
If you don't want to sleep in it, another option is to fit a sleeping tent on the roof. The Expedition can handle cargo easily, so a bit of weight on top won't affect its performance.
There are plenty of used Expeditions out there, so look for one with low miles that hasn't seen much life outside the shopping mall, and you have a great ride.
Chevrolet Tahoe
One of the Expedition's direct competitors, the Tahoe is also a massive SUV with excellent interior space.
But it might be a bit thirstier than the Expedition, thanks to its V8. But, it's important to note that the latest Tahoe also comes with a diesel option.
This vehicle is long, comfortable and you can easily sleep inside it. However, you must take care with the rear screens when you fold the seats flat.
It's best to cover them with additional protection to avoid damaging them.
Toyota Sequoia
The Sequoia is Toyota's largest SUV. It has a massive interior, but it's mechanically primitive when compared to other full-size SUVs. And, that plays to your advantage. It's basic, yes, but the engine is tried and true.
Plus, it's one of the most reliable SUVs out there. iSeeCars found that the Sequoia easily outdoes 200,000 miles. 9.2% of all Sequoias on the street will surpass this famed mark.
So, if you want a full-size SUV that's not as luxurious as others, but can get the job, is comfortable, and highly reliable, the Sequoia is the one for you.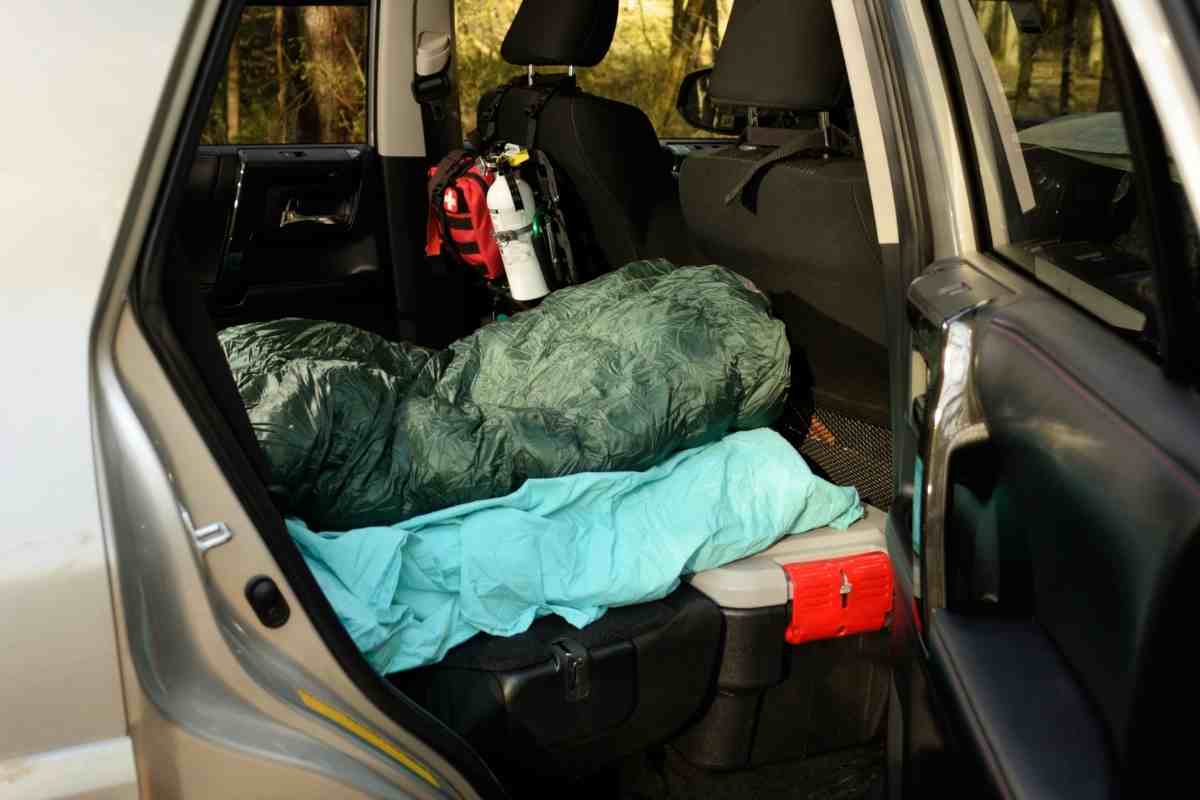 These are some cautions you need to take when sleeping in your car
There are many reasons why you might sleep in your car. The most common of all is due to fatigue. If you're driving and feel sleepy, it's best to pull over in a safe area and close your eyes for a while.
If you plan to do this, be sure to find a safe area. You can even consider paying for parking just to be on the safe side.
When you're planning to sleep overnight, then safety becomes critical. First of all, your personal safety is vital. Be sure to sleep in a safe area.
But, you can also risk suffocation or dehydration. Since your vehicle has windows, radiation can easily seep in, creating a glasshouse effect.
This raises the temperature inside the car, and it does so quickly. In this situation, you might suffer heatstroke and dehydration.
Plus, the room inside your SUV is limited, no matter how big it is. There's no air circulation (unless you open a window), so carbon dioxide can build up.
The dangerous aspect of this situation is that humans cannot sense this accumulation. Instead, we become tired and sleepy.
If there's too much, however, you can suffocate due to the lack of oxygen. This has happened in the past. The best solution is to have ventilation, be it by an open window or the tailgate.
Finally, there are legal aspects. For example, you might not be allowed to sleep in your car wherever you want to. So, a cop might knock on your window and issue you a ticket.
Yes, driving across the country is hard, but it's best to read up on legal aspects before setting off. This way, you can prevent unwanted fines.
Closing thoughts
Sometimes, you need to sleep in your car. Other times, you might want to.
However, not everyone wants to buy expensive camping equipment just to use it a couple of times a year. So, you consider an SUV for sleeping in.
On the other hand, you might also want to just drive across the country and do it for cheap.
Therefore, finding an accessible option is vital. This article looks to give you as much information as to choose the best SUV for sleeping.
Some in this list are cheap options. Others, not so much. But it should be easy to find the best option for you. Plus, we've given you some more details referring to the legal and safety aspects of sleeping in your car.
So, if you're embarking on this adventure, hopefully, this article provides you with the necessary information to do so safely.