Can You Sleep in a Nissan Rogue?
This post may contain affiliate links. As an Amazon affiliate, I earn from qualifying purchases.
Nothing says adventure quite like a road trip.
Cruising America's highways and byways are the best ways to see magnificent sights and meet some of the most interesting people on the planet.
But even on the most budget-friendly road trips, we still struggle with finding safe, clean, and inexpensive accommodations.
What if we decided to ditch the hotel or Airbnb in favor of car camping? Can you sleep in a Nissan Rogue?
Can You Sleep in a Nissan Rogue?
The Nissan Rogue is a great vehicle to sleep in. It is roomy and comfortable, and you will feel like you're having an RV experience. Some van life enthusiasts, who don't have the budget to fit out a van, have discovered that SUV living is just as rewarding.
The Nissan Rogue is a crossover SUV and remains popular among SUV enthusiasts because of its comfortable ride and the ton of safety features.
It has extra headspace, and the interior length from the back of the vehicle to the first row of seats is 68.9 inches leaving room for stretching out. But if you're taller than 5'8," stretching out will prove to be a challenge.
The thick windows, ample carpeting, and noise absorbing materials in the front bumper keep outdoor sounds outside. Even the lightest of sleepers will enjoy a great night's sleep.
How Do You Set Up a Bed in a Nissan Rogue?
There are two options when setting up your bed in the back of the Nissan Rogue. Try both and see which one works best for you.
1. Remove the Seats
While removing the seats is an option, it's going to eat up some time, and if you've had a long day on the road, you'll want a quick and easy way to set up camp for the night.
If you remove the seats, you'll need a plan for storing them to keep them out of the elements and away from wandering animals.
If you're camping in areas where wildlife such as bears are common, remember that food smells will draw them in, and they'll shred your seat in search of that picnic they smell! It's best to keep the seats inside the SUV.
3. Use a Platform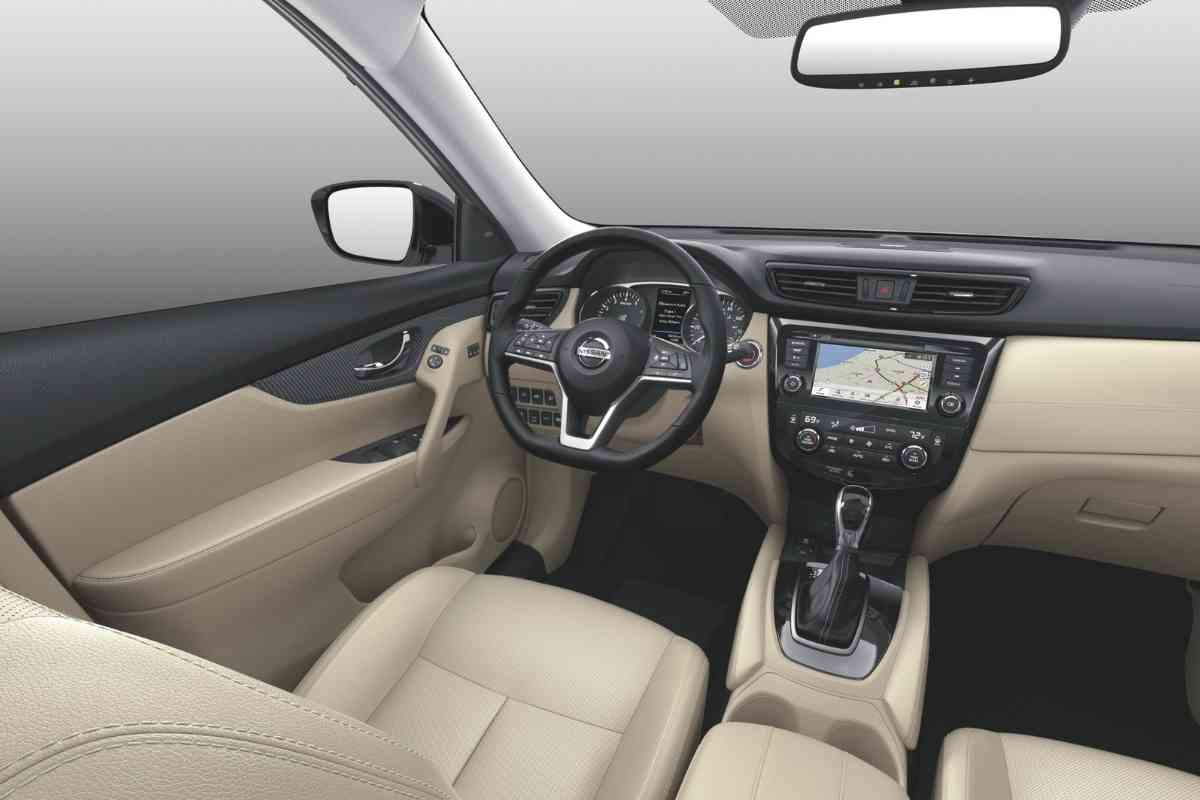 By far, the easiest thing you can do is set up some sort of cushioned platform to sleep on.
Camping mats, foam pads, puffy sleeping bags, and blankets can all be used to fashion a soft sleeping pad.
But before you think about this, you'll need a flat space.
First, move the front seats all the way forward with the seatbacks upright.
You can fold the front seats forward, but you might want to use these seats as a storage area.
Next, fold the back seats forward so that you have a flat area to build your sleeping area on.
If you don't want to fuss with building a soft sleeping nest from foam or blankets, invest in one of the air mattresses designed for SUVs.
These air mattresses often come with inflatable cubes that fill the space between the front and back seats, giving you even more room.
Tips for Sleeping in a Nissan Rogue
Sleeping in the back of the Nissan Rogue is more than just creating a flat sleeping platform.
Here are just a few suggestions to help your adventure to be safe, comfortable, and fun.
Keep Essential Items Handy
Organization is the key to a successful night's sleep in a Nissan Rogue.
Use a small bag that can be securely fastened to keep items like your keys, glasses, medicines, and cell phone.
Camping stores are great places to find small bags or containers that can be hung off the back of the front seat, keeping it in easy reach.
Choose Your Parking Spot Carefully
Campgrounds are a solid choice for parking your Nissan and catching some shut-eye.
They are safe and inexpensive.
But if you like more solitude, it's thrilling to park in out-of-the-way places! Make sure that where you are parking is legal and you're out of the way.
Before you start to unload your gear and set up camp, make sure the ground you're parked on is level.
There is nothing worse than waking up in the morning scrunched up against the side of your SUV or rolled up at the top or bottom because you parked on an incline.
Even the smallest of hills makes a difference.
Bring Electronics and Snacks
While you're on the road, plug in your electronics so you have full batteries when you go to bed.
Have a small cooler, about the size of a lunch sack, for the bedtime snacks.
There's nothing quite so satisfying as snuggling into your sleeping bag and munching on some cookies, chips, or fruit while watching a movie before the sandman shows up.
Have a Headlamp or Lantern
Use a headlamp or battery-operated lantern to meet all your lighting needs.
They also reduce the chance of running down your Nissan's battery by using the dome lights.
And if you have to answer nature's call in the middle of the night, you'll need a light, particularly if you're in a campground. You don't want to turn your headlights on, disturbing fellow travelers.
Why Not Just Sleep in a Tent?
Getting the Nissan Rogue ready for a good night's sleep is much easier and quicker than most tents.
You won't find yourself searching for errant poles or pegs.
No wrestling with wet, moldy material because it's been raining.
Just fold up the seats, air up the mattress, lay down the sleeping bag, and you're ready to catch some shut-eye.
When you sleep in the Nissan, you are up off the cold, damp ground.
Rain or snow, you are snug as a bag.
And if you're a bit squeamish about creatures like spiders, ants, or snakes, it's unlikely you'll be sharing space with them while sleeping in the SUV!
However, if you've been an avid tent camper your whole life or you're nostalgic for your childhood camping experience, you can attach a tent to your Nissan Rogue!
The tent gives you the space to stand up, which is nice when you're dressing or undressing and need a private changing room.
It's also a perfect space if you have children who want to camp but still need supervision or if you have more than two adults along for the trip.
Why Sleep in a Nissan Rogue?
Sleeping in your car while camping or traveling provides a few benefits.
Save Money
Hotels and Airbnbs, even modestly priced ones, can put a dent in your travel budget very quickly.
Sleeping in the Nissan Rogue gives you a remarkable amount of freedom.
If you like a particular area, you can linger for a while.
There will be no worries about getting to the next hotel before the check-in deadline.
When your car is your home on wheels, you'll never be caught trying to find a decent hotel when you're tired.
And you won't have to drag your luggage from a parking lot to the front desk and your room ever again!
Time and Comfort
Sleeping in your car makes your schedule super flexible, and your time is your own.
Feel like taking an extra day to explore? Not a problem.
Want to sleep in and have a leisurely start? You can do that without worrying about check-out times.
Sleeping in a Nissan Rogue is surprisingly comfortable too.
And it's a great option for people who may find that crawling out of a tent in the early morning isn't as easy as it once was.
Swinging your legs over the back of the vehicle and standing up from a sitting position is much easier than getting up off the ground!
Start planning your next road trip that has sleeping in the Nissan Rogue as part of the adventure. You might be surprised at how much fun you'll have and wonder why it took so long to do.