Are Nissan Rogue good cars? Are They Reliable?
The Nissan Rogue, a common sight on roads, sparks a pivotal question: is it truly a reliable car? This guide dives into the performance, features, and feedback on the Rogue, aiming to give a clear verdict on its standing in the automotive world. Together let's explore its merits. Keep Reading!
The Rogue had a few transmission issues that drove consumers away in the past. 
But the 2021 Nissan Rogue featured a complete redesign, and the 2022 model looks exceptionally promising, especially when it comes to its engine and transmission.
But the question remains: are Nissan Rogues good, reliable SUVs?
Are Nissan Rogues Good, Reliable Cars?
The Nissan Rogue is a good SUV, and the higher price tag comes with an excellent design, a high-end interior, and good fuel economy. It has plenty of cargo space and the latest models handle well. Newer models are more reliable than older models that have notorious transmission issues, like the 2014.
Overall, Nissan Rogues are good cars, but whether they're right for you is another question entirely.
Below, we'll cover all you need to know about Nissan Rogues and their reliability.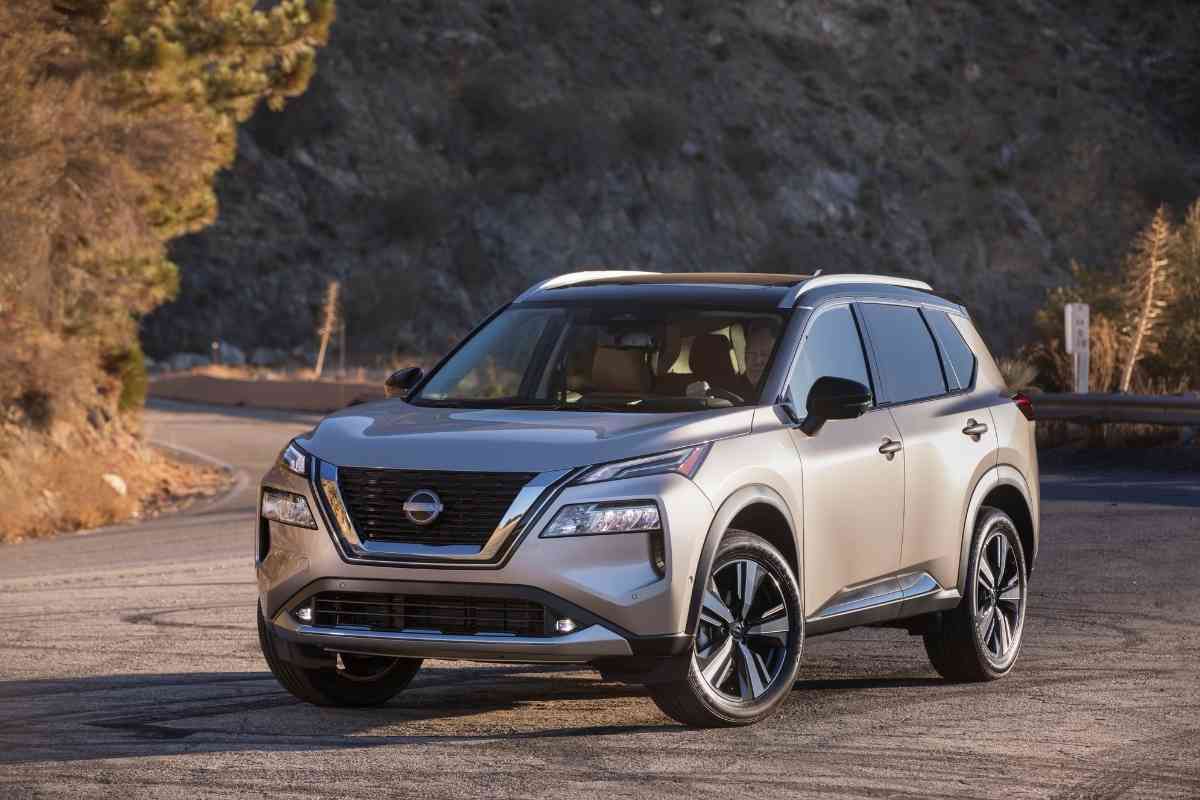 What Is a Nissan Rogue?
Nissan Rogues are considered a compact SUV. Though no specific dimension requirements exist for this car category, compact SUVs like the Nissan Rogue are slightly smaller than midsize SUVs, such as the Hyundai Santa Fe. 
Nissan launched the Rogue just over a decade ago in the 2007-2008 model year.
Since then, this car has seen several renditions, including a complete redesign in 2021.
The Rogue features an assertive exterior that mimics much larger SUV options.
It seats up to five people and offers ample cargo space compared to other compact SUVs.
In fact, the only vehicle in the same class that offers more trunk space is the Honda CR-V. 
Nissan Rogue has received criticism for its handling and transmission, but in its 2022 model, Nissan seems to have paid attention to consumer feedback.
The 2022 Nissan Rogue offers more horsepower and better acceleration than its predecessors.
Overall, the Nissan Rogue seems to be a consumer favorite.
In 2021, it was the third-best seller in the compact SUV category.
It's also the best seller in Nissan's product line by a significant amount.
2022 Nissan Rogue Specs
Seats five
201 Horsepower
Front-wheel drive standard, all-wheel drive optional
33 mpg combined fuel economy
3-year, 36,000-mile basic warranty, 5-year limited powertrain warranty, no complimentary maintenance
Base price: $26,700
The Pros and Cons of a Nissan Rogue
If you're considering a Nissan Rogue for your next car purchase, comparing the pros and cons is crucial.
What's Good About the Nissan Rogue
There are many reasons to buy a Nissan Rogue, which is probably why it's so popular. If you're considering the latest model, you're likely to be impressed.
The 2022 Nissan Rogue offers a high-quality interior with great cargo space, good fuel economy, decent handling, and a better transmission than previous models.
High-Quality Interior and Cargo Space
Many consumers love the look of the Nissan Rogue. It's boxy and bold, but where it really shines is on the inside.
Even the standard model features a luxurious look, with sleek lines and a modern design. Upgraded models have little extras like quilted leather upholstery and wood accents that make the interior seem nicer than most consumers expect, given the price point.
The Nissan Rogue seats five comfortably thanks to "zero gravity seats." These seats use 14 different pressure points to encourage riders to sit in a spine-neutral position.
This spine-neutral position makes long drives much more comfortable, regardless of where you sit in the car.
It's also easy to get in and out of the Nissan Rogue, even if you're an adult crawling into the back seat.
The rear doors open to a full 90-degrees, so you don't have to squeeze to get in.
The 90-degree openings also make it simple to handle car seats.
There are 2 LATCH connections for booster seats and a middle-seat tether.
Altogether, this earns the Nissan Rogue a "Good+" rating from the IIHS for car seats.
That means they consider the Rogue to be easy and versatile to use.
On top of all of that, the Rogue offers a ton of cargo space compared to other compact SUVs. Standard models offer a full 74.1 cubic feet of cargo space when you fold down the rear seats.
The cargo space sits at 31.6 cubic feet when the rear seats are in use.
Platinum and SL models come with a "Divide-N-Hide" cargo floor that increases the cargo space to 36.5 cubic feet when the rear seats are up.
Good Fuel Economy
Nissan claims a 33-mpg combined fuel economy with the new 2022 Rogue, which is very good.
Older models don't do quite well, but their fuel economy isn't bad. 
The 2021 Rogue offered 26 mpg on city streets and 32 mpg on the highway.
Upgraded Handling and Transmission
One of the biggest flaws with the Nissan Rogue, at least in previous models, was in its continuously variable transmission (CVT).
The CVT gives the Rogue great fuel economy, but it caused some problems when it came to pep and reliability in prior model years.
Along with a sluggish 4-cylinder engine, that made it hard for the Nissan Rogue to accelerate with any gusto.
The 2022 Nissan Rogue seems to fix that issue.
It offers a smaller but more powerful, 1.5 liter 3-cylinder engine, raising the horsepower from 180 to 201. 
Manufacturers also updated the CVT to make the latest Nissan Rogue a bit perkier.
Nissan Rogue models before 2021 also had less-than-stellar handling.
It wasn't bad, per se, but it certainly wasn't as athletic as other compact SUV options.
In 2021, Nissan put in a new multilink rear suspension, making the ride far smoother and more fun to drive.
It's still not quite as sporty as some of its competition, but it's better than it was.
What Is Bad About the Nissan Rogue?
Given all the pros to the Nissan Rogue, you might wonder why I should not buy a Nissan Rogue? It seems like a pretty great vehicle overall!
While the Rogue's latest models are all very good, some cons exist, especially with older vehicle generations. 
High Base Price
For a compact SUV, the Nissan Rogue has a high base price.
It's right in line with the Honda CR-V; only the CR-V tends to beat the Rogue in several areas, like cargo space, handling, and overall popularity.
That leads many to wonder why the Rogue is priced so high.
Other compact SUVs, like the Toyota Rav-4, are slightly less expensive and offer better warranty and maintenance agreements than Nissan.
So, the higher base price doesn't make a ton of sense.
Lackluster Warranty and Maintenance Agreement
Nissan's warranty agreement is very basic, and other comparable SUVs like the Kia Sportage offer much longer warranties.
Nissan also offers no complimentary maintenance, whereas other comparable models come with several months of included oil changes and tire rotations.
Continuously Variable Transmission Issues (Especially in Older Models)
A slow, 4-cylinder engine combined with the CVT in 2021 models and before leads to mediocre acceleration at best, making it more difficult to merge in highway settings.
There's just no pep, which also makes the car less fun to drive.
On top of that, the CVT is loud, especially when you're trying to accelerate. A roaring acceleration isn't a concern, but it can be annoying.
As the car ages, other, more concerning noises can come from the CVT. 
Older Rogues, especially, are notorious for grinding sounds that lead to irregular acceleration and lots of vibration.
The extra vibration can lead to overheating and, sometimes, failure to start from a dead stop.
If this happens, you typically have to replace the CVT, which can cost upwards of $3,000. Older models of the Nissan Rogue tend to run into this problem at around 110,000 miles.
Fortunately, the problem seems to correlate with specific model years.
So, if you're considering a used Nissan Rogue, paying attention to the model year and mileage will be crucial. 
You probably want to avoid purchasing one that will need a new transmission soon!
The 2022 Rogue Nissan seems to fix most of the issues with the CVT, though it can still be noisy and isn't quite as perky as other cars in its class. That said, what's lost in the transmission is gained in fuel economy, which might be a reasonable trade-off.
Is a Nissan Rogue a Reliable Car?
Given some of the issues with early generation Nissan Rogues, it's normal to ask, how long do Nissan Rogues last, and are they reliable?
According to J.D. Power and Associate's dependability study, the Nissan Rogue is reliable. It scores an 82/100, which is considered average. 
J.D. Power and Associates run their dependability study by measuring the number of problems per one hundred vehicles experienced in the last twelve months.
It only looks at three-year-old cars that are still in their original owner's possession.
So, given the upgrades to the suspension, engine, and transmission in 2021 and 2022, respectively, we would expect to see this rating continue to rise.
Even if it doesn't, though, with a score like this, you can expect your Nissan Rogue to last a full 200,000 miles when you maintain it properly.
Share Your Insights With US
Did we forget something, get something right (or wrong)? We'd love to hear your insights! Share your automotive experiences based on our article in the comments below. Your input enriches our community's knowledge. Thanks in advance for sharing!
Frequently Asked Questions
Determining whether or not a Nissan Rogue is a good car tends to spark other questions. Below, we answer a few of them.
Are Nissan Rogues 4-Wheel Drive?
No, Nissan Rogues are not 4-wheel drive. The standard model features front-wheel drive with all-wheel drive as an optional add-on.
What Year Nissan Rogues Have Problems?
In general, you want to avoid 2014, 2015, and 2019 Nissan Rogues as they tend to have the most problems.
Nissan Rogues from 2012, 2018, and the latest models tend to be far better in terms of reliability, with the latest models offering the best in safety and tech features as well.
Why Are Nissan Rogues so Loud?
When accelerating, the Nissan Rogue is noticeably loud. Given that its acceleration is more tortoise-like than rabbit-quick, this annoys critics.
Loud acceleration might be understandable if it felt like the car was quickly gaining speed, but as it stands, it seems like a lot of huffing and puffing for very little in return.
The loudness comes from the continuously variable transmission (CVT), which holds the engine at a high rpm throughout acceleration. The CVT allows the Rogue to maintain a better fuel economy, but the loud acceleration isn't worth the savings for some.
If you have an older Rogue that's making loud grinding sounds, you might want to get the transmission checked out.
Older Rogues often need a new CVT at around 110,000 miles and concerning sounds are often the first warning sign.
Should I Stay Away From CVTs?
There are many vocal critics when it comes to CVTs. And, given the history of vehicles like the Nissan Rogue, that makes sense.
However, most compact SUV class vehicles use CVTs without problems. 
Toyota, Subaru, and Honda all make vehicles with CVTs that are extremely well-received. And Nissan's latest models don't seem to have the issues older generations did.
A CVT can be noisy and sometimes troublesome, but it also saves a lot in terms of fuel economy.
It's also important to keep in mind that CVT technology is relatively new.
It hit the car scene in the early '90s but wasn't adopted widely until the mid-2000s, and many of the early generations didn't get the technology quite right.
Today's CVTs are much more reliable, and many vehicle owners never have a problem with them.

Final Thoughts
The Nissan Rogue is a good car. It features an excellent design, a high-end interior, and good fuel economy.
It has plenty of cargo space, and the latest models handle well.
Are Nissan Rogues reliable, though? In our opinion, they are, as long as you stick to the latest models or at least avoid the model years that clearly have transmission troubles, like 2014.
That said, the Rogue is a bit pricier than some of its competitors. It also has a somewhat disappointing warranty with no included maintenance.
So, you may want to consider other compact SUV options.
If you find you love the look and features of the Rogue more than other options, though, you shouldn't hesitate to purchase one.
This popular compact SUV should last you for years to come.