Do Walmart Gas Stations Sell Diesel? (Answered!)
This post may contain affiliate links. As an Amazon affiliate, I earn from qualifying purchases.
You can shop for gas in any of the Walmart gas stations, Murphy USA, and Sam's Club gas stations anywhere in the country. There are thousands of locations where you can shop, making it convenient for people who prefer to shop for fuel at Walmart. But do these stations sell diesel?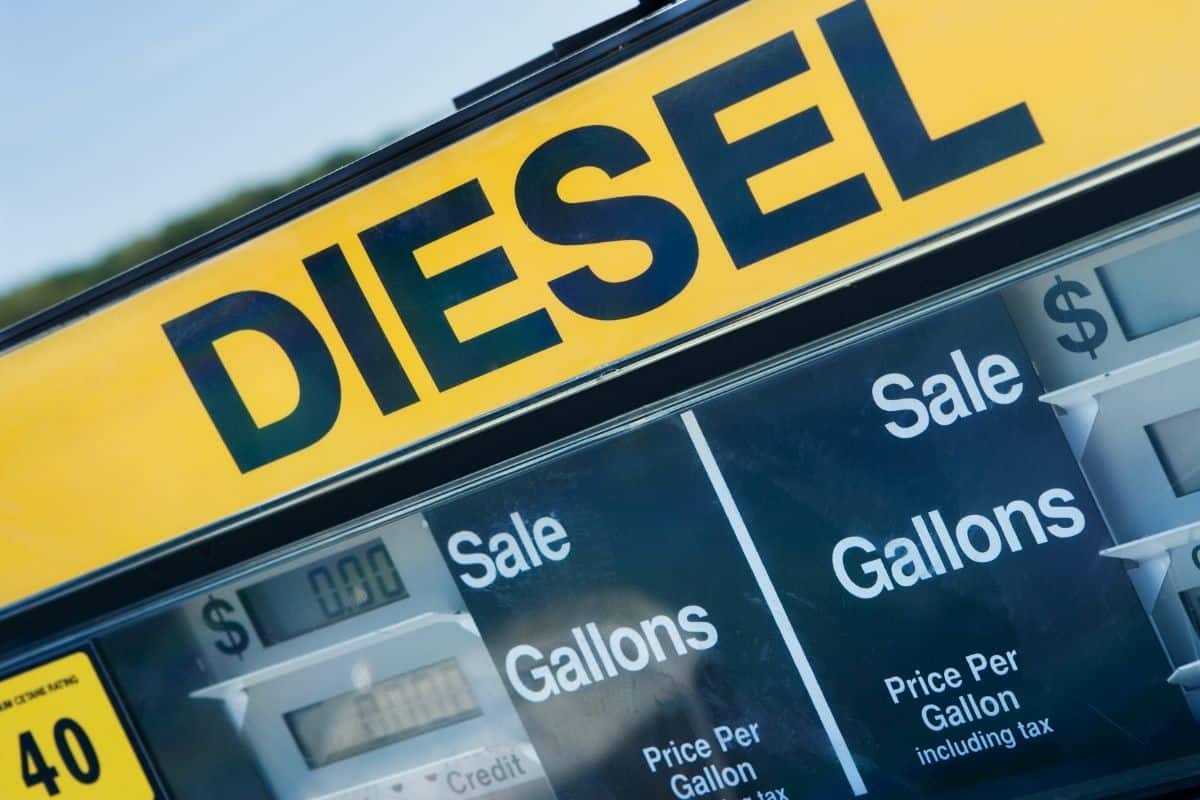 Table of Contents
Do Walmart Gas Stations Sell Diesel?
Yes. Although not all Walmart gas stations sell diesel, most of them sell diesel. You can confirm from your local gas station or check from the Walmart app what the local station offers.
Walmart sells different blends of gas in its various gas stations. You can drive in for ethanol-based flex fuel, premium fuel, 87 Octane, E10, and E15 among other blends. Read on to learn more about shopping for diesel at any of the Walmart gas stations.
What Brand of Gas Does Walmart Use?
Walmart gas stations, Murphy, and Sam's Club all sell Murphy's brand of gasoline. The gasoline is considered top tier and is in competition with Costco gas among others that are popular among Americans. 
Although the gas is top tier, Walmart strives to offer their gas at low prices.
Anyone can buy gas at Walmart and associated gas stations. However, members of Walmart+ and Sam's Club will enjoy more benefits compared to non-members.
Murphy offers several blends of gas and diesel. In some stations that offer diesel, there may be a sticker showing that the diesel is mixed with biodiesel, but in others, there is no such sticker.
For blends of gas, you can shop for ethanol-free or ethanol-based fuel and you can also go for different octane rating fuel for your vehicle. Check the recommended fuel from the vehicle manual and drive out to Walmart and fuel.
How Can I Locate The Nearest Walmart Gas Station?
Walmart allows you to save up to five cents for every gallon of gas you buy. Members at Sam's Club and Walmart will have even better savings and enjoy great offers from the retail giant.
To locate the nearest Walmart gas station and experience their great offers, download the Walmart app and use the fuel station map offered in this app. Create an account or sign in to your Walmart+ account and start browsing the app.
If you are a member, click "Get Started" and then access the "Members prices on fuel." Members have special discounts not accessible to other buyers. You can see the time you save by fueling at the nearest gas station and the money you save when you fuel at Walmart.
When you get to the station, it is easier to fuel. Click "Get Pumping" from the app and you will see a QR code scanner launching for you to start fueling. On the screen of the pump is a QR code that you should scan to start fueling.
You should also choose the fuel grade you need to start fueling and then you can see your savings displayed on the screen. It is easier if you already have your card linked to the app as payment is instant. If you have no card linked, it will still be easy for you to pay as you can add a card with ease.
The fuel station map not only locates Walmart gas stations but also Murphy's and Murphy Express fuel stations and Sam's Club gas centers. For Murphy, you will see the discount code appear on the screen. You have to enter this discount code on the pump screen to get the discount and save.
Sam's Club allows you to pay the same way you do for Walmart gas stations. Click on "Use Walmart Pay" and payment options will show on the screen. A QR code will also show, and you can scan it and start the payment process.
You can use the app not only to locate the nearest gas station in your area but also to check whether discounts on fuel are still available. If you are not a member, you may not access most of the discounts that Walmart offers its customers. However, you can still use the app to locate the nearest gas stations.
Does Walmart Still Give 3 Cents Off Gas?
Walmart offers discounts to its members. These discounts help you save money and get value from your money. The discounts are available for Walmart+ members who use the Walmart app to save up to five cents per gallon at all Walmart gas stations, Murphy gas stations, and Sam's Club gas centers.
The Walmart+ membership will not only allow you to save five cents per gallon but will also help you access other offers and discounts. Members-only gas prices are among the biggest perks that the membership offers you.
If you are not sure whether the membership is right for you, Walmart allows you to try it for free for 30 days. If you like it, you can pay your membership fees and continue enjoying the offers.
Once you have the membership, you will also enjoy free unlimited delivery. There are thousands of local businesses that offer free same-day delivery, so you can order groceries and other items without ever leaving your home. There is no threshold on the number of items you can order at the Walmart stores and there are more than 160,000 items available for you to order.
As a member, you enjoy the scan-and-go service available through the Walmart app. The app allows you to scan the QR code at the gas station or in the store and complete transactions within a few seconds. This touch-less payment method makes it easier for you to check out at the gas station and in any of the Walmart stores.
The app does not allow coupons, but for Murphy gas, you will need to enter a six-digit code to get your five cents offer. Shopping for fuel at Walmart is convenient because you have an advanced app to help you locate a station and also access the Walmart discount.
Do You Need a Special Card to Buy Gas at Walmart?
You do not need a special card to shop at Walmart as long as you have a credit card. However, you can enjoy more benefits if you use the Walmart gas card. This is a special credit card offered by Walmart in partnership with Capital One and MasterCard.
The Walmart gas card allows you to shop for gas, grocery, and other items at Walmart, Sam's Club, and Murphy gas stations. You will have either the Walmart MasterCard offered to people with a perfect credit score or the Walmart Rewards Card, which is ideal for people with a poor credit score.
The offers you get in each of these two cards are different and so are the terms of use. You need to improve your credit score to get the MasterCard as it offers you more benefits. One of the benefits of these cards is that there is no annual fee.
Besides, Walmart also offers gift cards. This gift card can pay for your gas at Walmart and associated gas centers. There are both physical and eGift cards, which you can redeem at Walmart.
Closing Thoughts
You can buy diesel at Walmart, Sam's Club, or Murphy USA gas stations. Not all gas stations offer diesel, but most of them offer it.
Does Walmart carry gas? There are several gas blends available from Murphy brand for drivers around the world. If you have any questions on any of the gas blends or the locations of the gas stations, use the Walmart app, and it will show everything you need.
Walmart offers high-quality gas as you'd expect from a retailer with more than 10,000 stations around the country. They have stations in front of their more than 4,500 store locations and in front of Sam's Club stores. Murphy also has thousands of gas stations.