Are Tires Sold at Walmart the Same as Elsewhere?
This post may contain affiliate links. As an Amazon affiliate, I earn from qualifying purchases.
Tires are an essential part of your vehicle to maintain and replace regularly for your safety and your car's optimum performance. However, they are one of the most expensive parts as well.
Discount price tires from Walmart are an option that many people turn to when they need to purchase new tires.
Buying economically priced tires from Walmart does not mean you have to sacrifice quality. There are a few factors to consider when choosing tires at Walmart.
You can get generic tires or name brands. What are the differences between the two? Why do the big-name tires look different at Walmart than at other retailers? Can you still get premium tires from Walmart?
We'll look at some facts about Walmart tires and top brand tires sold at Walmart.
Why Get Tires at Walmart?
There are three reasons you would consider getting your tires at Walmart. First, you can save money. We all love to get a better price on the essentials, and that is Walmart's specialty. Second, Walmart has everything. You are likely to find just what you need at a price you can appreciate. Third, you can buy new tires and, they will install them while you shop.
Why Are Walmart Tires Cheaper?
Walmart contracts with third-party manufacturers in China, Taiwan, and Thailand to produce tires. They make a high volume of tires at a lower cost.
Walmart can sell these tires at competitive rates compared with other manufacturers' tires that you see on their shelves. Big box stores implement this practice with many kinds of products. If you are looking for the lowest-priced tires available, these are a fine option.
These tires are not premium tires. They are, however, safe and of good quality. You might consider them since you can get decent tires at some of the lowest prices available.
What Brand-Name Tires Are Available at Walmart
Walmart does not only offer generic tires at an economical price. You can find the most-trusted tire brands there too. You'll find Hankook, Pirelli, Michelin, Goodyear, BFGoodrich, and Bridgestone.
These big brand names are available at Walmart for lower prices than you will see at other retailers.
Why Are Name-Brand Tires Cheaper at Walmart?
As you browse your favorite big-brand tires, you may notice some differences between the tires on the shelf at Walmart compared to other retailers. That does not necessarily mean that these tires are lower quality.
Walmart intentionally offers more economical versions of many products. They contract with the tire manufacturers to make different versions of their tire models to sell on Walmart shelves. These manufacturers, including Goodyear and Michelin, impart the same quality standards into their tires exclusively made for Walmart.
Why Do Name-Brand Tires at Walmart Look Different?
As stated above, tire manufacturers make economic versions of their tires to sell on Walmart shelves. Because these tires are made especially for Walmart stores, they look slightly different from similar tires at other retail locations.
These tires are not lower quality than similar tires found elsewhere. Walmart tires pass muster just as well or better than tires sold at other retail locations.
How Do Walmart Tires Hold Up Compared to Other Retailers?
Walmart tires are good quality tires that hold up just as well as tires from other retailers. They are just as safe too.
Michelin performed a study on tire failures that found that tires sold at Walmart failed at a lower rate than tires from elsewhere.
Should You Get Tires at Walmart?
Purchasing tires at Walmart is a great idea. You can get a set of quality tires with a warranty for a huge discount compared to other tire retailers.
You can take advantage of the installation service while you shop in the store. It cost about $12-$15 for installation. When your car is ready, Walmart will offer you their low-cost warranties.
Some manufacturers also offer warranties. Douglas will cover your tires up to 45,000 miles.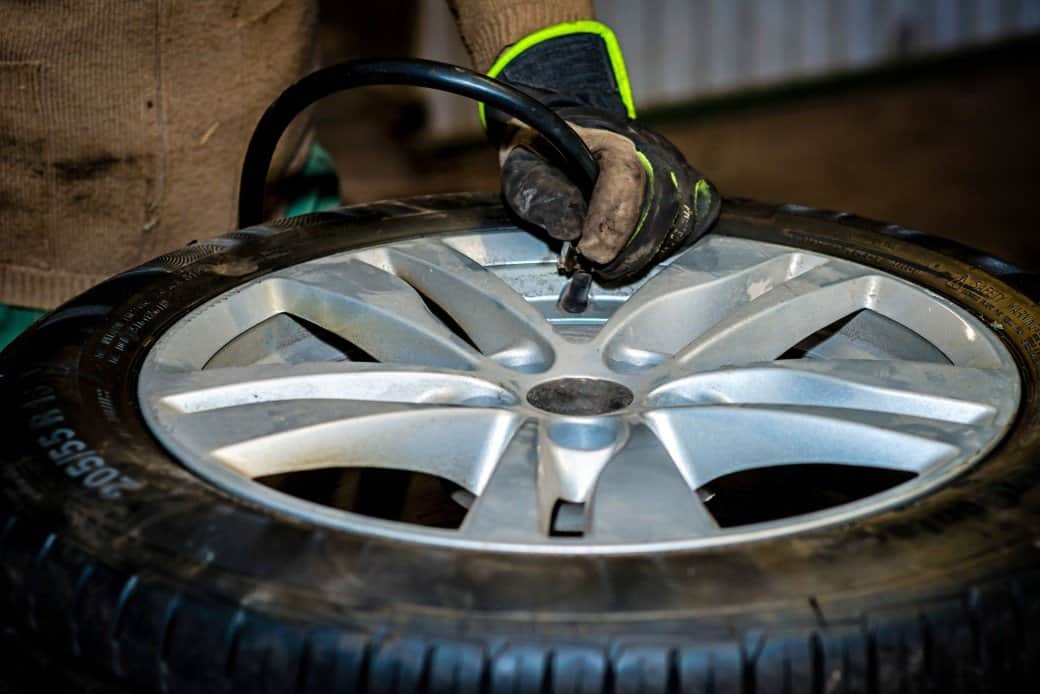 Buying Guide for Walmart Tires
The advantage of getting your tires from Walmart is the price. The big-name brands sell variations of their tires specifically for Walmart. You can research to find which brands manufacture which tires offered at Walmart. You may be surprised to find that you are getting a great product under another name.
Some brands, such as Michelin and Pirelli, sell the same premium tires at Walmart that you can find at any other retailer. You can get premium tires at a deep discount simply by shopping at Walmart.
FAQs
In case you still have some questions about purchasing tires from Walmart, here are a few more facts about Walmart tires, return policies, and warranties.
Why does Walmart discount their tires?
As a matter of business practice, Walmart prices tires to attract customers to their other automotive services. They install and balance tires, change oil, replace belts, and offer other services. The tires get customers over to the automotive section who might otherwise ignore it.
A second way you can get cheaper tires at Walmart is through price matching. Walmart guarantees to price match with online retail competitors such as Amazon, AutoZone, and Target.
Can I return tires to Walmart?
The short answer is no. You can only return tires that have are unused and, you must return them within 90 days of purchasing them.
If you take advantage of the low installation fees at Walmart and drive away with your new tires, then you will not be able to return them.
Walmart will repair or replace tires covered by their warranty.
Does Walmart offer a warranty on tires?
Walmart offers two kinds of warranties on tires.
The Walmart Lifetime Balance Tire Warranty covers balance and rotation services for the lifetime of your tires or about 25,000. You get these services for free after the initial payment. Bring your car in anytime for tire rotation and balancing.
The Walmart Road Hazard Warranty covers repair and replacement for the lifetime of the tires or about 25,000 miles. You can get a flat fixed for free with this warranty. They will replace non-repairable tires. It also covers general wear and tear within the first 25% of tread wear.
Walmart offers both the Lifetime Balance Tire Warranty and the Road Hazard Warranty for your whole car or per tire. Cover your whole car for about $56 per policy or $10-$12 per tire.
Walmart recommends purchasing both policies when you buy tires and installation from them.
Does Walmart sell used tires?
Walmart does not sell or install used tires. They only sell products with a UPC. They would not be able to cover used tires with their warranty either. However, prices for tires are low enough at Walmart that you can get new tires for a comparable amount.
Final Thoughts
Owning a vehicle can eat up a significant portion of your budget. It is great to get a quality product for the best price whenever possible.
Walmart is a viable option when you need new tires.
While some tires sold at Walmart are not the exact same products you find elsewhere, the quality is the same.
Walmart offers generic and premium tires at some of the lowest prices you will find. You don't have to sacrifice a safe and good quality product when you purchase discount tires.