Does the Lexus LX 570 Require Premium Gas?
This post may contain affiliate links. As an Amazon affiliate, I earn from qualifying purchases.
The Lexus LX 570 is a large luxury SUV that has an incredibly intimidating design. It is built on the design that has made the Toyota Land Cruiser one of the most famous vehicles ever, and as a result the LX 570 has a great mixture of size, luxury, comfort, and some surprising off-roading ability.
Lexus does not waste consumers' time with many different packages or customization options, they've done that hard work for you to streamline a process that will work well for many customers. You will need to decide whether you want two rows of seats or three rows of seats, which will be a simple math problem for many.
For such a premium vehicle, many people want to know if it's really necessary for the LX 570 to be fed premium gas.
Does the Lexus LX 570 Require Premium Gas?
Does the Lexus LX 570 require premium gas? Yes, Lexus lists the LX 570 as a model that requires premium unleaded fuel requirements as 91 octane. This applies to all model years of the LX 570.
Many people will argue about this fact and try to claim that putting regular fuel in the LX 570 will not cause a drop in performance. While it is true that many people may not see a significant drop in performance when switching to lower-grade fuels, it is definitely not the best thing for the vehicle.
First of all, there definitely could be a drop in performance depending on how you use your vehicle. Just because others don't experience something doesn't mean that it can never happen.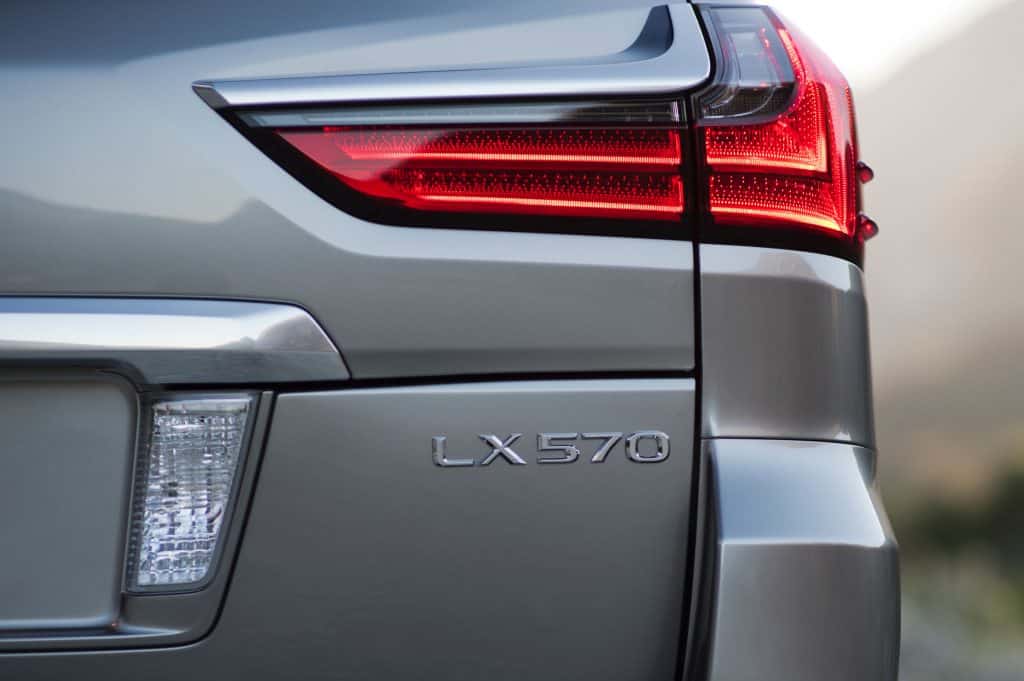 More importantly, putting the incorrect type of fuel into a Lexus LX 570 could cause a lot of damage down the road. If you are using the wrong fuel, you are putting extra wear and tear onto an engine that could have significant costs later in your vehicle's life.
It may seem smart to try and save money on gasoline early on in the engine's life, but when you have costly repair bills in a few years; you will not feel like such a winner.
It can also be extremely hard to tell what happens from normal wear and tear and which costs are simply unavoidable.
However, if you are buying a premium product like an LX 570 it would make the most sense to try and use the appropriate gas. The manuals and instructions built for these vehicles are not "scare tactics", they are written by engineers who work for the company and design the product.
They are experts in how the engine works and are not going to try to "scare" customers into spending a few hundred dollars extra in gasoline.
It would be a fairly silly mistake to intentionally mistreat a premium vehicle that you bought for a relatively high price & use it incorrectly.
The Lexus LX 570 Breakdown
Now that we know that the LX 570 really should be supplied by 91 Octane; what are some of the other factors that make this such an awesome SUV?
First of all, the interior in the LX 570 is absolutely amazing. For a vehicle that has such a rugged exterior and is capable of so much when it comes to off-roading and towing, the LX 570 is a quite luxurious model that makes its passengers feel like they are riding in something special.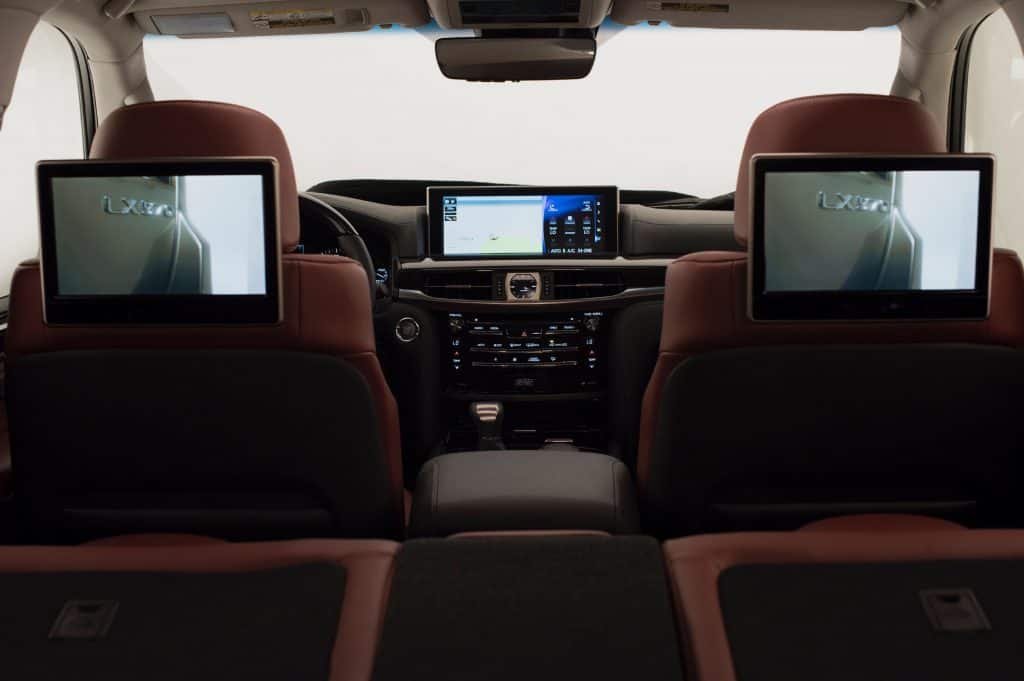 The best version of the LX 570 is probably the three row model. The two row LX 570 is missing some of the practicality that the three row version has.
Either way, the vehicle has a lot of off-roading chops that will make it popular among many consumers. It should be noted that there are some other vehicles in the class that can perform off-road as well, so you'll need to make a purchasing decision carefully.
When it comes to on-road performance, the LX 570 hits a bit of a weak spot. During off-roading tests, the LX 570 shines as a great vehicle that can hold its own against any other its size.
However, when driving in the normal "day-to-day" environment, it might not be as great as you think. The V8 engine doesn't seem to accelerate as quickly as some others in the marketplace, but that is to be kind of expected when you consider the vehicle's considerable size.
The steering is also an area where the LX 570 received mixed reviews. While some people don't have any complaint with the vehicle whatsoever, there are some who say that the brakes are a bit numb and that the steering is all over the place with some different varying problems at low speeds and at high speeds.
These complaints have a bit of truth to them, but again a lot of this can come down to the vehicle's weight and what you should be expecting when it comes to a three row SUV that has some considerable off-roading build to it.
In contrast to some of the problems that the LX 570 has, the interior gives an amazingly comfortable ride which is somewhat ironic. The front seats have an amazing level of comfort that could almost be compared to something you have in your living room.
If you need a luxury SUV that is going to take long trips and then doing off-roading when you get there, you have an ideal vehicle here that could really work well for you. On top of that, the LX 570 runs quietly so passengers have that going for them as well.
The second row isn't quite as comfortable as the first, which is common among vehicles this size but the seats are nothing to complain about either.
The 570 has a ton of space for its passengers so if one of your buying criteria revolves around having space in the cabin to feel comfortable, this may be an excellent match.
The view from the driver's vantage point is quite strong as well. The sight lines towards blind spots are as good as can be expected with a large SUV and that makes it easier to navigate than other SUV's in this market.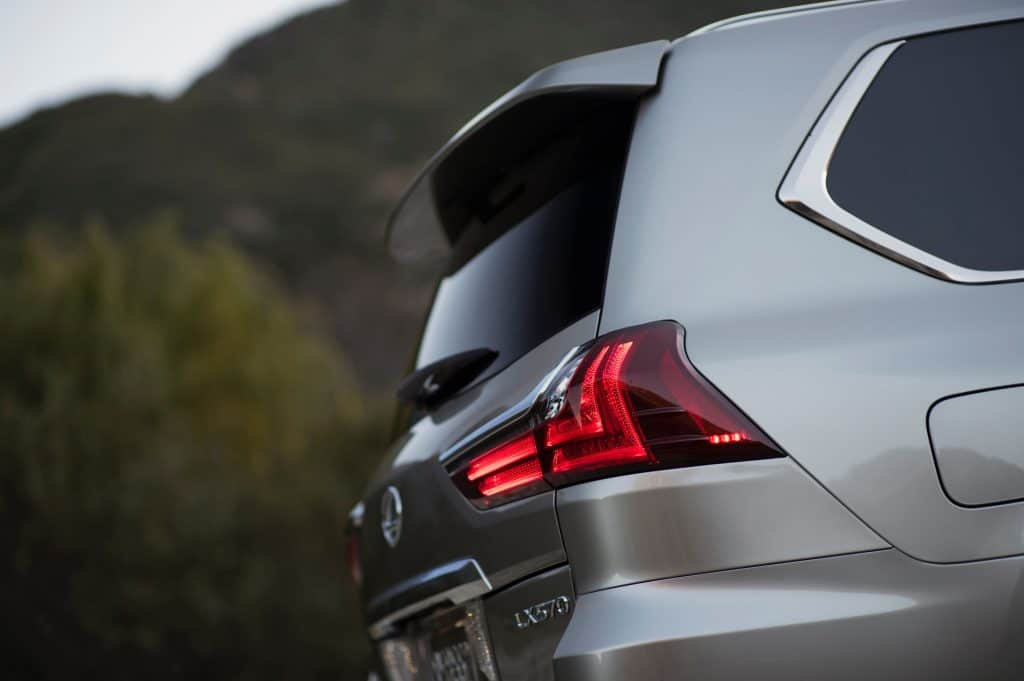 Unfortunately, the tech really doesn't shine in the LX 570. That probably makes it a great vehicle for someone of an older generation that doesn't necessarily care about all of the newest tech that can be adapted to the information screens of vehicles.
If you are a big tech person, you may be disappointed in what the LX 570 has to offer – the Lexus LX 570 doesn't even come with the integration of Apple Car Play or Android Auto which has become the standard for a lot of SUV's on the marketplace.
There are vehicles that definitely get better fuel mileage than this model, maybe in part due to the gas requirement. The LX 570 has a 14 miles per gallon rating when combining city and highway mileage, which really isn't great even for the size of the vehicle.
If you're looking for a vehicle that gives a ton of comfort and luxury for the front passengers on long trips and has off-roading prowess to boot, the LX 570 is for you. Keep in mind, you'll need to fuel this vehicle with premium fuel to keep it running in ideal condition.