Ford Bronco vs. Jeep Grand Cherokee: 2022 – What's the Difference?
If you're in the market for a new American-made off-roading sport utility vehicle, you may have narrowed down your decision between two top cars: the Ford Bronco and the Jeep Grand Cherokee.
Both venerable SUVs have added new amenities to their offerings, and both have undergone recent upgrades and body style changes.
Additionally, both garner head-turning looks from others on the road.
So, which one is better? More importantly, is one of these cars the right choice for you?
Is the 2022 Ford Bronco or Jeep Grand Cherokee better?
In some ways, the updated Ford Bronco and the newer version Jeep Grand Cherokee are an apples-to-oranges comparison. The Bronco is more like the Jeep Wrangler in that it offers an intense off-roading experience, removable doors, open-air options, and the like. Meanwhile, the Grand Cherokee is more of a smooth family SUV with some off-roading capability.
In this article, we'll take a deep dive into the Ford Bronco vs. Jeep Grand Cherokee debate and come up with our decision for a clear winner.
First, let's look at each automobile.
Ford Bronco
They say that imitation is the sincerest form of flattery, and the 2022 Ford Bronco takes that to heart in many ways.
The Bronco doesn't pretend to be the Jeep Grand Cherokee, but it does owe a lot to Jeep's sturdier and more rugged little brother, the Wrangler.
Today's Bronco is another off-roading hit.
It can eat a trail with its all-wheel drive and independent front suspension.
Many buyers will opt for the 35-inch mud tires, rear differential, and swaybar to ensure it can go anywhere.
Yet, the Bronco of 2022 also pays homage to its roots as more of a big, comfy passenger van than a true off-roader.
Its handling and performance on city streets and interstate highways are still warm and expressive, and its steering is defined and accurate.
And even the base model can tow 3,500 pounds.
But the Bronco has a few downsides.
Its rear doors are on the smallish side, so getting in the back seat can be a chore.
And the hood, which is wide and flat, tends to impede the driver's forward visibility.
Its base engine can earn up to 22 mpg on the highway.
If you opt for the bigger V-6, the gas mileage drops to 17 mpg.
Even with a large tank, you may be lucky to get 300 miles of highway driving between fill-ups.
That's all because most Bronco versions rely on a beefy 10-speed automatic transmission.
Only the base model four-cylinder (can you imagine a four-cylinder engine in an off-roader?) runs on a peppy seven-speed manual transmission.
However, what the Bronco lacks in fuel economy, it makes up for in its variety of options.
You can choose versions with two doors, four doors, hardtop, soft top, and removable doors.
It includes a dashboard rack for mounting phones or cameras to record your adventures.
It's certainly big enough for four adults to go cruising, and the Bronco has ample cargo space to haul your camping gear.
You can also choose between an 8-inch and 12-inch infotainment touchscreen.
Those who want upgraded sound can pay for Bang & Olufsen speakers.
According to the U.S. Department of Transportation, the 2022 Bronco receives a 5-star safety rating in both frontal and side crash testing and a 4-star rating in terms of a rollover crash.
The Insurance Institute for Highway Safety gives the Bronco green flags and superior ratings throughout its various tests.
Ford added a ton of storage space to the newly designed Bronco.
This is especially true in the back, where cargo can fit whether the back seat is up or down.
The Bronco is a true hybrid.
It's not a gas-electric hybrid like the Jeep Grand Cherokee, but it's a hybrid in that it combines street smarts and off-roading fun that's hard to match in almost any other SUV on the road today.
Frankly, it's hard to miss the new Bronco.
It's bold lettering on the grill and the rear panel are easy for anyone to see.
Ford must like it that way because the new-generation Bronco is impressive in design and function.
You'll certainly know you're in a Bronco, as will your travel companions.
Ford has littered the cabin with badges, Easter eggs, and stamps throughout.
It comes off the line ready for an adventure.
It aims to catapult past the Jeep Wrangler as America's number one off-road option.
It boasts seven trim choices, five packages, two styles of an engine, two styles of body, and two roof styles.
There are about as many ways to configure the new Ford Bronco as there are trails to test it out on.
If you choose the hardtop, it's easily removable (as are the doors).
This creates the off-road machine that kicks up sand and dirt and lets the wind fly through your hair.
If you go with the soft top, it folds neatly into the cargo area to garner the same effect.
Plus, if you're looking to buy the Bronco for off-roading pleasure, Ford offers the "Bronco Off-Roadeo" at four of its locations throughout the U.S. New owners can spend day-and-a-half learning how to use all the off-roading features seamlessly and effectively.
This is an SUV that's hard to walk away from.
We think the Ford Bronco delivers if you're seriously considering the off-road experience, as it looks and feels like a serious off-roading machine.
Jeep Grand Cherokee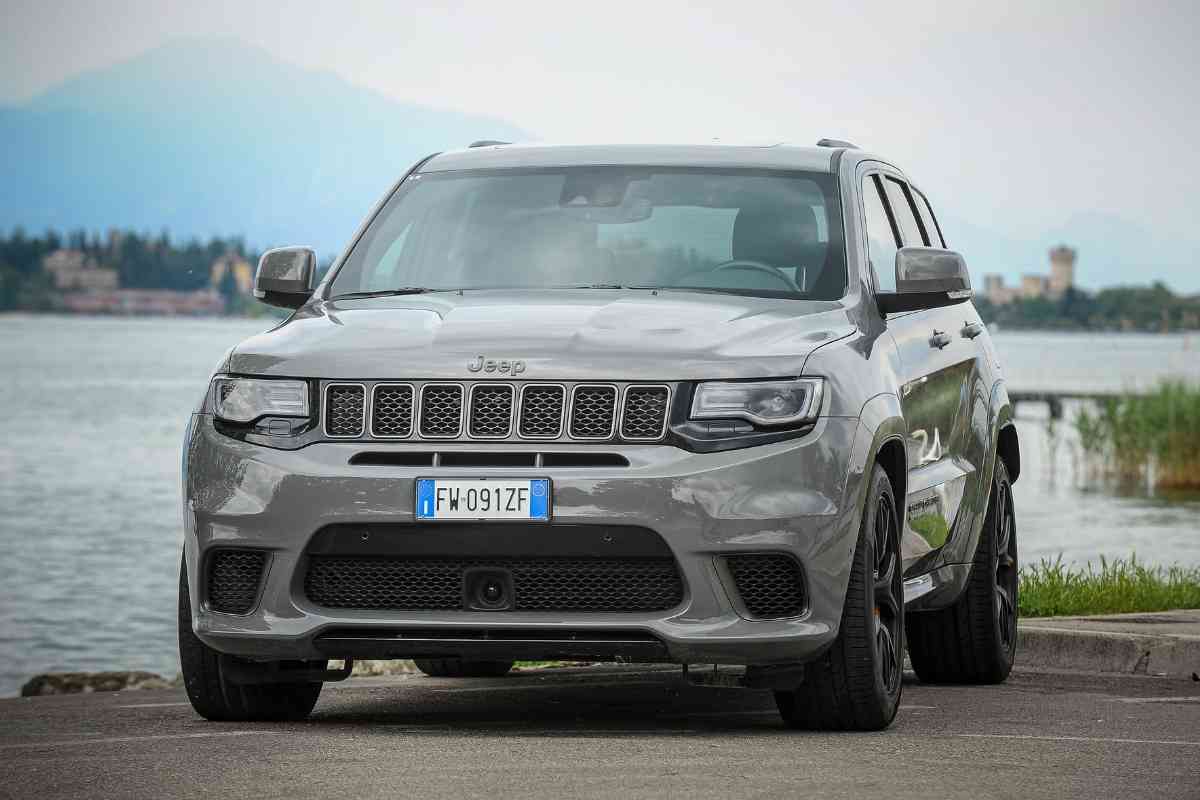 Jeep invented the off-roading civilian automobile way back in the post-World War II 1940s, and it's been redesigning and redefining it ever since.
The 2022 Grand Cherokee is no exception.
The Grand Cherokee has long been Jeep's answer to an off-roader with rugged class and luxury features.
Its recent redesign and the addition of a plug-in hybrid model help the Grand Cherokee re-emerge as one of the best SUVs on the market.
The Grand Cherokee also comes in numerous iterations.
There's the base model Laredo, followed by the Altitude, Limited, Trailhawk, Overland, Summit, and Summit Reserve.
Then, Jeep added the new 4xe PHEV (Plug-in Hybrid Electric Vehicle), Limited 4xe PHEV, Trailhawk 4xe PHEV, Overland 4xe PHEV, Summit 4xe PHEV, and the Summit Reserve 4xe PHEV.
Whew. That's a baker's dozen worth of Grand Cherokees before a buyer chooses any additional add-ons.
It must be difficult for any salesperson to fully grasp all the various options and packages available in this one automobile.
Jeep Grand Cherokees range in price from $40,120 for the Laredo to $76,095 for the Summit Reserve 4xe PHEV.
Options can quickly raise the sticker to more than $100,000.
For starters, the base model Laredo's price is almost $10,000 more than the base model Bronco.
In this case, you're simply paying for the Jeep name.
On the other hand, the Grand Cherokee Limited includes leather, a power-operated liftgate, heated seats, ambient interior lighting, and remote start for a few extra bucks.
Throw in Jeep's upgraded entertainment package – filled with a 10-inch infotainment display and nine Alpine speakers – and you'll be traveling anywhere and everywhere in style.
Five adults can easily fit in one. And you can even sleep in one.
Grand Cherokees offer a V-6 or three versions of a V-8 engine.
The base V-6 (3.6 liters) powers a rear-wheel-drive option, while the V-8s and the new hybrid powertrain are standard four-wheel drives.
If you're driving in the snow or gliding over rocks, you'll have plenty of power.
Talk about power. One V-8 engine is 6.2 liters with a supercharger that produces 707 horsepower.
That's basically the same engine as the Dodge Charger.
The plug-in hybrid can generate 375 horses and 470 foot-pounds of torque, more than most standard SUVs.
In addition, the new hybrid model provides approximately 25 miles of all-electric power before the gas engine kicks in.
So, if you keep it charged up every night, you can significantly lower the amount of fuel you use.
In these days of super-high gas prices, that's a nice bonus.
Of course, the rear-wheel V-6 is the best option in terms of gas mileage.
It averages 19 mpg on city streets and a robust 26 mpg on the highway.
Buyers who opt for all-wheel drive on the six-cylinder can expect one less mile per gallon.
The V-8 averages 14 mpg in the city and 22 on the interstate.
The Environmental Protection Agency (EPA) has not offered an estimate on the hybrid model, but it should be higher than the typical V-8.
Jeep updated the cabin extensively for the 2022 model year.
Options for the SUV's two rows of seats offer riders plenty of creature comforts, including quilted leather, wood trim, and digital displays.
Plus, without a third row to cram more people in, the Grand Cherokee boasts enough room in the back to haul suitcases, camping gear, and other items for any long hauls.
Like the Bronco, the Jeep Grand Cherokee received an overall 5-star safety rating from the National Highway Traffic Safety Administration.
The IIHS was a little less kind to the Grand Cherokee, though.
It received four green flags (out of six) with a red flag (poor) rating regarding its front passenger-side protection.
IIHS also dinged the Grand Cherokee's headlights on the Laredo model for providing inadequate visibility when the low beams were used and partial inadequacy when high beams were turned on.
Even with that warning, the Grand Cherokee has much to be proud of in this newer, updated version.
This includes comfy seats, ample legroom, and lots of amenities.
Seats can come with heat and ventilation, each passenger controls their climate zone, and the second row reclines.
Audiophiles can opt for a 19-speaker McIntosh surround-sound system that provides rich, deep notes without distortion.
If you decide to go off-roading in this machine, it will be in style. It's like camping and glamping.
You'll need the Quadra-Trac II four-wheel-drive system and adjustable air suspension.
Plus, you get the trademark Grand Cherokee look and feel.
This includes the legendary seven-slot grille, boxy wheel arches, understated headlights, chrome trim, big wheels, and fender flares.
It's a gutsy ride that can tow more than two tons of toys – far more than others in its class – yet agile enough to provide traction in the snow and sand.
And with that supercharged V-8, it might be the fastest production SUV ever assembled.
Specifications
There are a lot of factors to consider when purchasing a vehicle.
It can be a hard decision! Sometimes, comparing the specifics side-by-side can help clear the air so you can make the right decision for yourself.
We've covered a lot of ground in this comparison, so here's a breakdown of each vehicle's specifications.
Ford Bronco
Engine – twin-turbocharged and intercooler V-6
Power – 330 hp at 5250 RPM
Transmission – 10-speed automatic
Wheelbase – 100.4 inches
Length – 173.7 inches
Width – 79.3 inches
Height – 75.2 inches
Passenger volume – 97 cubic feet
Cargo volume – 22 cubic feet
Weight – 4,975 pounds
0 to 60 – 6.3 seconds
Fuel Economy – 17 combined, 17 city, 17 highway
Tow capacity – 3,500 pounds
Jeep Grand Cherokee
Engine – DOHC 24-valve V-6
Power – 293 hp at 6400 RPM
Transmission – 8-speed automatic
Wheelbase – 116.7 inches
Length – 193.5 inches
Width – 77.5 inches
Height – 70.9 inches
Passenger volume – 145 cubic feet
Cargo volume – 38 cubic feet
Weight – 4,863 pounds
0 to 60 – 7.4 seconds
Fuel Economy – 22 combined, 19 city, 26 highway
Tow capacity – 7,200 pounds
Decisions, Decisions
Your decision will likely be based on what exactly you're looking for.
If you are hoping to find a stylish SUV that delivers the utmost in off-roading with only minimal attention to road performance, then the Ford Bronco is really what you're after.
If, however, you desire a luxurious, comfortable, and fast SUV that can go off-roading occasionally, then the Jeep Grand Cherokee is your choice.
For our money, though, the Ford Bronco delivers everything we'd want, and it does so far less expensively.
To get the same off-roading enjoyment in a Jeep Grand Cherokee, you'd have to splurge on the Trailhawk edition for almost $30,000 extra.
Heck, you could practically buy two Ford Broncos for the price of one Jeep Grand Cherokee.
Budget-conscious off-roading enthusiasts will often opt for more value, especially in the base and other lower-tier models.
Those who don't mind shopping for luxury will likely bypass the Grand Cherokee and look for a more prestigious SUV brand.
Ultimately, the choice is up to you, and either vehicle will give you the off-road experience you're craving.