What Is The Best Used Off-Road SUV?
This post may contain affiliate links. As an Amazon affiliate, I earn from qualifying purchases.
If you love adventure and the great outdoors, this is the article for you.
We're looking at those SUVs that can take the kids to school and cross a river all in one day.
There are many options, but not all can tackle demanding terrains with ease.
So, what is the best used off-road SUV? Some answers are predictable, and others will surprise you.
What Is The Best Used Off-Road SUV?
The best used off-road SUVs are the 2017 Jeep Wrangler, the Toyota FJ Cruiser from either 2013 or 2014, and the 2019 Jeep Grand Cherokee. There are some other great options that offer different features and are more luxurious or more rugged, but you can't go wrong with any of these used SUVs for offroading.
Before we start, here's a disclaimer.
As they are vehicles that can take on the most demanding terrains, some of these have stiffer suspensions and are taller.
Therefore, they might not be the best option for highway driving. Sometimes, that's the price to pay for adventure.
Here's a look at eight of the best choices out there.
Jeep Wrangler (2017)
The Jeep Wrangler is an icon that has traversed up and down the country for decades.
Its design still holds many of the primitive traits that made it great back in the day.
The Wrangler is one of the few SUVs with rigid live axles.
This is the configuration of choice if you want to tackle challenging terrain.
The Wrangler's design is the perfect example of off-roading prowess. The SUV possesses both excellent ground clearance and attack angle.
This configuration allows it to navigate through terrain that others can't.
If you want the truest sense of adventure, the ideal choice is the two-door configuration.
It's shorter; therefore, it has less chance of rubbing the chassis on steep rocks.
On the other hand, the four-door is excellent for those who want to travel far and still carry the entire family.
Still, this version is competent. Plus, it looks great.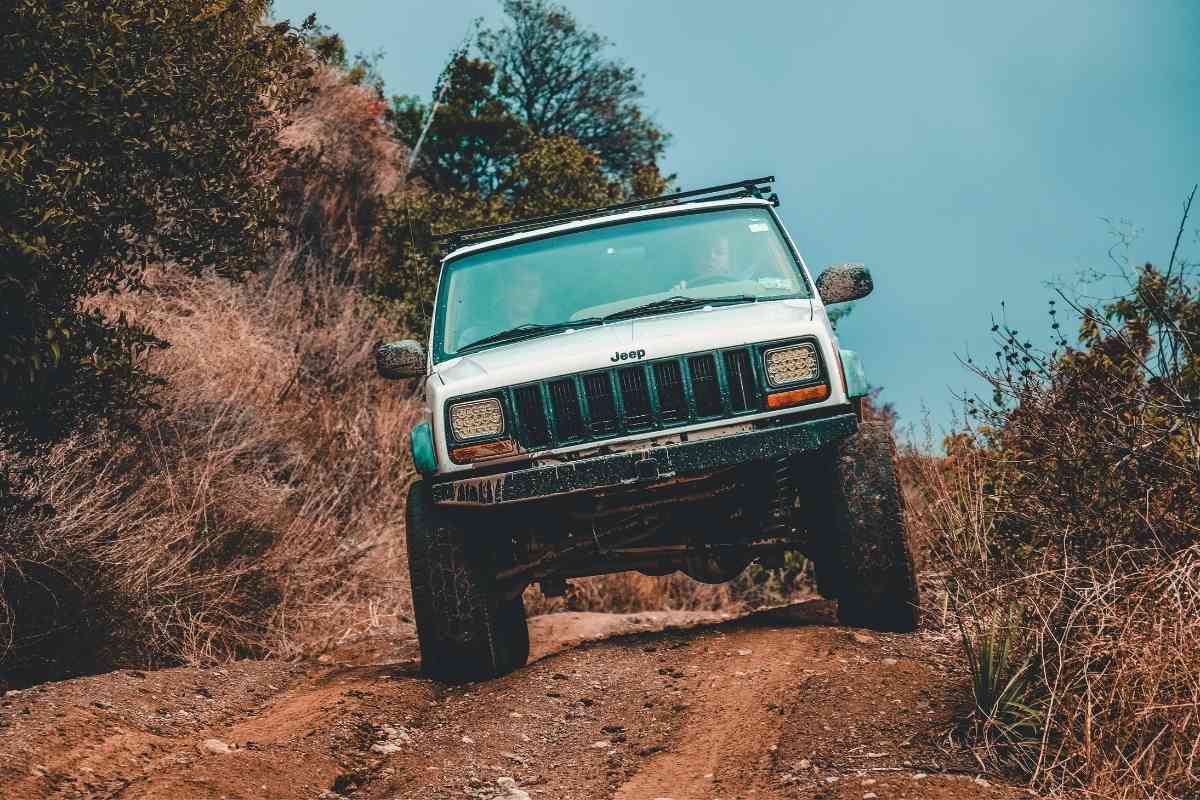 Toyota FJ Cruiser (2013-2014)
Another SUV with iconic looks is the Toyota FJ Cruiser.
Though it's no longer sold in the US, many are still in good condition. These rugged SUVs are as close to a workhorse as you can get.
That's a fact; they were built in a truck factory.
So, you know that the FJ Cruiser is as bare-bones as you can get, and that's a good thing.
These SUVs can tackle even the most challenging terrain. It's in their DNA.
The FJ Cruiser has a great interior, especially for adventure.
You can power wash most of its surface, the seats are decently comfortable, and the driving position is high for excellent visibility.
This SUV carries the legendary but old 4.0L V6 from Toyota with a six-speed manual or a five-speed automatic.
This combination gives you excellent torque and power at low speeds but doesn't have excellent highway performance.
It goes to show the FJ Cruiser really loves off-roading.
Jeep Grand Cherokee (2019)
Let's say that you want to go off-roading with more comfort.
If that's the case, then the Jeep Grand Cherokee is the ideal vehicle for you.
Ideally, you should opt for the fourth generation with the 5.7L V8.
This combines an excellent powerplant, a rugged design, and a comfortable interior.
The Jeep Grand Cherokee is an excellent example of how you can combine comfort and off-roading prowess in a complete package.
This SUV has superior ground clearance (barring you don't go for the SRT) and decent attack angles.
Plus, it comes with plenty of power and excellent ride quality. However, there's something to highlight.
If you're keen on adventure, it's best to steer clear of the latest generation, as it has sacrificed a lot of the DNA that made it great for off-roading.
Toyota 4-Runner (2017-2021)
If it's not broken, don't fix it, right? Well, that's the best way to summarize the Toyota 4Runner.
This SUV hasn't changed in years.
It still had the same 4.0L V6 and body-on-frame configuration that made it famous years ago.
These features make it great for taking on the most challenging terrains, but it comes at a cost.
So don't expect great highway driving.
The Toyota 4Runner has good power and ground clearance
The engine is reliable, albeit a bit underpowered, but that's about it.
Don't expect a comfortable ride at highway speeds, and it's best to keep that in mind when choosing one of these.
However, if you plan to live with your knees deep in mud, this is your option.
Land Rover Discovery (2019)
How about we talk about the other end of the off-road SUV spectrum? The Land Rover Discovery is an excellent choice for those who want luxury and off-road abilities.
There's no holding back with the Discovery.
Its interior is luxurious and comfortable.
Combined with one of the smoothest rides out there, there's almost nothing wrong with it if you're disciplined with the expensive maintenance it requires.
The Land Rover Discovery is also the perfect example of how luxury doesn't mean sacrificing adventure.
This SUV has one of the most advanced traction systems.
So, don't let the wide rims and low ground clearance fool you. It goes where you expect and more.
The best option is the 3.0L V6, which produces plenty of power and torque with a very smooth ride.
Toyota Land Cruiser (2018-2021)
The Toyota Land Cruiser combines luxury and off-road prowess in a complete package.
The seats are comfortable, and the interior is spacious.
The trim and finish are above average, and you feel the luxury.
Plus, the driving position is very comfortable. However, the Land Cruiser isn't agile and can feel sluggish when it comes to handling.
This SUV makes up for any highway hiccups with excellent off-road performance.
It comes with a tried-and-true 5.7L V8 that puts out enough power to move this behemoth with ease.
Plus, its ground clearance is better than most vehicles out there.
So, you know you won't get stuck, and you'll be very comfortable crossing rivers and going through mud.
To top it off, it comes with Toyota reliability, which is always a good thing.
Chevrolet Tahoe (2013-2014)
While the Chevrolet Tahoe isn't the first to come to mind for off-roading, don't sleep on it as a great choice.
If you're looking to buy one for this purpose, there are things to consider. First of all, the best trim package for off-roading is the Z71.
This way, you get a vehicle with rugged use in mind.
It includes a two-speed transfer case, beefier tires, and a better rear-axle ratio.
The other strong advantage is that the Chevrolet Tahoe Z71 still holds a lot of what makes it great in the city and highway.
It's comfortable, spacious, and can carry plenty more than other vehicles on this list.
Plus, if you're looking for a used one, there are plenty. It's one of the most popular SUVs in the country.
Subaru Forester (2019-2020)
When it comes to small SUVs that can do pretty much about anything you need them to, the Subaru Forester is the best choice.
Sure, you sacrifice a bit of interior room, and seats might feel snug, but you make up for it with plenty of features
First of all, it handles great, both on and off-road.
It's sporty and fast.
Second, the Forester has one of the best traction control systems out there, so it can handle snow, sand, and mud.
Thanks to its legendary boxer engine, the Forester has excellent acceleration and weight distribution.
Plus, Subaru understands its customers well, so it has created a heap of extras that tend to adventure seekers.
These include tents, rugged interiors, chassis protection, and plenty more.
As a result, the Subaru Forester is genuinely one of the best options out there, and the challenge is finding a used model that hasn't gone through it all so that you can.
Closing thoughts
So, what is the best used off-road SUV out there? To answer this question, we have to look at several factors.
If you're interested in comfort and luxury, options such as the Toyota Land Cruiser and the Land Rover Discovery are ideal.
On the other hand, if you want to opt for economy and practicality, then the Subaru Forester is excellent.
When buying any of these models, keep in mind one thing.
Chances are that they've been put to the test by previous owners, so check for rust and other signs of excessive use.
Also, it's best to avoid those that come from the Rust Belt, as salt is common and can deteriorate vital components such as suspension and brakes.
Finally, check for maintenance records and any modification that sticks out.
These could be a sign of a hard life.
As you can see from this article, there are options for almost all tastes.
This list includes SUVs with high-reliability scores and a history of tackling off-road terrain.
So, they will fulfill the desire for adventure.
Now, it's all about choosing and hitting the road.