GMC Yukon Making Noise When Accelerating? | Check This First!
Any time a vehicle starts to make odd noises, it can be worrisome. If for any reason your GMC Yukon is making noise when accelerating, you should check this first.
The worst thing about your vehicle making an odd noise is that you most likely have no idea if it is a serious issue or something minor. The best thing you can do is have your car looked at immediately by your mechanic. Doing so may prevent a minor issue from escalating into a major problem. But, if you are even just the tiniest bit mechanically inclined, you may want to take a look under the hood yourself. You may be able to fix the problem by taking a quick trip to your local auto parts shop and purchasing a replacement part that you can easily install in a few hours.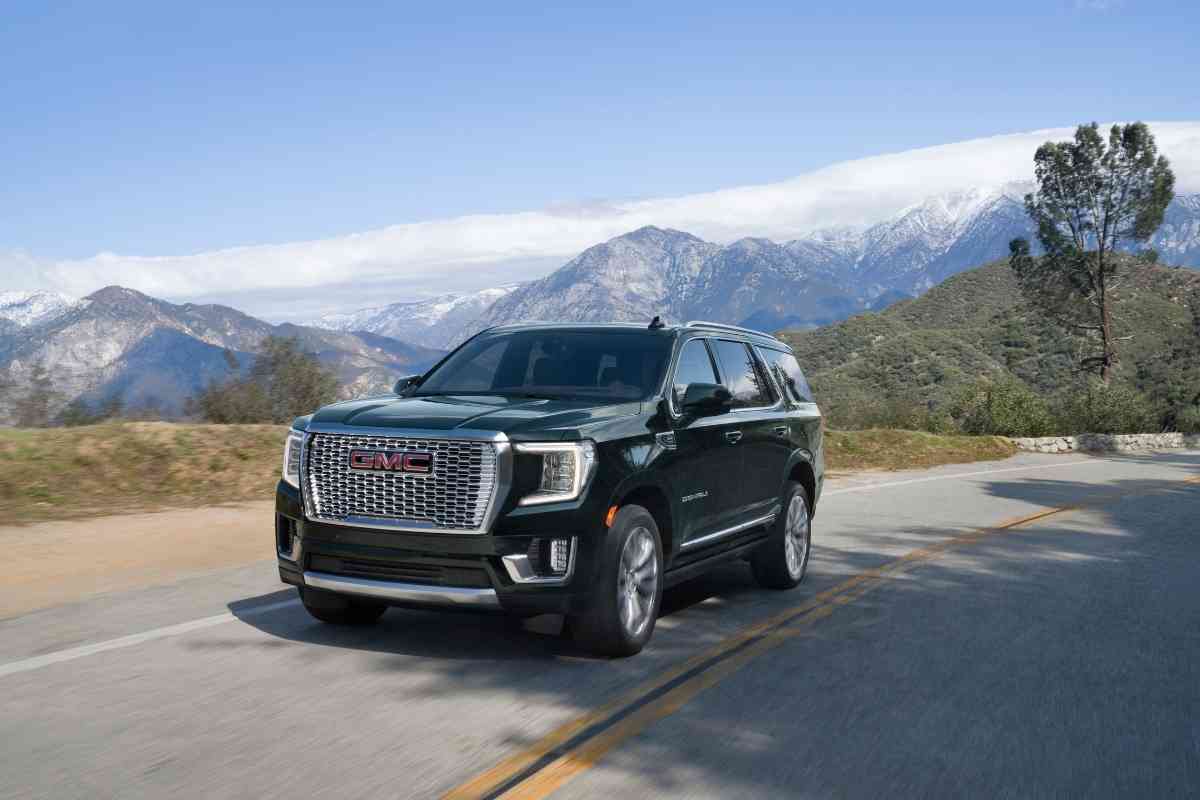 Table of Contents
Why does my GMC Yukon make noise when I accelerate?
If your GMC Yukon is making noise when accelerating, there is a high likelihood that it is coming from a defective attachment or accessory that is connected to the engine. The problem could be a faulty water pump, serpentine belt issues, a bad alternator, faulty transmission bearings, or a bad clutch.
If it turns out that it is not either one of these common issues, then there are still a few other things you may want to check. For example, if it's been a while since you check your fluids, you may want to start with the power steering pump and work your way through the rest of the vehicle.
Low power steering fluid can cause some terrible noises to come from under your hood. Also, if you have a turbocharger or supercharger, odd noises could be coming from one of these that is in need of some adjustment and attention.
These are just a few different examples of what could be causing your GMC Yukon to make strange and alarming noise while it is accelerating. Let us take a look at some of these most common reasons odd noises may be coming from your GMC Yukon and what you can do about it.
To find out what could be making strange noises in your GMC Yukon, you may be pleased to know that there is a plethora of information online provided by GMC technicians, mechanics, and GMC owners who all have experience diagnosing issues related to strange noises that suddenly appear.
We have done all the research for you and have compiled a list of some of the most common reasons your GMC Yukon may be making noises when you accelerate. We also have researched some solutions to these common problems, however, it is always a good idea to visit your GMC dealer technician or a local mechanic right away if you are unsure of why your vehicle is making strange sounds. Doing so could save you quite a bit of money in the long run by addressing a minor issue before it turns into a costly repair.
Common reasons a GMC Yukon is making noise while accelerating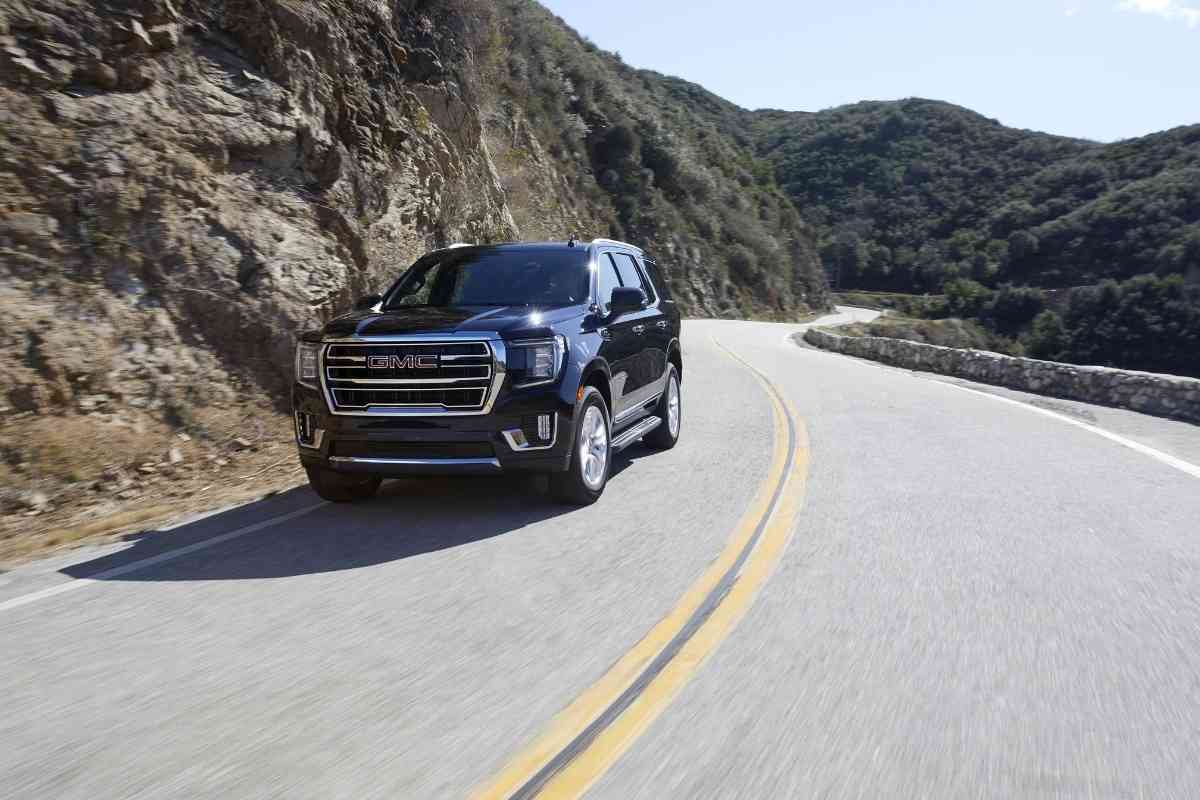 GMC Yukons are one of the most popular full-size SUVs on the market. They are well known for their towing capacity, panoramic sunroofs, elegant style, and luxury comfort.
So, when your GMC Yukon starts to make abnormal sounds when you are accelerating, it can be a cause of concern. Here are some of the most common reasons a GMC Yukon may make odd sounds broken down into more detail.
1. Serpentine belt issues
One of the most common causes of whining noises coming from under the hood of a GMC Yukon is the serpentine belt.
When the grooves on the belt start to wear out, it reduces the ability of the serpentine belt to grip all of the engine accessories properly. When the belt slips or is unable to grip the accessories properly, you may hear a loud whining noise coming from under the hood.
A serpentine belt replacement is something you could easily do yourself with just a few common tools and the purchase of a new belt from your local auto part retailer. The average serpentine belt for a GMC Yukon can cost anywhere from $130 to $166.
2. Bad water pump
If you are hearing a whine coming from under the hood but it has a bit of a deep tone to it, it could be a sign that the water pump is either defective or starting to go bad.
A water pump is a more complicated repair and it may be best to leave its replacement to the professionals. Water pump replacements can also be a bit expensive with the average water pump costing between $711 and $843 with labor costing between $163 and $206.
3. Faulty turbo or supercharger
Having a faulty turbo or supercharger on your GMC Yukon is a big deal that should be addressed by a technician or mechanic immediately. If not addressed right away, a faulty turbo or supercharge could cause your engine to seize.
The average price to replace a turbo or supercharge can range between $1,800 and $2,200 with labor costing between $4540 and $600 and the parts costing between $1,350 and $1,600.
4. Bad clutch system
A faulty clutch system can cause strange noises to come from under the hood of your GMC Yukon as you accelerate because the clutch release bearings have been worn down.
You may want to include replacing the clutch release bearings into your routine maintenance schedule by having them replaced once every 80,000 miles. If you suspect that the clutch may be the source of the odd noises, you should visit your mechanic right away.
It could be a large issue than simply the clutch release bearings. If it is the clutch release bearing, then you can expect to pay $100 or less for the parts and then a couple of hundred dollars for the labor. If it is more than just the bearing and you need to replace the entire clutch, then it could cost you between $1,000 and $1,300.
5. Air leaks from pumps or pipes
Sometimes if there is an air leak in one of the pumps or pipes that make up the GMC Yukon's air supply system, a loud whining noise can start to become apparent when you are accelerating.
Typically, these types of air leaks can occur at the junctions of this system of pumps and pipes, however, sometimes one of the air hoses can develop a small hole or crack. The cost of fixing this issue all depends on which air hose or pump is defective.
For one example, if you need to have an AC high-pressure hose replaced on your GMC Yulon, you can expect to pay around $286. The part typical can cost a little less than $100, but the labor can cost up to $190. If it is the AC low-pressure hose, you can expect to pay more.
The average AC low-pressure hose replacement can cost upwards of $474. Typically, the part can cost up to $170, while the labor can cost around $300.
6. Faulty transmission bearings
If the bearings of your transmission are faulty or on their last leg, you may start to hear a humming noise come from the transmission when you accelerate. Essentially, faulty bearings restrict the transmission of power from the engine to other parts of the car that help propel the vehicle forward in motion. To have the transmission bearings replaced, you can expect to pay up to $400.
Typically, the part can cost anywhere from $150 to $200, while the labor can cost between $130 and $170.
7. Low power steering fluid
Low power steering fluid is another cause of worrisome sounds coming from your vehicle. However, the sounds may not come when accelerating. Most often when the power steering fluid is low, you will hear a whine and moan from your car when you turn the steering wheel. This could be around corners or making turns. It may also be harder to turn your steering wheel and you may feel some resistance.
If this is the case. The fix is simple.
You can simply add some power steering fluid to your vehicle, however, if you still are having power steering problems or you neglect to top off the fluid, then you may already have or risk having your power steering pump go out. If the power steering pump goes out, you can expect to pay somewhere between $380 and $630 to have it replaced on your GMC Yukon.
Typically, the pump can cost between $215 and $425 and the labor can cost an additional $165 to $210.
8. Faulty alternator
Another common source of strange noises is an alternator that is going bad. A faulty alternator will make a high-pitched whining sound, stall the vehicle when stopped at traffic lights, and cause the battery light to turn on. Essentially, when you have a bad alternator, your battery is not properly being recharged as you drive like it normally does.
The alternator is responsible for creating a charge as it rotates that is passed along to keep your battery fully charged. The alternator is connected to the serpentine belt which continuously rotates when the engine is running.
Other quick fixes if you hear odd sounds when accelerating
If you have checked out all eight of the potential issues listed above and you still hear sounds even though nothing has been found as the cause, check out these other potential minor issues.
Check to see if your heat shields have been damaged. If so, replace them.
If the noise is coming from your valve train, then you may need to change to a higher octane fuel.
Have your exhaust system inspected for faulty, loose, broken, or rusty components. Replace as needed.
If your transmission fluid is low, your transmission could potentially start making odd sounds. Top it off or have the transmission flushed to fix this.
If the sound is happening when you are turning the wheel but the power steering pump is fine, there is plenty of fluid, and all the belts are in good condition, consider purchasing a steering unit lube kit.