Is the Jeep Gladiator a Comfortable Ride?
This post may contain affiliate links. As an Amazon affiliate, I earn from qualifying purchases.
Jeep Gladiator has been a go-to vehicle for off-roading enthusiasts since its inception in 2003. However, it is important to note that most people won't be taking their Gladiator off-roading very often.
Since the Gladiator is an everyday driver, you want your car ride itself to be comfortable when on the road. There are some clear advantages of owning a Jeep Gladiator when it comes to the interior.
Is the Jeep Gladiator a Comfortable Ride?
In general, I have to say yes. First of all, there is comfortable, roomy seating. It is certainly a comfortable option to use when driving in the snow. When it is time to set out on a winter drive, this vehicle has the advantage of 11 inches of ground clearance. So you will have plenty of elevation and power to avoid getting stuck in a storm.
It also comes with four-wheel drive and aggressive all-terrain tires. So you can comfortably get from point A to point B in snowy conditions.
Is the Jeep Gladiator a Good Daily Driver?
The 2020 Gladiator can be surprisingly more comfortable than most trucks. Yes, I would say it is an excellent daily driver for some people. It's not like you can take it out on the trails every day anyway.
Jeep introduced an all-new 2020 Gladiator mid-size pickup based on the next-generation Wrangler, but it has its own dedicated body and chassis. The 2020 Gladiator offers a vast improvement in ride quality.
However, using it for daily driving may get to be too much if you spend most of the day in your car. Some reviews make mention of noise and wonky steering at times.
It comes with an extra inch of wheelbase, a smoother suspension tune thanks to new springs and shock absorbers, an extra inch of width, which allows for more shoulder room. Also, there are taller tire sidewalls that improve suspension compliance over bumps.
You should also think about what part of the country you live in. If you live in a very rural area with many terrains, this Jeep may make your drives as comfortable as they can get. If most of your daily driving is on the highway, there are better options.
Is the Gladiator More Comfortable Than the Wrangler?
Jeep Gladiator is a more comfortable vehicle than Wrangler because it has added one inch of wheelbase, improved suspension tuning with new springs and shocks, added one inch of width, and has taller tire sidewalls.
The 2020 Jeep Gladiator is a full-size pickup truck that can seat five people and fit up to 7,000 lbs of cargo! With its legendary off-road capability, this vehicle is perfect for taking on any adventure you want. If you have a family and prefer using a pick-up truck instead of an SUV, this one may work for you (at least sometimes).
Is the Gladiator More Comfortable Than a Toyota Truck?
The Toyota Tacoma is one of the best-selling trucks in the country. Quite frankly, it does have several advantages over the Gladiator. However, in terms of comfort, the Jeep Gladiator does have a few advantages. The Gladiator is a better off-road option and has increased towing ability.
It also wins in terms of seating space and the quality of its interior. According to US News, the Gladiator received a 9.1 score from critics compared to 7.4 for the popular Toyota Tacoma.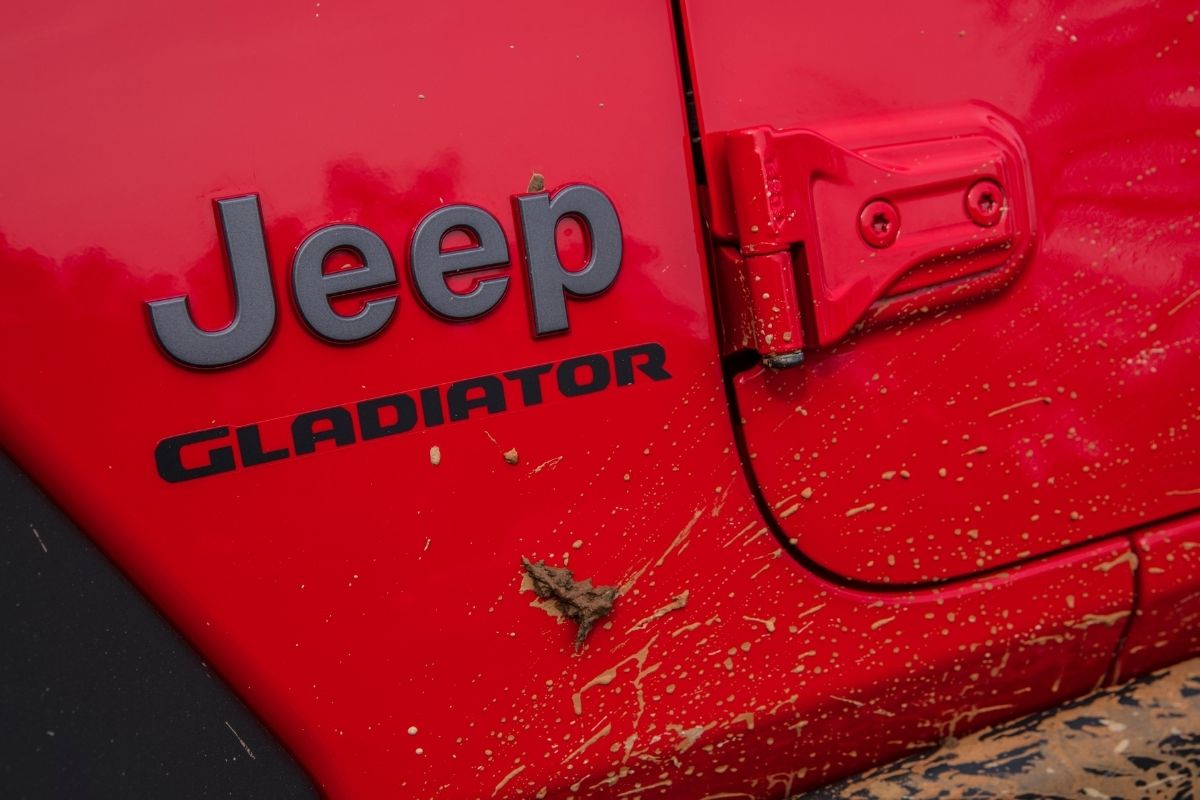 Is the Jeep Gladiator a Good Family Car?
Yes, the 2020 Jeep Gladiator can be a good family car. It has enough seats to fit up to five people comfortably. So if you want to be able to take your family on a weekend adventure, the Gladiator is perfect. It features a spacious cabin and generous ground clearance for off-road driving.
When the weather is nice, don't hesitate to take the roof off and enjoy the sun. I am sure the kids and family dog will love that. Even if there are a few bumps, kids most likely won't care. Of course, it may be an issue if you have to transport sleeping infants.
In other words, sure, it can totally work as a big vehicle to transport the family around daily. If you deal with jiggy or bumping rides, it may be fun for the kids but annoying for the adults at times.
Can I Drive Cross Country in a Jeep Gladiator?
I love to travel and am always looking for a good vehicle for extended trips such as cross country ones. So, is it possible to drive cross country in a Jeep Gladiator?
With its legendary off-road capability, the 2020 Gladiator has more than enough capabilities for any trip.
The 2020 Gladiator can travel anywhere you want to go. With patience, one can use it for long trips too. So if you love taking your family on an adventure across the country, it's a great option.
Thanks to the big seat in the back, when it is time to take a break and stretch in a new setting, the Gladiator is up to the task. So if you are driving on your own or with one other person, there is plenty of room to stretch out.
Towing Power
It also has an impressive torque rating of 460 lb-ft at 4,000 RPM. This means it can tow up to 7,000 lbs if you need it to!
Just think, if I can tow up to 7,000 lbs, that means I can hitch a small trailer or tow a boat to the back of my Gladiator.
How About the Cons of the Latest Jeep Gladiator?
There are some things to consider when purchasing a 2020 Gladiator. According to reviews, the 2022 Jeep Gladiator offers a bigger back seat than other midsize pickups. Some say it has a jiggly ride, but it's still a comfortable vehicle.
The fuel economy is also a concern. The 2020 Gladiator only offers a 3.6L V6 with 281 HP and 260 lb-ft of torque, which doesn't sound too impressive on paper. However, the 2020 Gladiator is pretty fuel-efficient as it can get up to 17 mpg city and 23 mpg highway.
The low-end torque makes it feel sluggish at times.
However, overall the 2020 Jeep Gladiator is a good vehicle for any adventurer looking for an affordable truck to take on their next trip. With its available towing capability and comfort features, the 2020 Gladiator is a good choice.
Can I Make This Jeep More Comfortable?
The 2020 Jeep Gladiator is more comfortable out of the box. There are no aftermarket options to make it more comfortable right now. You can buy new seat covers if needed.
2019 Jeep Gladiator Seat Covers
These fabric seat covers fit perfectly over your seats. They are made with high-density foam for extra comfort and are easy to install. The material they are made out of will block out harmful UV rays and is completely machine washable for easy care.
Final Thoughts About Jeep Gladiator's Comfort
Since the 2020 Gladiator is a more enjoyable ride, it comes with all the modern features you'd want in your vehicle. This includes Apple CarPlay and Android Auto, Bluetooth connectivity, USB ports everywhere, upgraded sound system, etc.
The main downside to this model is that there are no diesel or hybrid options available at this time. You may have a few bumps in the road with a 2020 Gladiator, but it's still as spacious as they come.