A Guide To Your Jeep Wrangler Speaker System
This post may contain affiliate links. As an Amazon affiliate, I earn from qualifying purchases.
The Jeep Wrangler boasts a pretty impressive speaker system — regardless of model. These sturdy vehicles are known to have great audio, which is one of the reasons why they're so popular. But exactly how big are the Jeep speakers, and can you upgrade them?
Jeep Wranglers have oversized 6-3/4″ 4-ohm GM/Chrysler speakers. The newer the model, the more speakers it'll have; there are eight on the latest Jeep Wrangler JL. It's possible to upgrade the speakers if desired, just make sure you can manage the installation—or hire a professional.
Let's take a closer look at the Jeep Wrangler speaker system, how you can upgrade it, the best options on the market, and what you need to know about the process.
What Size Speakers Are in a Jeep Wrangler?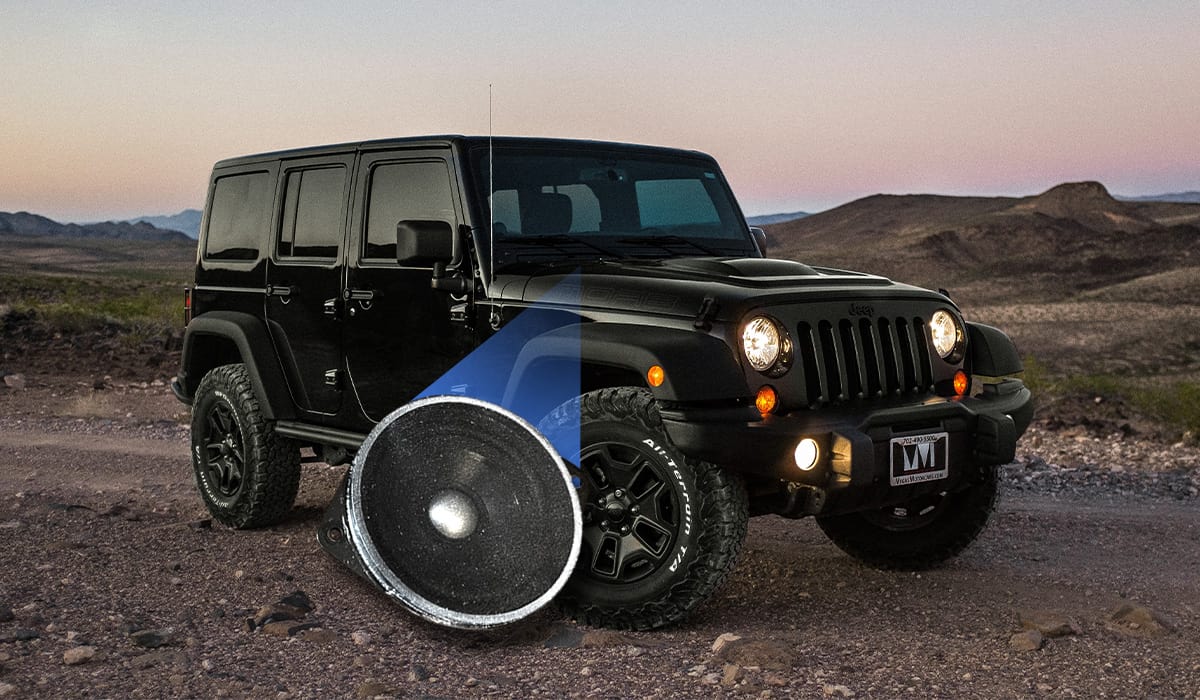 Regardless of the model of Jeep Wrangler you have, the speakers should be the same. They're oversized 6-3/4″ 4-ohm GM/Chrysler speakers, and they can be found in the soundbar overhead inside of the vehicle.
These speakers are easy to unscrew and replace if you decide to upgrade them or if they get damaged and need to be replaced for any reason. There are plenty of contractors willing to help if you have trouble with this.
Which Jeep Model Has the Best Speakers?
Usually, a Jeep Wrangler model has an 8-speaker AM/FM/CD/MP3 receiver. These speakers have been upgraded over time, so for better audio, you're better off with a more recent model of the car.

Here's an overview of the speakers found in each Jeep Wrangler:
Jeep Wrangler YJ (1987-1996): Two speakers and a rear soundbar

Jeep Wrangler TJ (1997-2006): Two to four speakers, depending on the year

Jeep Wrangler JK (2007-2014): Six speakers, including on the dashboard

Jeep Wrangler JL (2015-present): Eight speakers, with the dashboard speakers and a rear soundbar
The more recent models of Jeep Wrangler, as you can see, boast the more impressive sound systems. If you have an older model of Jeep Wrangler or really want to take your sound to the max, you'll have to upgrade the speakers.
How to Upgrade Your Jeep Speakers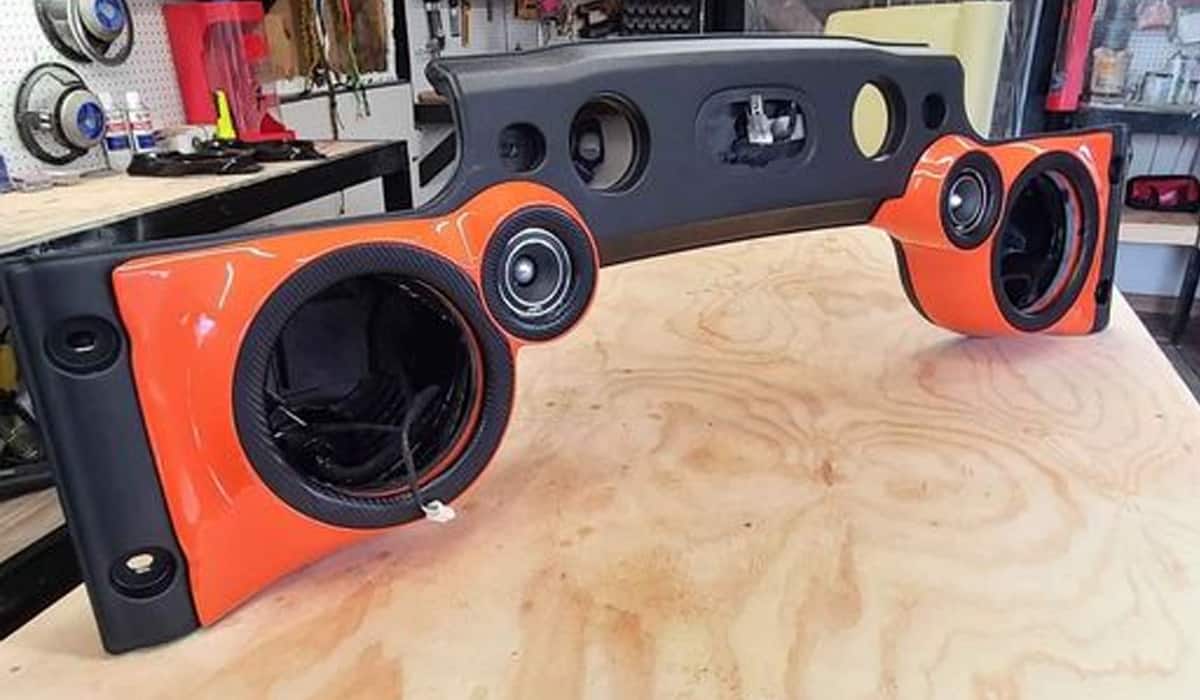 Upgrading a Jeep Wrangler's speakers is as simple as uninstalling them and putting better ones in their place. However, this can be tricky for someone who's not used to messing with the interior of the vehicle. For this reason, many people choose to hire a professional to do the job.
Hiring a pro is a smart idea if you're even the slightest bit unsure of what to do since speakers are quite expensive (and it can be difficult to troubleshoot it if there are any problems).
You can also install a subwoofer under the seat and invest in an amplifier. This will take the sound to the max, and you'll notice a huge difference with these added components. Some speaker sets will come with a subwoofer anyway, so you won't have to buy this separately in those cases.
What Are the Best Speakers for a Jeep Wrangler?
These are the best speakers you can find for your jeep wrangler:
Kicker Speaker 77KICK10
These speakers are on the budget-friendly side and allow Jeep Wrangler owners to upgrade their sound system without breaking the bank in the process. They were designed for the Wrangler JK so they go especially well with this model, though the speakers can be installed in any of the Wrangler models.
You can mount these speakers at the front or back, and you'll notice the audio difference immediately in your vehicle.
While they're relatively cheap when compared to other speakers, they're worth the price and will certainly leave you with better stereo than what you had with the factory speakers.
JBL GTO629 Premium Coaxial Speakers
One of the drawbacks of a cheaper sound system like the Kicker speaker above is that the bass just won't be as good as it might be with a more expensive option.
Therefore, if you're looking to get the most out of your speakers, you're willing to spend more, and you're a big bass fan, the JBL GTo629 Premium Coaxial Speakers (on Amazon) are a great purchase.
They're large, strong, and sturdy. They're more expensive than many speakers on the market, but if you're really looking to invest in some speakers that will last for a long time and boast the best quality out there, then you can't really go wrong with these ones.
Rockford Fosgate P1675 Punch 6.75″ 3-Way Full-Range Speaker
For those who want easy installation, the Rockford Fosgate P1675 Speakers (on Amazon) come with all of the mounting gear you need to fix them inside of your vehicle and get things going with no help required.
These are among the top-selling speakers for this specific vehicle, and there's good reason for that — not only are they easy to install, but they also have great power and audio.
There's also no distortion when playing audio at a higher volume, as can happen with many speakers. This is due to injected mold cones that don't flex, so you can turn the volume up as high as you like and still enjoy that straight, clean sound.
These speakers aren't exactly on the cheaper end of speakers — they're pretty mid-range when it comes to price — but for those looking for a balance between value and quality, they're an ideal choice. They also comes in different sizes so you can customize them for your vehicle.
Polk DB652 Coaxial Speakers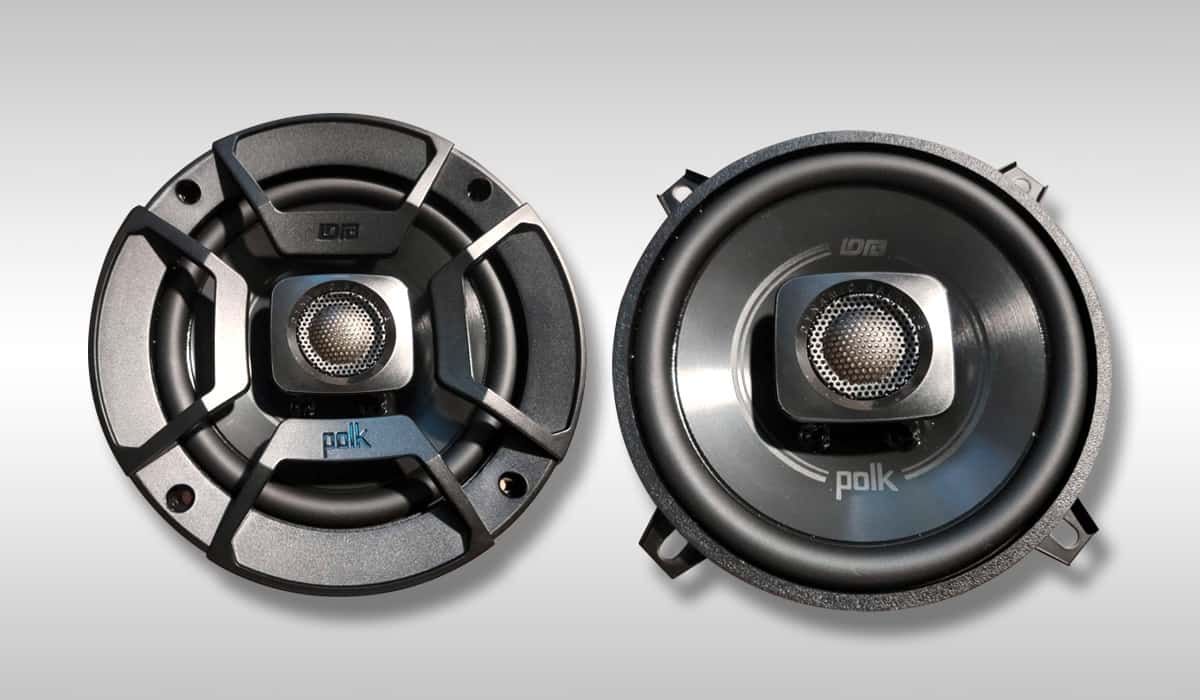 Another expensive set that are worth the price are the Polk DB652 Coaxial Speakers (on Amazon). They boast a lot of power too, and while they aren't cheap, they're very sturdy and even waterproof.

These speakers can withstand rain, wind, and snow, blasting out great audio regardless of the external conditions.
If there's any downside to these, it's just the price. The installation process can also be a bit tricky for those looking to set up the speakers themselves, so some may need to hire a professional to ensure the job is done properly.
What to Consider When Buying New Speakers
If you're not sure which speakers to go for, there are a few things to consider:
Price: Some speakers are much more affordable than others.

Installation Process: If you don't plan on paying someone to do the job, then make sure you're up to the task and that the speakers you select are relatively easy to install.

Bass and Low Frequencies: If you're a music lover and you're looking for the best quality, be aware that cheaper speakers may not be up to your standards.

Durability: More expensive speakers will generally last longer, so keep that in mind as you make your choice.
Are There Any Drawbacks to Upgrading the Speakers?
The only thing to watch out for is your insurance. Auto insurance is typically meant to cover the factory parts of the vehicle, so if your custom sound system is damaged, it's unlikely that insurance will cover this.
Some insurance companies do offer add-ons so you can make sure your upgrades are protected.
Overall, however, there are very few drawbacks to upgrading your Jeep Wrangler speaker system if audio is important to you. Make sure you hire a professional to install them if you aren't sure what you're doing and research the speakers to make the best possible choice.