Do Jeep Wranglers Have Good Speakers?
Jeep Wranglers have long been known for their off-roading capability. These beasts can get it all done whether you're on the trail or on the road. However, do their speakers hold up to the test?
Even a company like Jeep which builds amazing vehicles can have their pros and cons. Today, we're looking at speaker quality – an important feature for those who love to blast some music.
Jeep owners are very familiar with adventure and long road trips; and we all know how important music can be on those trips. So let's break down the Jeep models and check if the speakers can really get the job done.
The Basic Jeep Wrangler Systems
There are a lot of different trim packages available for the Jeep Wrangler, each with their own unique features. We're going to break those down so you understand what trim package offers upgraded sound and which ones may not be suitable.
Starting at the Sport package; we have a model that comes with a standard Uconnect 3 audio system. The 5-inch display is not as big as what is featured on other vehicles, however it's got a clear picture and it gets the job done.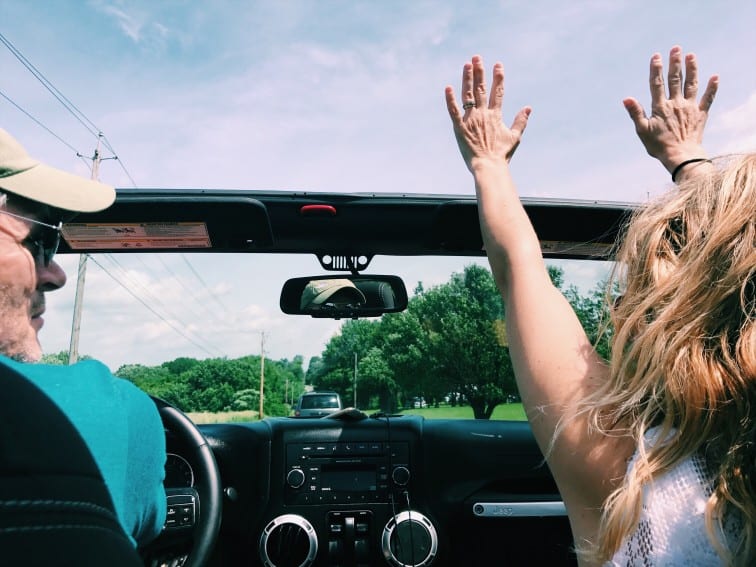 The audio quality here definitely isn't amazing, but if you are not too picky it might be okay for you. When you go with the Sport package, you really don't even have much recourse as far as any other options go – although aftermarket speakers will be discussed a bit later.
Starting with the Sport S, you get some upgrade options when purchasing a Jeep Wrangler. The standard option is still the Uconnect 3 system; however you also have the ability to add the Technology package which would upgrade you to Uconnect 4 with a 7-inch screen.
The system runs a bit better than the previous version and the extra 2 inches of screen space is nice as you try to read information from the driver or passenger seat.
The most important thing here with the Sport S is that you are also able to upgrade to an Alpine Premium Audio System. The Alpine system is a nine speaker system that boosts the sound quality in your Jeep Wrangler.
The sound coming through your speakers will be more clear and should make for a better listening experience regardless of what you are listening to. With the Alpine system, you'll get a rear subwoofer and 220-amp alternator.
This Alpine system does a nice job to boost the audio quality that you get in a Jeep Wrangler and for those worried about sound quality, it's probably a smart buy, depending on your budget.
When moving up to the Black & Tan trim, the Uconnect 4 system comes standard and you have the same option to upgrade to the Alpine Premium Audio System.
The only difference in the Sahara is the ability to upgrade to an even bigger (8.4 inch) display. Obviously, that doesn't affect sound quality at all but it does make navigating music choices a bit easier.
While the Rubicon is known for being an absolute monster, there are no differences in audio performance when stepping up from the Sahara trim package.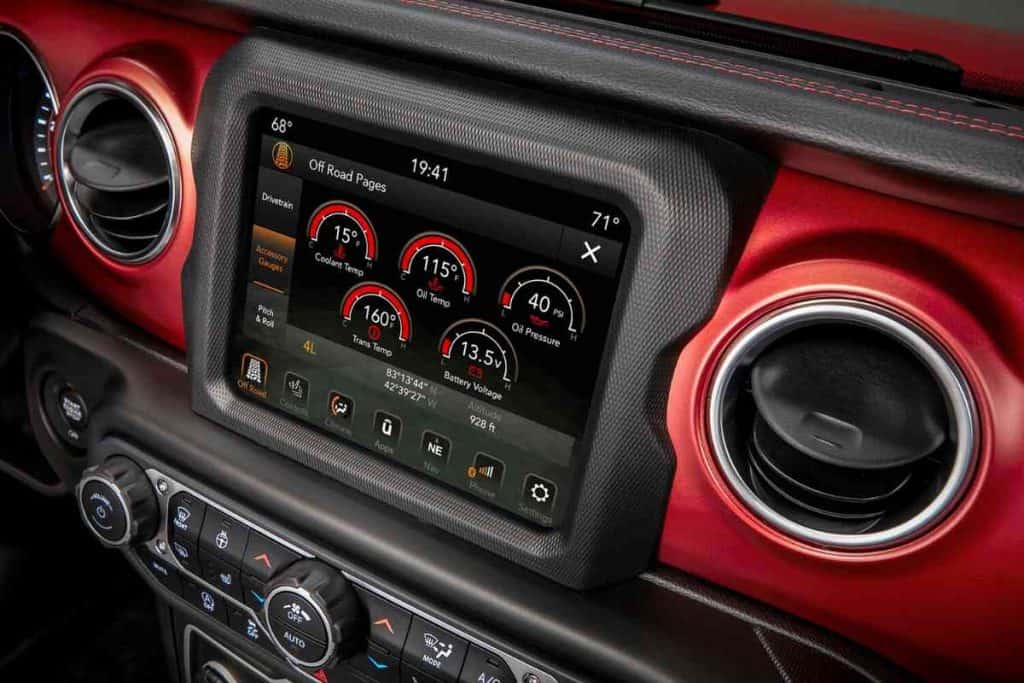 Even the Rubicon Recon, for all of its glory and features, there are no sound upgrades to give you the power to blast your music any way you want while barreling down the road.
As you can see, there is not a whole lot of customization when it comes to Jeep's offerings in their Wranglers. There is a basic audio system and a premium audio system, both of which are passable when compared to other vehicles in their industry.
However, some people may not fall in love with either of the two options that Jeep provides. There are some people who want to try out what Jeep has to offer and then decide later on that they actually do need an upgrade in the sound department.
Whatever the reasoning is, there is a healthy market for Jeep owners who are looking to upgrade their audio systems.
These aftermarket offerings are some of the best ways to get the absolute best sound in your Jeep, so if music is something that is really important to you, you may want to look into one of these options for your precious Jeep.
Aftermarket Audio Options for Your Jeep Wrangler
There are a lot of different options when it comes to boosting the sound in your Jeep Wrangler. You've got a range of options from sound pods to subwoofers.
Jeep owners usually know exactly what they want. The trim packages that are offered on the Wrangler are extremely impressive and come in many different forms, however the audio is often left alone.
If you need to take control of your Jeep's audio, you may want to try one of these options.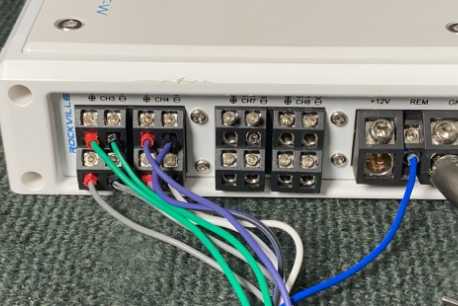 Mopar is a great company that sells a lot of different items for customization of your vehicle. The company name literally stems from the phrase "Motor Parts" so you know that you are getting a product from someone who knows exactly what they are doing here.
However well known Mopar is for their audio products, these speakers are also able to stand up to the high expectations. You'll get two speakers with this set, and they can be used at the front or the rear of the Wrangler depending on what you are looking for.
It's a relatively cheap set for how nice the sound quality is here. The bass and sound quality are both really nice and the speakers can even be placed into the existing sound system's wiring found in the Wrangler.
It should be noted that they may still not be as easy as you would like it to be if you don't have much experience around vehicles or car stereo systems.
For a great option that can really boost your audio in your Wrangler, this Mopar product may be the absolute best way to go.
Last update on 2023-12-02 / If you click this affiliate link and make a purchase, we earn a commission at no additional cost to you.
Rockford Fosgate is another company that has a great reputation and they are simply known for their audio products. Going with a business that only focuses on one thing is a great buying strategy to make sure you get something that really works.
That being said, these speakers are a nice set for Jeep Wrangler owners. The sound seems to be more clear than the basic system, and it doesn't really matter what is playing – the sound quality holds up to just about any test.
One great thing about this set of speakers is that they are available in different sizes, so you should be able to find the pair that works perfectly with your Jeep Wrangler model.
Even if you go with this smaller speaker set though, you should still be able to get the sound quality of what would normally be a much larger speaker. Rockford Fosgate has a speaker set here that can greatly improve the quality of the tunes you hear when cruising in a Jeep Wrangler.
Last update on 2023-11-26 / If you click this affiliate link and make a purchase, we earn a commission at no additional cost to you.
Using an overhead soundbar is an interesting way to try to boost the audio quality in your Jeep Wrangler.
This is a less traditional set up, so if you are someone who is simply looking for a boost in the "normal" sense of the word and you don't really want to mess around too much, you may be happier going with the Alpine premium system that Jeep themselves offers.
However, if you are looking for a soundbar like this one, Vertically Driven Products has a very interesting product for you. The best part about this soundbar is that it should be quite durable and waterproof as well so you're able to take this soundbar without worry when you are out on the trails or on an adventure.
The six speakers in this set are divided into three sets of two. There are two tweeters, two woofers, and two mid-range. All in all, you could do worse than this for a budget option, but it definitely isn't for everyone and it is not the option if you are looking for a "complete" speaker set up for your Jeep Wrangler.
Last update on 2023-11-26 / If you click this affiliate link and make a purchase, we earn a commission at no additional cost to you.
This is another interesting speaker design that gives you some extra audio with a "plug and play" system for your Jeep doors. The process of setting these speakers up is fairly easy and this gives you a great option if you are looking for a smaller upgrade.
All in all, the speakers in a Jeep Wrangler are pretty good. They certainly get better if you upgrade to the Alpine Premium Audio System offered by Jeep, and aftermarket speakers can boost your audio performance even further.
Most drivers will feel fine with the basic package, however, there is nothing stopping you from creating an amazing audio experience by adding on some customer speakers to your Jeep Wrangler's interior.
Last update on 2023-11-26 / If you click this affiliate link and make a purchase, we earn a commission at no additional cost to you.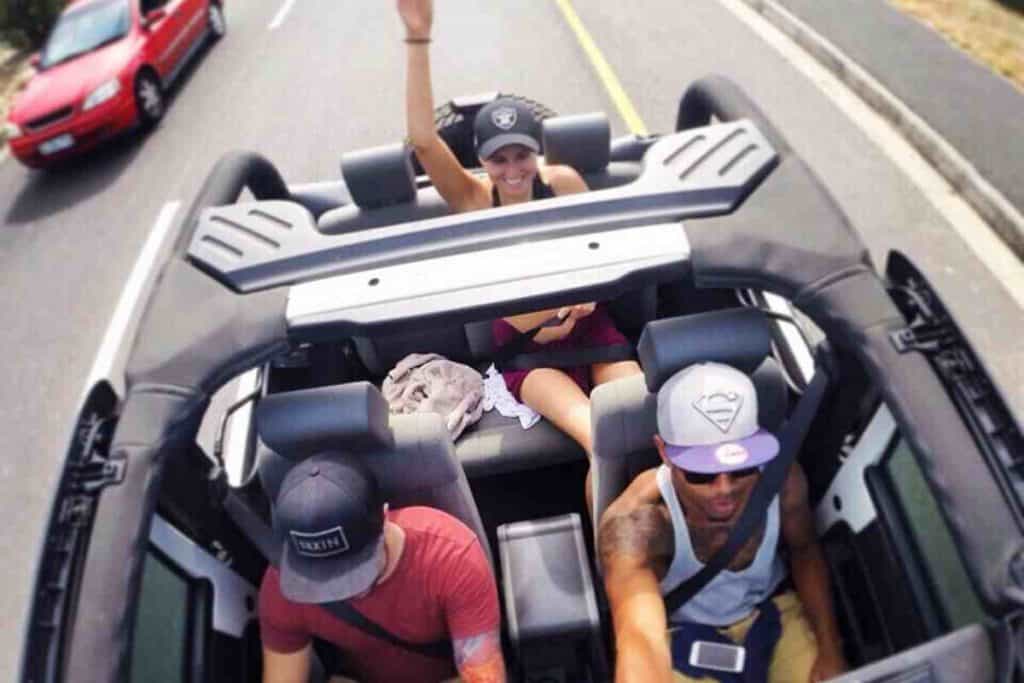 Do Jeep Wranglers Have Good Speakers?