The 8 Best-Reviewed Seat Covers For The Ford F150
If you are in the market for a new set of seat covers for your Ford F150 but don't know what to look for, there are several excellent options to choose from. Sometimes, long before we are done driving our F150, the seats start to show more wear and tear than we'd like. Having the seats professionally reupholstered is expensive, but we know that lots of seat covers either don't fit quite right, or they just don't look or feel that nice once they are installed.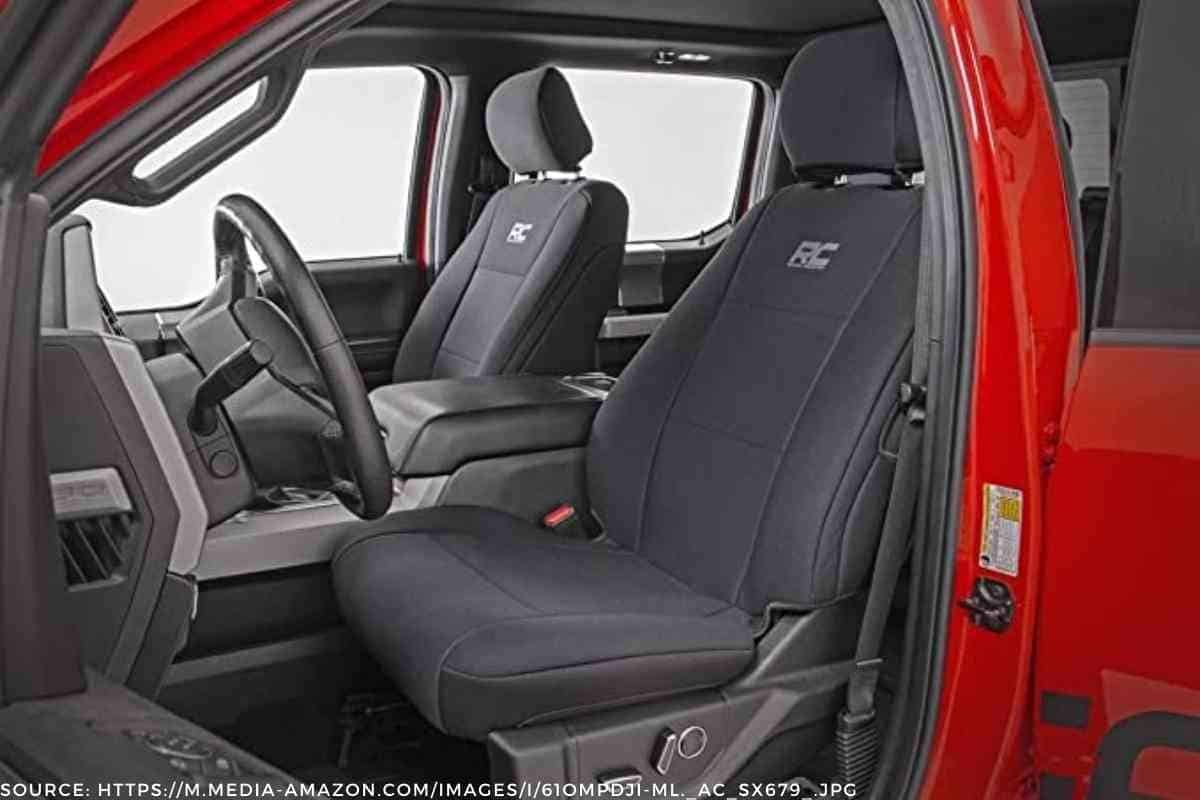 Table of Contents
What's the best seat cover for an F-150?
Here are the best seat covers for a Ford F150 that you can buy:
Covercraft Carhartt SeatSaver Cover
Aierxuan Car Seat Cover
Coverking Neosupreme Seat Cover
BDX PolyPro Seat Covers
Coverado Seat Covers
WeatherTech Covers
Carscover Custom Fit
Rough Country Neoprene Cover
Trying to find the right seat covers can be tricky, especially for a truck as big as an F150. You also know you are going to need something durable, considering the work your truck does, and something that looks good as well…because why else would you have bought an F150, right? But good quality seat covers can be quite an investment, and you'll want to make sure you're getting what you want and what you paid for.
Luckily, I've done an extensive search and have found the best seat covers for a Ford F150 that are on the market today.
I love trucks and know that finding a favorite and driving it until the wheels is a true goal of many avid truck fans. Keeping it running smoothly is important, but keeping the interior looking sharp and clean is as well. A new set of seat covers is like a coat of fresh paint – they can make all the difference in the world to something you love but just needs a bit of sprucing up.
What Are the Best Seat Covers for a Ford F150?
The Ford F150 is consistently ranked as one of the best trucks in the United States and is known all over the world for everything it represents.
Built in 1917 as the Ford TT, this truck has definitely withstood the test of time and its value and quality make it an American icon for its durability, reliability, hauling and handling, and – of course – its exceptional interior.
But all that love comes with a price.
Regardless of how highly ranked the interior of this truck is, it's going to see some wear and tear eventually, after all the use that it gets.
Though it may only be aesthetic, having the interior of your F150 continue to look good is important to most truck owners. They take pride in this vehicle, and they want the inside to look as good as the outside does.
Let's break down some of the more highly ranked seat covers, find out their price, and see if they will end up being what you are looking for.
1. Covercraft Carhartt SeatSaver
Covercraft has a long reputation for making seat covers that make a difference. It is a name well known in the seat cover industry, and for good reason.
This company knows how to make seat covers. All their work is custom-designed for the specific make and model that each customer is requesting them for.
For example, an order that is placed for an F150 will be unique to that truck's seat specifications. There are also different grades for each one, such as PrecisionFit and ContourFit, so if you want to pay a bit extra, this cover will fit your seat in a way that it may be hard to tell it's even a cover, and not the actual cloth or leather of the seat underneath.
The Covercraft Carhartt SeatSavers come in 12 different colors, and a variety of patterns too, including camouflage and a bright red flower print.
Shipping is direct and their 100% money-back guarantee ensures you that they believe in and stand behind the product they are creating and selling.
All this craftsmanship and customization comes at a price.
The Covercraft Carhartt SeatSaver is one of the more expensive on my list, retailing for between $399 to $570, depending on what style, pattern, and grade you are looking for.
2. Aierxuan Car Seat Cover
Last update on 2023-11-22 / If you click this affiliate link and make a purchase, we earn a commission at no additional cost to you.
Now in the car covering business for more than a decade, Aierxuan, has thousands of positive ratings for their high-quality, durable, and exceptionally attractive car seat covers that will not only prove to be reliable but beautiful as well.
With a unique diamond design on every cover, Aierxuan uses a faux-leather material that is soft and comfortable to sit in. Their seats are also waterproof and designed to allow for the seat's airbag if you specify the model year of the F150 you are purchasing these for.
The price for the Aierxuan seat covers is between $199 and $359, making these considerably less expensive than the Covercraft above.
One downside to the Aierxuan covers is that their color selection is a bit limited. But if you are looking for a cover in one of the typically chosen colors, such as black, grey, tan, or white, you will be happy to have chosen this product for your F150.
3. Neosupreme Seat Cover
Last update on 2023-11-22 / If you click this affiliate link and make a purchase, we earn a commission at no additional cost to you.
The Neosupreme Seat Cover takes a very popular seat cover material and recreates this in a material that is more price-conscious than the original.
Neoprene is a material that became popular amongst car seat manufacturers over a decade ago. The material, which is often found in other things like sports braces, scuba diving suits, and laptop sleeves, is exceptional for maintaining a stylish look while also being a fantastic barrier against almost anything you can throw at it.
But the price can be high on covers made of neoprene. So when the Neosupreme Seat Cover came out, people were instantly interested. And very impressed.
The Neosupreme seat covers don't have a ton of colors – they come in solids colors, as well as camo and several two-tone options that will give your F150 a sporty-type feel.
Like the neoprene seat covers, the Nerosupreme are water-resistant, but they don't have the uncomfortable rubber-like feel that neoprene can oftentimes have, especially in warmer weather.
And, as I mentioned earlier, the Neosupreme seat cover brand is impressively more comfortable on the wallet. Unlike seat covers made with neoprene that can be upwards of more than $400 for a vehicle the size of an F150, these covers cost somewhere between $230 to $300, depending on how much detail and customization you want.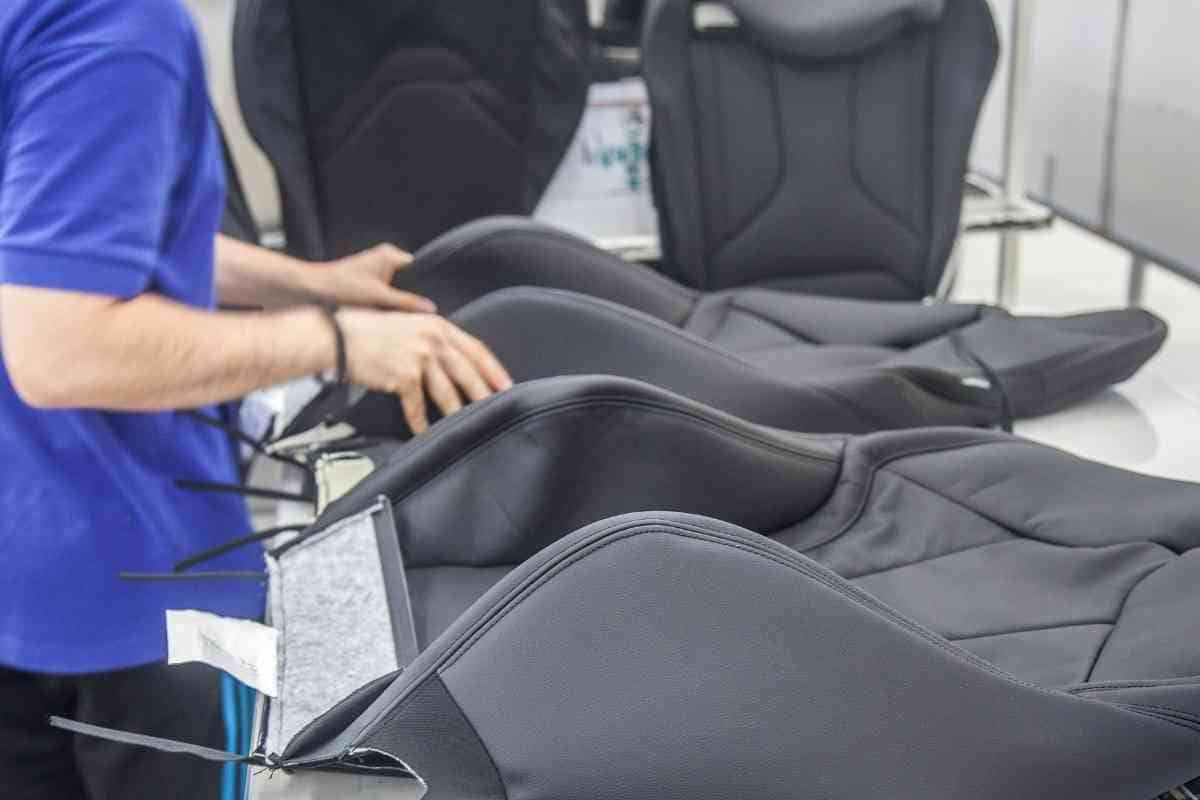 4. BDX PolyPro Seat Covers
Last update on 2023-11-22 / If you click this affiliate link and make a purchase, we earn a commission at no additional cost to you.
BDX Polypro Seat Covers are a perfectly fine option if the custom fit isn't a concern and your budget is.
Even though they are not custom-made for a Ford F-150 pickup truck, they do have different styles, depending on what type of vehicle you drive.
Made from a polyester blend, the BDX PolyPro covers are comfortable enough for a commute or errands around town, but they won't be as comfortable as so of the other seat covers I've already covered.
They are water-resistant but not waterproof and, though machine-washable, do tend to hold on to deep stains.
The BDX Polypro seat covers are not going to be the fanciest on my list…but they are by far not the priciest either.
Starting around $49 for a pair of front seat covers, the BDX Polypro may not last your forever, but they are a great seat cover for times when ultimate style and durability aren't as important as the price.
5. Coverado Seat Covers
Last update on 2023-11-22 / If you click this affiliate link and make a purchase, we earn a commission at no additional cost to you.
These seat covers are for the F150 owner who is more interested in durability than style.
That's not to say that the Coverado seat covers are not pleasant to look at. They come in multiple colors as well as a great camo pattern, and bold stitching along the edges, the company's signature mark.
But the person who buys the Coverado seat covers is probably the person whose Ford F-150 is really taking a beating in the work arena.
These covers can handle just about anything, from extra equipment being tossed on top of them, to the two ranch dogs clamoring across the back seat.
Made from a high-quality neoprene, as well as two layers of a poly-blend and then a water-proof top fabric, the Coverado covers are going to be able to maintain their color and reliability no matter what kind of conditions you are driving your F150 in.
The Coverado's are not the cheapest covers on my list, nor are they the most expensive.
A full set of Coverado seat covers for your F150 will probably be anywhere from $180 to $250, depending on what you are looking for.
6. WeatherTech Covers
A name that has long been known for producing exceptional car floor mats, WeatherTech is also creating a name for itself in the car seat cover arena.
WeatherTech puts time and thought into their products, and their seat covers are no exception. These covers come in an array of colors and also boast being waterproof and highly UVA resistant, so they should not fade as much as some covers might.
Unfortunately, WeatherTech does not make seat covers that are custom-made for individual cars and trucks, though it wouldn't be surprising if they start, given that their floor mats are all customized to specific makes and models.
But having one of the lower price points on my list – at anywhere from $220 to $265, a set of WeatherTech seat covers would not be a bad purchase for your F150, especially if you are less worried about a custom-fit and would rather invest your extra money into something else your F150 needs.
7. Carscover Custom Fit
Another great contender in the car seat cover business is Carscover Custom Fit.
As the name implies, Carscover is a custom-fit car seat cover manufacturer, and its covers will fit your Ford F150 seats like a glove.
Their material is ultra-soft, which is not only great for long road trips, but is also ideal for just running around the ranch or town.
The outer material on these covers is a fine leather, which not only looks great, but is also sun-resistant as well.
The middle of the seat cover is made from neoprene, which provides an excellent source of comfort and support, while also being waterproof and nonsticky on even the hottest summer days.
Carscover comes in an array of colors and even has pockets sewn into the side of the seats, making for a convenient place to store your phone or other small items while driving.
One downside to the Carscover seat covers may be the installation and removal process. Both can be a bit tedious, but the finished product will be worth it.
Carscover is in the middle of the pack for cost, with a price point of between $189 and $259 for your F150, depending on the style and color.
8. Rough Country Neoprene Covers
Last update on 2023-11-22 / If you click this affiliate link and make a purchase, we earn a commission at no additional cost to you.
And finally, if you are looking for the most rugged cover, at the best price this one is going to be it.
Rough Country Neoprene covers are not going to steer you wrong if, more than anything else, you need something that is rugged and tough enough for the type of use you put through F150 through on a regular basis.
These seat covers are great for work trucks, farm trucks or any F150 that is more about work than play.
With four layers of neoprene, polyester and a rugged waterproof shell, this seat cover isn't letting anything get through.
Though the colors are limited with Rugged Country's truck line, they are probably in line with what you will want if your F150 is more about business than fun.
Colors such as black, dark gray and dark blue are available.
These seat covers aren't custom-made for your F150. But if the idea of spending less than $100 to either protect your truck's original seat covers, or cover up a seat that has already had its fair share of wear and tear, the Rough County neoprene covers may just be right for you.