10 Best Years For Ford F150 Revealed!
When purchasing a Ford F-150, it needs to be reliable and capable. Owners also want a truck durable enough to handle most situations. Specific Ford F-150 model years possess all these attributes.
What Are The Best Years For The Ford F150?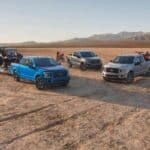 The ten best years for Ford F150 are the following: 1993, 1994, 1996, 1998, 2001, 2003, 2009, 2012, 2014, and 2018. They all have exceptional consumer reviews, high safety ratings, durability, and reliability that many customers want from a pickup truck.
Now that you have a range of years to look for let's find out what makes these models the best. Use the information below to choose the best model year for you.
Ford F150 1990's
The Ford F-150 1993 is the earliest year considered one of the best years for the F-150. Ford designed this pickup to be durable and efficient, using the classic Ford frame.
The '93 F-150 has a spectacular weight and towing capacity. This truck is extremely durable in most cases, and if one is lucky, they will find one that has 150,000 miles or less!
The F-150 1994 had one of the best engines, a 143 horsepower engine, of its time.
The '94 year was just as capable as the F-150 '93, but with a few more improvements. One of these improvements was the mileage, which could go up to 200,000 and further! It also included airbags, a necessary safety instrument not available in earlier models.
Also included in the '94 was a center-mounted stop lamp, CFC-free aircon, and extra side beams on the doors. Probably one of the more popular features was the CD player. The new CD player was a significant upgrade from the cassette tape included in earlier models.
Next is the F-150 1996, the bestselling pickup that year. The 1996 F-150 won this title likely because of the smooth curve in the front, which made it look better. This year also featured upgraded safety features such as the headrest and an automatic locking restraint on the seatbelt.
The '96 was slightly greater horsepower-wise than previous versions with 205 hp from a 5-liter V8 engine. The 1996 Ford F-150 had two gas tanks, significantly increasing fuel holding capacity. With two fuel tanks, owners could refuel less often.
The last best model from this decade is the 1998 Ford F-150. The '98 Ford F-150 is considered the favorite model year so far. Even the newer models dwindle in comparison to this truck. When the '98 came out, it received very few negative comments and experienced hardly any issues.
Ford F150 2000's
The F150 2001 is a high-rated truck with an impressive expected mileage of 200,000 or more! This model year has the title "Built to Boss." It's been made very well and is good-looking, pickup-wise.
The F150 2003 is another high-rated truck, just like the '01. It is almost exactly like the '01, but the '01 is slightly less capable. The '03 has a more powerful engine. The powertrain and transmission are also more capable. Like the '01, it has an expected mileage of 200,000 or more.
One of the downfalls about this year is that it can only get 12 miles per gallon. But, on the flip side, this model year can haul over a lot, making it super reliable and steady. It would be perfect enough for anyone who loves to go on a rocky adventure.
Next is the F-150 2009, which is a little better in design. The horsepower for this model year's engine is 248. The 2009 Ford F-150's larger size means it has a lot of room inside, which leads to excellent comfort and performance: all in one! Also, it's long-lasting and quick, and it includes platinum trim levels on the luxury level.
Ford F-150 2010's
The F-150 2012 has a lot of new features: as time grows older, so does knowledge, thus leading to new vehicle features. Some of these newer features include hill-assist and neutral tow-assist. This model year also has an automatic 4×4, making for a smoother ride.
2012 was one of the first years that Ford allowed buyers to customize the F-150. The '12 F-150 was a pickup that everybody wanted–and still is. It is one of the most popular models. This pickup includes a very comfortable cab and can haul a significant amount. This year also received some of the best reviews out of all truck models that year.
Next is the F150 2014, which offered multiple "super-duty" engines. Some of these engines included:
302 horsepower 3.7-liter V6 engine
365 horsepower 3.5-liter EcoBoost V6 engine, and
411 horsepower 6.2-liter V8 engine
Along with the engines, there were also options for the cabs: single cab and super cab. Owners could choose the cab size based on the number of seats they needed.
Compared to the 2013 F-150, the '14 had better and more reliable ratings. It also had high durability and increased comfort. Some of the advanced technology installed in this model year was a MyFord touchscreen infotainment center and Xenon headlights. Hill-assist and hauling capabilities were noted as well – and there were options for more add-ons and multiple wide-trim selections.
F-150 2018 is probably the least favorite out of all ten, simply because of a few recalls and safety concerns. But, despite this, it is stylish and beautiful. It has high durability and is long-lasting as well. This year was built to own the rough terrains and roads and has great gas mileage.
Conclusion
Any of these years will be a great choice, no matter what a person may decide. Each of the ten models described above is one of the best F-150 models made by Ford so far. It also depends on preference, maybe preferring a newer model over an older one simply for the sake of no CD players.
Even though the 2018 F-150 is considered the 10th best model, you may prefer it due to its improved technology and creature comforts. Whichever F-150 model you choose, these pickups will not disappoint.