The Ultimate Guide To Sleeping And Camping In A Jeep Liberty
This post may contain affiliate links. As an Amazon affiliate, I earn from qualifying purchases.
Many travelers seek ways to stretch their travel budgets, including converting their Jeep to a camper. Can you sleep in a Jeep Liberty? With the cost of gasoline skyrocketing, many road warriors are searching for ways to help defray some of their expenses. Whether you are traveling across the county and the budget is tight or find yourself unable to secure a room for the night, converting your SUV into a sleeper can be a convenient and practical way of saving some serious money. Why spend hours on a smartphone looking at rates and locations when your bed is just a few inches behind you? The money you save on hotel rates can be money for other things, like the high price of Disneyland tickets, so why wouldn't you convert your car into a camper?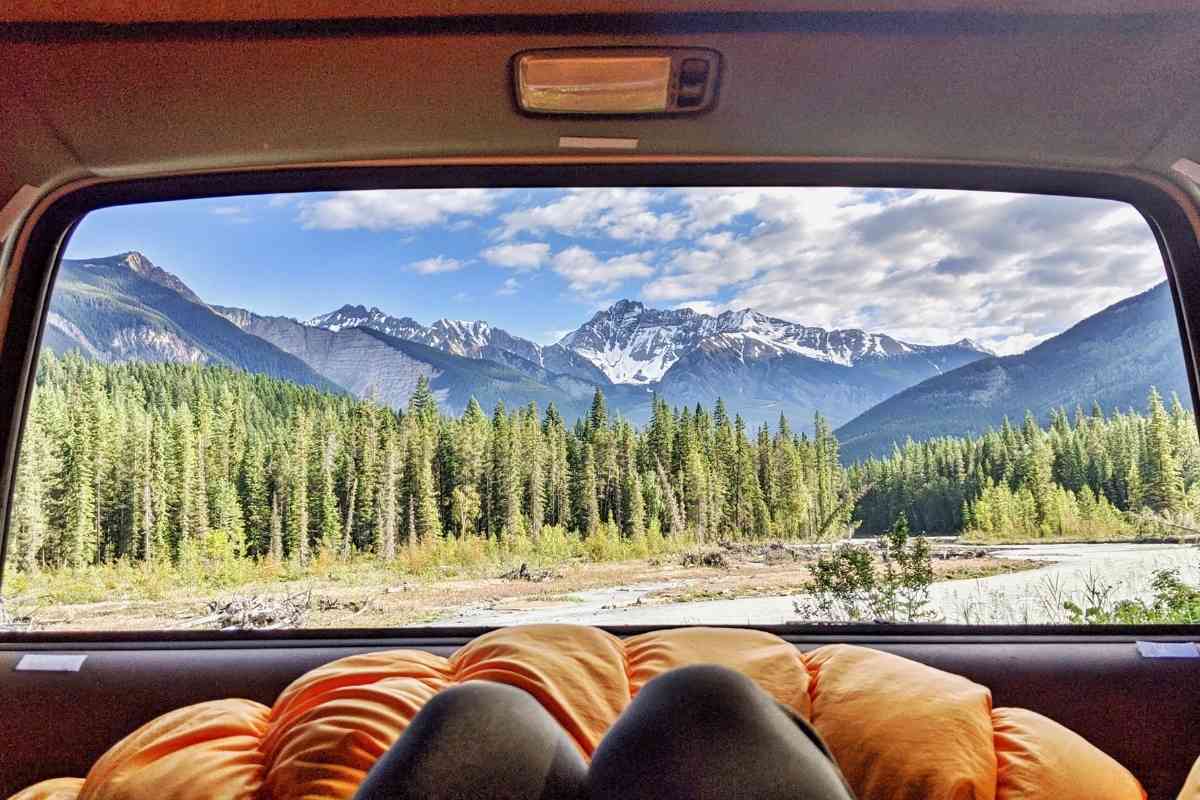 Table of Contents
Can you sleep in a Jeep Liberty?
The Jeep Liberty has about 60 inches of cargo space from the closed hatch to the center console, depending on the trim level. Most air mattresses measure around 70 inches in length, so there is not enough room for a mattress to work effectively.
If you are creative and don't mind sleeping in the fetal position, you can sleep in the back of a Jeep Liberty. Many road warriors are finding ways to adapt foam pads or roll-up mattresses to provide bedding.
Many camping stores sell tent extensions designed to fit onto the hatch area, allowing for privacy and creating extra room.
There are some things you should know about preparing for your trip. Is it legal to sleep in your car? Is it the safest option? What are some things you need to know? Let's explore the world of car camping to see if we can make your travel vacation painless.
What Should I Consider Before Car Camping?
Believe it or not, there are many things to consider before trying to convert your car into a nightly camper.
Is Car Camping Legal?
While there is no federal law against sleeping in your vehicle, many states have restrictions about where and when you can pull over to catch some zzzs.
Some states prohibit sleeping at rest areas at night, while others only allow for a few hours. Don't think you'll just pull off on the shoulder, lock your doors and recline the seats because almost every state reserves the shoulder for emergency use only, not for tired drivers.
It is always best to know the area's regulations to avoid any legal trouble, or at the very least, get your night's sleep interrupted by an officer who wants to put you through a field sobriety test (which he has every legal right to do).. There is also an informative article concerning whether you can sleep in rest areas.
In addition, there is also the fact that most city ordinances supersede state laws. If you are traveling on a scenic highway and stop in a small town for the night, be mindful that many municipalities will not let you camp overnight except in designated areas, like a local campground.
A best practice might be to stop by the police department and inquire where you can park overnight or camp legally.
This action alerts the local PD of your presence, notifies them of your intentions, and demonstrates that you want to be careful not to park anywhere you shouldn't. It also helps you not get your sleep interrupted with a cruiser stumbles on your car parked where it shouldn't be. (Trust me, it isn't worth the hassle).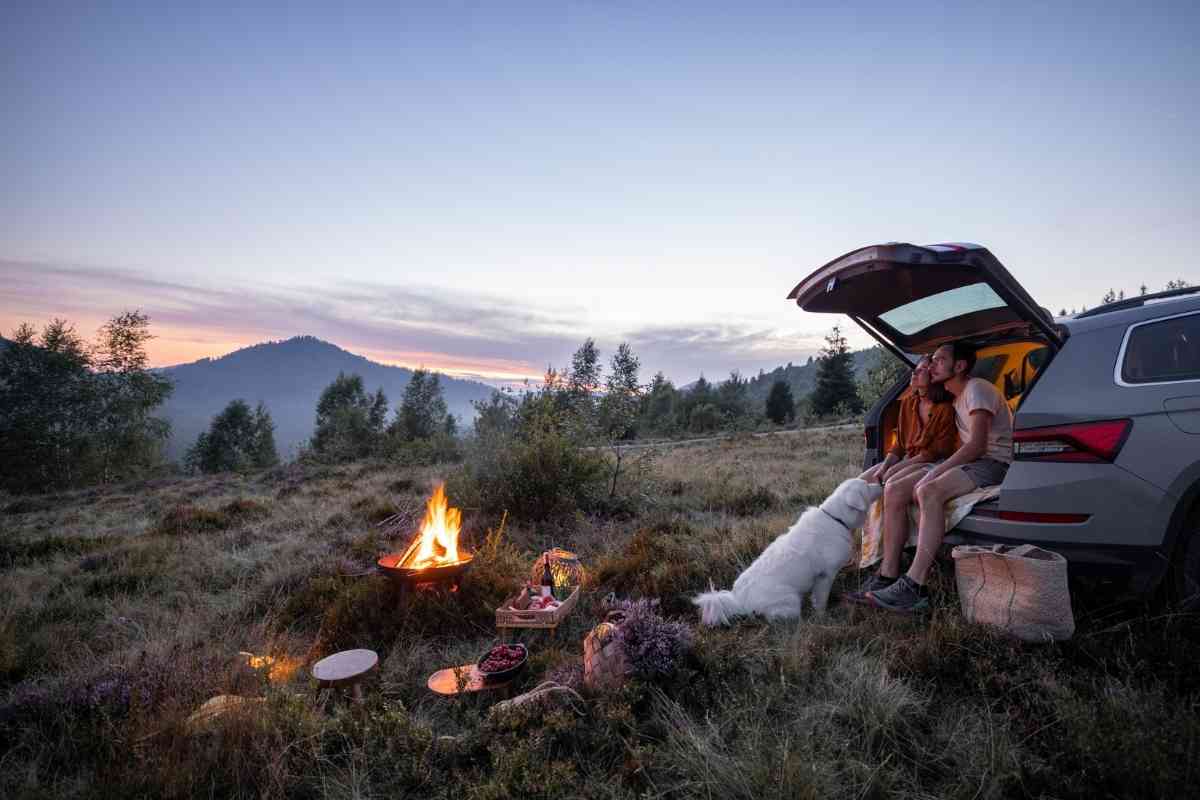 Is Car Camping Safe?
Many road warriors camp in their cars or with tent attachments. Yet, it is essential to be aware of potential security concerns.
Last update on 2023-09-21 / If you click this affiliate link and make a purchase, we earn a commission at no additional cost to you.
Always Choose an Area with Security Services
Many state parks offer camping areas for considerably less money than a motel room. In addition, the National Park Service offers a wide variety of facilities to families, and taking advantage of them is a double win. (You save money staying in a secure site and get to explore some of the most beautiful scenery our country has to offer). For a comprehensive list of National Parks near you, see their website.
Most state parks are patrolled by local law enforcement, while national park rangers patrol campsites several times a night.
Always Have a Charged Cellphone Close By
You'll need to alert the authorities quickly. Having a fully charged cell is essential. It's also good to text someone you know (a relative or friend) each night with your location. It will reassure Mom and Dad you are okay and help them keep track of you.
Always Secure Your Vehicle Before Retiring
While it might seem common sense to turn your engine off or lock your doors, you never want to camp with the car running (no matter how cold it gets). The reality is that carbon monoxide poisoning is real and can kill you in your sleep.
Another best practice is to purchase side window coverings that will keep your privacy paramount. The last thing you want is to have some stranger peering through the side window trying to figure out if there is anything inside your Jeep that they want.
Don't forget to hang a curtain from the ceiling to the seating area just behind the front seats so that no one can see through the front windshield. (I made a black curtain out of some fabric and hung it on a back clothing rod, or you can just purchase a windshield visor that stretches out. Check out this offering on Amazon for an example of a visor that fits a Jeep Liberty.
Last update on 2023-09-21 / If you click this affiliate link and make a purchase, we earn a commission at no additional cost to you.
Be careful not to sleep with windows down or cracked more than an inch or so to provide some ventilation. Anything more than just a crack is an open invitation to thieves to mess with your vehicle.
Is Car Camping in a Jeep Liberty Comfortable?
If you are determined to make sleeping in a Jeep Liberty a thing, you must be prepared to compromise.
Even lying on a diagonal will require most adults to have to curl up to fit. While tent attachments can be placed on the end of the vehicle and the hatch left open, if you don't like your feet hanging off of the edge of the cargo area, then you will need to fashion some other base to support that area and give you enough space. 
Remember, the early models of the Jeep Liberty did not have second-row seats that folded flat, so depending on the year you are driving, this quirk could further compromise your ability to sleep in the rear seats. 
More than likely, you will need to custom-make a foam base or a sleeping pad so that your back doesn't have to endure the hard cargo flooring. Not to mention bring lots of blankets, sleeping bags, and pillows to pad the space.
A Final Thought
While car camping can be a positive experience on many occasions, be mindful that tent camping in less than 40-degree temperatures is brutal for even the most seasoned road warriors. If you are touring a colder climate, do yourself and your loved one a favor and spring for a cheap bed somewhere.
You can rest more securely, take a shower the next morning, and get ready for the next day's adventures. Trust me, everyone else on the road would rather you be well-rested before you get behind the wheel.