Toyota RAV4 Hybrid Tow Capacity: Essential Facts for Drivers
This post may contain affiliate links. As an Amazon affiliate, I earn from qualifying purchases.
The Toyota RAV4 Hybrid is a popular SUV known for its fuel efficiency and versatility. When it comes to towing capabilities, you might wonder what this eco-friendly vehicle has to offer. The RAV4 Hybrid combines the power of a fuel-efficient engine with an electric motor, providing optimal performance and towing capabilities for your outdoor adventures.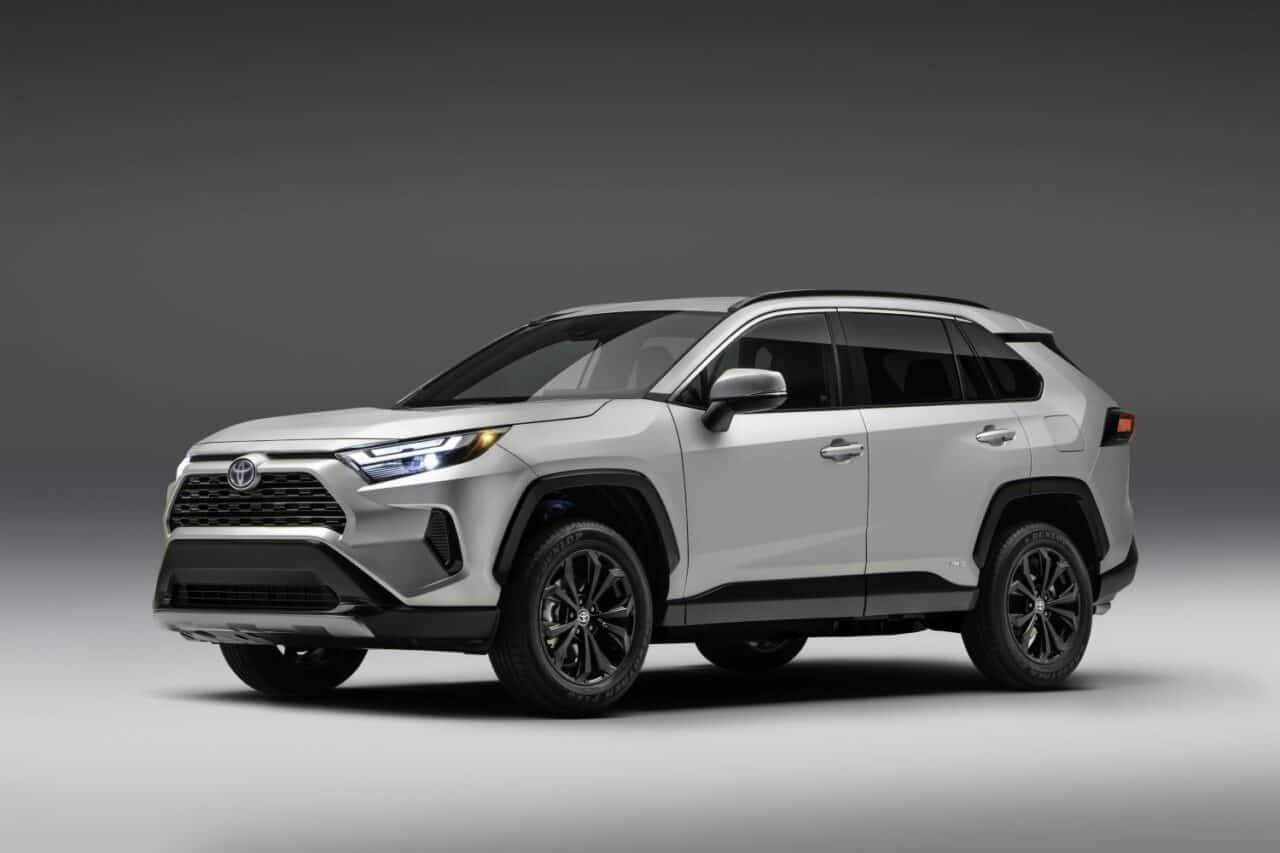 The RAV4 towing capacity is a popular topic, but so are these other articles. Be sure to bookmark them for future reading: can a RAV4 hybrid tow a camper, Toyota RAV4 best year to buy used, and Toyota RAV4 years to avoid!
This article will discuss the towing capacity of the Toyota RAV4 Hybrid and some of the key features that make it a solid choice for those in need of a reliable, efficient, and capable tow vehicle.
Topics such as safety and traction features, trim level comparisons, and additional equipment options will be covered to give you a comprehensive understanding of this practical and popular SUV.
Key Takeaways
Toyota RAV4 Hybrid offers impressive towing capacity for an eco-friendly vehicle.
Various safety and traction features enhance the towing experience.
Trim levels and additional equipment options let you customize your RAV4 Hybrid for optimal performance.
Toyota RAV4 Hybrid Overview
The 2023 Toyota RAV4 Hybrid is popular for drivers who want the benefits of a fuel-efficient, environmentally friendly vehicle without sacrificing power or performance. This versatile SUV combines Toyota's innovative technology with impressive design, making it an excellent option for those who seek a balance of efficiency, performance, and style.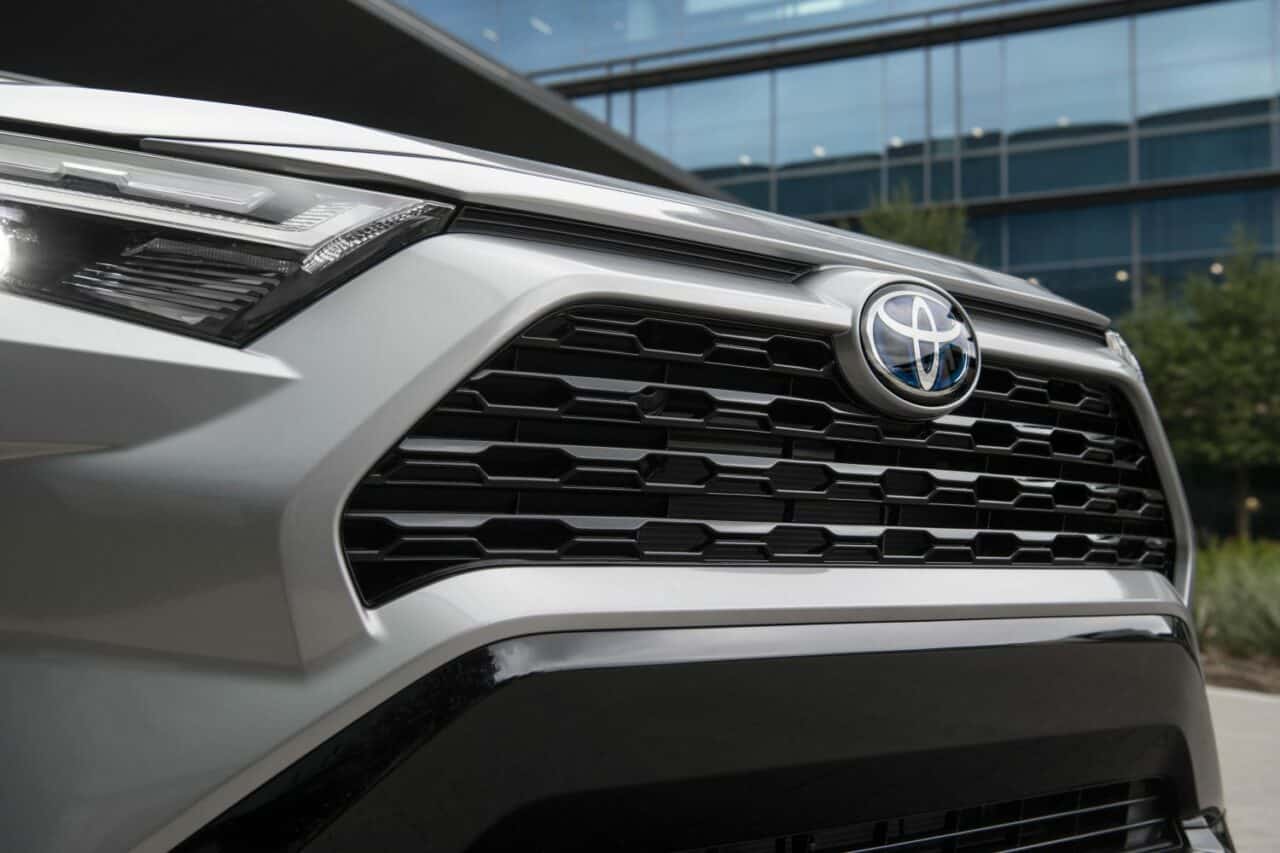 Engine and Specs
Under the hood, you'll find a 2.5-liter inline-4 engine combined with front and rear electric-drive motors, resulting in a total system horsepower of 219.
This hybrid powertrain is paired with an electronically controlled Continuously Variable Transmission (ECVT), providing smooth, seamless gear changes.
The Electronic On-Demand All-Wheel Drive (AWD) system ensures that you have the traction and handling necessary for a variety of driving situations.
| Engine | Horsepower | Transmission | Drivetrain |
| --- | --- | --- | --- |
| 2.5L Inline-4 & Electric Motors | 219 | Continuously Variable Transmission (ECVT) | Electronic On-Demand All-Wheel Drive |
MPG and Performance
When it comes to fuel efficiency, the RAV4 Hybrid delivers outstanding numbers. With an EPA-estimated 41 MPG in the city and 38 MPG on the highway, you'll be able to travel long distances between fill-ups and save money at the pump.
The RAV4 Hybrid's impressive fuel economy does not come at the expense of performance, as its AWD system and powerful engine provide responsive acceleration and stable handling.
If you need to traverse various terrains, the RAV4 Hybrid also offers a ground clearance of 8.1 inches, enabling you to easily tackle various off-road or urban challenges.
| Fuel Economy (City/Highway) | Ground Clearance |
| --- | --- |
| 41/38 MPG | 8.1 inches |
In summary, the 2023 Toyota RAV4 Hybrid provides you with the perfect blend of efficiency, performance, and environmentally friendly driving. With its powerful engine, advanced transmission, and excellent fuel economy, you can confidently navigate your daily commute or weekend adventure.
Towing Capacity Details
Payload Capacity
Your Toyota RAV4 Hybrid has a decent payload capacity to handle your cargo and passenger needs. The vehicle's payload capacity is 4,920 lbs, allowing you to comfortably load up your car with passengers and their belongings for all kinds of adventure trips.
Towing Package Contents
The Toyota RAV4 Hybrid comes with a towing package that helps enhance its overall towing capabilities. With a maximum towing capacity of 1,750 lbs, the vehicle is well-suited for pulling small trailers and campers.
The RAV4 towing package includes the following essential elements:
Trailer Sway Control: This feature helps maintain stability while towing, preventing the trailer from swaying excessively and ensuring a safer towing experience.
Tow hitch receiver: A sturdy tow hitch receiver is provided to seamlessly attach the towing equipment to your RAV4 Hybrid.
Wiring harness: A reliable wiring harness connects your vehicle's electrical system to the trailer's, providing crucial functions like braking and signaling.
When planning any towing adventure, consider your Toyota RAV4 Hybrid's towing capacity and payload limitations. Always ensure that your towing equipment is installed correctly, and remember to stay within the vehicle's limits for safe and smooth towing experiences.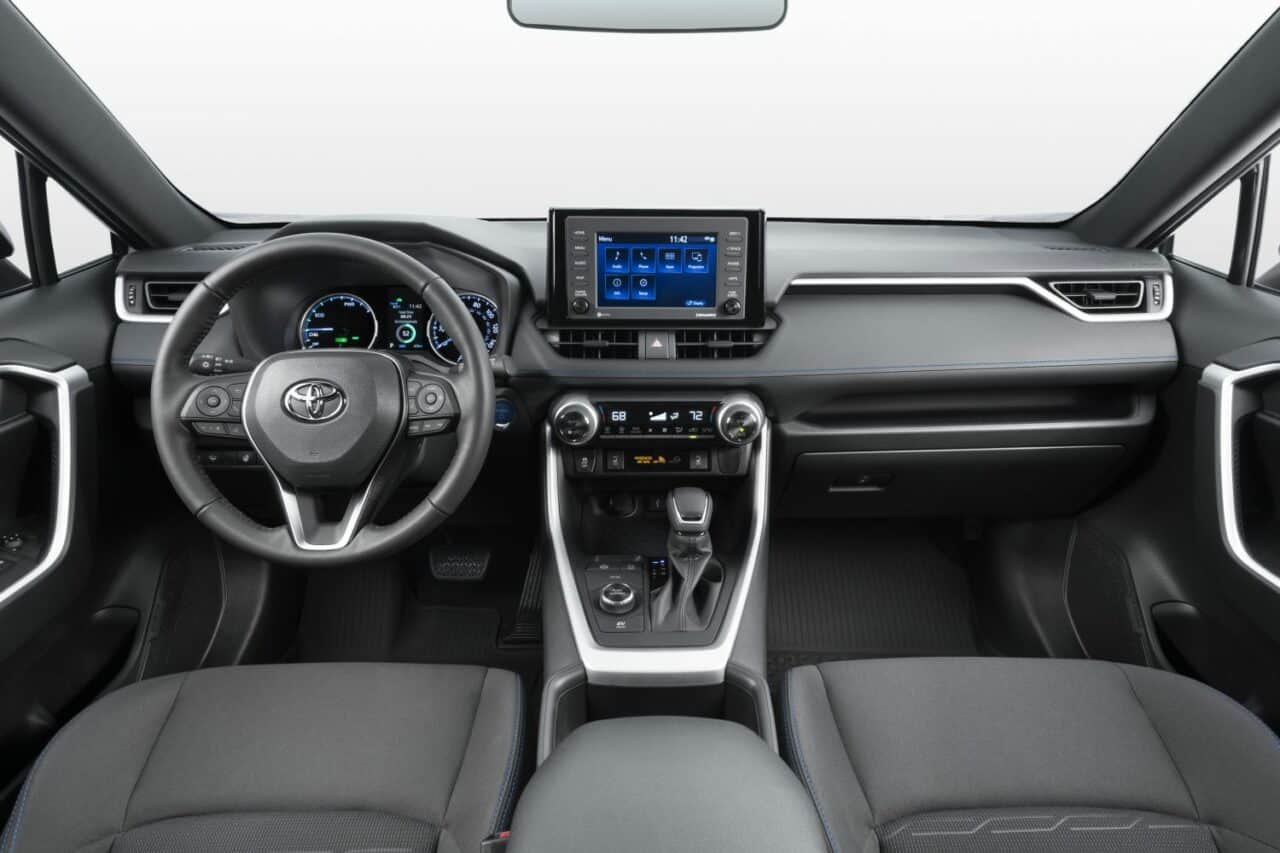 Safety and Traction Features
Stability Control Systems
Your Toyota RAV4 Hybrid is equipped with advanced stability control systems, which significantly keep you safe on the road. The vehicle features Toyota Safety Sense™ 2.0 (TSS 2.0) 1 that offers a comprehensive set of active safety features designed to help you avoid collisions.
One of the essential components in this package is the Traction Control system, which helps prevent wheel slippage on slippery or uneven surfaces. Additionally, your RAV4 Hybrid comes with a 4-Wheel ABS system that helps you maintain steering control while braking, further enhancing your vehicle's overall stability.
Off-Road Capabilities
If you're looking to take your RAV4 Hybrid off the beaten path, you'll be happy to know that it has some impressive off-road features. The vehicle's Electronic On-Demand All-Wheel Drive (AWD)1 provides added confidence and all-weather capability when venturing off-road.
Some RAV4 Hybrid models even offer a TRD Off-Road package, further enhancing the vehicle's rugged performance capabilities.
Your RAV4 Hybrid's off-road features include:
Stabilizer Bar: This component helps minimize body roll when tackling rough terrain, ensuring a smoother and more comfortable ride for you and your passengers.
Hill Start Assist Control: This feature helps prevent your vehicle from rolling backward when starting on a steep incline.
If you're curious about your Toyota RAV4 Hybrid's towing capacity, be aware that it has a maximum towing capacity of 1,750 pounds2, which is suitable for pulling smaller trailers, boats, or recreational equipment.
Just remember that while your RAV4 Hybrid has excellent safety and traction features, it's essential to consider the vehicle's limitations before tackling challenging off-road situations or towing heavy loads.
Comparing Trim Levels
LE and XLE
When looking at the LE and XLE trims, you'll find that both come equipped with hybrid powertrains, boosting your vehicle's fuel efficiency.
The LE trim serves as the base model, providing standard features such as LED headlights, a 7-inch touchscreen display, Apple CarPlay, and Android Auto compatibility.
The XLE trim offers more upscale touches, including blind-spot monitoring, heated side-view mirrors, and a power-adjustable driver's seat. In terms of performance, both trims feature the same 2.5-liter 4-cylinder engine and two electric motors, producing a combined 219 horsepower.
SE and Limited
In contrast, the SE and Limited trims bring a bit more luxury to your driving experience. The SE trim offers sporty exterior elements like a unique front grille, 18-inch alloy wheels, and a sport-tuned suspension.
Meanwhile, the Limited trim level focuses on luxury and advanced technology, with features like a JBL sound system, 8-inch touchscreen display, and a hands-free power liftgate.
Additionally, the Limited model comes standard with Toyota's Safety Sense 2.0 suite, encompassing advanced driver assistance technology.
Adventure and Prime
The Adventure and Prime trims cater to the more adventurous driving experience. The Adventure model is equipped with off-road-ready features, such as a standard all-wheel-drive system, larger fender flares, and a high-resolution surround-view camera for easy navigation in rough terrain.
On the other hand, the RAV4 Prime is a plug-in hybrid variant with an impressive 3,500-pound towing capacity, allowing you to confidently haul light campers and trailers. This model also offers an advanced all-wheel-drive system for improved traction and stability on various road surfaces.
Remember, choosing the right trim level for your Toyota RAV4 Hybrid will ultimately depend on your preferences, but this comparison should help guide your decision for the best driving experience tailored to your needs.
Dimensions and Exterior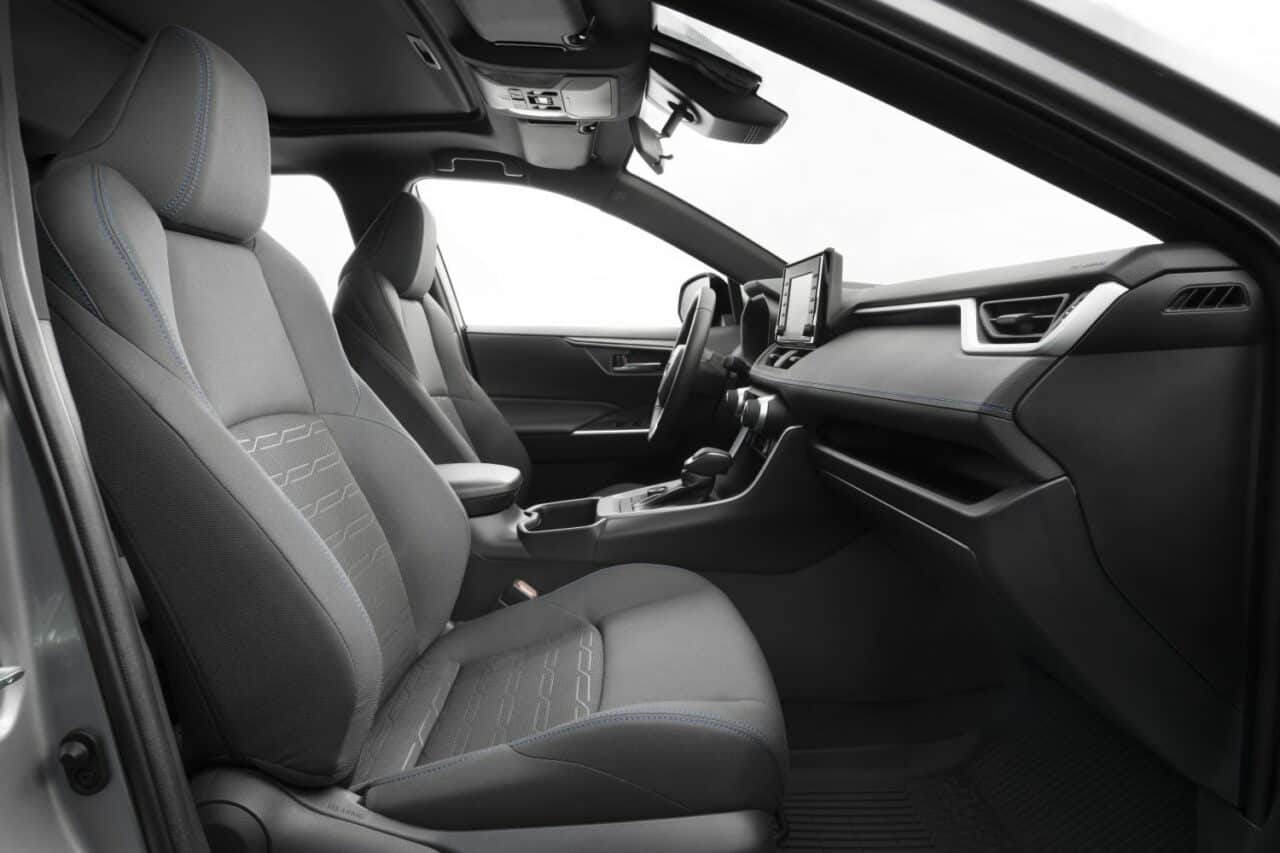 Ground Clearance and Measurements
When it comes to the Toyota RAV4 Hybrid, ground clearance is an important factor for navigating various terrains and ensuring a smooth ride for all passengers. The hybrid model offers a ground clearance of 7.0 inches, which should be sufficient for most on-road and light off-road situations.
The overall dimensions of the RAV4 Hybrid are as follows:
Length: 180.9 inches
Width: 73.0 inches
Height: 67.0 inches
Wheelbase: 105.9 inches
Body and Design Elements
The body of the Toyota RAV4 Hybrid showcases a modern and stylish design that sets it apart from other vehicles within the RAV4 family.
Key design elements include a sleek front fascia featuring bold LED headlights and an aggressive grille that lends an air of sophistication to the vehicle. The Limited trim adds a touch of luxury, featuring chrome accents and larger alloy wheels.
The exterior of the RAV4 Hybrid can be personalized with different color options, allowing you to find one that suits your taste. Furthermore, the aerodynamic design not only enhances fuel efficiency but also contributes to a quieter ride, making for a more enjoyable driving experience.
| Trim | Body Highlights | Wheel Size |
| --- | --- | --- |
| Hybrid LE | Projector-beam LED headlights, integrated roof rails | 17-inch alloy |
| Hybrid XLE | LED projector headlights, fog lights | 17-inch alloy |
| Hybrid Limited | Chrome-accented grille, power liftgate, hands-free access | 18-inch alloy |
Remember that the RAV4 Hybrid is designed to maximize performance without compromising on comfort. The combination of exterior dimensions, ground clearance, and body features make it an attractive vehicle and a practical choice for both urban and more adventurous driving needs.
Technology and Connectivity Features
Infotainment Systems
The Toyota RAV4 Hybrid has a user-friendly infotainment system that offers an enjoyable experience for drivers and passengers.
With an available 8-inch touchscreen display, you can easily navigate through numerous features like audio controls, climate settings, and navigation maps.
To enhance your driving experience, the RAV4 Hybrid also offers voice recognition capabilities, allowing you to access these functions without taking your hands off the steering wheel.
Smartphone Integration
In addition to its impressive infotainment system, the Toyota RAV4 Hybrid offers seamless smartphone integration for both Android and Apple users.
With Android Auto and Apple CarPlay integration, you can connect your smartphone to the vehicle and access your favorite apps, make calls, send messages, and stream music directly from the infotainment system. Here are a few more details about each integration:
| Smartphone Integration | Features |
| --- | --- |
| Android Auto | Access Google Maps, Google Assistant, Google Play Music, and manage phone calls and messaging |
| Apple CarPlay | Access Apple Maps, Siri, Apple Music, and manage phone calls and messaging |
In conclusion, the Toyota RAV4 Hybrid offers an array of technology and connectivity features to enhance your driving experience, ensure safety, and keep you entertained during your journey.
Additional Equipment and Information
Towing Accessories and Installation
When you're planning to tow with your Toyota RAV4 Hybrid, having the necessary towing accessories is essential. Firstly, visit your local Toyota dealer to ensure your vehicle is equipped with the appropriate towing package. This package includes a tow hitch, wiring harness, and ball mount.
You may also consider installing a strut if your RAV4 Hybrid doesn't have one. A strut is a component that helps stabilize your vehicle's suspension system, enhances ride quality, and provides extra support when towing.
Remember that proper installation of towing equipment is crucial for safety and performance. If you're not experienced with installing towing accessories, it's highly recommended to let a professional handle the installation.
Warranty and Maintenance
For your peace of mind, your Toyota RAV4 Hybrid comes with a 3 yr./36,000 mi. basic warranty, which includes the towing package. Regular maintenance is vital for the longevity of your vehicle and the reliability of its towing capabilities.
Here's a brief overview of items to consider for regular maintenance:
Fuel: Ensure your RAV4 Hybrid runs on regular unleaded fuel, as recommended by Toyota.
Suspension: Inspect and maintain your vehicle's suspension system to improve stability when towing.
Tires: Regularly check tire pressure and condition for safety and to optimize fuel efficiency.
Brakes: Examine brake pads, rotors, and fluid levels to maintain optimal stopping power.
Understanding the additional equipment and information required for towing with your Toyota RAV4 Hybrid is crucial for a safe and enjoyable towing experience. Equipping your vehicle with the appropriate towing package and ensuring regular maintenance to protect your investment and ensure a reliable towing experience is essential.
Frequently Asked Questions
What is the towing capacity of the RAV4 Hybrid?
The towing capacity of the Toyota RAV4 Hybrid is 1,750 pounds 1 for the 2023 model year. Keep in mind that the towing capacity can vary depending on the specific model and trim of your RAV4 Hybrid.
Can a RAV4 Hybrid tow a camper?
Yes, a RAV4 Hybrid can tow some lightweight campers. However, since its maximum towing capacity is 1,750 pounds, you should ensure that the camper, passengers, and cargo do not exceed this limit. Always check the specific weight of your camper and consider additional weight like gear and supplies, before hitching.
Which RAV4 models have the highest tow capacity?
Non-hybrid RAV4 models tend to have a higher towing capacity compared to their hybrid counterparts. For instance, a gas-powered RAV4 can tow up to 3,500 pounds, depending on the engine and year. Make sure to check your RAV4's owner's manual for the towing capacity for your specific model and trim.
How does the RAV4 Hybrid compare to other RAV4s for towing?
Regarding towing capacity, the RAV4 Hybrid has a lower rating than non-hybrid models like the gas-powered version. The RAV4 Hybrid's 1,750-pound capacity is still suitable for lightweight campers, motorcycles, or scooters. Still, when it comes to towing heavier items, the gas-powered RAV4 with a 3,500-pound capacity might be a better fit for your needs.
Does the RAV4 have a towing package option?
Though not standard, some RAV4 models and trims might offer a towing package as an optional feature to enhance your towing capabilities. You should consult your local Toyota dealer or your RAV4's owner's manual for specific information on available towing packages for your vehicle.
What factors influence the RAV4 Hybrid's towing capacity?
Several factors can influence the RAV4 Hybrid's towing capacity, including its engine type, drivetrain configuration, suspension, and additional accessories such as a towing package. Remember that exceeding your RAV4 Hybrid's towing capacity could lead to damaging your vehicle or compromising its performance and safety, so always ensure your load is within the specified limit.