The Toyota RAV4 comes in different trims depending on client preferences. So, if you plan to get a budget-friendly option or a vehicle for your outdoor activities, this car model offers you plenty of choices.
If you want to purchase a RAV 4 vehicle, you should avoid the car models below 2016. Toyota RAV 4 models, particularly those released between 2006 and 2008, have excessive oil consumption and steering and engine problems.
So, if you're looking to purchase RAV 4 vehicle, you need to know that every year since the start of its production has its issues except for the newer models. Here's a breakdown of the different RAV 4 generations and issues to watch out for.
Which Year Ranks as the Best for RAV 4?
The best years to purchase RAV 4 are between 2016 and 2018. The 2018 models rank highly in reliability and have very few recalls.
RAV 4 Production and the Years to Avoid
Over the years, there have been significant improvements in RAV 4. Different advanced features have caused the latest generation of vehicles to have fewer issues than the predecessor.
Here's a breakdown of different RAV 4 generations and whether or not you should avoid them.
5th Generation RAV 4
The 5th generation RAV 4 Models are the vehicles released between 2019 and the present. You would expect to have this vehicle model on your "avoid" list because it's fairly modern. However, it comes with plenty of issues you should know about.
Most people who own the 2019 RAV 4 models admit that they've experienced issues like loud acceleration, slow speeds, and gear slippage. Some vehicle owners even state that the tank doesn't read fuel consumption when the tank is three-quarters full.
4th Generation RAV 4
The production of this RAV 4 model lasted between 2013 to 2018. During this time, there were a lot of changes to the RAV 4. One of the most notable is the inclusion of the liftgate. They also replaced the 3.5l V6 with the 2.5l L4 mated automatic transmission.
Compared to the first and second-generation models, this RAV 4 is considerably smaller. This model's standard equipment includes a reclining second-row seat, telescoping steering wheel, and power-folding mirrors.
Under the 4th generation RAV 4 models, you should avoid the 2013 option. While the reliability of the RAV 4 was rated at five, it's the year that had over 140 complaints, with the most notable being that of safety concerns.
Some people even admit that their vehicle can suddenly speed up and won't stop even after braking. The 2016 and 2017 models received top ratings for their safety. It's important to note that 2016 to 2018 are the best for this generation because they received a major facelift.
3rd Generation RAV 4
This generation of RAV 4 experienced many issues that you should address quickly. Since Toyota began to develop the RAV 4 models, 2008 RAV 4 was considered the worst year model. The car models from 2006 to 2008 experienced many issues like steering and exhaust problems. There were also cases of transmissions and engine issues.
Besides the issues this model was experiencing, there were plenty of additions from the previous generations. For example, it was the first car constructed on elements it shared with the corolla. Some of the key features in this generation include an electronic power steering and a 269 hp V6 engine.
In this RAV 4 generation, you should avoid models from 2006 to 2018. The RAV 4 models from 2009 to 2012 are better alternatives. Unlike its predecessors, this generation was considered the safest as it scored highly in the side and front overlap test. The other great feature of RAV 4 models released after 2009 is that they featured safe active headrest restraint, which significantly improved from the previous models.
A notable downside of the 3rd generation RAV 4 is that they have a weak roof strength. This is because of its large dimension, making it challenging to keep rigid in case of an accident. Regardless, this is the generation where the RAV 4 scored more in reliability than any other generation. Between 2006 and 2008, there were 600 complaints every year per model.
Nearly half of the complaints were due to defective steering shafts, while 15% of the cases were due to burning excessive oil. Toyota used its complaints from 2006 to 2008 to improve its reliability. They managed to cut the complaints by half due to a better engine and other safety features improvements.
2nd Generation RAV 4
One of the major downsides of the RAV 4 in this generation is that they experienced many issues, particularly a faulty engine computer. This impacted the way this car vehicle's automatic transmission shifts. If you plan to get this car model, you should know that the aftermarket parts are readily available. However, ensure that you check the ratings before you can buy them.
In this RAV 4 generation, leaks in the valve seals caused grey and blue smoke during startup. This vehicle model also came with plenty of changes, with the most notable being a wider, taller, and longer tail. This is also the RAV 4 generation with large cabin space and engine capacity. Another noteworthy addition during this year is the inclusion of stability control.
1st Generation RAV 4
This RAV 4 generation was released for the first time in 1995 and ended up in the showroom in 1996. A unique aspect of this first generation is that it was highly customizable. When purchasing your RAV 4, you could choose a two or four-door car and an AWD or FWD. There was also the option for a four-speed or five-speed automatic transmission.
This first-generation car had rugged looks compared to the succeeding models, and one of the major problems was under-inflating airbags. However, Toyota resolved this concern after the 2000 year models. The first generation of RAV 4 was reliable, with only 60 complaints reported. The spare parts for this model are readily available, and the ones you should avoid are those that the owners don't regularly maintain.
The best models in this generation are from 1998 as they have seven horsepower and the cabin is quieter. Note that Toyota discontinued the convertible option in 2000. So, if you want to enjoy a RAV 4 with a sunroof, you should consider the 1998 or 1999 models.
Final Thoughts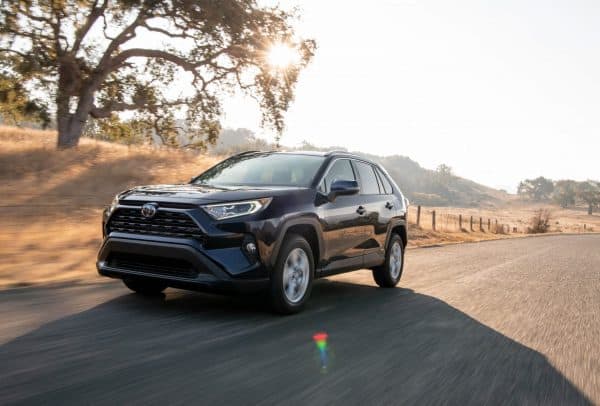 The Toyota RAV 4 has remained the safest and most reliable SUV vehicle throughout its production life. However, there have been models that have performed more exemplary than others.
If you're looking to purchase an old or new RAV 4 car, there are models you should avoid purchasing. The first generation of these luxury SUV vehicles performed well as they had minimal issues.
Some of the models you would want to avoid or take precautions when buying are the years 2006, 2007, and 2008. These are the years of the RAV 4 production that experienced many issues like steering problems and excessive oil consumption.