RAV4 Camping: Can You Sleep In A Toyota RAV4?
This post may contain affiliate links. As an Amazon affiliate, I earn from qualifying purchases.
Car camping and overlanding have become popular topics in recent years. YouTube is full of channels where people travel and live out of the back of their SUV. This got me thinking about what SUVs you can sleep in while traveling.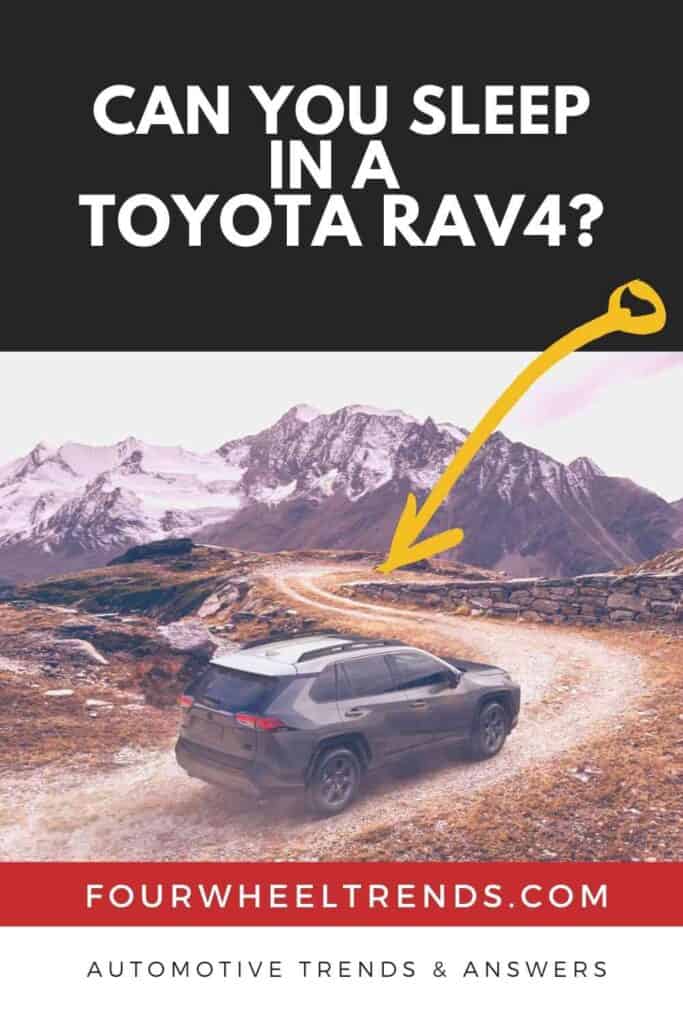 After a little searching around forums and the web, I saw a lot of questions asking if you can sleep in a Toyota RAV4. So that sent me in search of answers.
Here is what I learned about sleeping in a Toyota RAV4.
Can You Sleep in a Toyota RAV4?
Yes, you can sleep in a Toyota RAV4 because you can fold the seats down and take advantage of the RAV4's 73.4 cubic feet or space.
You might be thinking, "Okay, you can sleep in any car," and you would be right. While it might be more comfortable to sleep in some cars compared to others, you technically can sleep in your car. You can technically sleep anywhere.
What makes the Toyota RAV4 an excellent SUV to sleep in is its spacious cargo space. The Toyota RAV4 has a maximum cargo capacity of 73.4 cubic feet. So if you bring all the seats down, then that will give you a very, very spacious sleeping situation.
If you want to have a more restful and comfortable sleep, we would recommend bringing some bulky blankets or even a sleeping pad or bag.
The Toyota RAV4 is a very spacious and roomy car to sleep in, and if you are still unsure by the idea because you are a taller individual then rest assured that you will also feel comfortable.
In fact, an owner of a Toyota RAV4 notes that despite being six feet tall, he can sleep fine in his Toyota RAV4. If you are interested in the video, please feel free to check it out:
Can I Bring My Toyota RAV4 Camping? Would it Be Comfortable?
If this idea excites you and you want to know if you can bring your Toyota RAV4 camping, the answer to that question is yes. The Toyota RAV4 is excellent for camping.
If you are planning on taking your Toyota RAV4 camping, we would recommend buying an SUV tent to sleep in versus just a sleeping bag or some blankets. The reason for that is because some bulky blankets and a sleeping bag are fine if you need something quick and easy but if you are planning on spending nights out in nature, then SUV tents are the way to go.
If you are interested in learning more about SUV tents, we will introduce them in the next section.
Sleeping On top of Your Toyota RAV4| Introducing SUV Tents
Okay, you are probably asking yourself, "Why would I want to sleep on top of my Toyota RAV4 when I can just sleep inside of it?" You might also be intrigued by the idea but find it quite dangerous and now you are unsure.
Truth be told, we understand your dilemma but rest assured that SUV tents are not a new intention that has been tested. They have been quite a hit in many places, especially Australia.
They are just starting to infiltrate into the United States which is probably why campers who use SUV tents get strange looks from onlookers but give it some time, and it will become a part of the norm.
So What Are SUV Tents?
SUV tents are quite straightforward and as the name implies, they are tents that attach to the back of your SUV.
There is a specific SUV tent called hatchback tents that is attached to the back of your SUV using restraining straps that fastens to the wheel wells and elastic band around the back of your SUV. Just think of these hatchback tents as an extension of your vehicle's trunk space.
SUV tents are quite easy to set up because they are pretty straight forward. Even if it is your first time setting one up, do not worry because you will get the hang of it. If you feel uneasy about installing it for the first time, then there are plenty of videos and tutorials online that will be able to help you.
If you are more of a reader then there are also plenty of great articles that will walk you through the process, step by step as well.
Looking into Buying an SUV Tent?
If you are looking into buying an SUV tent, then we would highly recommend these three brands below. Please note that while there are plenty of SUV tents out there (and plenty more that will come out in the future since they are so popular and are in great demand), these are the ones that we recommend of the ones that are currently available on the market.
First on our list is the Rightline Gear SUV Tent.

The Rightline Gear SUV Tent is great because it attaches to your vehicle's trunk and it uses an adjustable sleeve. The adjustable sleeve is great because you can use the additional cargo space for added gear storage.
The Rightline Gear SUV Tent's steel and fiberglass pole structure also gives it great strength to withstand harsh conditions such as strong winds.
The Napier Outdoors SportZ SUV Family Tent is a great choice because like the name implies, it is great for families or bigger groups.

The Napier Outdoors SportZ SUV Family Tent is big enough to fit six adults and it provides 7 (2.1 m) of headroom.
This means that it is large enough to accommodate taller individuals.
The Napier Outdoors Backroadz SUV Tent is a super roomy tent. It can fit up to 5 adults and it also has 7 feet of headroom for added comfort.

This tent has a sleeve that can also be used on minivans.
Another great bonus about the Napier Outdoors Backroadz SUV Tent is that it has a large side awning that is great for lounging and relaxing on warm, sunny days. It is also great because it provides plenty of ventilation during heat waves.
The Napier Outdoors Backroadz SUV Tent is a great choice whether you are traveling with a bigger family or if you are traveling alone or with another person but you prefer more room, then the Napier Outdoors Backroadz SUV Tent is a great choice for you.
In Conclusion | Sleeping in Your Toyota RAV4
The Toyota RAV4 is an excellent vehicle to sleep in if you want to take it camping or if you are road tripping and realizing halfway through that you should have gotten that extra cup of coffee because you are starting to feel drowsy…remember that if you or your driver is starting to feel drowsy, there is nothing wrong will pulling over somewhere and calling it a night.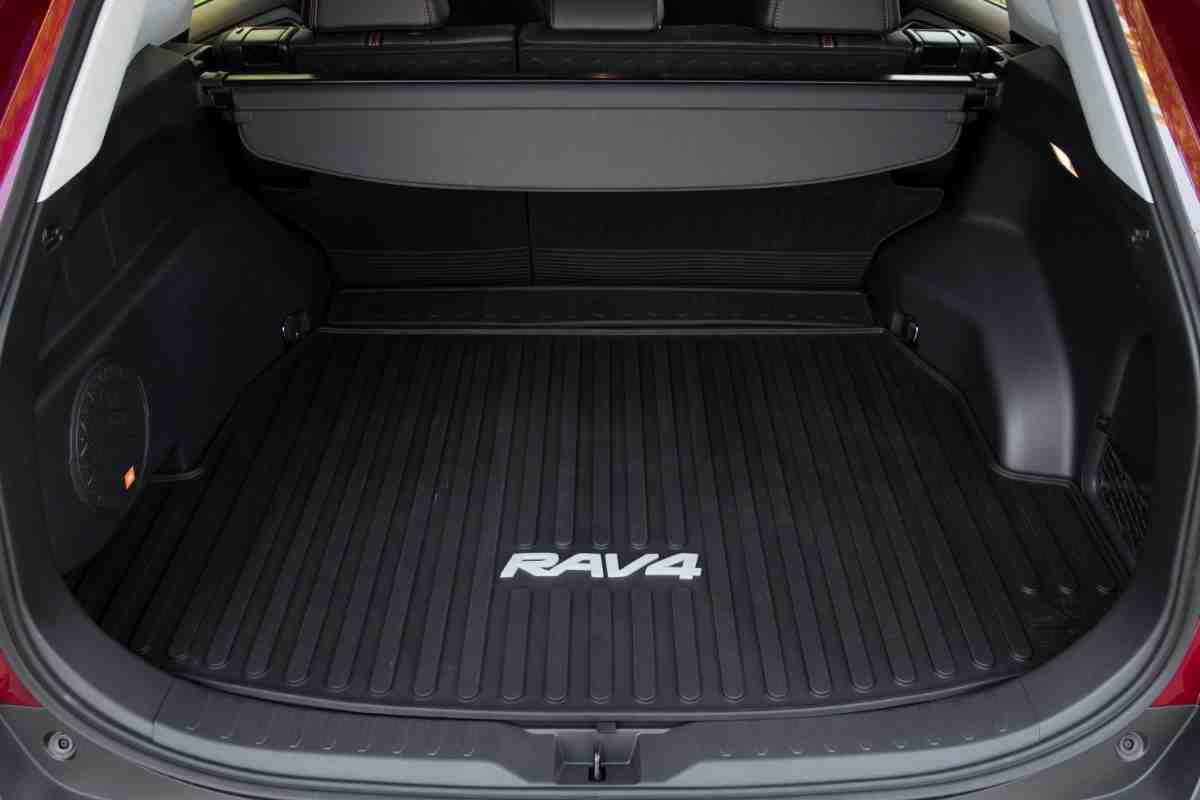 While you can book a room in a hotel, there are reasons why you might not want to. For example, the closest hotel is miles away, in the opposite direction.
Or the price for a night is ridiculously high or maybe you just need a few hours and nothing more and do not want to lose the progress you have made.
Either way, it is better to pull over somewhere and rest than to continue driving and cause an accident. As always, please be well aware of parking signs as there will be places where you cannot park your Toyota RAV4.
Related RAV4 Articles
If you found this article helpful, be sure to review these additional RAV4 articles! This is just a small portion of the articles we have here on fourwheeltrends.com related to the Toyota RAV4. It's one of our favorite vehicles for a good reason!
If you own a Toyota RAV4 and wanted to take it camping or if you own one and you are just wondering if it will be comfortable to sleep in, we hope you found this article informative.