The Toyota RAV4 is quite a popular SUV, despite the fact that it is on the smaller side. It is so great in fact, that when Toyota released the all-new 2021 Toyota RAV4, there was not any big, significant change from the 2020 Toyota RAV4. Some people might call it lazy on Toyota's part to release a new model that is almost identical to the prior year's model, but others might see it as promising because that meant the Toyota RAV4 is great just the way it is. However, despite its size, many drivers want to buy the Toyota RAV4 for its towing capacity and if that towing capacity is not impressive…well then, they might want to reconsider.
So just how much can the Toyota RAV4 tow? Can a Toyota RAV4 tow a camper? Well, let's find out, shall we?
About the Toyota RAV4
Before we dive into the specifics of the Toyota RAV4's towing capacity, let's talk about the actual small SUV itself. We know that the Toyota RAV4 has made a name for itself, but have you ever wondered why?
Here are a few reasons why many people, not just Toyota fans, are loving the RAV4.
Super easy to use controls
Sometimes simple is best. When you have a brand new car, sometimes it is fun to take the time and explore the vehicle. To press all of its buttons to speak but other times, it can give you quite a headache if it takes you over an hour to figure out how to connect your phone to your car. Customers have commented on how user-friendly the Toyota RAV4 is and how much they appreciate it.
Quiet interior:
Is there anything more relaxing than driving in heavy traffic but not being able to hear all the sounds of it? With the Toyota RAV4, you will be able to experience that.

Customers have commented on how quiet the ride is so you can rest assured you will not be bothered by the loud noises of the city or highway traffic.
Spacious cargo and passenger space:
Having a lot of cargo space is always a bonus because even if you do not need it every day, it is nice to know that it is there.

The spacious passenger space is also a great bonus. Sometimes, the driver gets a lot of space and is very comfortable but unfortunately, that cannot be said for the passengers. With the Toyota RAV4, you can rest assured that your passengers will be just as comfortable as you. The only downside is that since the passenger seats are so comfortable, do not be surprised if you will be designated as the primary driver for road trips because everyone wants to ride in your car.
How Much Can a Toyota RAV4 tow?
How much your 2021 Toyota RAV4 can tow is ultimately decided by what kind of model you opt for. As mentioned above, the Toyota RAV4 has three different model choices for you to choose from: the LE (base model), LE Hybrid, and lastly, XLE.
Down below are their respective towing capacities:
Toyota RAV4 LE

1,500 lbs (towing capacity in lbs).

Toyota RAV4 LE Hybrid

1,750 lbs (towing capacity in lbs).

Toyota RAV4 XLE
Toyota RAV4 XLE Hybrid

1,750 lbs (towing capacity in lbs).

Toyota RAV4 XLE Premium

1,500 lbs (towing capacity in lbs).

Toyota RAV4 Adventure
Toyota RAV4 XSE Hybrid

1,750 lbs (towing capacity in lbs).

Toyota RAV4 Limited

1,500 lbs (towing capacity in lbs).

Toyota RAV4 Limited Hybrid

1,750 lbs (towing capacity in lbs).
As you can see, the Toyota RAV4 did not skimp out when it comes to their different models. With a variety of choices to choose from, there is a Toyota RAV4 for everyone. For more information on each model as well as engine type and specs, we would recommend checking out the Toyota website.
Also keep in mind that while Toyota offers all of these different models, some dealerships might not have all of these different models in stock. Your best bet would be to give your local Toyota dealership (or a used car shop) a call before heading down.
Usually, if your local dealership does not have the particular model (or models) you are interested in, they will be able to get it transferred from another dealership for you.
Different Types of Campers
Before we dive into the different types of campers available and their overall weight, we wanted to answer a common question amongst many users.
Many people seem to get campers and recreational vehicles (RVs) confused and we can understand why. At first glance, they both seem very similar but they also have some differences well.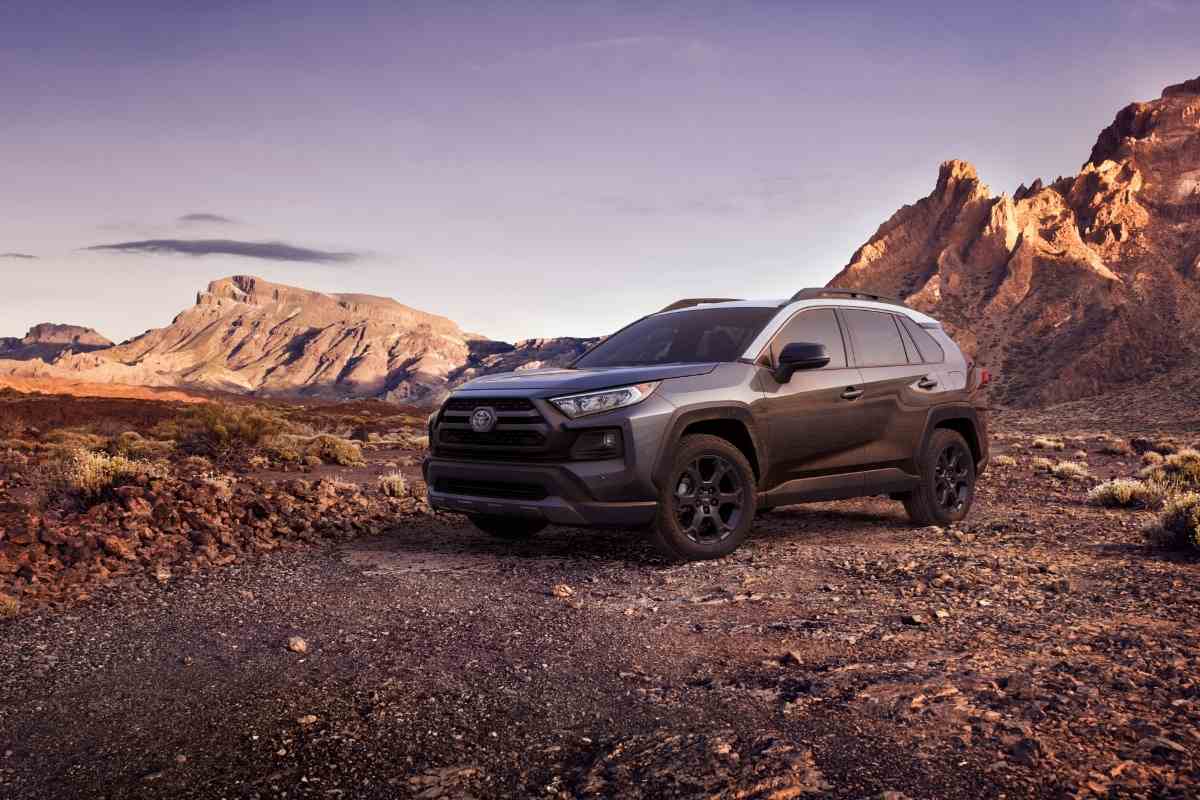 For example, when people refer to recreational vehicles, the majority of the time they mean a motor vehicle or a trailer equipped with some of the amenities of home. Think of the term, "home-away-from-home" here.
For campers, they are referring to trailers that are towed by trucks, or sometimes campers are even riding on the back of trucks. Campers consist of trailer trailers, truck campers, popups, and much more.
Different Types of Campers
Pop-up Trailer

Size: 8 to 16 (length in feet).

Weight: 600 lbs to 4,000 lbs.

Teardrop Trailer

Size: 4 to 6 (length in feet)

Weight: 520 lbs to 2,500 lbs.
Generally speaking, the Toyota RAV4 can tow between 1,500 lbs and 1,700 lbs which is not bad but it is also not ideal for towing bigger campers.
For example, of all the Toyota RAV4 models, the model that can tow the most weight is the Toyota RAV4 Adventure. The Toyota RAV4 Adventure can tow 3,500 lbs which are great.
That means if you get a teardrop trailer then the chances of your Toyota RAV 4 being able to tow it is very high.
The same can be said for the pop-up trailers but if you end up finding a pop-up trailer that you like but it is on the heavier side, basically anything above 3,500 lbs then you will not be able to tow that specific trailer.
While Toyota RAV4s are great SUVs, they are not ideal for towing campers because even the model that can tow the most cannot tow the heaviest pop-up trailers.
That means if you opt for any of the other models, then chances of you being able to tow a camper are quite low. However, it does not mean that it cannot be done. Just keep in mind that you will need to stick to the lighter, smaller campers and you should be fine.
Can a Toyota RAV4 tow a Camper?
The answer to this question is hard, "it depends." We know that an in-between answer is frustrating but it does depend on what kind of trailer, how much it weighs, and what model of the Toyota RAV4 you decide to buy.
In Conclusion | Is the Toyota RAV4 Worth the Money?
There is no denying that the Toyota RAV4 is one of the best-selling SUVs today. It is a spacious and comfortable ride with great advanced driver safety features. Not to mention, it is made by Toyota and Toyota is a very reputable car brand. Back in 1996, the Toyota RAV4 was named one of the first crossover SUVs. Now that is something to brag about!
However, as we had mentioned, Toyota RAV4s are not known for their heavy towing capacity.
Typically, Toyota RAV4 models can tow between 1,500s and 1,700 lbs which is great if you need them in a pinch but it is not ideal if you are looking for a vehicle that can tow a lot.
When it comes to campers, luckily, they come in many different shapes, sizes, and weights. If you are looking into buying a smaller camper then the Toyota RAV4 can handle it, but if you have your heart set on a bigger camper then you might want to consider other options.