The RAV4 is one of the leading small SUV's in the country today. It's gone through recent design changes and the newest models have a more powerful engine under the hood along with more safety features which Toyota is becoming known for.
All of these great features have led the RAV4 to be a popular car for those individuals who travel a lot, including its popularity as a rental vehicle as well.
If you're looking to hit the slopes, you might be wondering about the ability to get all of your skiing and snowboarding gear into an SUV like the RAV4. We'll break that down for you as well as some of the other basic information about the vehicle so you can arrive to your next adventure with everything you need in tow.
Can You Fit Skis in a RAV4? Can You Fit Snowboards?
Generally speaking, it's going to be pretty tough to fit your skis and snowboards into an RAV4, especially with other luggage that you may be carrying. If you don't have too many people or too much equipment, it may be possible – but you are probably better off getting a bigger vehicle (or at least getting a ski & snowboard rack) if you are already in the situation of having purchased or rented an RAV4.
That being said, an RAV4 with a ski and snowboard rack can be an excellent car for Winter adventures among many others. Keep reading to see how the RAV4 is suited to handle the snow, the off-road, and your everyday life to help you decide if the RAV4 is the car that is right for you whether it is a rental or a purchase!
RAV4 in the Snow
One of the great reasons that the RAV4 works well as a vehicle in inclement weather is because all-wheel drive is optional on any kind of trim package that you have. While the front-wheel drive isn't terrible at handling things, all-wheel drive gives you a better way to attack any kind of terrain or icy roads.
There are also some trim packages that will allow for better driving in inclement weather. Getting a package like the Adventure or the TRD Off-Road will boost that ability even farther.
That can be a really good idea if you are looking for a dedicated SUV to drive when it snows or if you are taking a lot of mountain trips.
RAV4 Off-Road
The RAV4 out-performs many other small SUV's when it comes to off-roading. The ground clearance is higher than other SUV's which means it may be a bit harder to get in or out of for older folks, but it definitely pays off when you are trying to hit the trails.
At the end of the day, all of the trim packages are going to be able to be used for some recreational off-roading, but it is definitely more important to get the higher-level packages if you are going to be using this frequently.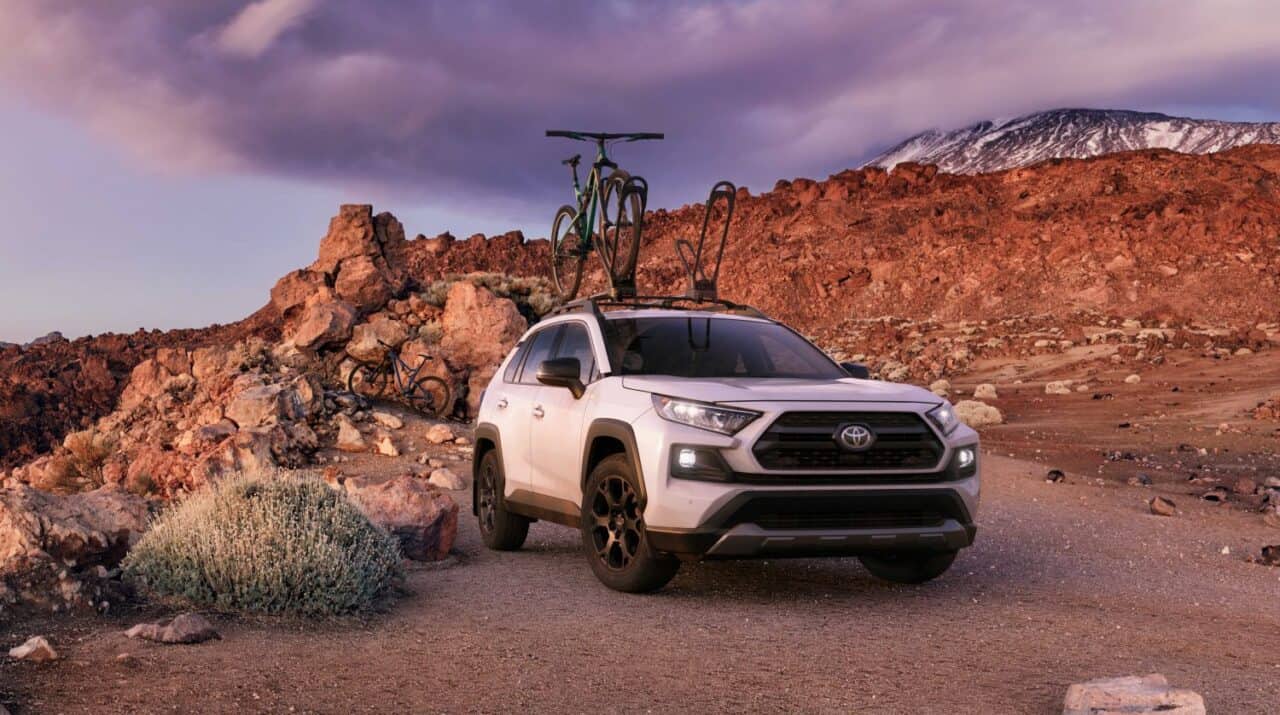 The RAV4 Overall
As with any vehicle, the RAV4 doesn't have just one purpose. While you might be someone who goes on multiple adventures a year, you probably still need to drive to and from work, or even to simply run errands.
While the RAV4 is an SUV, that doesn't mean it can only be uses for sporting trips. Let's take a look at how it functions at any given time to learn more about whether this is the vehicle that works for you.
Driving the RAV4
The RAV4 doesn't stand out amongst its peers when it comes to driving power and performance. While the engine doesn't feel subpar if you are doing normal driving, you may be looking for more "kick" when you are in tight spots.
The engine seems to have slow power delivery if you are looking to speed up right away – and it's slower than average 9 seconds to go from 0-60 mph prove that.
Although the engine power doesn't take away too much of the driving experience, the steering adds to some of the issue here as well. Steering the RAV4 can feel somewhat vague and not extremely consistent.
However, the optional AWD system as mentioned can add a ton of traction to the vehicle and give it a lot of advanced control systems with advanced features like hill descent control.
The RAV4 stays high off the ground, which means that the RAV4 is well-suited to off-roading trails – much more so than you would expect from an SUV of this size.
It really depends on what you are looking for from an SUV if you will be happy with the RAV4.
It trails behinds some of its competitors when it comes to normal day-to-day operations, but when it comes to off-roading and having a ton of control, it actually comes out ahead. It will be up to you if it is worth the trade-off that comes along with this vehicle.
It could definitely be worth it if you are someone who is travelling to the mountains quite often for different treks.
Comfort
One of the strengths of the RAV4 is its suspension. It's designed to help the car stay soft but it also keeps it in control.
If you're going over bumps, you're not going to feel each small impact on your car, which can keep you comfortable during longer trips. The front seats are shaped quite nicely, but if you are going on a longer trip, the seat's comfort don't totally hold up.
Obviously, that's never the most pleasant situation to begin with, but the seats share some of the blame here. The driver's seat also seems to be a bit easier to maneuver into place than the passenger seat is, and some people have complained about it being hard to find a comfortable spot for the right side rider.
The RAV4 does a great job of keeping the cabin quiet, even when traveling at highway speeds. The air noise stays out for the most part and you shouldn't really be disturbed.
The engine is a bit of a different story if you are really pushing for more power. It gets pretty loud at that point, which isn't ideal but it can be managed.
If you're someone who is picky about the climate control systems in a vehicle, the RAV4 performs quite nicely and you should be able to stay warm (or cool) regardless of what you need. The forward vents can be closed completely while the rear vents are still in action.
Interior
Inside the RAV4, you should find a vehicle that is reasonably nice to ride inside. You have a lot of space, the driver should be comfortable, but the main complaint will be the front passenger seat. It is placed a bit awkwardly and isn't able to be adjusted lower which would be a more comfortable position.
Everything else in the front of the car can be adjusted properly, even though tall drivers may not love their options either. From the driver's seat, you can see out to the exterior of the vehicle at most angles you would expect to. There are no real visibility problems from unexpected blind spots.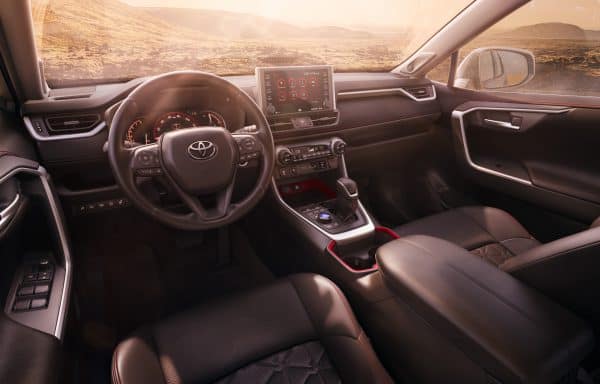 The controls are great because they are quite intuitive, and even if they weren't the labels will lead you exactly where you need to go. The audio and climate systems are both isolated, so it's easy to know exactly where you need to reach to find the control that you want.
The touchscreen seems to be a bit too far from the driver, causing them to have to reach a bit farther than you would prefer if they need to make a quick adjustment.
Tech
When it comes to technology, the RAV4 gets mixed reviews. The touchscreen and buttons are pretty easy to figure out, which is a nice thing for those who may be a bit challenged in that arena.
The RAV4 has also gone through some new designs but the technology hasn't seen the same upgrades. The sound system is average at best when compared to other SUV's on the marketplace.
While the RAV4 has Apple Car Play and Android Auto (finally), that's not seen as being better than any other new SUV on the marketplace. It is a boost that Apple & Android systems are better than the old regular Toyota software.
However, where the technology does shine in the RAV4 is in the implementation of safety features. Even on a standard Toyota RAV4, you will get a lot of safety features that are awesome and help you to keep yourself and your family safe.
One of the best features is adaptive cruise control which is great because in the RAV4 it works even at lower speeds. You also have automatic emergency braking, automatic high beams, and steering aids.
All of these work together to make sure that your car is going the places that it needs to be during "low" stress times, and it helps you react quickly during any kind of panicked moments. The systems work together to make a comprehensive system.
Storage
As discussed, the RAV4 has a lot of storage space when compared to other SUV's this size.
It may not be quite as large as you want if you're packing multiple people's skis and snowboards, but it does have a lot of cargo space. It checks in at 69.8 cubic feet with the rear seats stowed which is extremely impressive.
There are trim packages available which will let you pull up to 3,500 pounds which is an impressive feat for an SUV of this size.
Conclusion
At the end of the day, the RAV4 is a competent car to take on trips and adventures. You may feel most comfortable getting a ski rack for your skis, but it should be able to handle a lot of equipment comfortably.
It's a pretty nice car that has a lot of skill when it comes to handling rough or adverse conditions, although it has some quality drops in other areas that make it unable to say it is the complete package. For a certain kind of person, it definitely will be a good rental or purchase!
3 Must-Have RAV4 Accessories!
Bestseller No. 1
Jaronx Center Console Organizer for Toyota RAV4 2021 2020 2019,Center Console Storage Box Organizer Tray Secondary Storage (RAV4 Console Organizer-2)
Custom-made console storage box for Toyota RAV4 2021 2020 2019.
Provides additional storage space to manage your wallet,pens, business cards or phones in factory roomy, deep console storage.Farewell to messy!
Made of solid ABS material, and the edge is thickened, which is not easy to break.Limited to the size of the original car center console, this storage box can only store items with a thickness less than 0.67 Inches.
High quality silicone mats prevents things from rolling around and rattling and is easy to clean.Non-slip sponges on the back and sides of the storage box prevent the storage box from sliding around under heavy acceleration.
Package included 1 center console tray ,2 anti-slip mats.
Bestseller No. 2
JALII Bling Bling Car Steering Wheel Decorative Diamond Sticker Fit For Toyota,DIY Bling Car Steering Wheel cover Emblem Bling Accessories for Toyota MARKX,Camry,HIGHLANDER,COROLLA,rav4
√ Sparkly bling car steering wheel decorative diamond sticker fit for Toyota, beautiful and stylish.
√ Made of high quality aviation aluminum alloy and rhinestones, hand-inlaid diamond, strong, durable and beautiful, make your car interior luxury and fabulous from every angel.
√ Easy to Install. Comes with adhesive on the back, no drilling or welding required, it is very simple to install and takes only 2 minutes.
√ Great decoration to your car, DIY pieces let you enjoy the fun of beautifying your car by yourself.
√ Remove it anytime with no residue. Improved adhesive tapes,will not leave marks on your steering wheel when you want to remove it. Great gifts to yourself or your female family and friends.
$4.00
Bestseller No. 3
CupHolderHero Compatible with Toyota RAV4 Accessories 2019-2021 Premium Custom Interior Non-Slip Anti Dust Cup Holder Inserts, Center Console Liner Mats, Door Pocket Liners 15-pc Set (Blue Trim)
✅NEW CAR LUXURY THAT LASTS - Our custom car interior liners for RAV4 and cup holder mats are engineered in the USA with a unique design that offers a precise fit you won't find elsewhere, perfectly placed tab handles for easy removal, a sleek mods look without logo designs that gather grime, and a patented all-weather material that withstands heat up to 170 degrees without the "rubber tire" smell
✅YOUR INTERIOR IS COVERED - Floor mats and seat covers aren't enough to protect against all the gunk attracted in automotive drink holders and door pocket storage. Your new 15 piece non slip mat set protects your center console tray and cup holders and keeps your vehicle fly. (Compatible with Toyota RAV4 models 2019, 2020 and 2021 models including trim levels: Adventure, LE, SE, XLE, XSE, Limited, Platinum, SE, Trail, XLE Premium, and TRD Off-Road. 1 mat is not compatible with wireless charging)
✅LIFETIME WARRANTY - CupHolderHero auto cup holder and console interior accessories protect from damage and increase your resale value. Plus we GUARANTEE this is the only liner car accessories set you'll ever need to buy for the life of your vehicle! If you are EVER less than 100% thrilled with our automotive accessories, we'll happily replace them or refund your money any time
✅SAVE TIME & MONEY interior car washes and detailing. Compatible with Toyota RAV4 interiors. Our protective liners are specially designed with a 3D texture that catches spills and a double raised edge to contain them. The non-slip bottom clings to your cupholders and console areas so they stay in place when you lift up your slurpee, and the built in handle makes for easy removal and cleaning
✅BEST GIFTS FOR MEN WHO HAVE EVERYTHING - CupHolderHero car interior accessories are great gift ideas for men or women who enjoy the feeling of a clean car and love a detailed custom look. Compatible with Toyota RAV4 Mods. You can't go wrong! With our assorted color options we are sure to have the right look to match your floormats and seat covers. Give the gift of custom fit liner accessories compatible with Toyota RAV4s
Can You Fit Skis or Snowboards in a RAV4?