What Are The Best Years For The Hyundai Tucson? (Explained!)
This post may contain affiliate links. As an Amazon affiliate, I earn from qualifying purchases.
The Hyundai Tucson is a compact crossover SUV that entered the market in 2004 as a 2005 model. Immediately, it became a cheap option with good ground clearance and optional All-Wheel Drive. It has maintained this mentality throughout the years, though Hyundai has made efforts to improve its luxury and features. So, the Tucson is a popular SUV choice, so many people ask: what are the best years for the Hyundai Tucson? We'll tell you in this article.
What are the best years for the Hyundai Tucson?
The best years for the Hyundai Tucson are 2010, 2014, and 2015 for the second generation and 2018 and 2019 for the third generation. If you're looking for an older model, then 2007 is the best year of the first generation. These models have had the least amount of issues and higher ranking in magazines like JD Power.
The best first-generation Hyundai Tucson is the 2007 model. It has had the least amount of issues in Car Complaints, plus it has the highest ranking in JD Power. The four-wheel-drive option with the 2.7L V6 and a manual transmission is the best bet, but these are hard to find.
Plus, they can be more expensive. So, if you're looking for a cheaper model, you can opt for the front-wheel-drive option. The inline-4-cylinder engine has modest power, but don't expect blistering performance.
It's also important to note that, since the first model, the Tucson has had remarkable safety features. Even back in 2007, all Tucson SUVs came with six airbags as standard, plus Electronic Stability Control.
The best second-generation models are 2010, 2014, and 2015. These have high rankings on JD Power, plus a low amount of complaints on Car Complaints. In this generation, the Tucson breaks with a common occurrence. The 2010 is the first of the redesigned LM second generation.
New models come with more technology which might have more problems, but this isn't the case. For example, the second-generation Tucson offered several new safety features. It comes with extras such as Hill Start Control and Downhill Brake Control.
The 2014 and 2015 models also show a low number of complaints and a high rating. If you can find an AWD version with a manual, it's the best bet.
The best third-generation models are the 2018 and 2019 years. Again, these vehicles offered plenty of safety features, as well as several trim lines. But, Hyundai ditched the manual transmission, which is a big blow to the Tucson's versatility.
They also went with smaller engines, offering the 1.6L and 2.0L inline-4 engines instead of a V6. So, if you're looking for a Tucson within these years, then the 2.0L AWD is the best bet.
Hyundai updated the Tucson in 2020 for the 2021 models. These are so new that any rating you find will have very little time to measure performance in the long run.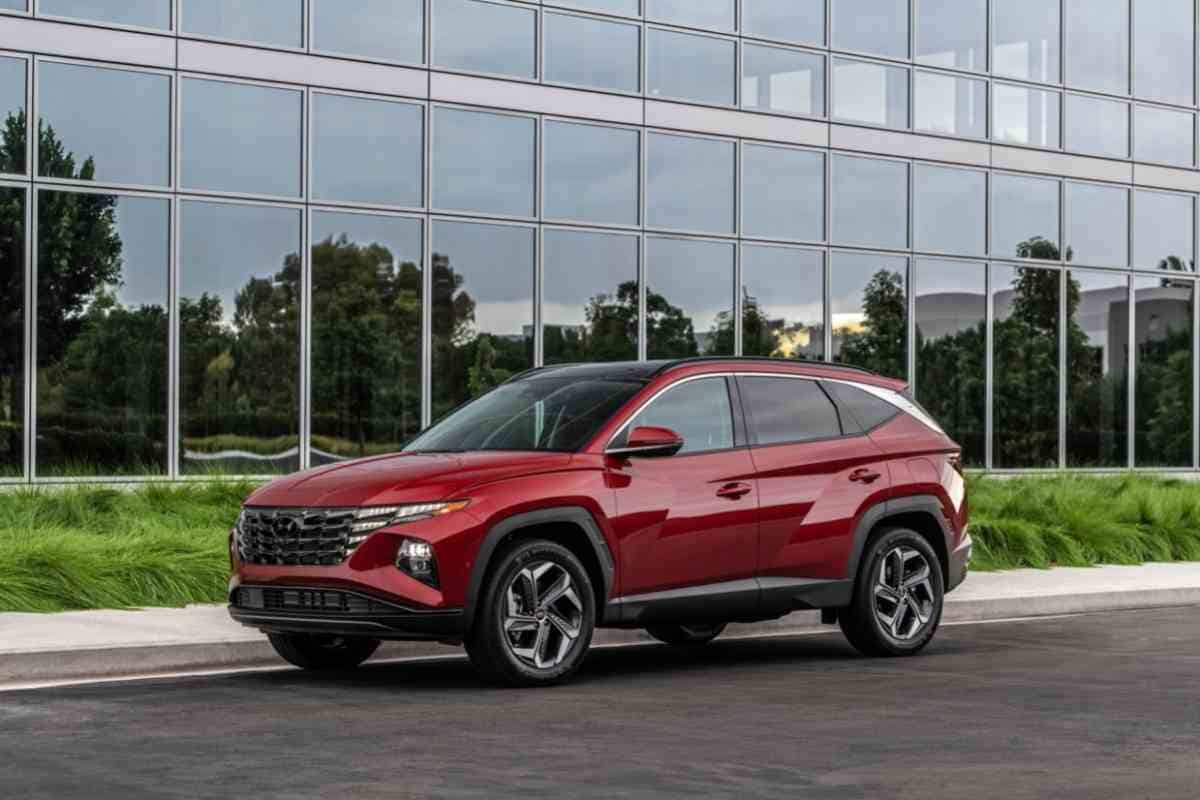 However, it's important to note that Hyundai offers a new 2.5L inline-4 engine, plus a Hybrid version, which is interesting if you are into these models. Though it's early to recommend it, the 2021 model has had few issues.
Now that we've seen the best years you can buy, we must look at some of the models you should avoid.
What are the worst years for the Hyundai Tucson?
If one thing has characterized the Hyundai Tucson is that it's nothing spectacular. There's no particular year that stands for its reliability. Fortunately, nor for its unreliability. Searching the web for this article, we found that reputable sources rate it with average performance.
However, that's not to say that the Hyundai Tucson is perfect. Some years have presented severe issues and that you should avoid. So, we'll go through each generation to see which the years are to run away from.
Worst First-Generation Hyundai Tucson years
As we said before, the first-generation Hyundai Tucson is a rudimentary SUV, and that's a blessing and a curse. But, to the Tucson's credit, the first-generation models aren't unreliable per se.
On the positive side, you won't have much that can go wrong. But, on the other side, the Hyundai Tucson is a rudimentary vehicle, at best. Though loaded with features, its interior isn't anything to write home about, nor its performance.
In the first generation, the most troublesome years are the 2006, 2008, and 2009 models. These models have lower rankings and have registered more issues and complaints. Common problems in these vehicles include loss of power, battery problems, and rough acceleration.
Worst second-generation Hyundai Tucson years
With the addition of more features, the second-generation Tucson has more issues. The most troublesome years are 2011 and 2012. It's interesting to note that the leap in problems between the 2010 and 2011 models is considerable.
Not only is the 2011 model the most troublesome, but the issues can also be quite severe. These include transmission and fuel system problems. A particularly concerning one is the automatic transmission locks up and doesn't shift gears when in Drive. However, when it's in Park, it can lock up, leaving you stranded.
Transmission problems persist on the 2012 model. But the most significant issue with this year is engine failure, which includes loss of power and gasket issues.
Be sure to avoid these models if you're looking to buy a second-generation Hyundai Tucson.
Worst third-generation Hyundai Tucson years
The worst third-generation Hyundai Tucson years are 2016 and 2017. These have the highest number and most serious issues. Plus, they hold the strange privilege of also having the lowest rankings on JD Power.
The 2016 model is particularly troublesome. The trouble revolves around transmission problems. Unfortunately, many users reported that, after reaching a complete stop, the vehicle wouldn't accelerate. If it did, the transmission wouldn't shift properly.
Another problematic issue concerned the engine. Rough idling and poor acceleration were common symptoms. But, those were not the worst. Some users have said they've had to replace the engine at relatively low mileage (under 100,000 miles).
These problems carried over to the following year. So, the 2017 model also showed the same issues. In fact, they were so common that these two years have earned the Car Complaints' "Beware of the Clunker" badge. A dubious honor, indeed.
If you want to save yourself a headache, avoid these models. If you are looking to buy a third-generation Tucson, you should opt for a 2018 model.
As for the fourth generation, it's still too early to highlight common issues, as these come up over time. But, it's safe to say that we hope these years aren't as bad as the 2016 and 2017.
The following chart provides a quick reference if you want to know how each year rates in JD Power. Though it's not the only authority in vehicle ratings, it's one of the best, so it's always a good place to visit. We've highlighted each generation's highest-ranking model in bold.
What are the best years for the Hyundai Tucson
Generation
First
Second
Third
Fourth
Year
2005
2006
2007
2008
2009
2010
2011
2012
2013
2014
2015
2016
2017
2018
2019
2020
2021
JD Power Rating
82
82
83
82
79
82
79
81
82
84
86
81
79
85
84
83
83
This chart confirms what we were explaining before. The Hyundai Tucson is an average SUV that will bring you average performance. It will not blow you away, but some years can give reliable driving, with good safety features and above-average reliability.
Closing thoughts
The Hyundai Tucson is one of Hyundai's most popular SUVs. With so many of them out there, it's tempting to buy one. So, it's common for people to ask: what are the best years for the Hyundai Tucson? This article answers this in detail, plus it gives you a rundown of what some of the more common issues can be.
The Hyundai Tucson isn't an SUV that will surprise you. Instead, it does as you request. It has good ground clearance, comes with optional AWD, plus has plenty of safety features. Plus, usually, it has above-average reliability, which won't send you to the mechanic frequently.
The best years to buy a Hyundai Tucson are the 2007, 2010, 2014, 2015, 2018, and 2019 models. These have shown the highest rating on reputable magazines like JD Power and the least issues in sites like Car Complaints.
Unfortunately, as with all vehicles, the Hyundai Tucson does have issues. The issues that have come up are also quite concerning. The 2016 and 2017 models suffered greatly from transmission and engine issues. They even earned Clunker badges, so it's best to avoid them. Other troublesome models include the 2009 and 2011 years.
If you're looking for a compact crossover SUV, the Hyundai Tucson is undoubtedly an interesting alternative. So, if you're looking for one, be sure to have a mechanic thoroughly inspect it for any of the persistent issues that we've listed here. Hopefully, this article has answered what the best years for the Hyundai Tucson are so that you have safe and happy motoring!