What Are the Best Years for The Toyota Land Cruiser? (Can you guess which one?)
This post may contain affiliate links. As an Amazon affiliate, I earn from qualifying purchases.
Toyota Motors is popularly known for the design and manufacture of vehicles that offer stellar performances at an affordable price range. While the lineup of Toyota motors consists of the high-end luxurious Sedans and SUVs, there also exists an extensive lineup of heavy-duty powerhouses and off-road beasts like the Land Cruisers. The Toyota Land Cruiser is a well-known SUV in the Toyota lineup that has for a long time been the king of off-roading and the best family-centric SUV. The Cruiser has a global appeal as a hardy and very powerful off-road vehicle. These SUVs were designed to stay for the long haul. A used Land Cruiser will offer you a user experience and service for many more years and still perform with minimum repairs or maintenance. Even better, the used Land Cruiser is offered at an affordable price. All you need to know is the best year of the Land Cruiser to buy.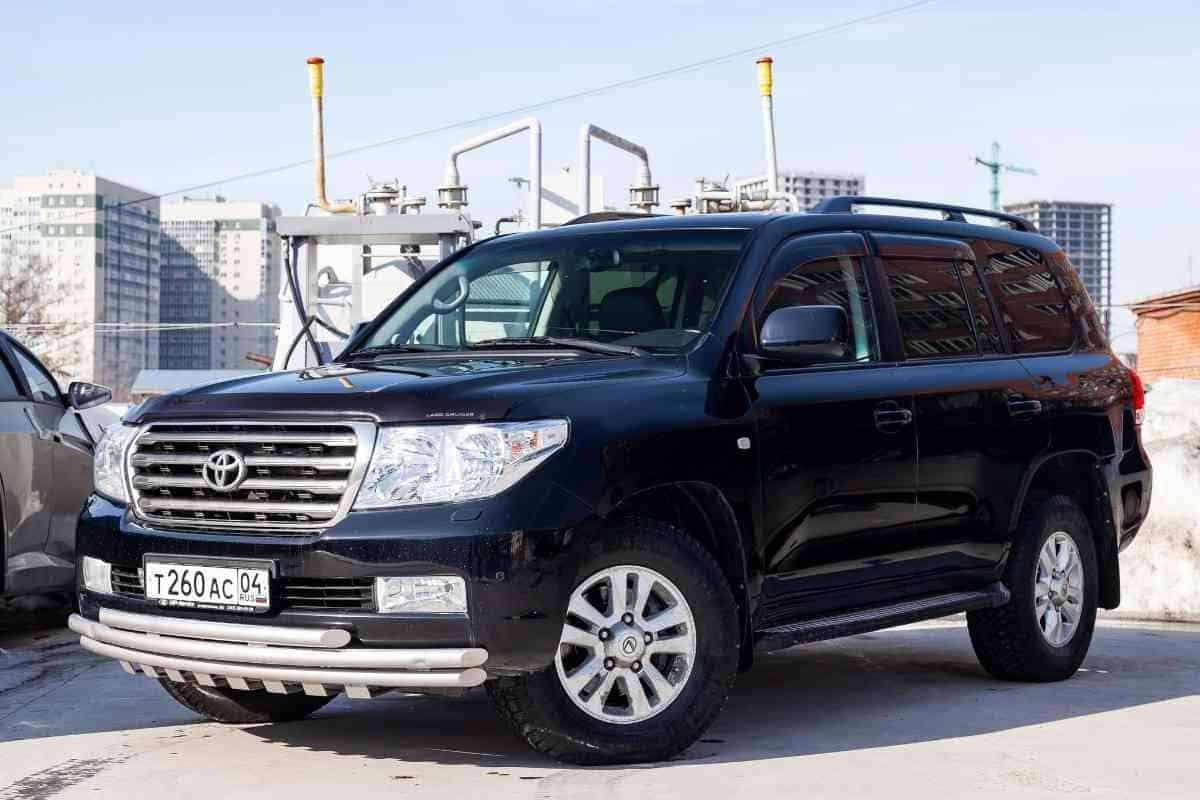 Table of Contents
What's The Best Land Cruiser Year?
If you want a reliable classic but reliable Land Cruiser, go for the 1995-1997 model year. However, for more high-tech features and extreme comfort, consider Land Cruisers manufactured around 2000 through to 2004 (200-Series). Even better are those Cruisers released after the year 2006. 
If you are on a budget but wish to enjoy the off-road capabilities of these powerful SUVs, then the old classic Land Cruisers will fit the bill.
The first-generation Land Cruiser lacks the luxury standard features necessary for your daily commute, but they will have efficient off-road abilities. 
The classic Land Cruiser will not have airbags and other luxury features but will have a robust and sturdy structure to handle the toughest terrains.
Because of its solid front axle and fewer technology features, the 80-Series was not quite as sophisticated as the later 100-Series, but it was somewhat more robust.
The 1995 model year marked the start of the development and release of Toyota Land Cruisers that featured full-time four-wheel drive and coil springs on all four corners as well as curtain airbags. 
This marked an evolution of not only loveable but comfortable and secure Land Cruiser that off-roaders loved to get their hands on.
After these upgrades, the models released after 1995 showed a significant increase in reliability scores and consumer satisfaction than the predecessors.. 
Drivers were more confident to drive these SUVs because of the additional safety features.
The 100-Series Cruisers came packed with more engine horsepower that could get you anywhere regardless of the terrain and climatic condition. 
These four-wheel beasts came with more space and a refined exterior and interior to not only give a smooth ride but also a comfortable ambiance to compliment it. 
The 1997 model year was one of the just two Toyota Land Cruiser models that came standard with a locking rear differential.
For drivers looking for a robust off-roader, the 1995-1997 model years are an impressive choice. The 100-series and 200-series that came later were designed to build on the foundation of the 80-Series of stellar performance, comfort, and additional safety and security features.
The 200-Series Land Cruisers
With heated front seats and steering wheel, a high end sound system, and premium comfort leather seats, the 200-Series comes with all the standard equipment you would wish for in a luxury SUV. 
Although these model years don't come cheap, they pack a punch in terms of modernizing that off-road adventure.
Whether you are looking for a Land Cruiser that will give you a memorable highway ride or an off-road machine to traverse the most difficult terrain, the 200-Series model years have a trim for you.
These modern Land Cruiser SUVs are so sophisticated that you will not even notice the swift eight-speed automatic transmission shifting when you're driving. 
In addition, the 200-Series exhibit unrivaled intimacy with the road, thanks to its light steering ability and its overall big size.
Take this vehicle off-road only if you don't like pinstripes.
Toyota has been improving the Land Cruiser in all its aspects; mechanical, electrical, comfort, and upholstery among others with each new model year for decades.
Even though the new generation 200 Series Land Cruiser has seen a considerable upgrade to a considerably luxury SUV, its power and performance has continued to improve, setting it apart from its rivals.
The Cruiser has lost its luster as the off-road warrior, but it has now blended in with those high-class family-friendly SUVs that will grace your adventure, camping, and fishing expeditions.
Frequently Asked Questions (FAQ)
Is buying a Toyota Land Cruiser worth it?
Yes. The Toyota Land Cruiser is one of the most reliable luxury SUVs that is worth your hard-earned money.
This SUV was built for a long haul. Whether you go for the 100-Series or the more recent 200-Series, you will get an excellent user experience in terms of performance and comfort.
Earlier models did not put so much emphasis on comfort, but they are very dependable when it comes to off-road abilities.
Which Toyota Land Cruiser model years should be avoided?
Since its launch back in the '80s, Toyota's Land Cruiser has undergone some evolution.
According to records by Car Complaints that date way back to 1984, the Land Cruiser has had a few issues reported. But throughout its development, the Land Cruiser has seen fewer and fewer complaints reported.
Two-year models stand out from the rest, that is the 2005 and 2016.
CarComplaints advises drivers to avoid the 2016 model because it had more reported problems compared to the other model years.
The most noticeable drawback is a jerky transmission, especially when driving slowly.
It was also reported that this model year experienced grabby brakes.
What are the common problems that occur in Toyota Land Cruiser?
Just like any other used vehicle, some Toyota Land Cruiser parts may ultimately fail. The body or engine parts may corrode, depending on the year of the model and the amount of rust protection used.
This is why it is very important to do thorough research before buying a used or pre-owned vehicle of any kind.
Some of the most common problems that have been documented since the 100-series Land Cruisers (1998 -2007) concerns air suspension.
As the vehicle ages, it was discovered that some components in the air suspension system would crack.
These are very costly to replace. Other problems included brake seizure for those Land Cruisers with higher mileage on them.
The Touchscreen controls of some used models would also fail.
For the 1998 and 1999 model years of the Land Cruiser, they reported failure of the front differential, especially when driven in harsh climatic conditions.
This issue called for frequent differential and radiator fluid change to reduce the risk of failure.
However, this issue was addressed in the models that came after the year 2000. The issue was addressed, and they come equipped with more robust and studier differential.
Is the all-new 2020 Toyota Land Cruiser a good buy?
Yes. The 2020 model year comes after a long history of the evolution of the Toyota Land Cruiser.
Mistakes and flaws that we experience along the journey have since been resolved and the new 2020 Toyota Land Cruiser is a testimony of this.
However, as the Cruiser comes packed with additional features, its comfort increases and makes it suitable for highway and city rides.
The off-road ability is still in shape, but it is so much plush for an extreme off-road adventure.
This SUV serves a unique niche in the automotive market segment. Luxury off-roaders will love the new Land Cruiser.
A variety of useful features are included in this model year as part of the standard package.
Despite its higher sticker price, the new Toyota Land Cruiser is an excellent investment due to its long-term predicted reliability.
But drivers should know that this comes with a slight compromise on gasoline consumption for the new models. 
Plus, this mighty vehicle still doesn't come standard with convenience features like the Apple CarPlay and Android Auto.
Conclusion
If you are on a budget but looking for a more luxurious off-road experience, the 100-series and the latest 200 Series Land Cruiser model years are a good choice. They have a lot going for them behind the grille.
There have been very few complaints about the 200-series Land cruiser on CarComplaints.
If you have some money to splurge on a brand new Land Cruiser, then go for the 200-series, since you will be guaranteed to get a good deal in terms of features and performance.
Consumer Reports and Autoweek reports that the 100-series Land Cruisers and those released after the year 2000 provide better standard traction control and stability control features. 
The 200 and 2005 model years have received many recommendations online and in review forums.
The 4.7-liter V8 was first introduced in these model years, including the five-speed automated transmission that led to a great deal reduction in highway fuel consumption.
But many people consider the 80-Series to be better than the 100-Series. The 80-series were first released in 1990.
The 1993 model year and later are the most recommended in this category since they come equipped with inline-6 engine advantages.
As a result of its cast-iron block, it was extremely durable, although being less potent than the V-8 that was released later on.