When you're ready to hop into your jeep for an outdoor adventure, the last thing you want is to sink your feet into a wet floor.
The soggy, gross feeling of wet carpet is certainly unpleasant as well as worrisome when you find it in your beloved Jeep. But what is the cause of your wet Jeep floor? Is it something that needs to be fixed immediately, or is it negligible?
What Causes a Wet Jeep Floor?
What causes a wet Jeep floor? Four main reasons can cause your Jeep floor to become wet:
The cowl is clogged.
Seals need to be replaced.
The hard-shell top panels are not connecting properly.
The A-pillar needs to be replaced.
While you might be immediately alarmed after finding water in the floorboard of your Jeep, the good news is that it's typically a very simple fix. Some of the issues that cause wet floors can be fixed at home.
Read on to learn what the problem might be, how you can identify the issue, and how you can successfully fix it.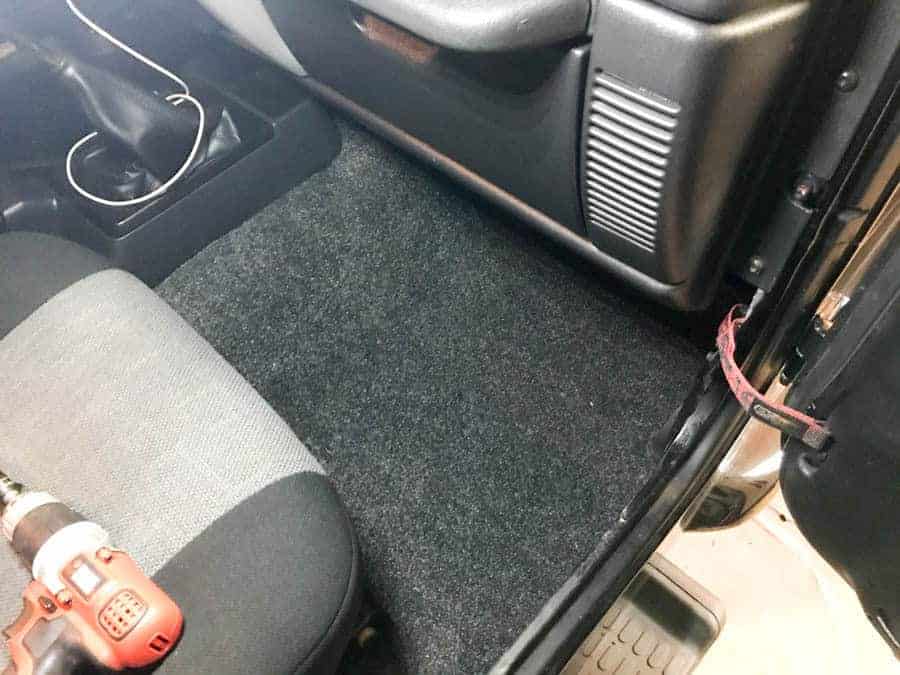 The Four Main Causes of a Wet Jeep Floor
There are four main reasons why your Jeep floor might become wet. Most of the time, the water will accumulate after there has been a certain amount of rainfall, and these issues can be fixed at home with ease.
However, you may need to seek a mechanic's help if none of these issues seem to be the root of your problem.
The most common causes for a wet Jeep floor are listed and described below.
1. The Cowl is Clogged.
The most common reason that someone may end up with water on their Jeep's floorboard is that a cowl is clogged. The cowl is a drain on the front of your Jeep, and if it is clogged, it is going to cause drainage problems.
If this is the case, you may also discover that your windows are fogging up constantly and electrical problems are beginning to arise.
The cowl is located at the base of your windshield wipers. It is situated in the perfect place to end up being clogged by all sorts of things, including dirt and leaves.
So, how can you take care of this problem quickly and easily?
You will be happy to know that you can clear out your cowl with two easy steps:
Remove the screws of the cowl to remove the top cover.
Flush the cowl drain with a hose until all of the gunk is removed.
After your cowl is cleaned, re-screw the cowl onto your Jeep. How easy is that? More often than not, a wet floor in your Jeep can be fixed by cleaning out your cowls.
2. Seals Need to be Replaced.
The second most common reason why your Jeep has a wet floorboard is that the seals need to be replaced.
Now, it's important to keep in mind that there are several places where a seal can be folded over or not sealed enough to work effectively.
The most common places where seals need to be tightened or replaced are around the windshield and doors.
Think about it: if there is no proper seal around these areas during heavy rainfall, then rain can easily get into your Jeep. If you suspect that the seals are your problem, you need to try to find out where the leak is occurring.
Finding the Leak
It is best to ask a friend to help you with the following steps to find the leak quickly:
Sit inside of the Jeep and have your friend run a hose over the Jeep.
Closely inspect the areas of the Jeep where water is being sprayed.
Look for areas where water is coming into the Jeep.
If you find that the leak is coming from the top of the door or the windshield, make sure that no seals are folded over. This is a simple fix that gets you back on the road quickly.
However, if you notice that the seal isn't sealing properly, then it will need to be replaced. You may also need to replace the gaskets for better coverage,too.
Here is a great video explaining how to fix seals in your Jeep.
3. The Hard-Shell Top Panels are Not Connecting Properly.
When it comes to hard-shell tops, finding the problem can be a bit trickier than you think.
If you have not installed the hard-shell top correctly, then your door and top may not be connecting properly. This means that there will be a little extra space in between the door and the hard top that allows water to get inside your Jeep.
You can find out whether your panels are connecting properly by taking a good look at your Jeep. Close the door and inspect for proper sealing.
If you notice there are any spaces in between the door and hard top, then adjust and reposition the hard-shell top until it is connecting fully to the doors of your Jeep.
To make sure your hard-shell top is on correctly, consider watching this video.
4. The A-pillar Needs to be Replaced.
This is another common problem that happens with Jeeps and is associated with faulty seals. Many Jeeps can experience a water leak that is caused by the A-pillar needing to be replaced.
The A-pillar is located near the front edge of your driver and passenger side doors. Without proper seals on the A-pillar, water will easily leak into the Jeep and settle into the floorboards. Inspect your A-pillar to look for places where the seal is loose.
You can find out how to properly seal your A-pillar here. Different Jeep models may require different steps to correctly install and seal the A-pillar. Consulting your vehicle manual is best in this situation.
How Common are Wet Floors in a Jeep?
Unfortunately, most Jeep owners will find themselves the victim of wet floors at one point or another. This is a result of the nature of the Jeep being a 'free in the wind' type of vehicle, which makes sealing and correctly installing different types of tops incredibly important.
It can be a hassle to get it done properly, but without proper sealing, you will constantly have wet floors.
The good news is that most of these problems are a quick fix. You can fix most leakage issues on your own. However, if you aren't completely confident in what you are doing, it's best to head to your local mechanic to get the issue resolved.
Also, keep in mind that these are just the four most common problems associated with a wet Jeep floorboard. Other, more serious problems can cause wet floors in your Jeep.
If you have checked for these four common problems and you are still having an issue, it is best to contact a professional before any electrical equipment gets ruined.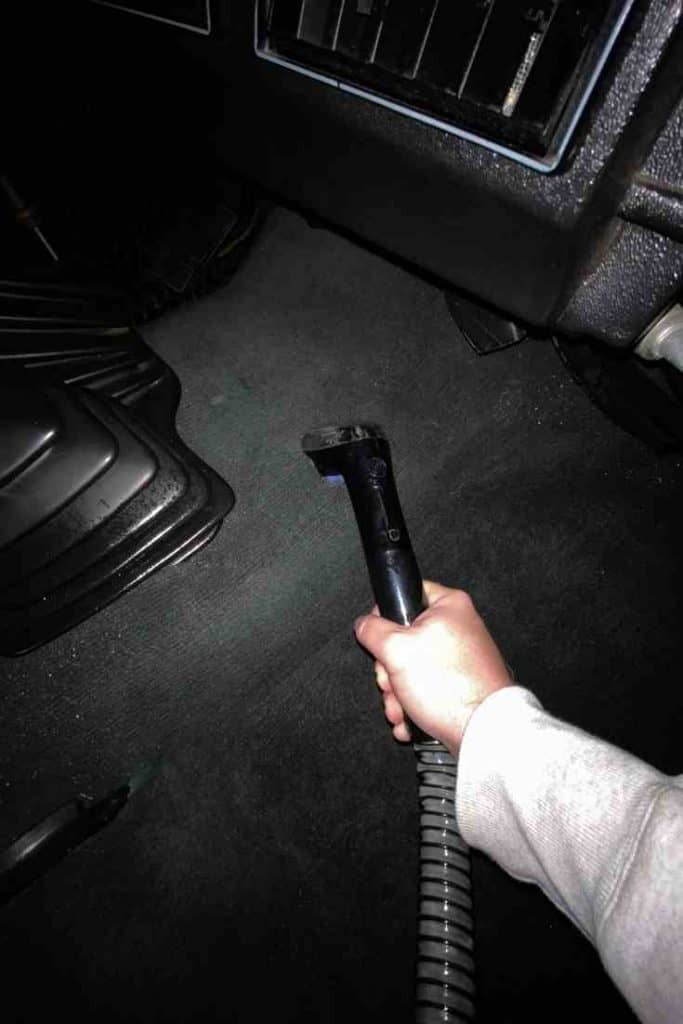 Should I Remove My Carpets?
Often, Jeep owners will toss out their carpets, so they don't have to deal with them. This is a personal preference, of course. When carpets get wet, they can sour and require cleaning. But whether the wetness is on carpet or a floorboard, it still needs to be addressed immediately.
*Helpful Hint: This is my favorite solution for messy Jeep floors when you know you will get your Jeep wet, muddy or have dogs. This interior is super easy to pull out and hose off. Plus it dries super fast!
** You might always want to know about waterproof Jeep seat covers.
In Conclusion
Nobody wants to experience wet floors inside their Jeep. Luckily, wet floors are nothing to be extremely concerned about and can be fixed quickly and easily. If the problem persists, you will need to contact a professional mechanic for help.
Best Portable Carpet Cleaners
Bestseller No. 1
Bissell Multi-Purpose Portable Carpet and Upholstery Cleaner, 1400B, Green
Buy Bissell, save pets; Bissell donates up to 10 dollars to the Bissell pet foundation for every pet product purchase, upon activation
Tackles tough spots and stains with strong spray and powerful suction
Take on small and large cleanups with this compact carpet cleaner
Removable water tanks for easy filling and emptying; Tank capacity 48 ounce
Use the hydro rinse tool attachment to easily clean out the hose after each use
Bestseller No. 2
BISSELL SpotClean ProHeat Portable Spot and Stain Carpet Cleaner, 2694, Blue
Tank capacity 37 ounce; Heatwave technology maintains consistent water temperature while cleaning
3 inch tough stain tool for cleaning stairs, upholstery and hard to reach places
Deep reach tool removes embedded dirt and stains from the bottom up; Dirt tank capacity
Self cleaning tool makes cleaning out the machine a breeze
Removable water tanks for easy filling and emptying
Bestseller No. 3
BISSELL, 20037 Pet Stain Eraser Cordless Portable Carpet Cleaner, 2019 Version
Every Bissell purchase helps save pets. Bissell proudly supports Bissell pet foundation and its mission to help save homeless pets
Spray, scrub and suction to remove pet stains and messes from carpet, upholstery, stairs, area rugs, auto interiors, and more.
Grab and go cordless convenience; enjoy the freedom of a lithium-powered handheld carpet cleaner that lifts away stains using formula and powerful suction.
Formula conveniently stores in the machine and doesn't need to be mixed with water, so it's always ready for use.
Instantly and permanently removes stains like urine, feces, vomit, dirt, mud, blood, grass, tomato sauce, red wine, makeup, food grease, vegetable oils, coffee, cola, motor oils and more.