Are Jeep Wrangler Seats Waterproof?
Are Jeep Wrangler Seats Waterproof?
Every Wrangler owner knows one of the best features of our vehicles is the ability to take the top off of our Jeeps. I have also seen some Jeeps that never have their top up regardless of the weather conditions. This got me thinking… are Jeep Wrangler Seats Waterproof? As a result, I did a little research to find out.
So, are Jeep Wrangler seats Waterproof? Waterproof, no. Do they dry fairly quickly if they get wet? Yes.
If you have cloth seats in your Jeep Wrangler and your seats get soaked from rain without the top up, don't worry too much. In general, your Jeep seats will dry out in about an hour sitting out in the sun on a warm day.
What To Do If Your Factory Jeep Seats Get Wet?
In short, let them dry out. Park in the sun and let nature run its course. Also, the sun is really effective and helping to remove odors.
If it isn't very sunny, you can try to pull into an enclosed garage and let the Jeep air out. One time, I grabbed a big 19″ box fan and hooked it up inside the Jeep. The box fan allowed air to circulate around the Jeep and it helped speed up the drying process. It's the same reason professional carpet cleaning crews will use floor fans to help dry carpets in high traffic areas.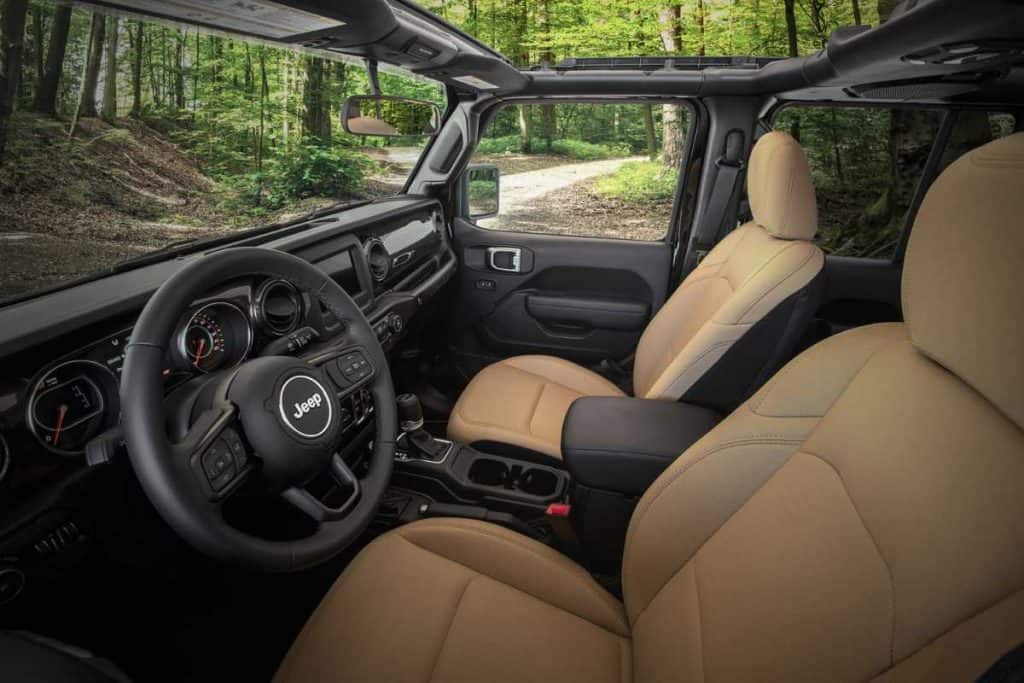 Can I Buy Waterproof Seat Covers for My Jeep Wrangler?
Yes! You can buy waterproof seat covers for your Jeep Wrangler. There are many different manufacturers to select from. Some of the popular brands include Best Top, Wet Okole, Cover craft, Seat shield and many more.
Many Jeep owners swear by the Wet Okole neoprene seat covers Check eBay Prices.
One thing to be aware of if you chose to buy waterproof (or any type) seat covers just be aware that most of them will start to fade. You might not want to buy red seat covers if they become pink in a few months sitting out in the sun.
While your seats might be able to handle water okay, your carpet… NOT SO MUCH!
LEARN MORE: The 10 Best Waterproof Seats for Jeeps
Did Your Jeep Carpet Get Wet?
You know that smell of a wet dog that has not had a bath in months? Or the smell of old athletic shoes that get wet and musty? Now imagine a giant shoe the size of your Jeep. Do you think it would smell bad? lol – you bet!
I think you are starting to get the picture. Most Jeeps throughout the years have carpet in them with a special pad underneath for insulation and heat reduction.
When the carpet gets wet it passes through to the underneath insulation material. This thick matting material is excellent as a noise and heat reducer but it stinks (literally) when it gets wet and stays wet for a while. When the carpet pad gets wet is can grow mildew and mold which further exacerbates the foul-smelling odor problems within a Jeep.
If your carpet gets wet you can quickly pull it out and hang it up to dry for a few days, but that is a laborious task to do every time your carpet gets wet.
Should I Use A Bedliner Product Like Raptor, Line-X or Rhino?
This is the reason many Jeep owners decide to use a bed liner material on their Jeep floorboards. They will rip out the carpet completely and then line the entire flooring. This is great because it allows you to just rinse out the floors and use the built-in floor drains to get all of the gunk out of the Jeep.
There are some downsides to using the bed liner material for your Jeep flooring. While it is a great way to cover up the metal floors and it makes it easy to rinse out, it does very little to insulate against noise and heat. Underneath your Jeep, your exhaust, transmission, etc. can generate a considerable amount of heat.
Just driving for thirty minutes can really make your feet hot when you do not have the necessary insulation installed.
What Should I Do If I Know My Jeep Floors Will Get Wet?
Many people will just use the bed liner and deal with having hot feet. However, if you do extended drives in your Jeep or if you have children, this might not be a smart move for your comfort and the enjoyment of your passengers.
This is why I chose to purchase and install a product called a Bedrug. It looks and feels like carpet, but it does not hold water. It also comes with a special stick-on heat shield that you install on the underside of the Bedrug.
For a 2005 Jeep Wrangler LJ (longer wheelbase than a TJ), I was able to get a full front and rear Bedrug kit for under $400. Amazon Link
Some people will simply buy the front kit which includes the front floorboards and the floorboards for the rear seats. The downside is it does not cover the rear cargo area, under the passenger seat or over the rear tire wells. These are key areas to insulate. There is a whole lot of heat under the back seat of a Jeep. To the point, it could burn you if you touch the floorboard (I learned this the hard way in my Grand Wagoneer). The rear tire wells are also a source of tremendous cabin road noise from the tires. If you want to reduce the sound inside of your Jeep, insulating the tire well areas will make a big improvement.
What If You Do Not Like The Look of Carpet In Your Jeep?
Not to worry, Bedrug has a solution for you too.
Let's say that you really like the look of spray-on bed liner, but you really want the noise and heat insulation of carpet or the Bedrug product. You are in luck. There is a product called BedTred. It looks just like a spray-in liner, but it is actually a molded product that you install similar to carpet. Once installed it looks like bed liner, but it has all of the heat and noise insulation of carpet. Amazon Link
While I chose the Bedrug for my installation, if I were to do it again in the future, I would strongly consider the BedTred product. I have talked to several other Jeep owners who used and recommend the BedTred floor covering product.
With the popularity of the look of a spray-in bed liner, I think the BedTred product offers the best of both worlds.
Also, if the BedTred gets worn out or dirty, you can pull it out and powerwash it. While you can power wash a Jeep floor with bed liner, if you really get your floor dirty after a day of offroading in the mud, having the ability to pull out your interior could be a major selling point.
Let's say you still really want to use one of the bed liner products to cover your Jeep floors. This leads to one big question…
What Does It Cost To Bedline The Inside of A Jeep?
When working on our Jeeps almost every upgrade we select will come down to one single question… How much does it cost?
So, how much does it cost to have bed liner like Line-X installed the inside of a Jeep? It is going to cost between $900 and $1500 to have the interior of your Jeep coated by a professional.
If you do the prep work like removing the seats, carpet, seat belts, and sand down the floors to remove all of the shine you may be able to have it done professionally for $600-$800. However, the sanding and the prep work is going to be required for the work to come with a warranty.
There also DIY liner solutions on the market. I have not had the time to review these products first hand, but watching YouTube videos and reading reviews on Amazon, it seems that the Hurculiner roll-on kit Amazon Link, and the Raptor Liner kit Amazon Link are two of the most popular do-it-yourself bedliner solutions on the market.
There are other rattle can versions of bedliner, but from the reviews I have read, they seem to get mixed reviews. As a result, I would suggest sticking to one of the other products mentioned above.
Conclusion
Jeeps are excellent vehicles for the outdoor enthusiast and anyone who want to take the top down on a nice day. As a result, Jeeps are bound to have the weather change on them from time to time and that might result in the interior getting wet from the rain.
If your Jeep gets wet from rain occasionally, you can take proper steps to dry out your Jeep and not worry.
If you expect your Jeep to get wet often or maybe you like to ford creeks or rivers where you know you will bet meaningful amounts of water and possibly dirty water, you may want to look at some of the upgrades mentioned in this article because they will make a big improvement over the day to day enjoyment of your Jeep.
Maybe you don't mind your Jeep smelling like smelly gym shoes, but your passengers probably do. For that reason, go ahead and try some of these upgrades.
If you already have a smelly Jeep and want help getting rid of the foul odor, check out this post I wrote about getting smells out of vehicles.
When you deal with thirty-year-old vehicles, you know you will have to deal with odor and mildew issues and this is one of the best cures I have found. Read More About Removing Odors
Are Jeep Wrangler Seats Waterproof?