What IS The Toyota Sequoia Towing Capacity By Year? Discover It Here, With 2024 Data
It's important to know the Toyota Sequoia towing capacity by year so that you understand how each model year shapes up in terms of power and capability. This guide offers a year-by-year breakdown, providing clear insights for those who prioritize towing performance in their vehicle choice.
The Toyota Sequoia is a full-size SUV, and we've associated it with robust reliability for decades. So, when Toyota announced significant changes in the 2023 model, it drew the attention of fans and haters alike.
I, for one, love the new Sequoia, so much so that I bought one! Moreover, I want to take it on a family adventure, which means pulling a trailer. So, how much can a Toyota Sequoia tow? Let's find out.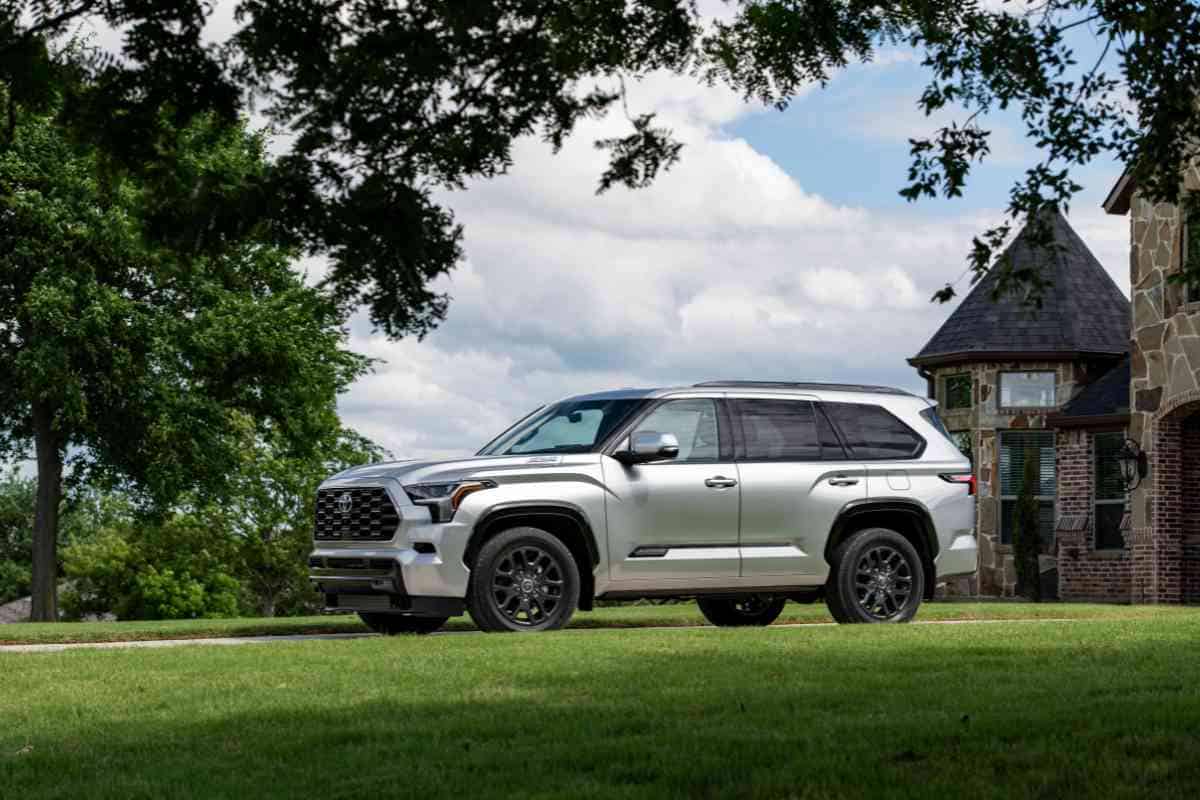 The Toyota Sequoia towing capacity by year changes considerably. It has gone from 6,250 pounds in the first generation up to 9,520 in the latest generation.
Check out our list of the Best Hybrid SUV's for Towing!
Introduction to the Toyota Sequoia
The Toyota Sequoia entered the market in 2000, opening up a segment for the Toyota lineup in the US, as it didn't have a full-size option.
In fact, it's Toyota's largest model (well, second-largest, if you count the Mega Cruiser). It has been able to battle it with other established brands such as Chevy and Ford.
The Sequoia's powerplant was a robust and smooth 4.7L V8 engine with a 4-speed or 5-speed automatic transmission. These were crude but reliable.
Though shifting wasn't always great, you knew that neither would fail. Over the years, the vehicle got significant upgrades, including a 5.7 L V8 powerplant and even a 6-speed transmission.
By introducing the latest model, Toyota has undoubtedly improved many of the Sequoia's aspects, including handling, power, and the interior. One of the most surprising aspects is that there's no V8 under the hood.
Instead, the impressive Toyota Sequoia has a 3.4L twin turbo V6 known as the i-Force Max. Let's look at some of this SUV's most essential features.
Key Features of the Toyota Sequoia
The New Toyota Sequoia has many features that make it stand out in a competitive full-size market.
Seating for eight: while it doesn't hold nine passengers, the Sequoia has comfortable seating for eight adults, making it one of the most practical of its class.
Reliability: the Toyota Sequoia has been reliable throughout its history, an essential brand feature. Many of them can easily reach 200,000 miles.
Comfort: This SUV is comfortable and safe, thanks to an updated interior.
Improving performance: thanks to the upgraded powerplant, the new Toyota Sequoias can go toe-to-toe with other brands.
Body-on-frame construction: it is old-school, in a good way, thanks to its body-on-frame construction, which gives it durability.
All these features have helped this SUV have a reputation for being reliable and durable. At the same time, it has also given it the ability to pull heavy loads.
Let's first discuss some technical terms to understand how much the Sequoia can pull.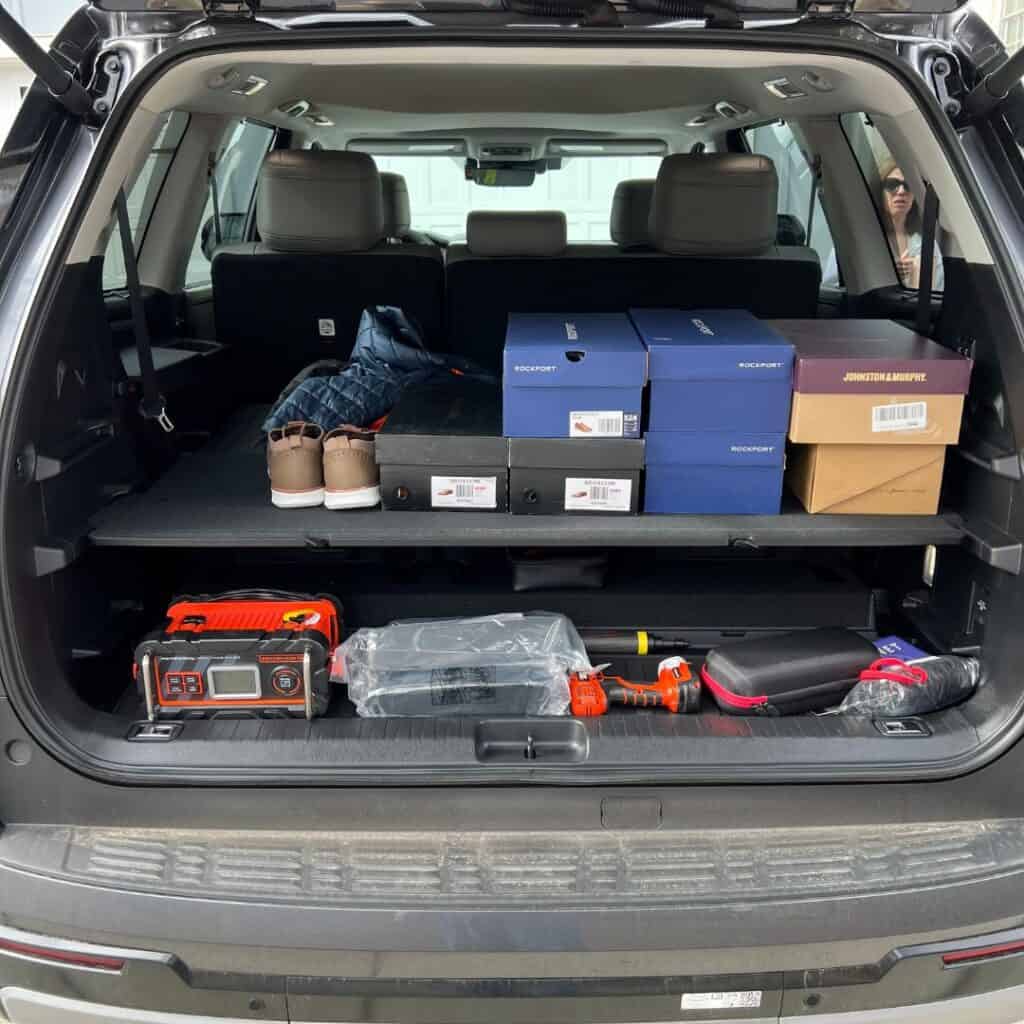 Understanding Towing And Other Terms
Definition and Importance of Towing Ability
Simply put, a vehicle's towing power is how much it can pull on a trailer. Of course, you could move boulders straight off the ground, but you shouldn't.
A vehicle's ability to pull any load will depend on many factors, not only the engine's performance. Here are some of them which could affect this performance.
Factors Affecting Towing
Engine power and torque: the engine is one of the most critical aspects. More power and torque usually means the vehicle can pull heavier loads, but this goes hand-in-hand with other aspects.
Vehicle weight: without getting into technical aspects, a vehicle's weight affects this performance directly. If it's too heavy, the engine will use most of its energy to move it, leaving little for pulling.
Wheelbase: this is an aspect most drivers overlook when looking at how much they can pull. If a vehicle has a shorter wheelbase, it won't be able to create as much grip. This is an advantage to the Sequoia, as the distance between each axle is considerable.
Cargo and passengers: although it sounds logical, it's always important to factor in how much you already carry. If you want to know more about how this affects your vehicle, you can always check out the Gross Vehicle Weight Rating (GVWR) and how it comes into play.
Trailer weight: When pulling anything, consider the trailer's weight. The heavier it is, the lighter the load you can carry.
Drive: is your vehicle 2WD or 4WD? This is crucial to know. When a vehicle has to move four wheels, it has to spend more energy doing so. Hence, you'll find that 4WD most often have a lower towing ability than their 2WD counterparts.
Having said this, let's discuss how all these factors combine with the Toyota Sequoia.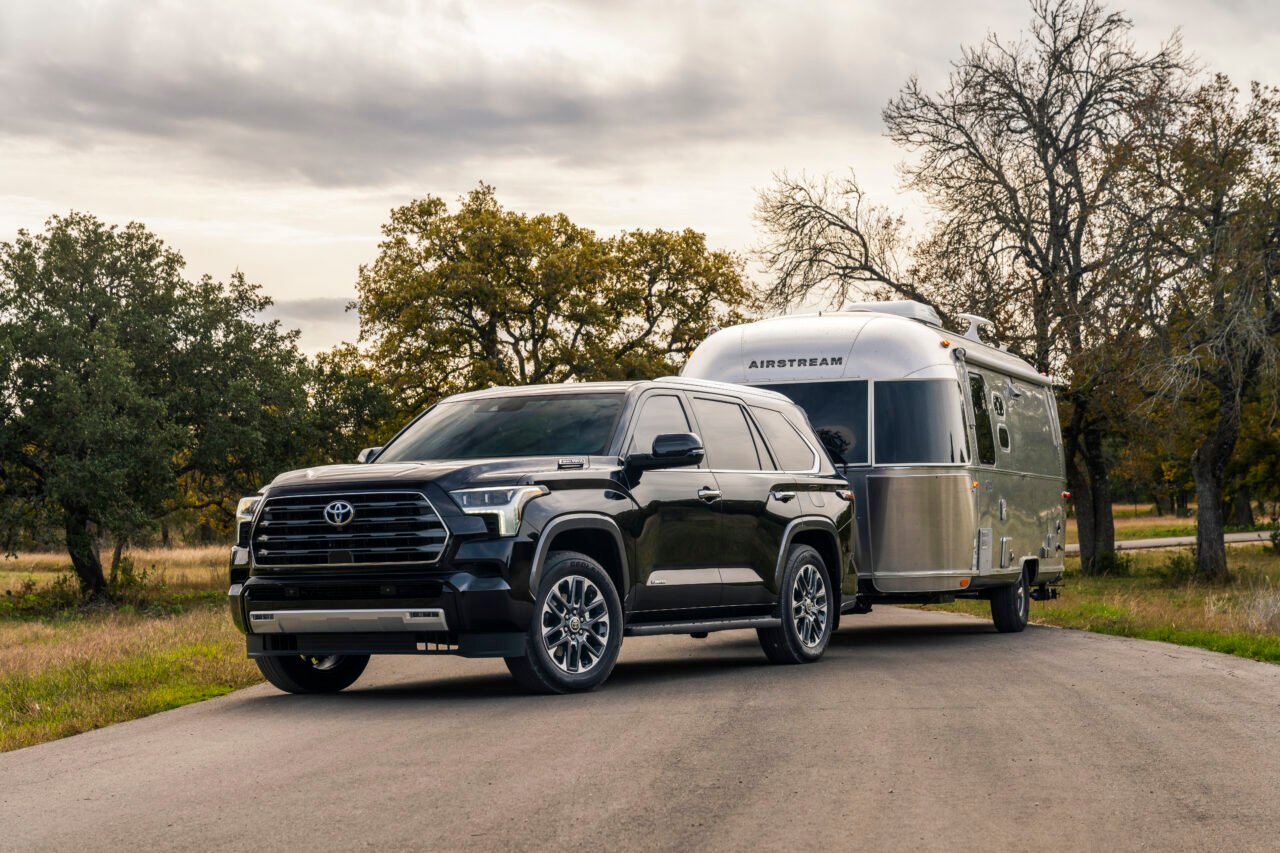 2024 Toyota Sequoia Towing Capacity
The 2024 Toyota Sequoia's maximum towing capacity is 9,500 pounds when properly loaded, which is excellent, especially compared to the past model years. We'll discuss this further in the article. 
The lowest capacity of any 2024 Sequoia is 9,250 pounds when properly equipped. Why the difference? It all depends on the trim level. Let's see why. 
Towing Performance by Trim Level
As with most SUVs, the Toyota Sequoia comes in several levels: the SR5, Limited, Platinum, and TRD Pro.
You can also buy it in Capstone luxury-oriented version, and it's essential to understand how each affects performance. That's right–it's not only about the interior features.
Personally, I wanted to buy the Platinum trim level, but I got one of the first Sequoia's delivered to so I got the Limited and have been pleased with it. There were only a few small things on the Platinum that I would have liked to have had.
The different levels can impact performance directly. It's also important to note that Toyota doesn't offer a tow package to improve performance, instead opting for an option that gives better display and backup guidance. Having said this, the following table shows how each spec performs:
| | | |
| --- | --- | --- |
| Trim | RWD Tow Rating (lbs) | 4WD Tow Rating (lbs) |
| SR5 | 9,520 | 9,120 |
| Limited | 9,300 | 9,020 |
| Platinum | 9,310 | 9,010 |
| TRD Pro | N/A | 9,020 |
| Capstone | 9,280 | 8,980 |
As we've discussed before, there's a significant difference between specs, and it's all due to the features. For example, the Capstone is heavier, given a much more luxurious interior, affecting its pulling prowess directly.
At the same time, the TRD Pro level, which comes with standard 4WD, has one of the lowest figures of all because it has an upmarket interior and four wheels to move. Even so, the latest Sequoia comes with a mighty powertrain.
2024 Toyota Sequoia Engine Specifications
One of the most significant changes with the latest generation is that it no longer comes with a V8 engine. Instead, Toyota opted for more efficiency. The twin-turbo V6 is smaller, but it comes with heaps more power.
The 3.4L twin-turbocharged V6 puts out 437 hp and 583 lb-ft of torque. As a reference, the previous engine, the 5.7L V8, used to put out 381 hp and 401 lb-ft of torque.
With that being said, I've owned a first-generation Sequoia. My dad drives it to this day, and I've always found it smooth and reliable. There's no denying that the early engines weren't the most powerful. Still, we can't take away from the Sequoia's versatility.
I also own a 2023 Sequoia and haven't pulled anything with it yet. So far, I love the latest model, but there's one big flaw, and it has to do with its hybrid powerplant.
The Sequoia is a full-sized SUV, and it needs a similar-sized battery. Toyota has had to sacrifice some interior room, mostly cargo space, to fit one. That's why it feels less practical.
I'm interested in seeing how it performs, but meanwhile, we're using my wife's 2019 Chevy Tahoe.
Toyota Sequoia Towing CApacity By YEar 
This change in powerplant has given the latest model excellent performance.
Let's compare them to the previous generations. The following table shows how each generation (and engine) performed:
Generation
Engine
Max Toyota Sequoia Towing Capacity by year (lbs)
First generation
4.7L V8
6,200
4.7L V8 VVT-i (changed with 2004 Toyota Sequoia)
6,500
Second Generation
4.7L V8 VVT-i
6,500
4.6L V8
6,200
5.7L V8
7,400
Third Generation
3.4L V6
9,520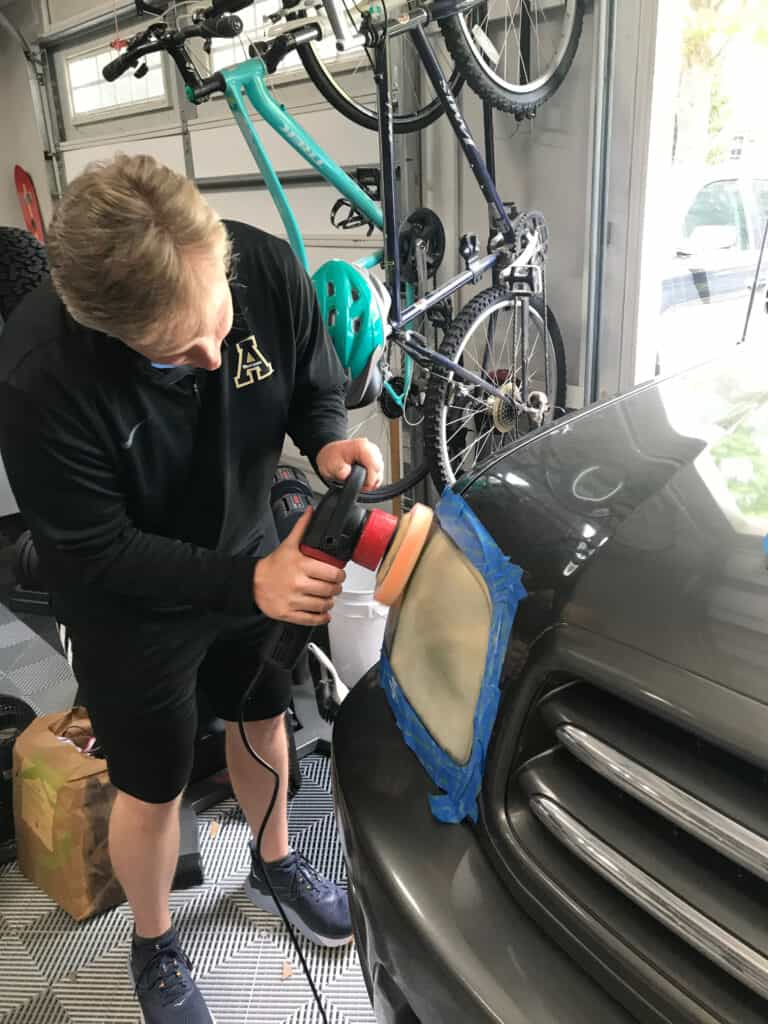 Tips for Maximizing Your Towing
Many people wonder if there's a way of maximizing performance if you're towing, and there are plenty. The first of which, ironically, is respecting the manufacturer's guidelines.
If you search the web, you'll find many stories of people exceeding the SUV's recommended pounds. Still, there's no way of knowing when your engine will fail. So, to keep your vehicle in working order, it's best to stay within it.
Here are other tips for better performance when pulling heavier loads.    
Proper Hitch Installation and Wiring
One thing is having a hitch, and another thing is having it properly installed, which includes wiring and other connections. A proper hitch installation ensures all the rig's electrics, such as the braking system.
An improper hitch installation could also lead to insecure latching. This can cause a failure at highway speed, posing a risk to you and others.
Weight Distribution and Trailer Loading
The most crucial aspect of towing is loading your trailer adequately. Depending on what you're carrying, you'll find that there's a proper way of loading cargo. Weight distribution is essential for safe operation.
When the load is too far back, it can "drag" your vehicle and cause it to lose traction. If it is too far forward, it could cause the rear wheels to drop, raising the front wheels and directly and negatively impacting your steering.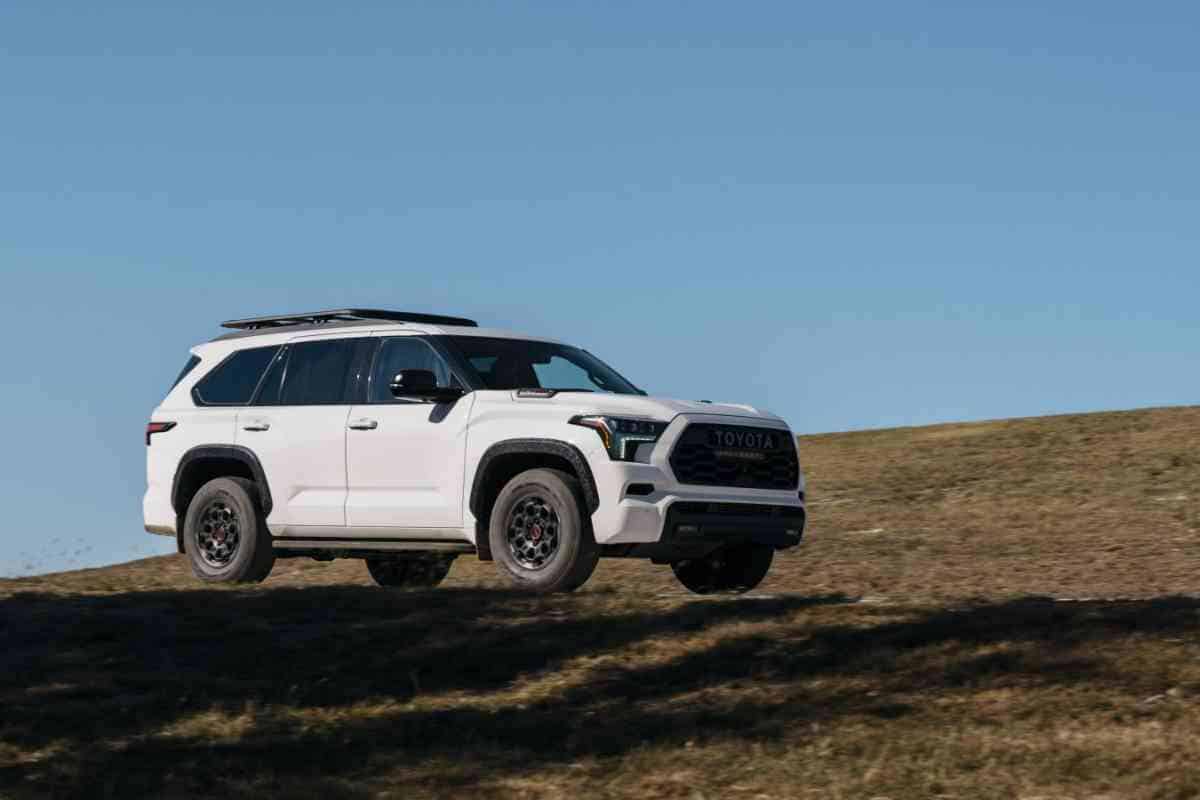 Using The Toyota Sequoia Towing Capacity By YEar To choose The One For You
If you're looking to buy one of these SUVs and you plan to pull frequently, there are some things you need to consider. If you want to buy a used Sequoia, a year such as 2021 or 2022 is ideal. The 2021 Sequoia is the same as previous models, but you'll likely find one in great condition. The other aspect to consider is the trim level.
Considerations for Selecting Trim Levels
The SR5 option is the most basic and often provides the highest capacity, thanks to its austere interior. That's not to say the interior isn't nice. There are plenty of features and creature comforts, but don't expect anything out of the ordinary.
The Limited and Platinum models are also excellent options for towing, as they have good performance and come with additional extras.
Though luxurious, the Capstone trim isn't ideal for pulling heavy loads. This number is 500 pounds of towing less, which is considerable.
Other Factors to Consider
The other essential factor is whether you want 2WD or 4WD models. If traction on all four wheels is critical, then you have to be willing to sacrifice anywhere from 300 to 500 pounds.
This might seem like a lot, but remember that a 4WD system can get you out of tough spots, and those couple of hundred points seem less critical then.
More Reading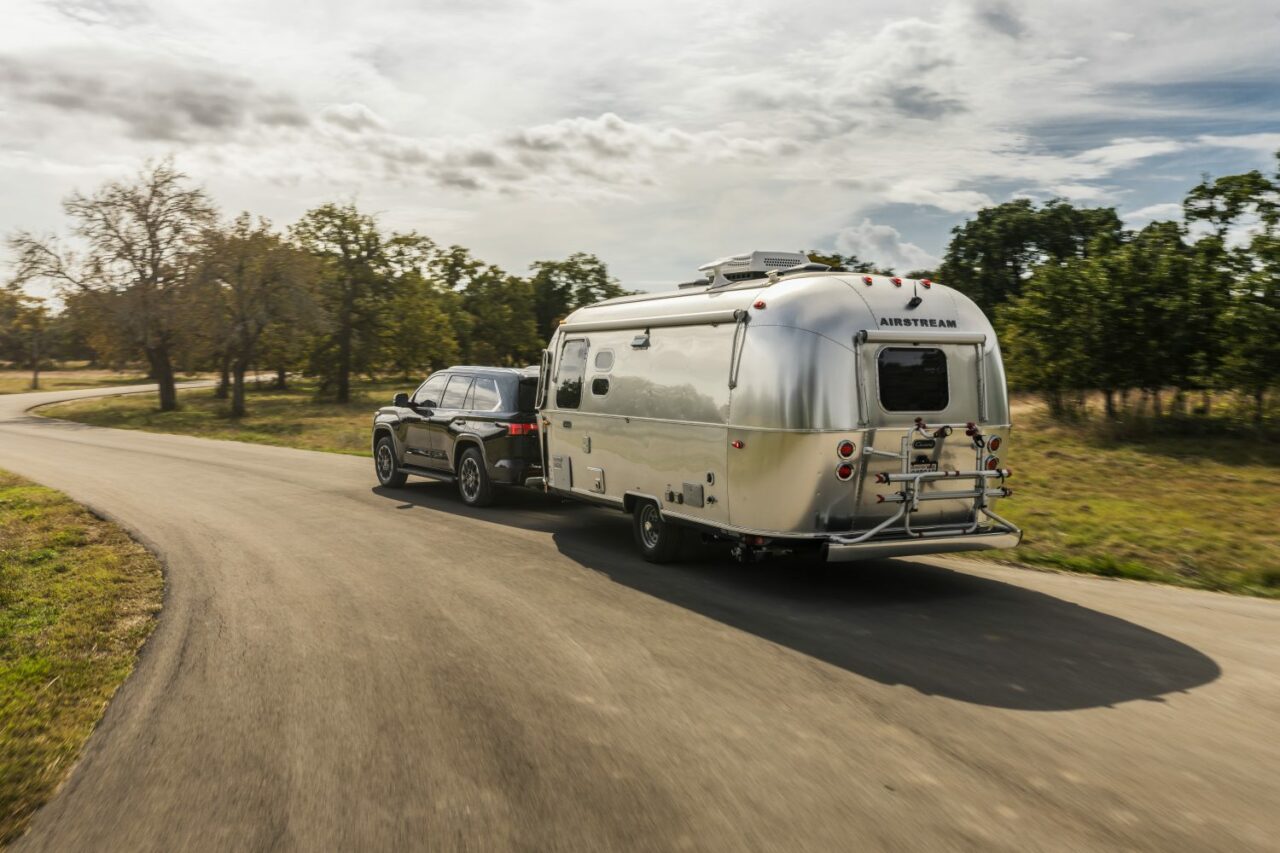 Conclusion
Final Thoughts on The Toyota Sequoia Towing Capacity By Year
The Toyota Sequoia is Toyota's full-size SUV and has adequate pulling performance. At the same time, it's robust and reliable.
The Toyota Sequoia towing capacity by year has improved considerably, going from 6,250 pounds to 9,520 pounds in the latest generation.
With that being said, it was never the class leader. Other models from Ford and Chevy outperform the first and second generation. Still, it's the best-performing Toyota SUV, with others like the Highlander and Rav4 falling behind.
This changed with the third generation. It has a smaller, more efficient engine, better performance, and exemplary towing capabilities. Now, it's competing with other big brands, with the advantage of reliability.
Is the Toyota Sequoia good for towing? Yes! But it's not perfect. Its battery removes plenty of cargo space, so you might have to leave your Great Dane behind. Regardless, it's an excellent option for towing loads.