What Is The Best Used Honda SUV To Buy? (CRV, HRV, Pilot, or Passport)
This post may contain affiliate links. As an Amazon affiliate, I earn from qualifying purchases.
If you are looking for the best used Honda SUVs, then you have come to the right place. Honda's first SUV was introduced in 1993, meaning there are over 2 1/2 decades worth of vehicles to sift through when finding one to purchase. This can make the picking process difficult, as there are so many models and trims that must be taken into consideration before making the final decision.
The best used Honda SUV to buy is the 2015 CR-V. This vehicle has a high fuel economy with a combined gas mileage of 29 mpg. The 2015 CR-V has a CVT transmission and an 85 horsepower four-cylinder engine. Depending on the trim, this SUV typically costs less than $20,000.
When deciding which used Honda SUV is the best one to buy, price, fuel economy, reliability, and safety must be taken into account.
However, many do not want to take the time and look through nearly 30 years worth of vehicles, so we did it for you. Continue reading below to discover everything you could ever want to know about Honda's SUVs.
2015 Honda CR-V
The 2015 Honda CR-V has everything you could ever want in a vehicle. Despite being six years old, this vehicle is likely to last 10 more years if well-maintained. Drivers rave about the 2015's gas mileage as it is able to get 27 mpg in the city and 34 mpg on the highway.
In addition, it is capable of fitting over 15 gallons of gas in its tank at a time. The fuel economy of the 2015 SUV is impressive, and it is just one of the reasons why drivers should consider buying it as a used vehicle.
The 2015 model is inexpensive to own. Because of its age, it is inexpensive to purchase as well. Depending on the trim you are looking for and how many miles you are willing to already have, you should be able to find one of these CR-Vs for less than $20,000.
The powertrain of the 2015 Honda CR-V is updated. The vehicle is front-wheel drive, has a CVT transmission, and has an 85-horsepower four-cylinder engine.
All of these combined makes for an outstandingly powerful vehicle. In addition to being powerful, the SUV is safe to drive. You can count on it to get you to your destination without fail.
Other Used Honda SUVs
It is no question that the 2015 Honda CR-V is a great vehicle. It received great ratings when it was new, and it continues to even when purchased used. However, the CR-V is not the only SUV out there that has gotten good reviews.
There are five more Honda SUVs that demand attention. Who knows, you may find one below that you like even more than the CR-V! Keep on reading to decide which SUV is the best option for you.
2016 Honda HR-V
2016 was the debut year for the Honda HR-V, and it was a good one. According to Kelley Blue Book, the expert rating is 4.7 stars and the consumer rating is 4.3 stars.
This demonstrates high satisfaction amongst drivers and proves it's a wonderful vehicle, even when it is bought used.
In addition, the HR-V is less expensive to purchase than the CR-V, which makes many opt for this option instead.
The 2016 Honda HR-V gets 28 mpg in the city and 35 mpg on the highway. It can hold just over 13 gallons of gas in its tank, which is less than the CR-V.
However, it does get a little better gas mileage compared to the CR-V. It comes with front-wheel drive and 141 hp @ 6,500 rpm.
2016 Honda Pilot
In 2016, the Honda Pilot underwent a complete redesign. Everything about the vehicle is different. Interior and exterior, engine and transmission, and the features it contains are brand new. Because of updates, you will want to get the 2016 rather than the 2015.
The 2015 model will not be as current and will not have undergone the reconstructive process.
According to US News, the 2016 Pilot has an overall rating of 8.2, which is higher than its previous years. The critics' and safety ratings scored the highest, each with above a 9.
Despite the high critics' rating, the owners of the vehicle were not as impressed. While most of them were satisfied, they were not as pleased as the professionals.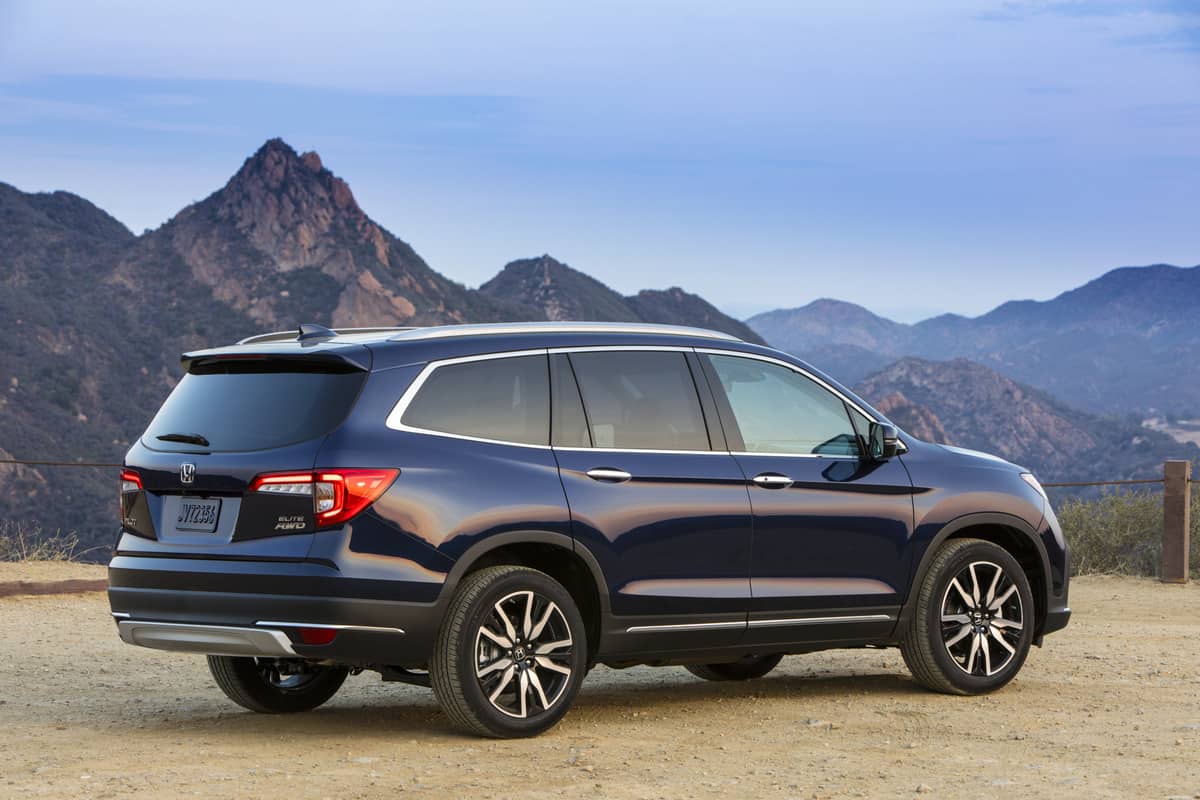 2019 Honda Passport
In 2019, Honda introduced the brand new Honda Passport. For being its first year on the market, it did great. Its size is between the Pilot and the CR-V, and customers report that it is a happy medium between the two.
In addition, the Passport allows Honda drivers to go off-roading more frequently. Although it is not built to withstand all tough terrains, it can handle more off-roading than the other Hondas.
The 2019 Honda Passport can get 20 mpg in the city and 25 mpg on the highway. Although this is lower than the previous Hondas mentioned on this list, there is one benefit.
Finally, Honda introduced a vehicle with a larger gas tank size. The tank is capable of fitting nearly 20 gallons of gas at a time.
2010 Honda Crosstour
Taking it back a few years is the Honda Crosstour. This was the debut year for the Crosstour and it made quite the impact.
Although the Crosstour has not been in production since 2015, you will still be able to find many up for sale. They all make great used vehicles, but the 2010 stands out amongst the rest.
Its reliability rating is outstanding, which is essential for a used SUV. In addition, it gets 18 mpg in the city and 27 mpg on the highway, which is fantastic for a vehicle over a decade old.
2011 Honda Element
Keeping with the decade-old vehicles is the 2011 Honda Element. It has a flawless reliability rating and an almost perfect safety rating.
What more could you ask for when looking for a used SUV? The Element has an adequate fuel economy, with 20 mpg in the city and 25 mpg on the highway.