What is the Luxury Brand of Chevy?
Chevrolet is a popular brand of vehicles, and they offer a wide variety of models from trucks to sports cars to family vehicles. Chevrolet is one of four brands owned by General Motors, but it isn't necessarily a luxury brand.
Cadillac is the luxury brand of Chevy. Both owned by General Motors, GMC is more luxurious than Chevy, but Cadillac is the most luxurious brand within the company. While Buick is the premium brand of GM, the more luxurious models from Cadillac make it the official luxury brand of General Motors.
Now you know which General Motors brand is the luxury one, but there are a lot of reasons why it is. Keep reading to learn more about the luxury brand, Cadillac.
General Motors Brand Hierarchy
Before we talk about the luxury of the Cadillac, it is important to know the hierarchy of General Motors' brands. Chevrolet and Cadillac are both a part of the General Motors family of brands, but there are two more GM brands to be aware of. The four brands currently owned by General Motors are Chevrolet, Cadillac, Buick, and GMC. These brands have an order of how luxurious they are.
The General Motors brand hierarchy of luxury from least to most luxurious is Chevrolet, GMC, Buick, and Cadillac. Chevy vehicles are the least luxurious, but many people say that they can be equally compared to GMC. GMC models are generally better equipped for off-roading and have a more luxurious interior.
Buick is the premium brand from General motors designed for even more comfort. Cadillac is the luxury brand of General Motors and is designed with the most luxury and comfort available. 
Let's discuss how the various General Motors' brands match up with each other. This especially helps you realize just how different Chevy and Cadillac are, even though they are both brands from the same manufacturer. Cadillac and Chevy make different styles of vehicles. While Chevy is well known for trucks and SUVs, Cadillac is better known for SUVs and sedans.
Cadillac Models
Cadillac offers a more restricted variety of vehicles than many other brands do, even within the General Motors brand family. Regardless, Cadillac focuses on producing a quality and expensive feel for these few styles. Cadillac strictly makes models of SUVs and sedans; however, the company is best known for its sedans.
Sedans
Cadillac has made a name for themselves from their luxury sedans. The Cadillac sedans are a staple for their brand, and they are the most popular models. The CT-5 is especially popular, and the design is exceptionally lavish. Cadillac has even created a separate series of sedans called the V-series.
The V-series sedans are made in a luxury, sport sedan style. While they are still luxury vehicles, the V-series focuses more on performance than the other Sedan models.
In addition to the current sedan models that Cadillac offers are their concept models. Cadillac has three concept models: Escala, Elmiraj, and Ciel. They are all sedans, but they have distinct differences. For example, the Ciel is even a convertible sedan! These conceptual models will be a new height of luxury for the Cadillac.
SUVs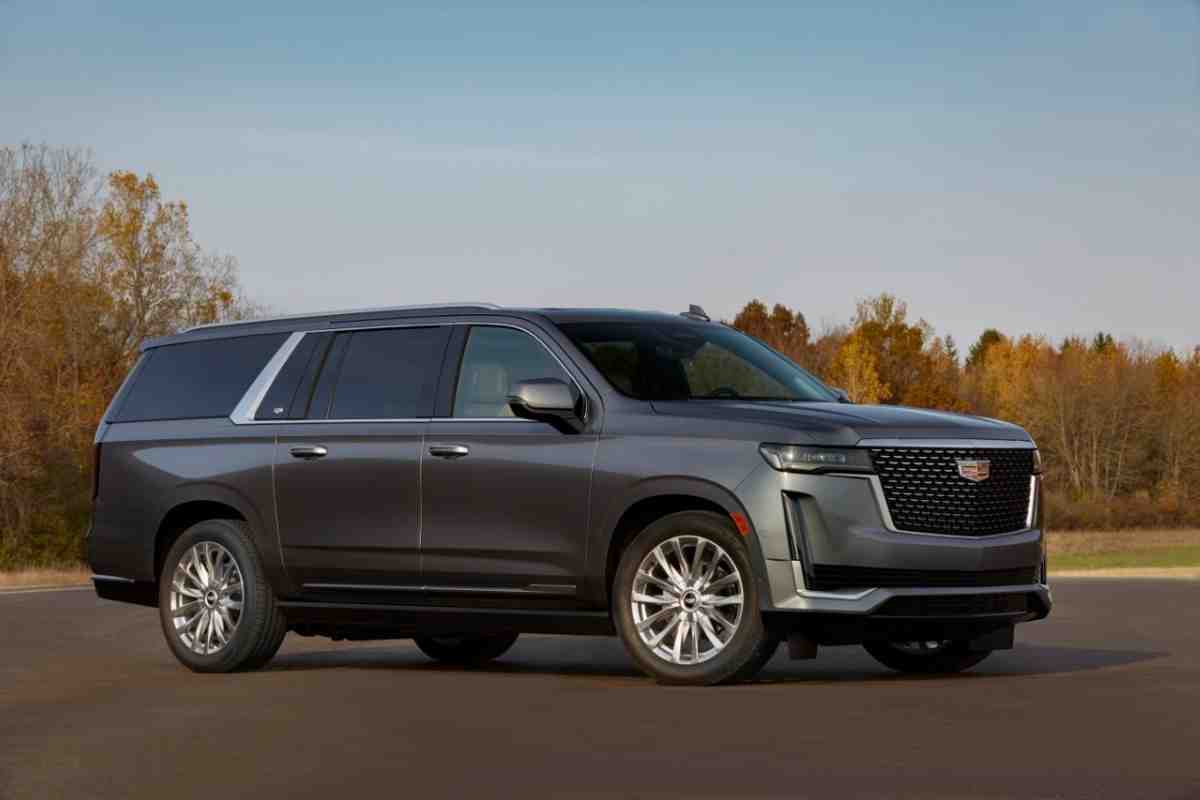 While sedans are the most popular style of the vehicle offered by Cadillac, they also have SUV models available. They have one full-size SUV model, three mid-size SUVs, and one electric model to be released in 2023.
The full-size SUV is the most expensive of the SUV models because of its size. The three mid-size models only have subtle differences in appearance and mechanics. 
The SUVs that Cadillac offers are made with a particular focus on the expensive feel of the vehicle–like all Cadillac vehicles. While SUVs are not always seen as luxurious, these SUV models from Cadillac have lavish interiors and perform impressively. While Chevy also makes SUVs, they can't compare to Cadillac SUVs.
Chevrolet Models
The 2022 Chevy line-up has 24 vehicles of various makes and models. While the line-up features performance-based vehicles such as the Camaro and the Corvette, it is not a luxury brand. The Chevrolet brand even sells two fully electric vehicles: the Bolt EV and the Bolt EUV.
Although the Chevrolet brand sells a variety of cars, their most common model is their line of commercial and non-commercial pickup trucks.
What makes Cadillac Luxury
Now that you know of the different models that Cadillac offers, we can talk about what makes Cadillac a luxury brand and how it compares to other luxury brands. Cadillac is a luxury brand by definition. It has luxurious interior features, updated safety features, and top-tier performance capabilities.
These vehicles can not be compared to Chevrolet vehicles as they are built with different goals in mind. Chevrolet is built with practicality and simplicity in mind while Cadillac is built with performance and luxury in mind.
Buick is the brand just below Cadillac in the hierarchy of luxury; however, Buicks and Cadillacs are not similar kinds of vehicles. Buick is a premium brand. However, a premium vehicle is not the same as a luxury vehicle. Buick makes very nice models of cars, but Cadillac is even a step up from that.
While Cadillac is the most luxurious brand from General Motors, it does not compete very well with many other luxury car brands. Cadillac used to be a much more popular brand, and it held a lot more status.
When motor vehicles first became feasible for people to own, Cadillac was a brand that only the richest, most important people owned. Since then, it has plummeted in popularity among newer, rising luxury vehicles. 
While Cadillac is more luxurious than Chevrolet, it is not the most luxurious vehicle manufacturer. Brands like Porsche, BMW, Mercedes-Benz, Ferrari, and more are seen as more expensive and more luxurious than Cadillac. A Cadillac is still quite the status symbol, but it is less so than it used to be.
This could be due to the outdated styles or their lack of a variety of models available. Either way, luxury cars have come such a long way and Cadillacs just don't measure up. That said, Cadillac is still the most luxurious brand from General Motors and will continue to be.