Can You Flat Tow A Buick Encore?
This post may contain affiliate links. As an Amazon affiliate, I earn from qualifying purchases.
Finding a good car for flat towing is essential for those long trips. But, when you choose the right vehicle, you don't have to worry about much. So, if you're looking for a car that's fuel-friendly and easy to drive, you can consider the Buick Encore. And, guess what? It's one of the few automatic vehicles that you can flat tow. Let's find out more in this article.
Can you flat tow a Buick Encore?
Yes, you can flat tow the AWD Buick Encore, but you cannot flat tow the FWD version. Plus, the owner's manual contains all the necessary steps to do so safely. Though the Encore comes with a CVT transmission, it can shift into neutral, vital for flat towing. Plus, this compact crossover is ideal for driving in the city, thanks to its small but capable engine.
The Buick Encore is one of the most popular small SUVs sold in the United States. Sales increased consistently up until 2019 but then took a hit in 2020. But, thanks to its reputation, it's expected to rebound.
Buick is part of General Motors. It's common for major manufacturers to use one platform across multiple vehicles. With the Encore, it's no exception. It uses the Gamma II platform, which it shares with other cars like the Chevrolet Spark, Onix, and Trax. Some of these you can also flat tow.
In the United States, the Encore comes with only a six-speed automatic transmission. As far as engines, you cannot choose. The powerplant is a turbocharged inline-four 1.4L gasoline engine, putting out a respectable 155 horsepower and 177 lb-ft of torque.
But there's one essential characteristic you can choose. You can either go for the AWD or FWD. This is critical for flat towing, and we'll discuss more technical details further in the article.
But first, we'll discuss flat towing. It's a widespread practice for those motorhome enthusiasts. But there are some considerations to take.
What is flat towing?
Driving an RV across the country is a great feeling. But, since these vehicles are so massive, you lose a bit of the charm once you move into the next town.
The small parking lots, narrow streets, and traffic can make driving a challenge. As a result, most people choose a smaller vehicle for those quick errands to the supermarket or drive-through.
The best way to take this vehicle along is by pulling it behind the RV. With so much power and torque, motorhomes make excellent towing vehicles. This is called flat towing, and the term comes from having all four wheels on the ground.
You can also find terms such as "dinghy" and "all-four" towing. Some people even refer to the towed vehicle as the "toad."
Since you're using the motorhome's power, you need tools, such as the tow bar, base plates, and a supplemental braking system, which distributes the load evenly across more points. By doing so, the RV has a better stopping distance.
The benefit of flat towing is that you don't have to worry about storing any trailer once you arrive at your destination. You just find a parking spot for your toad, and that's it. But, you cannot flat tow all vehicles.
There are multiple guides on the web that list the ideal vehicles for flat towing. However, it's best if you ensure that you can flat tow your vehicle, as some dealerships do not extend a warranty for damages of this nature.
One of those is the Buick Encore. So let's discuss how to do so.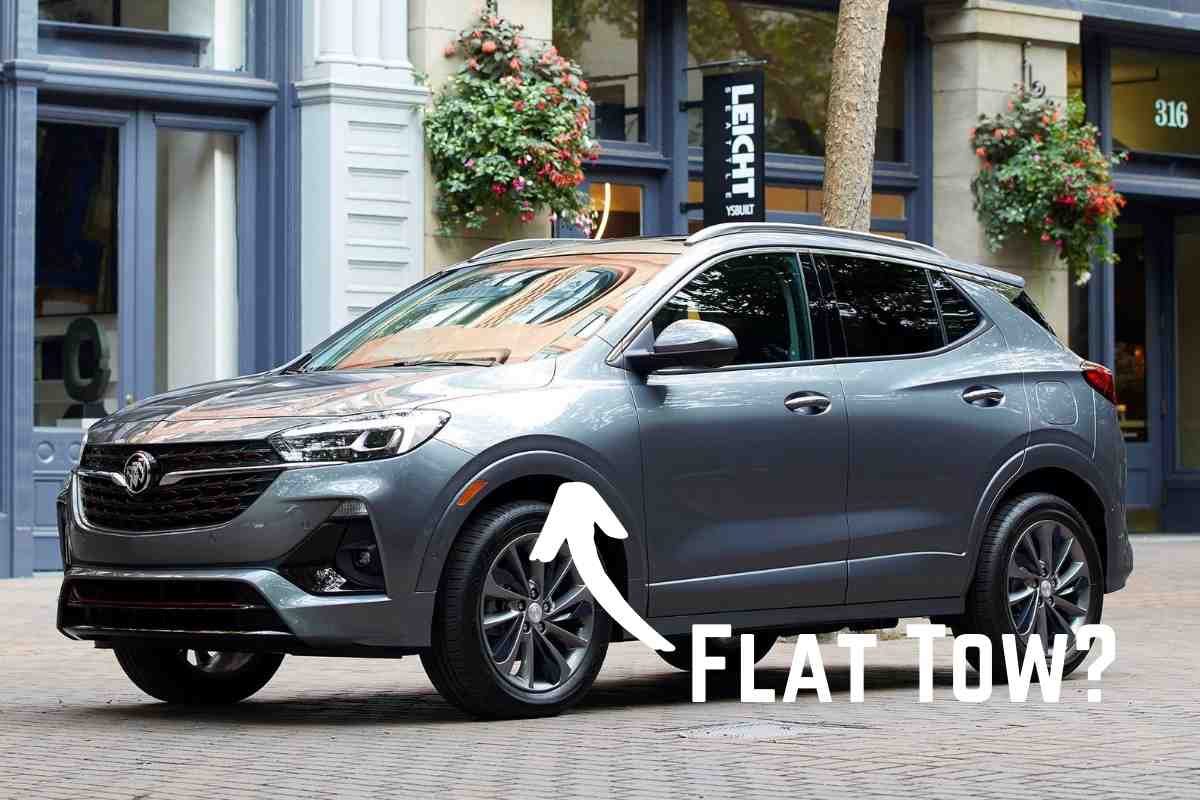 These are the steps for flat towing a Buick Encore.
According to Buick, there are several vital aspects to consider before flat towing your Buick Encore. We'll start with the first and most important one. You can only flat tow the all-wheel-drive Buick Encore.
You cannot flat tow the front-wheel-drive Encore. Doing so could damage drivetrain components, and the manufacturer states that it will not cover them under warranty.
So, once you've selected an AWD Encore, these are the following steps, according to Buick:
Position the vehicle behind your recreational vehicle.
Secure it to the tow vehicle.
Apply the parking brake.
Put the vehicle into ACC/ACCESSORY level by pressing the ENGINE START/STOP one time, without the brake pedal applied.
Shift the transmission to N (Neutral). You will hear a chime, continuously, for 30 seconds. Leave the transmission in N (Neutral)
Release the parking brake
Disconnect the negative battery cable at the battery
Cover the negative battery terminal with a non-conductive material
Do not exceed 70 miles per hour while flat towing the Buick Encore, as it might suffer irreparable damage.
Once you've completed your journey, you should do the following steps, according to the manufacturer:
Park on a level surface
Apply the parking brake
Make sure the ignition is off
Remove any dirt, tape, or excess material from the negative battery post
Connect the battery
Disconnect the vehicle from the tow vehicle
Release the parking brake
It's important to note that you cannot tow AWD vehicles with a dolly. This can cause damage to the drivetrain and will not be covered by the warranty.
For more information on this and other details regarding vehicle care, be sure to check out the owner's manual. In addition, you will find the necessary information in the "Vehicle Care" section, usually found on page 375 or thereabout.
So, now that we've seen a detailed explanation of how to flat tow the Buick Encore let's dive deeper into this compact SUV.
What makes the Buick Encore a popular compact SUV?
As we've said before, the Buick Encore uses the GM Gamma II platform. In addition, this vehicle is the North American version of the Opel Mokka, available in Europe and other markets.
In the US market, there are only two trim levels. The Encore is the most basic, and the Preferred is the upper-scale version, with upgraded interior and finishes. But luxury isn't the Encore's strong point.
This vehicle is practical. Take, for example, its 48.4 cubic feet of maximum cargo space available. This sets it apart from other competitors that do not come with so much room.
Then, we can take into consideration its curb weight of just 3,382 pounds. This makes it light and an easy tow for most RVs, as they average a towing capacity of 5,000 pounds. Moreover, thanks to its 1.4L engine, you can expect a respectable 26 mpg in the city and 30 mpg on the highway.
Magazines like Consumer Reports have rated it highly in reliability and recommend it as a viable option for a compact Crossover. But, it isn't the cheapest of the bunch, as it starts at about $24,000.
Other competitors include the Hyundai Venue, starting at about $20,000, and the Kia Seltos, starting at $23,000.
Closing thoughts:
Many people want to know which vehicles they can flat tow. And, sometimes, finding the answer is complicated. For example, one of the most common questions out there is if you can flat tow a Buick Encore.
Flat towing is a common practice for many motorhome enthusiasts. But, as more and more vehicles migrate to automatic transmissions and front-wheel-drive configurations, it's becoming increasingly harder to find cars you can flat tow.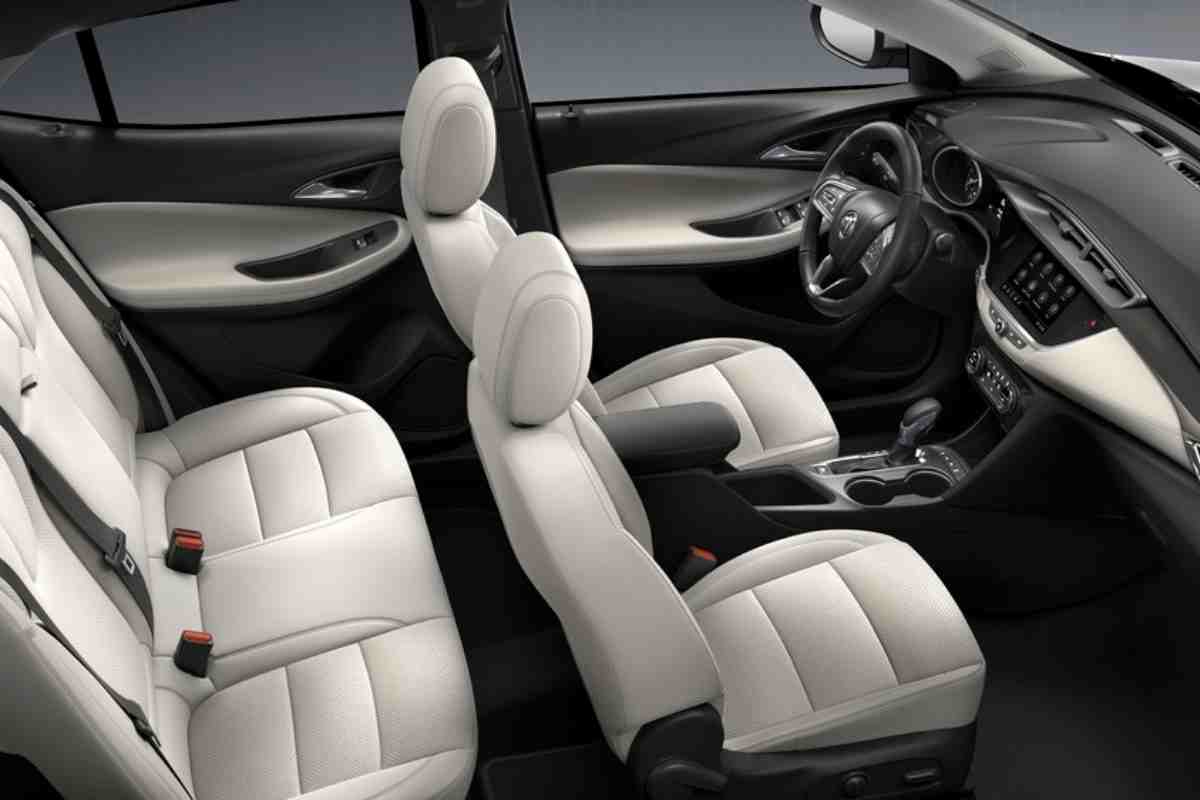 Fortunately, the Buick Encore is an exception. Yes, it comes with a CVT (Continuously Variable Transmission), but it's one of the few out there that you can shift into neutral. Thanks to this, you can flat tow them.
But, you have to make sure it's the All-Wheel-Drive version, as this is the only model that can be flat towed. Doing so is easy, and you can even check the owner's manual for details on how to do it. You must always stick under 70 mph to avoid damaging internal components.
The Buick Encore makes for an excellent dinghy vehicle. It's small enough to drive around town with ease. Plus, it's not heavy, so it won't put a lot of strain on your Recreational Vehicle. But, looks can be deceiving. With all seats folded flat, you can fit a lot of cargo inside, ideal for those refueling trips to the supermarket.
When you take your RV across the country, it's a liberating feeling. And, with the ideal dinghy vehicle behind you, it's one less thing to worry about. Hopefully, with this article, you learn more about what makes the Buick Encore an ideal vehicle for flat towing.