What Year Audi Q5 is the Most Reliable?
This post may contain affiliate links. As an Amazon affiliate, I earn from qualifying purchases.
Since 2009, Audi has sold Americans on their sporty, compact, and luxurious crossover SUV known simply as the Q5. It has long been known for its agility, quiet cabin, punchy engine, and fuel economy.
That's a difficult combination to pull off.
Now people are beginning to wonder, of the last 13 Q5 model years, which one is the best?
Well, there are several good ones.
What Year Audi Q5 is the Most Reliable?
The 2012 Audi Q5 model year the most reliable year because it introduced Americans to the high-end hybrid Q5, which remains a popular and reliable hybrid luxury vehicle. Audi upped the ante in 2012 with a broad style makeover, the introduction of hybrid fuel technology, and several optional engine capabilities.
Keep reading to learn more about the Audi Q5 and its interesting history.
Introducing the Q5
Audi unveiled its first attempt at a compact, luxury crossover SUV at the Beijing Auto Show in 2008.
Also, in 2008, Audi showed the Q5 off to American car enthusiasts at the Los Angeles Auto Show.
The car hit the consumer market later that year and offered the company's trademark Quattro four-wheel drive suspension.
Immediately hailed for its handling, the Q5 entered the market on a high note.
Car enthusiasts appreciated its power, agility, and sportiness.
Reviewers remarked on its commendable gas mileage, beautiful interiors, and supportive front seats.
And just about everyone seemed entranced by the Q5's infotainment system, which was the first of its kind.
Audi utilized Harman/Becker Automotive Systems to design the Q5's multimedia interface (MMI) package.
It came with built-in navigation, communication, and wide-screen entertainment capabilities.
They also introduced USB ports for iPod and MP3 music, satellite radio, cell phone charging, and both Bluetooth and wired auxiliary connectivity.
Now, all of those are standard on just about any car. Back in 2008, MMI was novel.
In addition, Audi developed a strong towing capability for the Q5.
It can tow up to 4,000 pounds, which is 1,000 to 1,500 more than most other compact SUV crossovers.
What Makes the 2012 Q5 Model Year Special?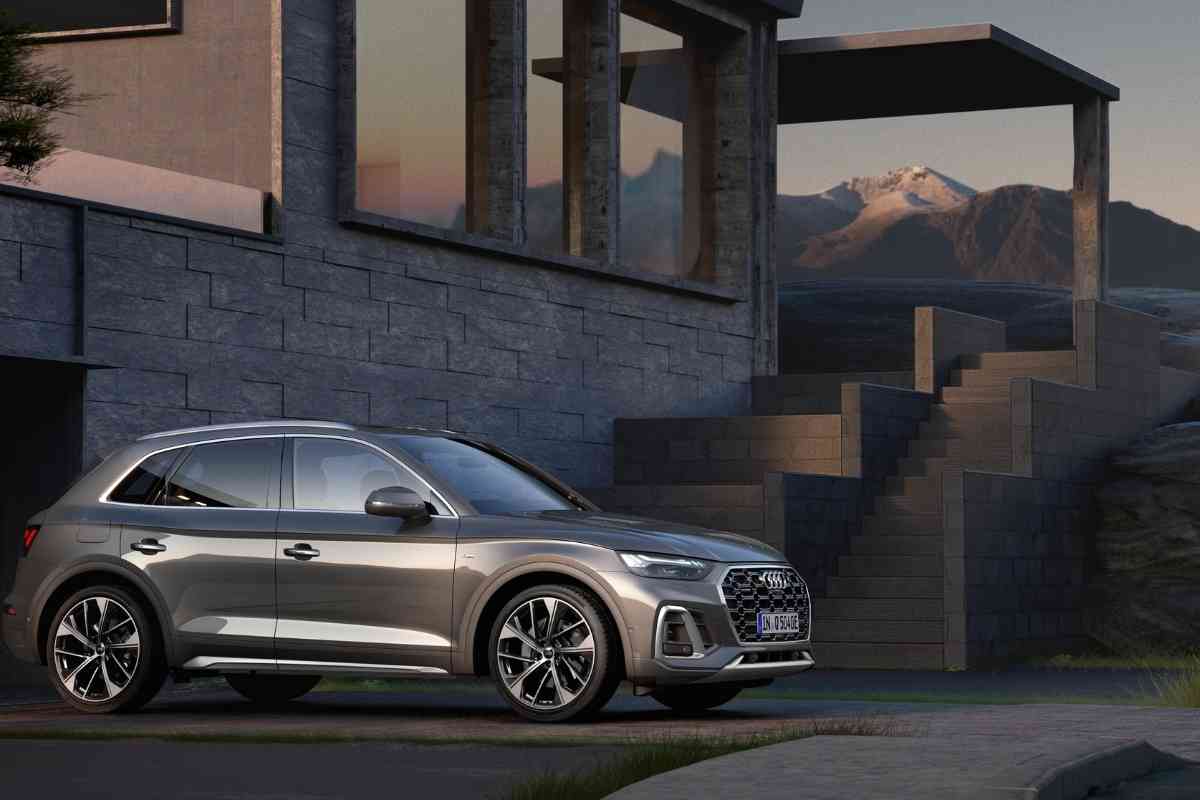 Audi upped the ante in 2012 with a broad style makeover, the introduction of hybrid fuel technology, and several optional engine capabilities.
From the simple looks category, Audi reconfigured the headlights and backlights.
They also added fabric to the interior doors on the base model with either wood or aluminum as options.
Narrow chrome trim was added to the interior user controls.
The patented MMI system included new features.
Audi offered six different engine options in the 2012 model year.
They ranged in size from the 2.0-liter, 4-cylinder model to the beefier 3.2-liter, 6-cylinder upgrade.
Horsepower ranged from 141 to 237.
Yet, the turbocharged four-cylinder was almost as peppy in those days, and reviewers saw little need to pay the extra charge for the six-cylinder.
Both versions of the Q5 got more than 20 mph combined in city and highway driving.
Audi did not skimp on comfort or utility, either.
They made it roomy enough to fit five people in relative comfort. And they provided enough cargo space to take along some toys to the beach or mountains in style.
The reliability in each category has made the Q5 a top choice in the crossover SUV market.
The Q5 line has ably maneuvered each of those to deliver the most well-rounded vehicle in its class.
Hybrid Introduction
Still, the most important innovation of 2012 was the inclusion of an optional hybrid engine. Since debuting the car four years earlier, Audi had been working on this feature.
But this was the year they got it to market.
It was Audi's first large-scale hybrid production model, and it was a success. It was fun to drive and good on fuel.
They combined a 266-volt electric battery pack with a 2.0 liter inline four-cylinder turbocharged gas engine to boost fuel economy without losing power or agility. But it didn't.
The hybrid engine boosted power to 241 horsepower on an eight-speed automatic transmission.
Each engine allowed drivers to switch between three modes. "D" stood for default and provided the car's best overall fuel economy. "EV" was the fully electric mode but limited the car's top speed to 62 mph.
Finally, the "S" mode was for sportier driving. It boosted the battery but only used gas and therefore delivered the worst mileage.
The Q5 Hybrid could reach a top speed of 138 mph and get to 60 from a stop in less than seven seconds in the default mode.
Given that extra boost, you'd think the Hybrid Q5 would be clunky to drive. Not so.
The ride remained supple, and the cabin stayed quiet.
Other Top Contenders
You might think Audi was tempted to rest on their laurels for a year or two after the success of 2012.
But Audi fought that temptation and delivered another standout performance Q5 version in 2013 and 2018.
2013 SQ5
Audi debuted the SQ5 in 2013, a stronger and sportier version of the Q5 that the company had been working on as a concept for several years.
The SQ5 introduced a diesel version with twin-turbocharged 3.0-liter V6 engines and direct fuel injection.
The horsepower jumped by more than 30 percent to 313. Its 0-to-60 time went down to less than five seconds, and the car's top speed was cut off at 155 mph.
In addition, Audi stiffened the suspension to hold the road better. This improvement also made the SQ5 quite safe.
The National Highway Traffic and Safety Administration (NHTSA) has consistently given these Audi crossover SUVs a 5-star overall safety rating, which is the highest in the industry.
The only drawback to this model, and it's a small one, is that the sportiness and fashion of the SQ5 comes at the expense of some cargo space for those family weekend getaways.
But if you don't need the back seats, you can always fold them down and increase the amount of room to store your belongings.
Overall, this was the second year in a row that Audi delivered top-notch improvements to an already successful compact SUV.
2018 Model Year
By 2018, the Q5 was Audi's best-selling vehicle. So, they redesigned it with advanced styling, higher performance, and more safety features than in previous iterations.
All this, and the crossover still came in 200 pounds lighter than its predecessor.
The idea with this version of the Q5 was to bring the interior and exterior visuals in line with the company's Q3 and Q7 crossovers.
For example, all three now had nearly identical faces with sleek headlights attached to the horizontal-slotted grille.
Wider chrome accents and a pronounced edge also gave the hood added dimension.
The back was also redesigned with a squatty shape and muscular taillights.
Audi designers even added a black line and crease under the taillights to create visual depth to the back end.
The 2018 model also came out with a "virtual cockpit" that enlarged the instrument panel into a digital screen.
`All audio, navigation, phone, and other pertinent information were now right at your fingertips.
As far as safety was concerned, Audi added a forward-collision warning system, blind-spot monitoring, and lane assistance.
Reviewers noted this version was "taller, stronger, and packed with fancy tech." It was also made in Mexico, which meant that American demand for the Q5 was resolved quickly.
Wrap Up
Since 2009, the Audi Q5 has been a dependable luxury crossover SUV with nimble handling, a comfortable ride, and enough power to get you just about anywhere you want to go.
Plus, the 2012 model included the company's first entry into the hybrid market with great success.
As such, it has been the most reliable Audi Q5 on the market, holding more than one-third of its original value after ten years.