What's The Ideal Size Lift Kit To Fit 33-inch Tires On An F-150?
The Ford F-150 is an icon in the truck world, and with due reason. For decades, this truck has been the workhorse of millions of Americans, even becoming the most sold vehicle in the country for years.
Depending on the model, the F-150 will come with tires that equal 30 inches in size or smaller. These work perfectly for everyday use, but the F-150's popularity also means many will want to modify it. Fortunately, one of the easiest upgrades out there is fitting bigger tires. While the F-150 is a versatile platform, it might not be as easy to fit 33-inch tires on all of them, especially 4×2 models. This happens because the ground clearance is less, making it challenging to install larger tires. Plus, with many rim options, it's hard to keep track of which does take these size tires. So, if you're one of those who want to fit bigger tires in your Ford F-150, then this article is for you.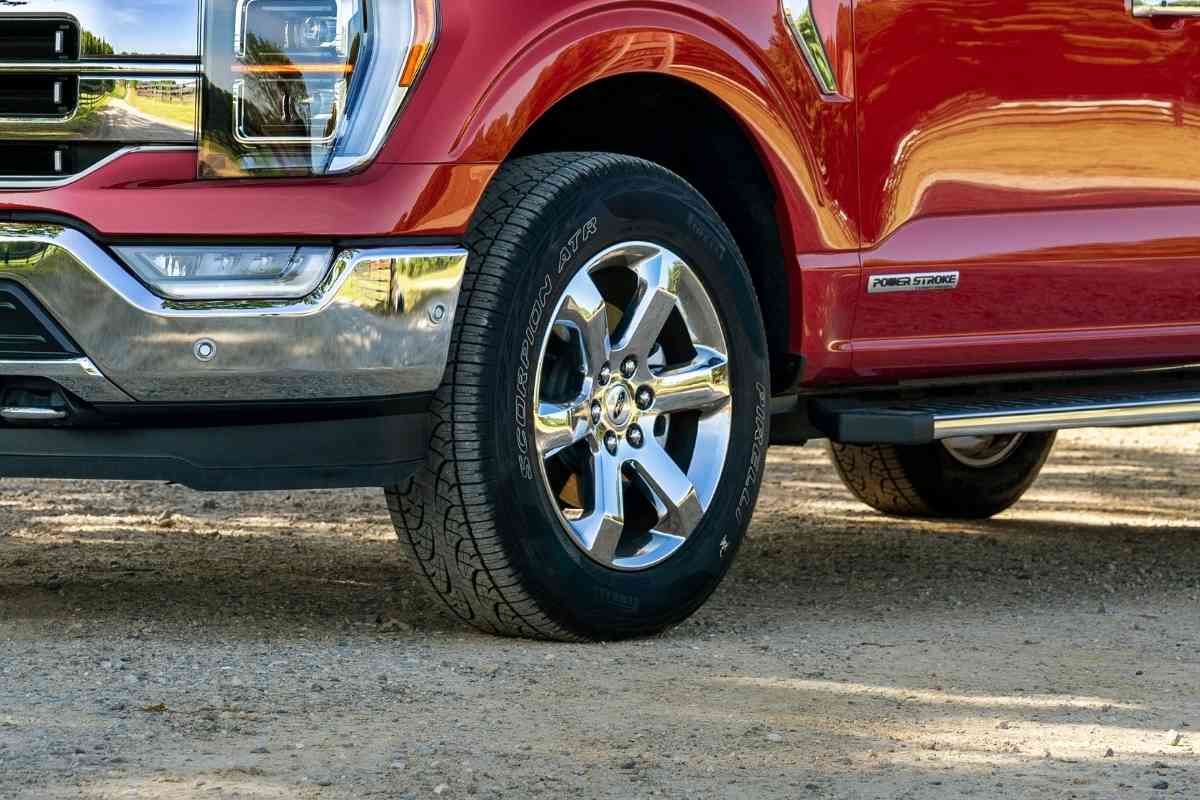 What size lift do I need to fit 33-inch on an F-150?
If you're fitting 33″ x11″ tires, you won't need to install a lift kit on an F-150 Instead, you will need a leveling kit to ensure that the front doesn't drop too much. At the same time, if you don't see a drop, you might not need the kit after all. With this configuration, you don't have to do any trimming, nor will the tires rub off against the vehicle.
The ideal width of the tire is 10″, with the most being 11″, if you don't want to change anything. Of course, you can opt for wider ones, but the risk of rubbing will increase. As for the diameter, most F-150s, even those that are 4×2, will fit 32″ and 33″ with ease. However, you might need to trim if you plan to put in a larger tire, for example, a 35" on your F-150.
So, does this mean that you don't need a lift kit? It depends on the use that you will give your truck. As we said before, a leveling kit will usually be enough to provide the space needed for a 33″ tire. As this kit gives you an inch in the front and up to two in the back, that added space is enough to provide the needed clearance.
With this configuration, you should be able to do light to moderate offroading and any heavy-duty work that you regularly do with your truck.
When you're embarking on tougher offroading, the suspension can be put through more stress. At the same time, this can cause the tires to rub against the frame, fenders, and wells. The chances of damaging any component are low unless you go really hard. Still, you can put extra strain on the steering and suspension and wear out the tires faster.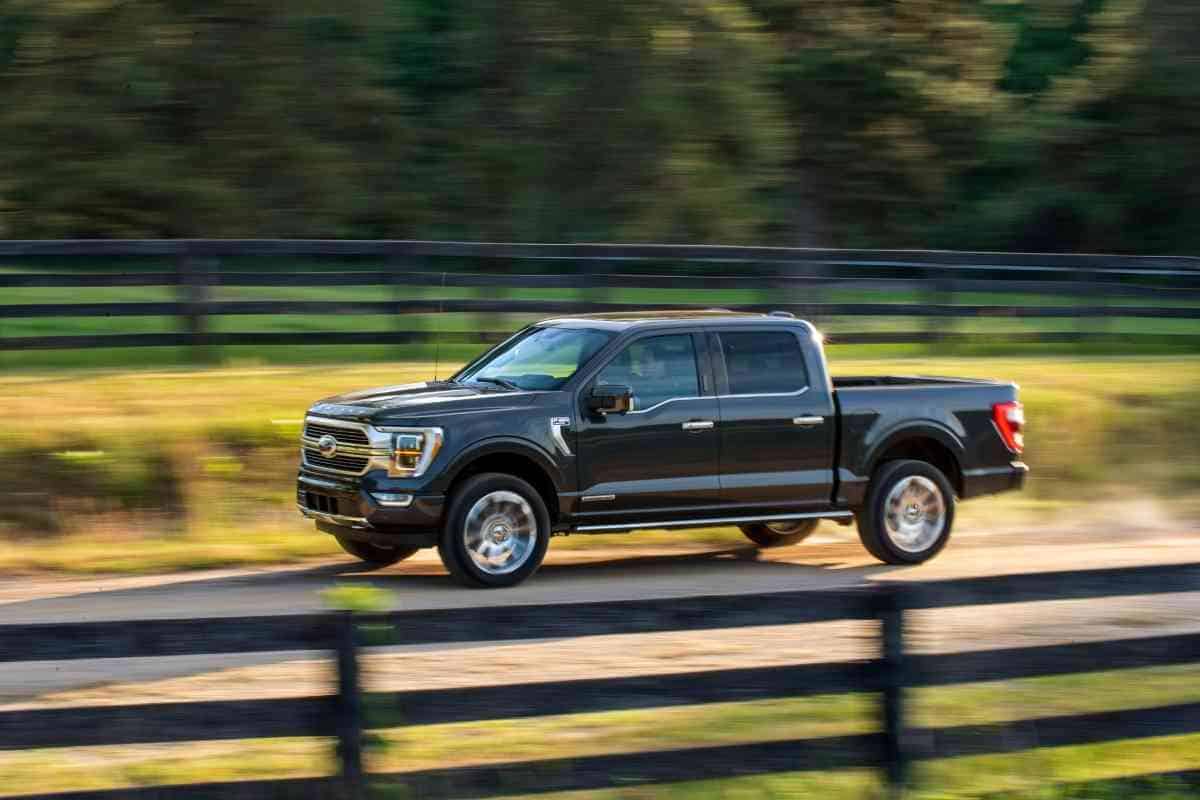 What size rim can take 33-inch tires on an F-150?
The stock F-150 comes with rims that range between 17″ and 18″. If your F-150 comes with 17″ rims, you can fit 33-inch tires with no modifications, and only a leveling kit in some cases. As we've said before, the ideal width is 11″.
This is a very versatile option if you don't mind having a smaller rim. In fact, it allows you to fit even 34×12″ tires with no modification.
When the rim is 18″, you still have plenty of options. With this rim, you can fit 33×10″ and 33×11″ tires with no modifications. However, if you want to use a wider 32×12″ tire, you will need a 3″ lift kit.
The game changes when we talk about 20″ rims. Since these have a large diameter, it's almost guaranteed that any big tire will need modification. In fact, even with 31-inch tires, you might need to do some trimming. At the same time, rubbing is unlikely, yet creating some extra space is always recommended.
With 20″ rims, anything over 33″ should use a leveling kit, but we recommend you look for a larger lift. The ideal lift kit for F150s with 20-inch rims is 6″.
What do I have to trim to fit large tires on the F-150?
As you've seen, some of the bigger tires can cause some rubbing, and you might read forums that say you can trim certain parts to better fit larger tires. So, what does this consist of?
Trimming consists of removing excess material from the fenders, wheel arches, and bumper. You can often do this at home, but you want to take the appropriate measures to do it right. If you're unsure how to do this, there are plenty of tutorials on YouTube, and you can take your truck to a professional.
In short, trimming consists of placing the tire and then measuring where there are friction points. From there, you can mark them and remove them with a saw. After doing so, it's best to work the surface so that there are no edges and the job looks good. After all, that's one of the main goals of modifying your truck.
Closing thoughts
The Ford F-150 is one of the most popular trucks in the world, and people love modifying them. With millions around, it's common to see anything from a subtle upgrade to the largest lift kits you can imagine.
One of the owners' first truck changes is installing larger tires. So naturally, this sparks one common question: what size lift kit should I use to fit 33-inch tires on my F-150?
The answer is that the F-150 is a very versatile platform that allows for much modification. So, you don't need a lift kit to fit 33-inch tires on a stock F-150 if your tires are 33×11″ at most. If you want to install anything larger than that, then you might need a 3″ inch lift kit.
You might also consider using a leveling kit, even with minor modifications. The idea is that lift kits provide enough space to fit those tires easily, ensuring that you will have no rubbing.
If you want 34″ or larger tires, you will need a lift kit.
Another variable to look after is the width of the tire, as 12″ is the most that you can fit without modifications. As you can see, you can begin upgrading your F-150 with minimal cash. There's no need to change suspension or steering components. So what better way to start than by fitting the best 33-inch tires you can find.