Where Are Toyota Trucks Made? Are They Made in America?
This post may contain affiliate links. As an Amazon affiliate, I earn from qualifying purchases.
American automotive production has taken a hit over the last few decades. For example, Detroit once made the majority of vehicles in the United States. The city's automotive production is how it got the nickname "Motor City."
Unfortunately, that title has been taken over by foreign automakers. So when it comes to the beloved Toyota pickup trucks, many wonder if this truck is made in the United States.
If your heart is set on buying an American-made truck, It is time for you to buy a Toyota. Toyota trucks are made right in the USA. Both the Toyota Tacoma and Tundra full-size pickups are assembled in San Antonio, Texas.
Additionally, the engines and transmissions (including the V6s, TRD, and hybrid models) come from West Virginia.
Read on to learn more about Toyota trucks, including their history, how many plants they have in America, if production will continue in the U.S, and more.
Toyota's History in the U.S
Most of us know that Toyota is a Japanese company. However, they do have some American roots which date back to the '60s. Toyota's plant built refrigerators for home use before switching to car production in 1967.
It is now the only North American vehicle assembly plant that builds large pickup trucks. Toyota began by building its factories in Kentucky in 1986. They produced the first Camry in 1988.
Manufacturing has since then expanded into West Virginia and Texas.
The Toyota Tundra's assembly line was established in 1999 after opening its Texas plant 10 years before. This particular line is one of the few in America that can produce, assemble and ship within the same day without any outside assistance.
The Country's Top Seller
Toyota is now the country's top car seller, and its Tundra pickup, Tacoma midsize truck, and Sequoia full-size SUV are all made in San Antonio along with the Sienna minivan.
This is a huge improvement from its initial years in San Antonio, as it used to produce low-profit Corollas and worked with a bare-bones staff.
Tacoma is the company's top-selling model in America, while it has been gaining market share over its competition for years.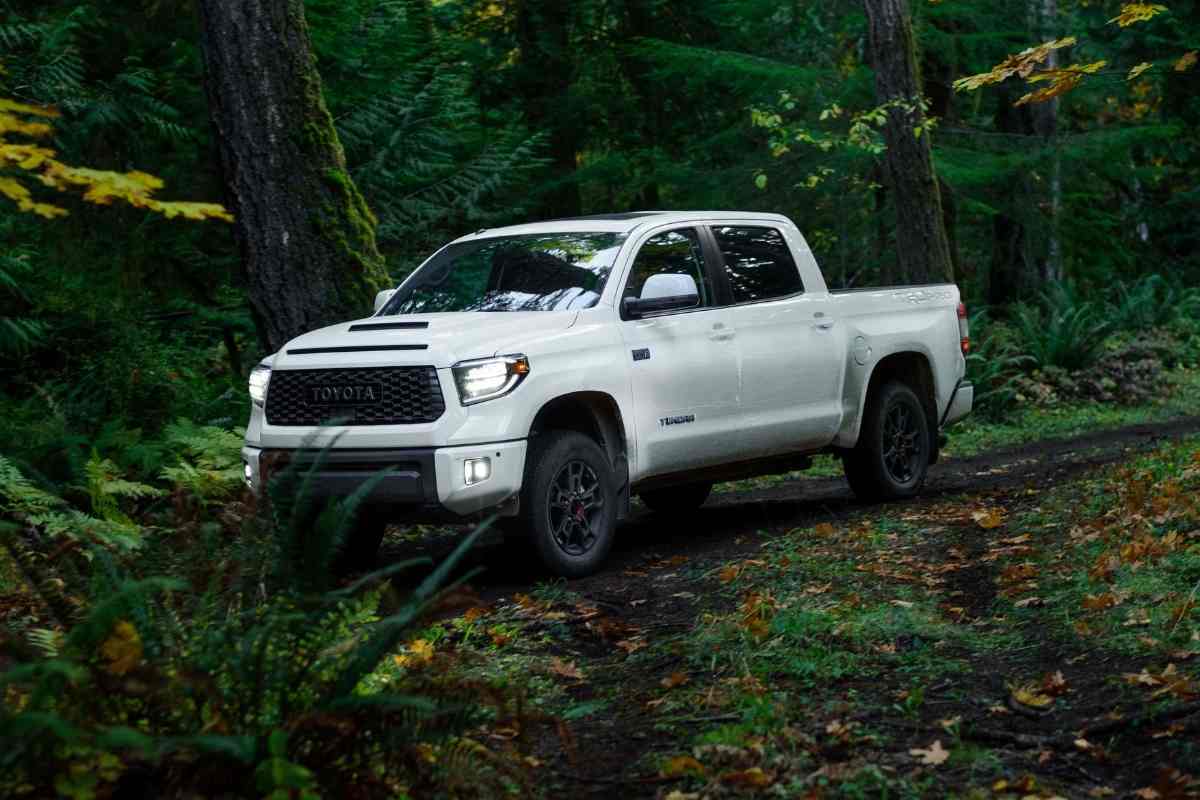 San Antonio's Importance to Toyota
Today, Toyota pickup trucks are all-American. The only exceptions to that rule are the engines and transmissions as well as a few other needed products.
It also produces the Sequoia SUV and Sienna minivan – all on one side of its 1.7 million-square-foot facility.
The Tacoma is made there as well as the Tundra full-size pickups and the Sequoia SUV and Sienna minivan.
Toyota San Antonio has the capacity to produce up to 208,000 automobiles each year. The plant in San Antonio is the company's largest outside of Japan, employing about 4,000 people.
Toyota Motor Corp.'s San Antonio truck plant became the latest of the city's manufacturing facilities to claim "state-of-the-art" status, as the Japanese automaker marked the completion of a $150 million upgrade.
The majority of the workers at the San Antonio plant are represented by the International Association of Machinists and Aerospace Workers union.
Toyota's automated production processes use more than 25,000 robots, making it the largest automaker to employ such technology.
The San Antonio plant builds about 150 different models of cars and trucks, according to a fact sheet from the factory. Among those are Tacoma midsize pickups and full-sized Sequoia SUVs.
A Big Investment
Toyota invested $391 million in 2019 to improve its service and needs at its San Antonio truck assembly plant. After it's all said and done, the investment in the facility will exceed $3 billion.
This includes investments in everything from new paint equipment to robotics and updated assembly lines.
The upgrade will make the San Antonio plant more flexible, allowing it to produce multiple models of the same line.
Toyota Plants in America
Toyota trucks are not only made in San Antonio but also in Kentucky and Baja California (Mexico). The company also has a large engine factory in Huntsville, Ala., which makes V6 engines for its truck models. The Huntsville location exclusively makes the 2022 Tundra's engines.
While most of the country's automakers have reduced their American production and added facilities in Mexico and Canada, Toyota has moved in the opposite direction.
The company is committed to further expanding its American footprint, as it has made a substantial investment into the San Antonio facility.
Toyota's commitment to American manufacturing, as well as its focus on producing high-quality trucks and SUVs, make the company a standout in the industry.
​​Toyota Plant in Huntsville, Alabama
The Huntsville location began its operation in 2003. It currently produces four-cylinder engines for many Toyota products, including its full-size trucks and SUVs. Toyota's facility in Huntsville currently employs about 1300 workers. The plant has achieved several milestones since it first opened 20 years ago.
Production at the plant started with one model – the 3VZ V6 engine. This was used in first generation T100 pick-ups and pre-facelift 4RUNNER models.
Today, the plant produces 4-cylinder and 6-cylinder engines for cars like the Camry, Avalon, Highlander (for Canada), Lexus ES 350 (US), RX 350C AWD, RX 350 F Sport AWD, RX 450h AWD (US), and the SC 430.
Toyota's facility in Huntsville currently employs about 1300 workers. San Antonio is not the only city to get investment from the company. In 2022, the company stated that employment at the Alabama facility would rise from about 1,350 to 1,800 workers.Toyota stated that it will invest about $288 million on the project.
Toyota Plant in Kentucky
In 1986, Toyota opened a plant in Princeton, Kentucky, to build four-cylinder engines.
The plant also produced its first American-made compact car at the location – the Toyota Camry.
While this plant does not produce Toyota trucks, it is important because it got the ball rolling in regards to Toyota production in America.
Will Toyota Truck Production Stay in the U.S.A?
Currently, the company continues to produce truck models in America (with a few in Baja, Mexico). The company does not appear to have any plans to move the American manufacturing and production of its trucks and SUVs outside the United States.
In recent 2022 news, Toyota reduced temporary shifts and production due to supply chain issues and Covid.
Toyota has stated that it will use the downtime to invest in its facilities and prepare for future growth.
Final Thoughts About Toyota Trucks in America
Now you know where Toyota trucks are made. Toyota has committed to not only expanding its American production but also boosting the quality and efficiency of its trucks and SUVs.
The company is now the country's top-selling car manufacturer, and its vehicles are some of the best trucks on the market.
The company hires American workers to work on these trucks. It also paid workers at the San Antonio plant above the state's minimum wage, while offering some employees signing bonuses.
Its increased pay and focus on production have allowed the company to increase its staffing levels while boosting truck production by more than 20 percent over the years.
Many companies have taken a hit due to Covid – Toyota is one of them. Hopefully, the early 2022 production supply downslide gets resolved as soon as possible. That way, everyone can continue to enjoy the Toyota trucks America has grown to love.